Mazda has announced a new start stop system for the CX-5 which promises fuel economy gains of 10% or more without the need for an electric motor.
Ensuring quick and consistent starts
Conventional idle-stop systems save fuel by automatically shutting down the engine when the driver brings the vehicle to a stop (at traffic lights, for example) and automatically restarting the engine when the driver subsequently pulls away.
Mazda's Smart Idle Stop System (SISS), on the other hand - restarts the engine through combustion. The system initiates engine restart by injecting fuel directly into the cylinder while the engine is stopped, and igniting it to generate downward piston force. (see diagram)
This apparently enables an SISS-equipped Mazda petrol engine to restart in 0.35 seconds, or half the time of start-stop systems using an electric motor. The brand further claims that the Smart Idling Stop System is more energy-efficient than an electrical motor restart, and can also restart the engine more quickly and quietly than a conventional idle-stop system.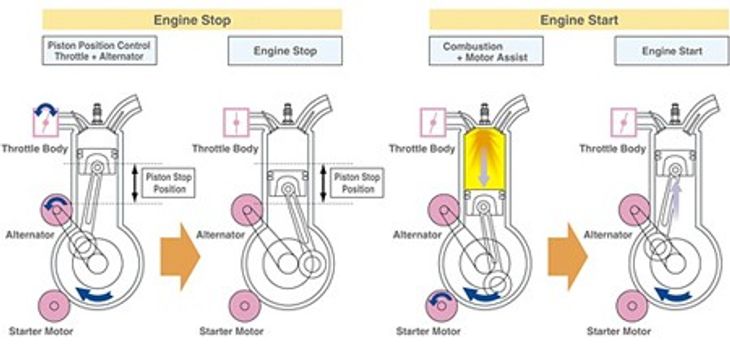 Suited with SKYACTIV technologies
SKYACTIV engines were designed to make internal combustion as effective as possible. Engineers of the SKYACTIV-G petrol engine were aiming for a lightweight design that produced more from less.
Fully equipped with the SKYACTIV technology, Mazda says the CX-5 2.0-litre petrol engine uses as little as 6.8litres/100 km of fuel in manual guise and 6.9litres/100 km in automatic configuration.
A newly-designed 4-2-1 exhaust system and special pistons resolve the challenges associated with high compression, with an extraordinarily high compression ratio at 13:1. And as a result, the SKYACTIV-G has considerably less internal friction than a standard 2.0L petrol engine, developing 114kW of power at 6000 rpm and 200Nm of torque at 4000 rpm.
To further enhance the CX-5's athletic character, Mazda is offering with it a brand new cutting-edge six-speed SKYACTIV-Drive automatic transmission on the Dynamic and Individual derivatives, as well as a six-speed manual transmission for the Active model.
Mazda CX-5 Price
Mazda CX-5 2.0 L Active MT - from R316 600
Mazda CX-5 2.0 L Dynamic AT - from R344 100
Mazda CX-5 2.0 L Individual AT - from R397 400
Every CX-5 comes with a 3 year Mazda Roadside Assistance plan, a 5 year/90,000 km Service Plan and a 4 years/120,000 km warranty. Service intervals are every 15,000km.