The Mazda CX-5 has garnered a number of awards – including #CarsAwards wins – and with good reason. With a slightly facelifted model expected to be unveiled soon, Mazda has launched a special derivative of its family car. We spend some time with the 2.0 Carbon Edition to see if it's just as good as the rest of the range.
We like: Excellent on-road manners, excellent fit and finish, generous standard spec
We don't like: Noisy engine when pushed, off-road ride quality too firm
Fast Facts
Model tested: 2.0 Carbon Edition
Price: R565 800 (as of February 2021)
Engine: 2.0-litre petrol, naturally-aspirated
Power/Torque: 121 kW/213 Nm
Transmission: 6-speed automatic
Fuel Consumption: 6.9 L/100 km
Load capacity: 442-1914 litres
Acceleration: 0-100 kph in 10.4 sec (claimed)
What is it?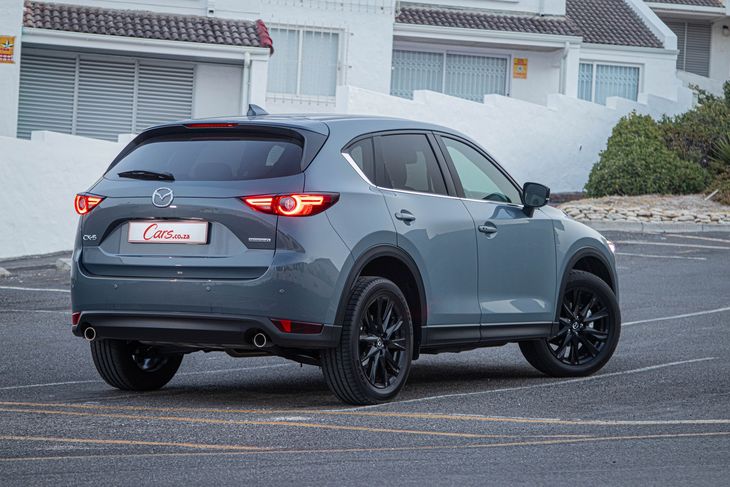 The Mazda CX-5 is an accomplished family SUV. With a range that includes an array of engines and trim levels, the CX-5 has proven a popular purchase; more than 3 100 units have found their way into South African homes since this model was launched in 2017. Only its rivals from Volkswagen (Tiguan) and Toyota (RAV4) have sold more units, making the CX-5 the 3rd best seller in its segment. The CX-5 has also received a handful of category wins in the #CarsAwards – powered by WesBank by virtue of its good build quality, practicality, a balance of comfort and safety features, plus its brand reputation.
Now Mazda SA has launched the CX-5 2.0 Carbon Edition, which effectively replaces the 2.0 Individual derivative. Mechanically, the newcomer is identical to the 2.0 Dynamic Auto, however, the 2.0 Carbon Edition features visual enhancements, such as glossy black mirrors and 19-inch black alloy wheels, while the interior boasts black cladding on the dashboard and door panels, as well as red stitching on the steering wheel, transmission lever, knee pads and seats. Leather/suede combination upholstery is standard. There's an increase in standard equipment too, which we'll discuss later in this review.
How it performs in terms of...
Performance and efficiency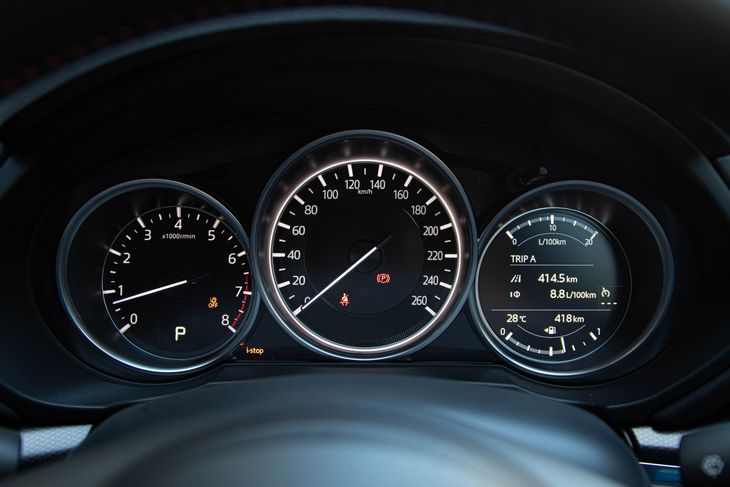 The Mazda CX-5 has crisp and clear dials
While most of the models in the family-car segment have gone the forced-induction route (their manufacturers have introduced smaller capacity-, but turbocharged, engines), Mazda has invested heavily in the development of its naturally-aspirated petrol engine range. Endowed with SkyActiv tech, Mazda's engines are said to offer punchy performance in combination with good fuel economy. In the case of the Carbon Edition, its 2.0-litre 4-cylinder petrol motor produces 121 kW and 213 Nm, which are adequate outputs for a family car. Fuel efficiency is a claimed 6.9 L/100 km and the derivative is claimed to accelerate from 0 to 100 kph in 10.4 sec. Power reaches the front wheels via a 6-speed auto 'box and there are paddle shifters on the steering wheel (should you feel like actuating gear shifts manually).
That all sounds well and good, but what's the Carbon Edition like to drive? In truth, the 2.0-litre is a willing engine, as long as you don't flex your right foot too hard on the accelerator pedal. If you do, the drivetrain's software will instruct the transmission to change down a few gears to maximise acceleration, but the otherwise buttery smooth motor will suddenly sound far less refined than it is. Indeed, when "pressing on", the engine sounds a mite strained and noisy, but then again, making the direct-injection engine spin that high in the rev range is counterproductive to the pursuit of good fuel economy.
This is where the 'shift paddles come in handy; you can effortlessly change up a gear and avoid a burst of engine noise, but still make good use of the available torque! The engine doesn't need to be revved hard to get the best out of it, which is odd, considering the transmission "believes otherwise". Thankfully, the paddles are pleasant to use, so you won't feel it's a chore to override the 'box now and again.
When it comes to fuel economy, our test period ended with the Mazda CX-5 2.0 Carbon Edition's trip computer reading a reasonable 8.8 L/100 km (versus the 6.9 L/100 km claimed figure).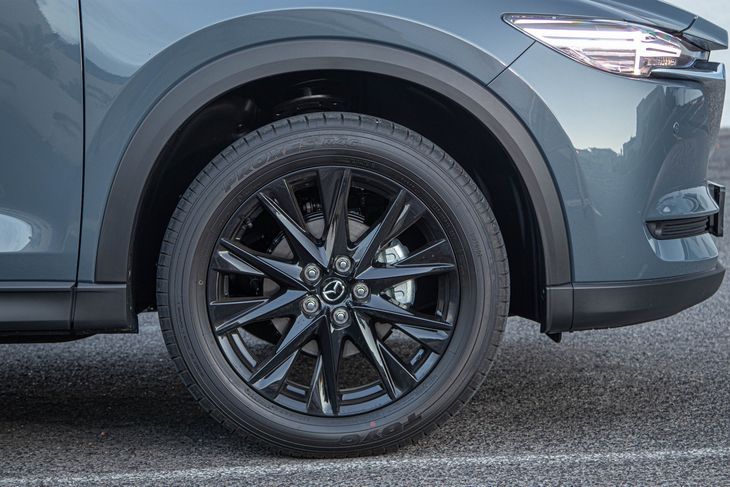 These 19-inch alloy wheels look great, but are not really suited to rougher terrain
Ride and handling
The Mazda CX-5 has always been pleasant to drive, which is understandable, given its brand heritage. Mazda has the wonderfully analogue MX-5 roadster in its stable, so it's unsurprising that its other models are also pleasant to drive. Despite its top-heavy SUV body style, the CX-5 excels when the straights become turns. The steering is light and quick, making the car feel more agile than it actually is.
One of the Carbon Edition's special accoutrements is its set of large, black 19-inch alloy wheels. Those dark rims look great, but they also diminish on-road comfort when the CX-5 traverses less than perfect asphalt. As a result, the Mazda's general ride quality is a touch too firm for our liking on rough roads – the suspension does tend to thump a bit over uneven surfaces. Granted, the majority of CX-5 buyers will require a vehicle to navigate urban environments most of the time and travel on unsealed surfaces only occasionally, but isn't the point of an SUV that it should be suited to dirt-road excursions too?
Thankfully, if 99% of your driving time is on smooth roads, you'll be more than happy with the vehicle's on-road manners. It's refined, smooth and quiet (as long as you don't ask too much of the engine).
Interior execution and features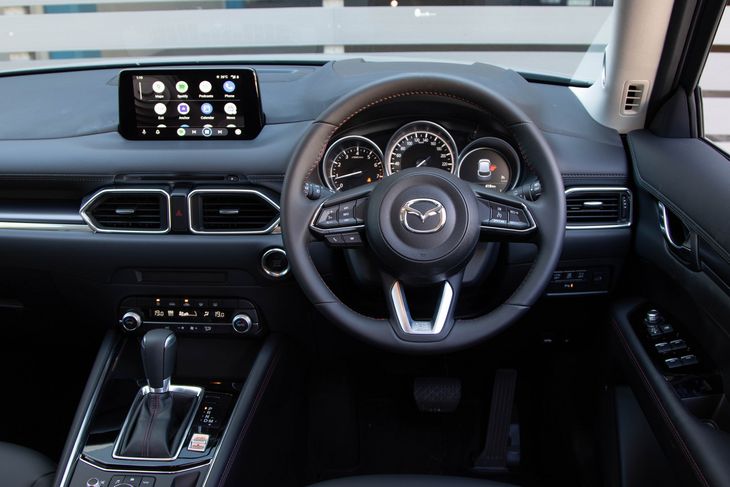 The modern and easy-to-use cabin
When you step inside the Mazda CX-5 2.0 Carbon Edition's cabin for the first time, you're most likely to notice its sporty-looking leather-and-suede seats right away. The Carbon Edition trim level adds tasteful red contrast stitching to the seats, the steering wheel and the transmission-lever boot. They're subtle adornments, which is exactly how you'd want them to be in a demure family SUV. The general cabin layout is pleasant and easy to use, although the infotainment system does without a touchscreen. Mazda says this is for safety reasons, so you navigate the screen's menus with a scrolling wheel.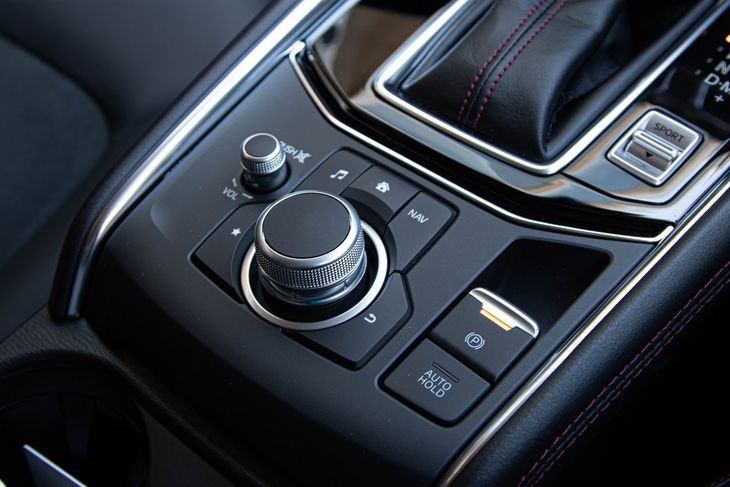 The entire infotainment system is controlled from down here.
In terms of equipment, the Carbon Edition boasts a few additional features such as satellite navigation, adaptive LED headlights, LED daytime running lights, as well as front and rear park distance control. The standard CX-5 has never skimped in terms of standard equipment – you'll find automatic wipers and -lights, USB ports, a head-up display, Android Auto, Apple CarPlay, automatic tailgate, climate control and a whole lot of safety kit too. The vehicle came with a lane-keeping assist function, which could get a bit intrusive on narrow roads, but it was easy to deactivate under those circumstances.
Practicality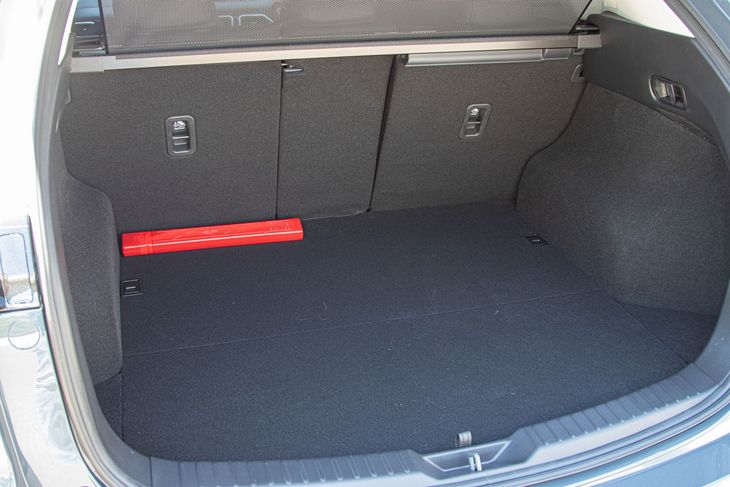 The decently sized luggage bay should cover most requirements.
The Mazda CX-5 is the largest SUV offered by the Japanese brand (at least in the South African market) and the Hiroshima-based marque's venerable family car offers reasonably good levels of cabin space and luggage capacity. There's sufficient legroom for adults, while the load bay's capacity (442 litres) is fair, if not class-leading. This honour belongs to the Toyota RAV4, which boasts a 698-litre capacity. If you require utility space to transport oddly-shaped or bulky items in the Mazda, you can fold its rear seats down in a 60/40 split to free up a total carrying capacity of 1 914 litres.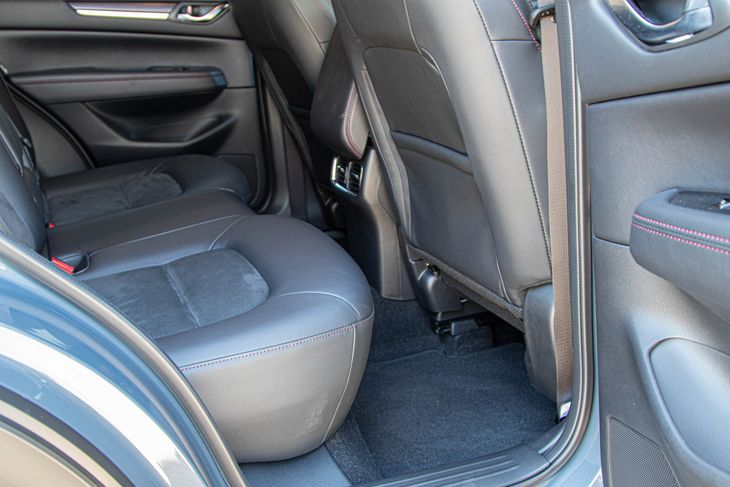 Rear legroom is fair for adult occupants.
Price and warranty
This mid-spec Mazda CX-5 2.0 Carbon Edition is priced at R629 000; the range kicks off at R455 500 and tops out at R676 100. A 3-year/unlimited-kilometre warranty and service plan are standard.
See full specification details for the Mazda CX-5 here.
Buy a new or used Mazda CX-5 on Cars.co.za
Verdict
The Mazda CX-5 continues to deliver excellent quality, driving manners and value for money, irrespective of which engine-transmission combo or trim level you may prefer. The 2.0 Carbon Edition certainly looks the part and is a fitting way to wind down the current iteration of the CX-5 range (an all-new model is still a while away). However, the Mazda's list of rivals is a long one: Volkswagen is about to launch its updated Tiguan, while the Toyota RAV4 (fresh from its 2020/21 #CarsAwards Family Car category win) continues to dominate the sales charts. We suspect a new threat to the CX-5 comes from within its own ranks, as the Japanese firm's local subsidiary recently launched the CX-30, which offers a far more modern cabin and similar performance at the cost of a fractionally smaller cabin and load bay.
What of the CX-5's future, then, if a new family member has evidently invaded the award-winning, but ageing, family car's territory? If overseas reports are to be believed, it's understood the Mazda CX-5 will morph into the CX-50, which, with a new platform and all-new inline 6-cylinder engines, will play in a higher segment. At the recent launch of the Mazda CX-30, Mazda SA was keen to point out that its evolving product range will keep striving for the premium end of the market, so if those words are anything to go by, keep a close eye on Mazda's progress in the next few years...
Related content:
#CarsAwards - Best Family Cars in SA
Mazda CX-30 (2021) Launch Review
Mazda CX-30 (2021) Specs & Price
Mazda CX-5 Carbon Edition for SA