Mazda achieved record new vehicle sales in 2016, but can the newly updated BT-50 be a greater force in the double-cab market?
Mazda's success of late has been impressive to witness. The bulk of the firm's sales come from its SUV models; the CX-5 and CX-3 are among the best-sellers in their segments. The BT-50 is a different proposition altogether, however. The local bakkie segment has seen a huge influx of new models, as well as a proliferation of lifestyle buyers who seek automatic-transmission turbodiesel double cabs. The newer bakkies have adapted to this demand by offering a more comfortable ride and a more luxurious interior with modern creature comforts. Can Mazda match the likes of the Ford Ranger, Toyota Hilux, Isuzu KB, Mitsubishi Triton, Volkswagen Amarok, Fiat Fullback and upcoming Nissan Navara... to name just a few?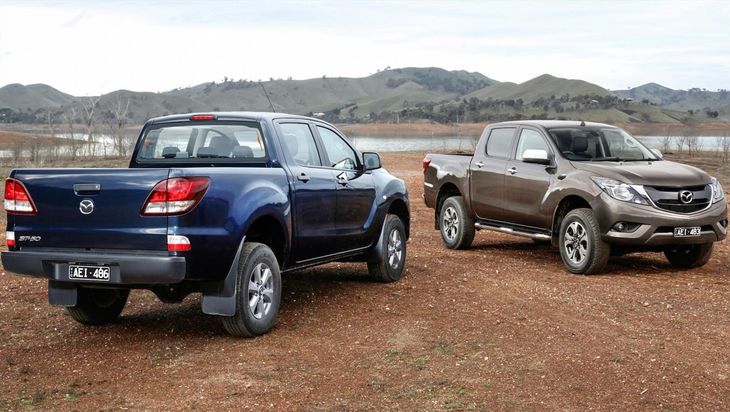 Launch will see only double cab BT-50s on sale.
The short answer is: no, but then Mazda says it only aims to sell about 100 units a month. The BT-50 is merely a facelift of the 2012 unit, so it still shares its platform with the Ford Ranger. Come 2019, Mazda's new BT-50 will share technology with Isuzu. Whereas the Ranger is built locally, Mazda imports its BT-50 from Thailand... and there are some differences.
Step inside and it doesn't feel like a bakkie built with lifestyle buyers foremost in mind. The BT-50 feels more a like a light commercial vehicle; its interior plastics are hard and there's little in the way of soft-touch cabin materials. The infotainment unit appears to be based on Ford's Sync 1 interface (whereas the Ranger is now on Sync 3); not only does the system sport a small screen, but requires a fair number of buttons to be pushed to get basic commands executed. The BT-50 also loses out by virtue of the absence of adaptive cruise control, collision warning and the digital instrument cluster that modernised the Ranger so much.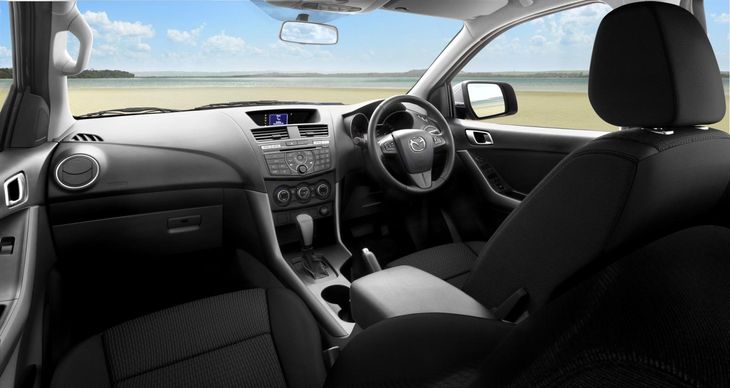 Interior is well-built and solid, but it's not as luxurious as its lifestyle bakkie rivals
The Mazda's ride quality is also a step short of what is expected from modern lifestyle bakkies. Compared with the BT-50, the Ranger and Amarok have more comfortable ride qualities on dirt roads and choppy surfaces. The going in the BT-50 feels bouncy and overly firm – much like an Isuzu KB. There is a positive to the Thailand-built BT-50, however: its build quality. The BT-50 feels well put together, the shut lines are tight and even on the "washboard" dirt roads we had to navigate, the cabin didn't rattle or shake. The other notable aspect was the quietness in the cabin. At freeway speeds, it's very quiet, with nothing but a slight whisper from the wind and the engine far less audible than in something like a Ranger.
Engine range
The engine models are the same as that of the outgoing BT-50 and the same as the current Ranger. The 2.2-turbodiesel is a little less powerful than the Ranger's, but it is a similar unit. The 2.2-litre turbodiesel feels capable and delivers healthy power and torque figures at 110 kW and 375 Nm. It is available only in 4x2 variants, but you are able to choose from manual or automatic gearboxes. The manual is more fuel efficient at 7.6 L/100 km compared to the auto at 9.4 L/100 km.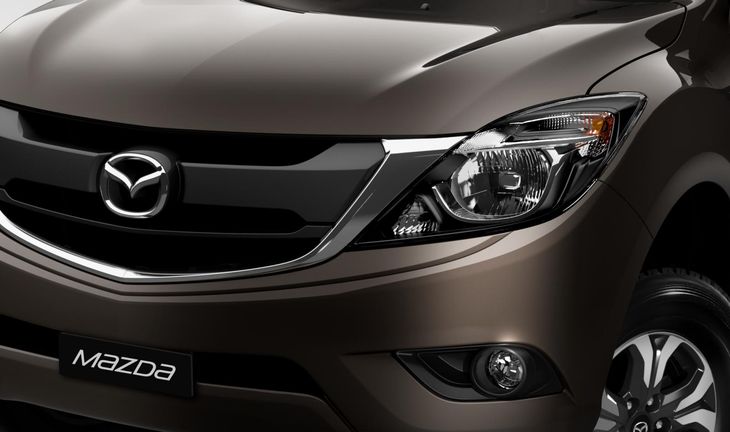 Engine range remains the same with a 2.2 and 3.2 turbodiesel
The 3.2-litre turbodiesel unit only comes in 4x4 guise, but, again, is available with manual or auto gearboxes. Thanks to the improved build quality on the BT-50, the 3.2 is heard less from inside the cabin than it is in the Ford. Its power outputs are identical at 147 kW and 470 Nm with fuel economy claimed at 9.3L/100 km in the manual and 9.7 L/100 km in the auto.
Summary
Much like its passenger cars, the BT-50 is offered with a 3-year/unlimited km warranty, a 3-year/unlimited km service plan and Mazda offers a lifetime warranty on all parts fitted by its franchised dealers. Judging by the Hiroshima-based brand's strong showing in the Cars.co.za Owner Satisfaction Survey, it takes after-sales service particularly seriously. As for the BT-50, it feels well made and even if its ride quality is not the most refined, its cabin offers low levels of NVH. Whether the brand's strong after-sales back-up and the product's refinements will be enough to increase the BT-50's market share is a moot point. An all-new Mazda double-cab is expected by 2019 – the brand must be awaiting that one with great eagerness.
Mazda BT-50 pricing in South Africa
At launch, Mazda is only bringing double cabs to the market. The company says it is open to the possibility of an extended cab and a single cab if there is sufficient public desire.
| | |
| --- | --- |
| | Pricing incl. VAT |
| BT-50 DBL 2.2L 6MT 4X2 SLX | R441 600 |
| BT-50 DBL 2.2L 6MT 4X2 SLE | R477 700 |
| BT-50 DBL 2.2L 6AT 4X2 SLE | R497 700 |
| BT-50 DBL 3.2L 6MT 4X4 SLE | R541 700 |
| BT-50 DBL 3.2L 6AT 4X4 SLE | R555 700 |
Further Reading
Best leisure double-cab bakkies in South Africa
Five cheapest bakkies in SA
Five most fuel efficient double-cab bakkies in SA (2016)
Watch a video to see which bakkie wins our ultimate bakkie shootout here
Ford Ranger versus Toyota Hilux. Which one wins?
Check out our bakkie drag race!
Want to buy a Mazda BT-50?
Do you own a Mazda?
What do you think of the brand's after-sales service? Click here to participate in Cars.co.za Owner Satisfaction Survey