Upon gaining its independence from Ford, Mazda shifted its focus to the passenger car market, which relegated it to a fringe-playing role in the ultra-competitive bakkie segment. But now the facelifted BT-50 is here and eager to take a bigger slice of the double-cab pie. We tested the flagship 3.2 SLE 4x4 Automatic model to see whether the BT-50 can still compete with the likes of Ranger, Hilux and Amarok as a leisure bakkie.
We like: Build quality, off-road ability, improved looks, excellent warranty/service plan
We don't like: Clunky drivetrain, dated cabin
Alternatives
Its more modern, handsome sibling: The Ford Ranger shares its basic underpinnings with the Mazda as well its drivetrain, but whereas the Ford has moved decisively with the times in terms of its design, tech and interior features, the Mazda hasn't. For around R40 000 more than the Mazda, the Ranger doesn't offer too many additional features, but it nevertheless has considerably more showroom appeal.
The market leader: The latest Toyota Hilux offers an excellent engine that delivers strong performance, refinement and economy. Inside, it boasts a car-like cabin layout that has moved significantly beyond its utilitarian roots. And, of course, it is a Hilux, so there is considerable peace of mind that comes with Toyota ownership. It arguably remains the best option if you intend going off-road often.
A brand new entrant: Also consider Mitsubishi's recently launched Triton. For the same money as the Mazda, you get a fresher design, but a similar balance of leisure and workhorse talents. The new 2.4-litre engine underneath the bonnet is impressive, offering excellent refinement and sufficient power. It is also very good off-road.
Compare the Mazda BT-50 3.2 SLE 4x4 Auto with the Ford Ranger 3.2 XLT 4x4 Auto and Toyota Hilux 2.8 GD-6 4x4 Auto
Too little, too late?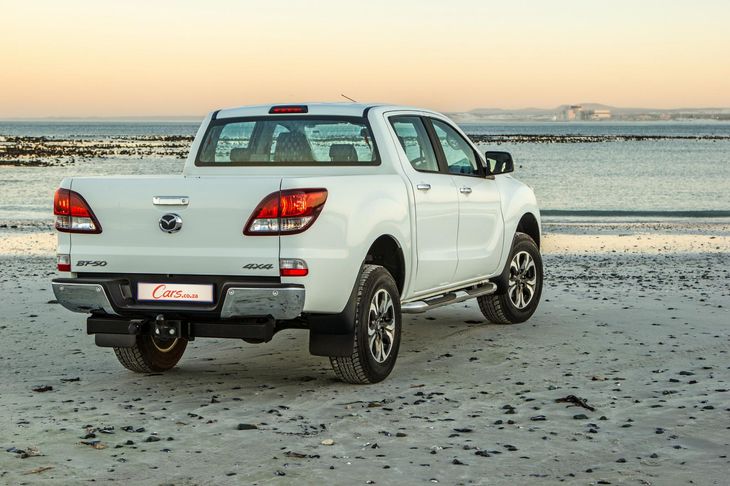 The BT-50 retains its polarising rear light cluster design. Underneath the odd-ball looks, it remains a solid, rugged offering.
While Mazda's performance in the passenger car-, and particularly the burgeoning crossover segments of the market, has been impressive, it has lagged badly in terms of bakkie stakes. There are a number of reasons for this... Firstly, the current BT-50 was co-developed with the Ford Ranger, but following the aforementioned breakup a few years ago, the partnership on this platform no longer exists, so Mazda has had to improve the vehicle all on its own. Then there's also the not-so-small matter of production. Until recently, the BT-50 was built next to the Ranger in Pretoria, but this new model is now sourced from Thailand – this, Mazda South Africa believes, is a positive, as evidenced by a stunning warranty/service plan offering.
So, now we have the facelifted BT-50 and, by all accounts, it looks like a minor change. Furthermore, it has already been announced that the next (2018) BT-50 will essentially be a rebadged new-generation Isuzu KB and this current model could, therefore, be seen as a mere stopgap. All that said... should you still put the BT-50 on your test drive shortlist?
How does it fare in terms of...
Design and packaging?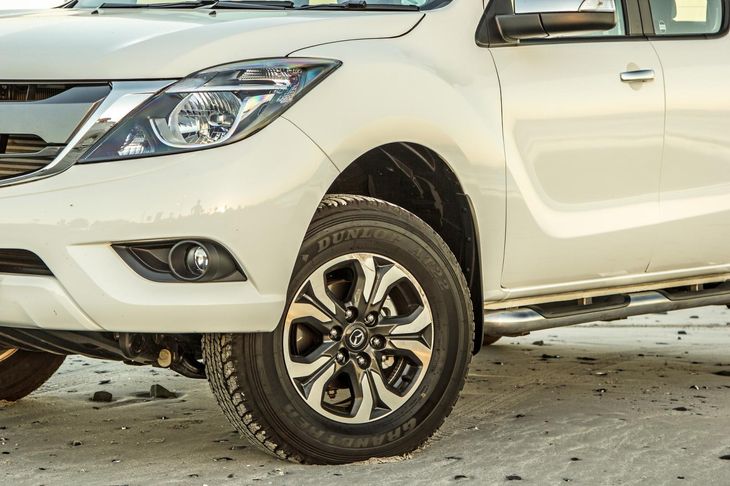 Small detail changes to the design and smarter alloy wheels have improved the BT-50 still quirky looks.
The BT-50's design was polarising (to put it mildly) when it was originally launched in 2013. This facelift has brought a number of detail changes to soften the quirk-factor, but the big Mazda remains an acquired taste from an aesthetic point of view. Nevertheless, revised head- and tail-lamp clusters, as well as a new-look grille are the main revisions and the updates do have a positive impact (only the eagle-eyed will notice the resculpted front bumper, however). The dual-tone 17-inch alloy wheels fitted to the flagship test vehicle are all the evidence you need that a smart wheel design can do wonders for a vehicle's overall look. Dimensionally, the BT-50 remains one of the bigger bakkies on the market, and that load bay can take a useful 1 tonne's worth of cargo on the back. A heavy-duty towbar is fitted as standard to complement the 3 500 kg (braked) tow rating.
Inside, it is probably even harder to spot the changes, which are really limited to minor trim alterations. Unlike the Ranger, which made a significant step forward at the time of its facelift in terms of interior technology, the Mazda hasn't, so it looks rather old-fashioned. If you're not too concerned by that, you may be more impressed by the solidity of it all – this bakkie feels built to take punishment. SLE specification does include leather upholstery, but for the most part, the emphasis appears not to be on glitz and tech, but rather practicality, as evidenced by a good number of storage solutions dotted around the cabin, including a very spacious glove compartment and large pockets in the doors.
Features?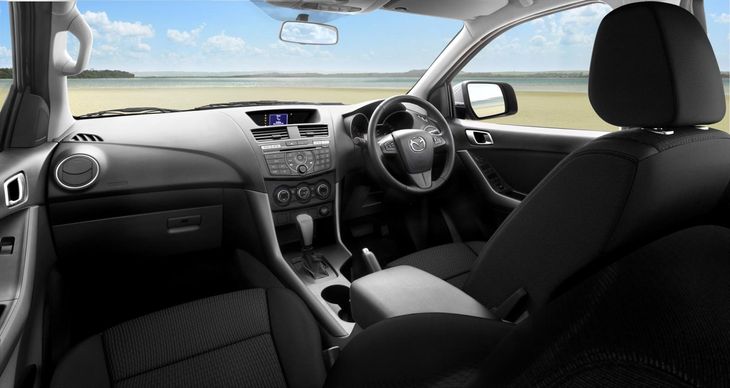 Though well built, the BT-50's cabin lags the class-leaders in terms of offering modern infotainment features.
As mentioned before, the BT-50, even in flagship form as tested here, lacks the mod-cons that you'll find in the Ford Ranger, Toyota Hilux and Volkswagen Amarok, to name but 3 examples. There's no fancy touchscreen infotainment system, but rather an old-fashioned, button-heavy set-up, with the rear-view camera's display positioned in the rear-view mirror. Still, the sound system does include Bluetooth and USB and auxiliary functionality. To be fair, remember that the BT-50 does cost about R40 000 less than the equivalent Ranger...
You also get cruise control, dual-zone climate control, auto lights and wipers and an 8-way electrically adjustable driver's seat, among other niceties. On the safety side there are 6 airbags (compared with the 7 for the Ranger), ABS with EBD, stability control, hill-start assist, downhill assist, trailer-sway mitigation and hill-descent control.
Power and economy?

The 3.2-litre engine remains unchanged and is shared with the Ford Ranger. Good power, but thirsty.
Underneath the bonnet is the same 3.2-litre, 5-cylinder turbodiesel you'll find in the Ford Ranger. It remains one of the most potent engines in the bakkie segment, with peak outputs of 147 kW at 3 000 rpm and maximum torque of 470 Nm from 1 750 to 2 500 rpm. The engine is mated with a 6-speed automatic transmission. Mazda claims a top speed of 175 kph for this vehicle, and we have no doubt that it will get there, but we were not too impressed with the BT-50's lower speed behaviour.
A combination of some lag at low revs, with a tardy, clunky transmission makes for progress that at times can be described as "less than smooth". It also makes the BT-50 feel quite flat-footed around town, where leisure bakkies are driven often. In short, the Mazda's drivetrain feels somewhat less refined than most of its rivals, and more like an old-school bakkie that can be hard work to drive on a daily basis.
In terms of efficiency, it also struggles, just like the Ranger equipped with the same engine. Mazda claims a combined cycle figure of 9.7 L/100 km, but we achieved an average consumption of around 11.2 L/100 km, which is easily beaten by newcomers (with similar performance) from Toyota and Mitsubishi.
On- and off-road comfort

Rear space remains good in this segment, but the ride is not as relaxed as some newer rivals.
For reasons not entirely clear to us, the BT-50 feels different on the road compared with the Ranger. The latter vehicle appears to have a softer set-up compared with the Mazda, which can feel quite stiffly sprung at times. It's not harsh, by any means, but also not as supple and relaxed as an Amarok on the road.
Like the newer Triton, the BT-50 seems to have a pretty balanced approach to the lifestyle/workhorse ride requirement ratio, which may actually be a benefit to some consumers. It's not so soft that it can't work hard, and also not too stiff to stop it from doubling as a family adventure vehicle on the weekend. Then again, if you're looking for your bakkie to fulfil a purely lifestyle role, then there are a number of more comfortable and refined options available on the market.
Off-road the BT-50 puts in an impressive performance. An automatic transmission and an abundance of torque, as well as good traction (further aided by a rear diff-lock) combine to endow the Mazda with an almost unstoppable character when the going gets tough. The ground clearance of 237 mm is good, too, but mind the side steps.
Pricing and Warranty
The Mazda BT-50 3.2 SLE 4x4 Automatic sells for R555 700 (May 2017), which includes a recently upgraded and very impressive 5-years/unlimited km warranty and 3-years/unlimited km service plan. Service intervals are scheduled for every 15 000 km.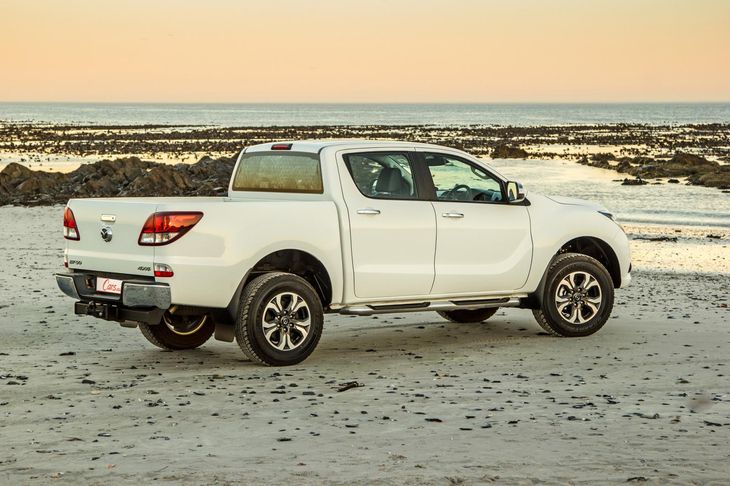 The BT-50 is well priced but has fallen behind the best in the Leisure Double Cab segment.
Verdict
The Mazda BT-50 is a good bakkie – it always was – but lacks a significant advantage or element of desirability that makes it a more attractive buy than some of the other options in the market. This (very subtle) facelift has only addressed a few of the design quirks, and has not brought the BT-50 back up to speed in terms of features, cabin design, or comfort- and safety-boosting technologies.
Like the Ford Ranger, the BT-50's engine looks great on paper but when combined with this tardy 6-speed 'box, it feels less powerful than it should, and can be downright clumsy to drive, not to mention thirsty. What you have, then, is a very solid, good (but not great) offering that is unlikely to let you down, and even if it does, the warranty and service plan package is excellent. But... if you're looking for a leisure vehicle first and foremost, there are better options on the market at present (see suggested articles below).
Related content:
Opinion: Why the Nissan Navara shakes up the bakkie market
Most powerful bakkies on sale in South Africa
Best Leisure Double Cab bakkies in South Africa
Mazda BT-50 (2017) specs and pricing
Mitsubishi Triton Double Cab 2.4D-ID 4x4 Auto (2017) Review
Looking for a new / used Mazda BT-50 to buy?