The resurgent Indian automotive brand Mahindra has carved itself a sizeable – and growing – niche in the local market. What's more, its rise is likely to gather further pace with the launch of the stylish, value-packed XUV300.
We like: Smart looks, good build quality, generous specification, fuel economy
We don't like: Some irritating quirks (white upholstery and overly talkative reverse-park assistant), gruff engine, smaller load bay than its rivals
Fast Facts
Price: R324 999 (June 2019, without options)
Engine: 1.5-litre 4-cylinder turbodiesel
Gearbox: 6-speed manual
Fuel economy: 4.8 L/100 km (claimed)
Power/Torque: 86 kW/300 Nm
Own a Mahindra? Tell us about your experience here.
SERIOUS ABOUT BUYING?
Where does it fit in?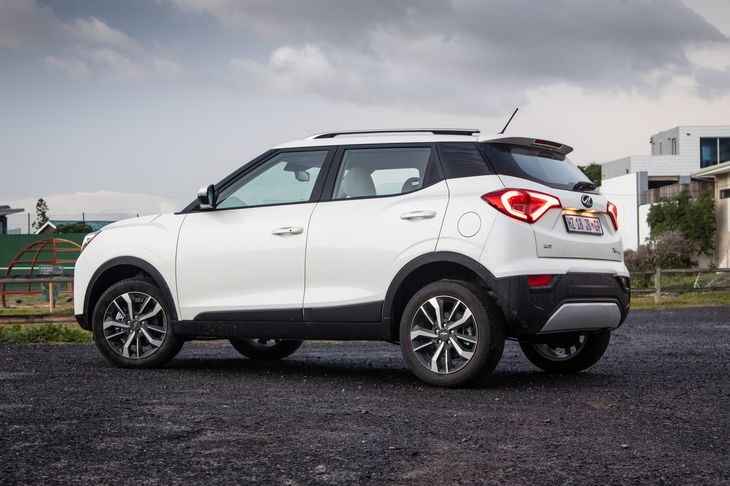 The XUV300 W8 is a highly-specced rival for the likes of the Opel Crossland X and Renault Captur.
Another day, another new small crossover... But in the case of the XUV300, the arrival of this new contender is arguably of greater significance than most, particularly for Mahindra itself. You see, for years the brand has been respected for producing tough and affordable products – buyers of the firm's products were apparently happy to stomach (at-times) bizarre designs because they were acquiring robust, reliable vehicles at good prices.
The XUV300, more than any other recent Mahindra, demonstrates that the brand wants to appeal on style and sophistication, as well as reliability. It competes with a wide range of contenders and while value for money remains a strong selling point, affordability is no longer the ace up its sleeve. Tested here in flagship turbodiesel form, this XUV300 has to contend with established players such as the Opel Crossland X and Renault Captur.
How it fares in terms of...
Design & Packaging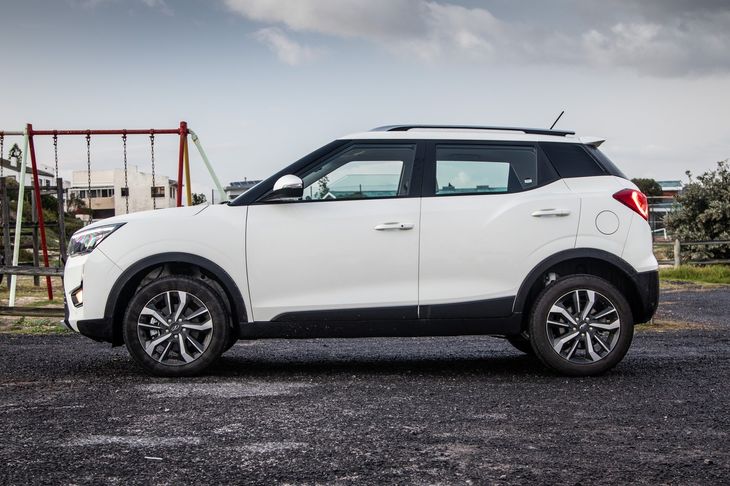 Compact and nicely detailed, the XUV300 is easily the most stylish Mahindra to date. It's based on the SsangYong Tivoli.
Based on the Mahindra group's X100 platform, the XUV300 is essentially a reskinned version of the SsangYong Tivoli (which has been well received in Europe). The Mahindra, however, is arguably better looking than its cousin – its overhangs are very short which, coupled with the raised ride height (180 mm), make it appear quite chunky. And the exterior detailing on this W8 version is particularly good: with LEDs front and rear, blacked-out pillars, stylish 17-inch wheels and silver front and rear skid plates. It received plenty of positive feedback during its tenure in our test fleet.
What's more, the cabin design is every bit as modern and stylish as the competitors' offerings. This unit's light leather upholstery contrasted smartly with the black trim on the fascia and elsewhere, but we're not convinced it's very practical for a supposed family car. But quality levels are excellent, with no rattles and squeaks from the plastics; the W8's solidity – and style – will pleasantly surprise those who are looking at the brand for the first time.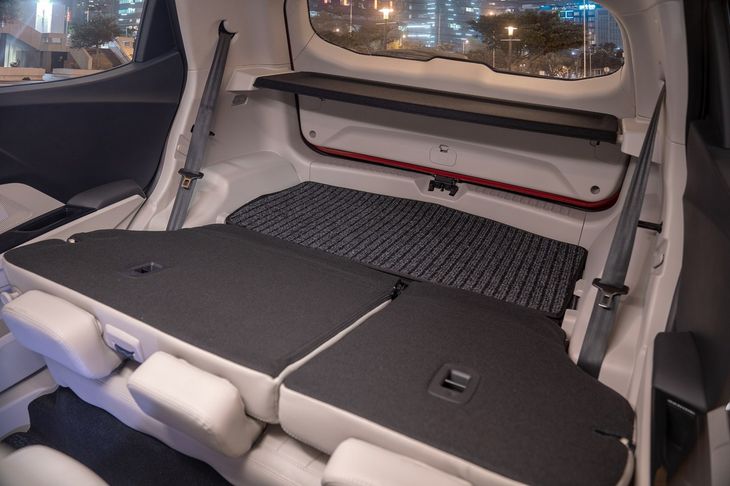 The XUV300 lags behind rivals in terms of luggage space and ultimate cargo-carrying versatility.
Given its stubby exterior appearance, the XUV300's interior is appreciably more spacious than we expected. In front, generous head- and shoulder-room is availed, and there are numerous storage spaces, including large door pockets and a handy tray for your smartphone, which is conveniently positioned close to the charge outlets (there are 2). Although the XUV300 is noticeably shorter than its 2 main rivals, it is wider, higher and its wheelbase length is similar. The result is that rear occupant space is actually very good, with especially the width being quite noticeable.
The only real packaging criticism we can level at the XUV300 pertain to its the load bay, which is relatively dinky. Mahindra claims a luggage capacity of 249 litres, which is significantly less than what is available in the Opel Crossland X and Renault Captur. It's also not as flexible – although the rear seatbacks can split/fold forward, you can't free up a completely flat floor, which means that loading bulkier items is a schlep.
Comfort & Features

A nicely sized tray is positioned close to the charging outlets, making it a convenient storage solution for smartphones.
Mahindra sent us this W8 flagship to review, and it simply blows the similarly-priced competition out of the water in terms of standard specification. Besides the leather upholstery, the top-spec XUV300 offers a height-adjustable driver seat and a leather-wrapped multifunction steering wheel (with 3 adjustable steering "feel" modes), dual-zone climate control, cruise control, auto lights/wipers and even a glass tilt/slide sunroof.
The highlight for many will be the standard 17.8-cm (Mahindra's measurement) full-colour touchscreen infotainment system that comes replete with Apple CarPlay and Android Auto compatibility. On the W8 derivative, it also features built-in turn-by-turn navigation, and there's a reverse-view camera as well. Unfortunately, when engaging reverse, a "voice" attempts to assist you in your manoeuvres, and this becomes rather annoying after a while. You can cancel the voice on start-up, but it will be activated again the next time you fire up of the Mahindra and engage reverse...
The system also features Mahindra's Bluesense app that allows a driver to track their driving patterns by pairing their smartwatch to the vehicle.
On the safety side, the XUV300 boasts a very comprehensive package of features, such as a class-leading 7 airbags, ABS with cornering brake control, ESP with rollover mitigation, hill-hold assist and tyre pressure monitoring. There are ISOfix child seat anchorage points on the outer rear seats. Incidentally, the aforementioned SsangYong Tivoli, on which the XUV300 is based, scored 4 stars in 2016 EuroNCAP crash testing.
Performance & Efficiency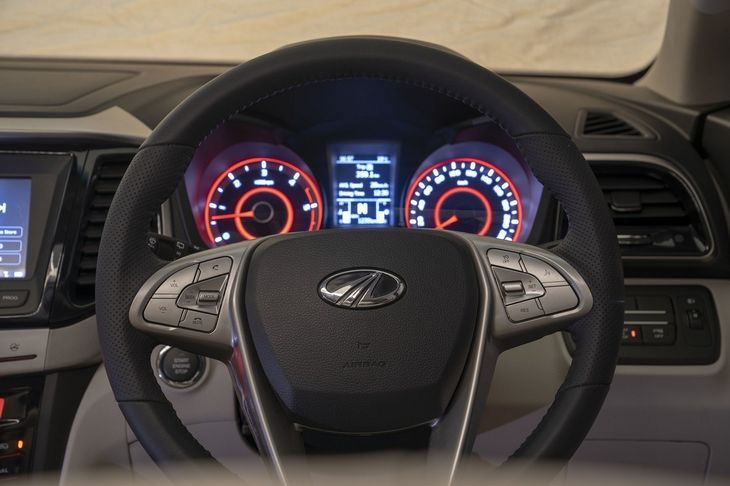 Every bit as modern-looking and feature-packed as its rivals, the XUV300 is a good image builder for the Indian brand.
This XUV300 is powered by a 1.5-litre turbodiesel motor that pumps out significantly more power and torque than its 2 main rivals (listed in this article). Maximum power (86 kW) arrives at 3 750 rpm, while the impressive 300 Nm of peak torque is available between 1 500 and 2 500 rpm. Power goes to the front wheels via a 6-speed manual transmission (both rivals have 5-speed 'boxes).
The engine is quite a gruff unit by modern standards, particularly upon start-up, but it smoothes out nicely at higher revs. Mahindra says it has been extensively tested at Gerotek in Gauteng. On the road, the powerplant duly delivers the goods, with a strong surge in power when needed and well-spaced gear ratios for cruising – 1st gear is very short, it needs to be noted.
Mahindra claims a combined cycle fuel consumption figure of 4.8 L/100km (with the electronic start/stop activated), which translated into a real-world figure of around 6.0 L/100km during our test period.
Ride & Handling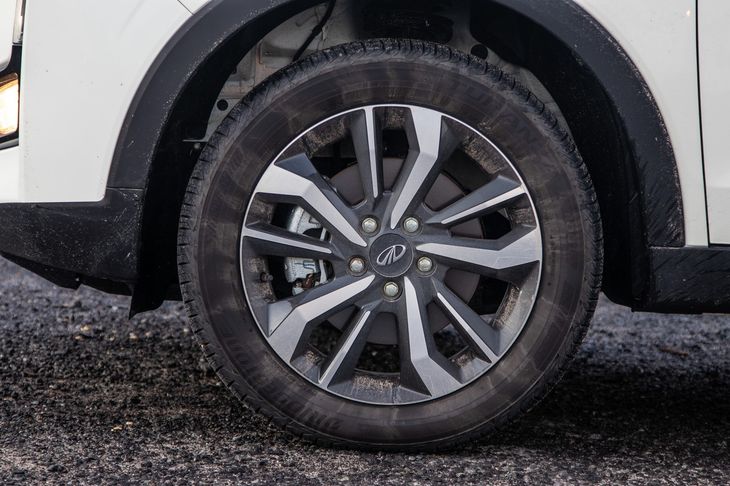 The flagship XUV300 sports stylish 17-inch wheels – ride quality is good.
From behind the wheel the XUV300 delivers a class-competitive performance – that's no mean feat, seeing as the competition in the compact family car/small crossover segment is so stiff. Ride comfort is probably its strongest feature. Despite the relatively low profile rubber and the brand's promise of a "dynamic" drive, the Mahindra instead delivers a pleasingly absorbent ride on our deteriorating road surfaces and also put in a good performance on gravel. NVH (noise, vibration, harshness) suppression is good too, with only the slightly excessively engine noise (to reiterate, when the motor's cold and spinning at low revs) and heavy thuds from the suspension being particularly noticeable to the vehicle's occupants.
An interesting feature is the 3-mode adaptive steering, which allows the driver to set his/her preferred steering "feel". When set to "Comfort", it is lighter, making parking in town a cinch. Switch to "Sport" and there's more weight/directness to it. It's probably a little gimmicky for a vehicle in this segment, but one can definitely feel the difference between the modes.
Price and warranty
The flagship XUV300 1.5TD W8, as tested here, sells for R324 999 (May 2019) without options. The price includes an excellent 5-year/150 000 km warranty and 5-year/90 000 km service plan, adding considerable peace of mind.
Verdict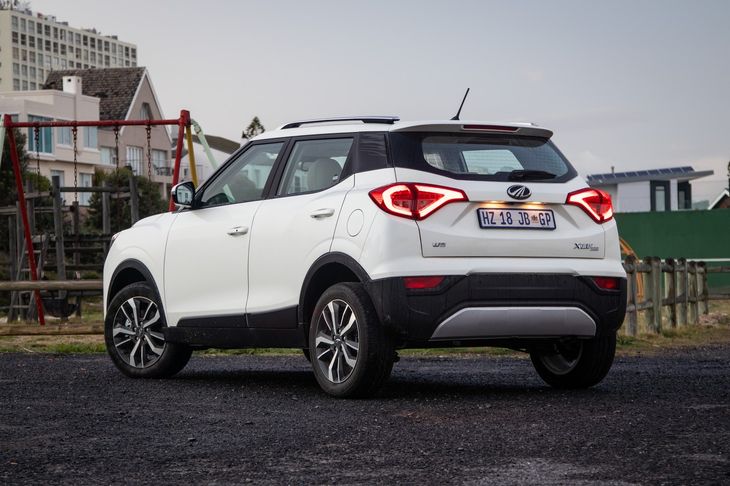 The first of a new generation of Mahindras, the XUV300 is a capable and surprisingly stylish compact crossover.
So, in summary, then... the Mahindra XUV300 beats its main rivals in terms of engine outputs, standard features, plus the warranty and service plan included in the purchase price. It might lag some rivals (particularly the Opel) in terms of overall perceived quality and refinement, but it's not a massive gap. Where it does fall behind, however, is in the area of luggage space and rear-cabin flexibility. If you're considering the XUV300 as a family car, you may have to make sure first that the load bay is big enough for you – the Opel and Renault are both significantly larger in the back.
We have no doubt, however, that the XUV300 will become an integral product for the Indian brand in the local market and that's not only related to projected sales volumes. During its stint in our test fleet, the Mahindra drew positive comments from onlookers for its design and quality, which indicates that, as an image builder, the newcomer has an important role to play. In our opinion, the XUV300 has the goods to do just that. If this offering is anything to go by, the days of simply ignoring Mahindra because of its awkward design or rough-around-the-edges interiors are over.
Looking to buy a new/used Mahindra?
Find one on Cars.co.za by clicking here