It's deliberately styled to resemble a tank; it sports SUV underpinnings and is rear-wheel-driven; it costs as much as an entry-level compact hatchback but offers seating for 7… the Mahindra TUV300 is a very unconventional compact family car, but somehow, the package just all comes together. What's more, it's very competitively priced!
Judging by just a few reactions to tweets and Facebook postings about the Indian-made newcomer we've read in the past 48 hours, the TUV300 (pronounced T, U, V, "3 double oh", well, at least according to its manufacturer) will not win any beauty contests, but, for all its ruggedness, it is certainly a distinctive design. Whereas the majority of compact family cars, such as the Cars.co.za Consumer Award-winning Suzuki Vitara, have off-roader cues but are technically unibodied hatchbacks, the Mahindra has a bakkie-like body-on-frame configuration; it's a genuine 2WD SUV.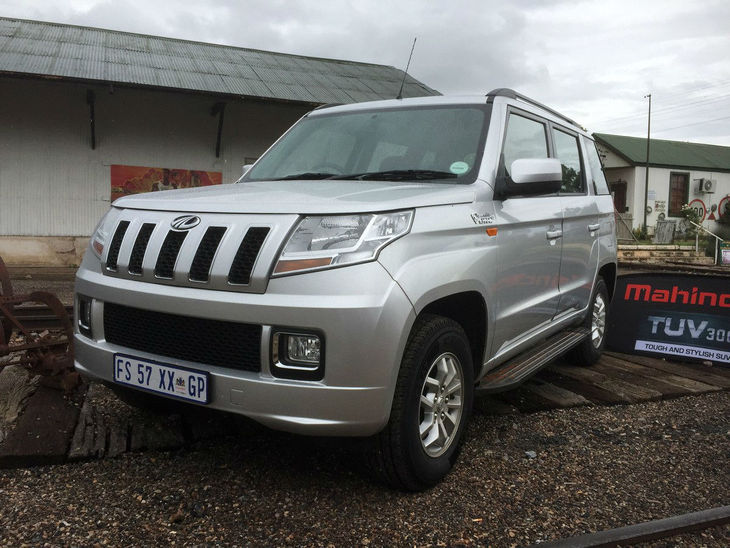 A face only a mother could love? The chunky-like detailing of the TUV300's front end is an acquired taste.
That means the newcomer has the prerequisite raised ride height, stubby overhangs, a full-sized spare wheel mounted on its tailgate, as well as purposeful roof rails and 15-inch alloy wheels. Interestingly, the chunky headlamp units have a cornering illumination function, as well as follow-me-home and lead-me-to headlight operation (when the TUV300 is locked or unlocked respectively).
Inside, the well-finished beige/grey combination cloth interior offers seating for five, with the addition of a pair of small side-mounted rear pews in the luggage bay (the latter units are meant for small persons only and are removable, but certainly add to the Mahindra's showroom appeal. After all, only Honda's BR-V also offers a 7-seater configuration in this segment of the market… and it is extra space you need, it's certainly available).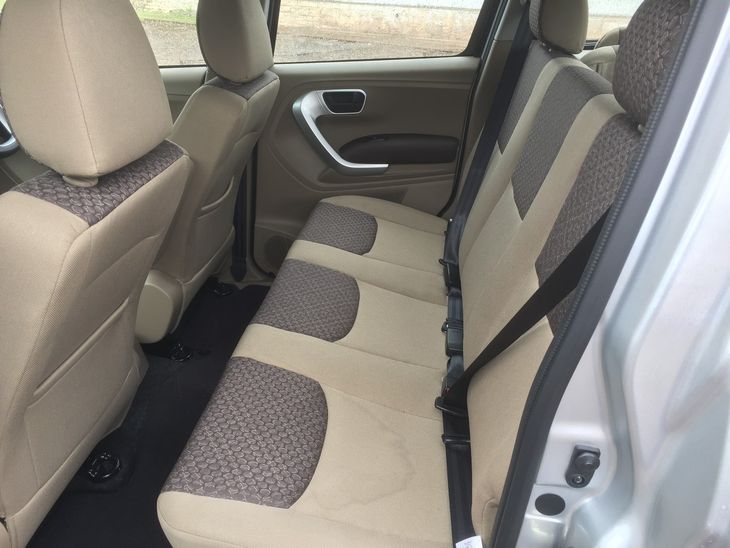 The rear doors open wide to reveal a comfortable bench with good legroom. Note the smart "brushed metal" trim.
This unconventional configuration has its advantages. Yes, the TUV300 is just over 4.0 metres long, but the multiple-seater cabin layout does not feel cramped. Considering that the passenger cell sits atop the chassis, the seating position is remarkably comfortable, with plenty of spare headroom and the rear doors open wide to reveal generous legroom for second-row occupants. The loading capacity is hampered only by the intrusion of the rear seats, but, again, by the standards of most compact family cars on the market, the Mahindra offers more than enough luggage space.
At this stage of a review of a budget-priced people carrier many will expect the "buts" and "howevers" to proliferate, but no, not yet… The Mahindra crucially comes specified with a host of modern conveniences that improve the newcomer's driving experience. The fascia features smart piano gloss black detailing and brushed chrome-look surrounds and although the infotainment system looks rudimentary, it includes Bluetooth telephony and music streaming capability (with excellent iPod support, we discovered) and also offers easily accessible USB and auxiliary audio inputs.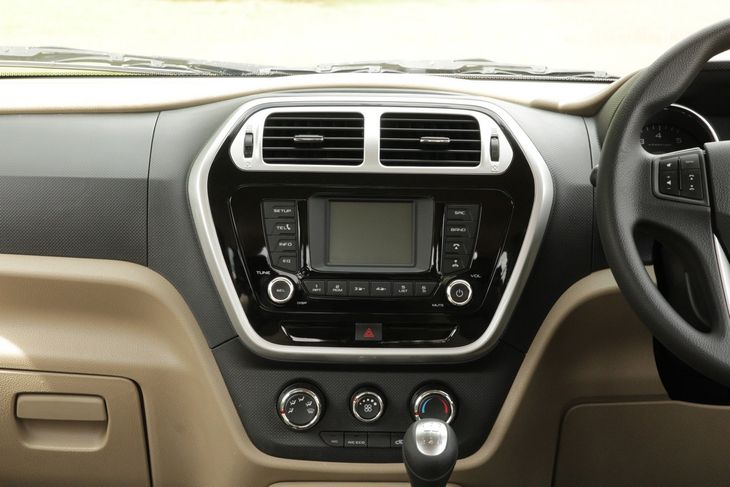 The TUV300's fascia design is a study in neat and simple ergonomics. The piano black trim looks suitably smart.
Apart from a decently-sized glovebox, there are a plethora of storage solutions on the centre console as well as a pair of 12V charging sockets. When you look up from the multi-function steering wheel, you see an info-packed digital display for the trip computer in (dare we say it?) funky instrument binnacle… The TUV300 may owe its existence to the rugged Scorpio platform, but it hardly shows it.
That is particularly evident in the cabin execution. The panels are mostly of the hard plastic variety, but they are flush-fitting and didn't emit rattles or creaks even when the Mahindra traversed stretches of rutted dirt road. In fact, the general on-road demeanour of the TUV300 is pliant, relatively sure-footed and manoeuvrable. The front suspension comprises dual wishbones, coil springs and an anti-roll bar, while the rear system has a multilink design with coil springs and anti-roll bar. The rear-wheel drive configuration and relatively wide tracks aid the overall "planted" feeling.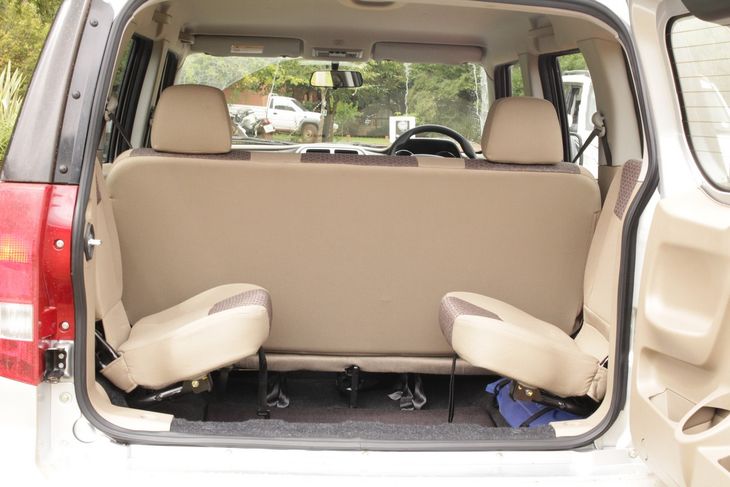 The to-the-side rearmost seat configuration ensures minimal reduction in luggage capacity.
In terms of safety specification, the Mahindra is reasonably equipped — at least given its price point. Dual airbags, ABS with EBD and automatic door locking are standard, but there is no stability control system, which is a drawback considering the TUV300 is decidedly a family vehicle.
Furthermore, the mHawk100 motor, which is proudly liveried on the newcomer's front fender, is a 1.5-litre 4-cylinder turbodiesel with two-stage turbocharging that produces 73.5 kW at 3 750 rpm with peak torque of a hand 240 Nm between 1 600 and 2 800 rpm. It sounds good in theory...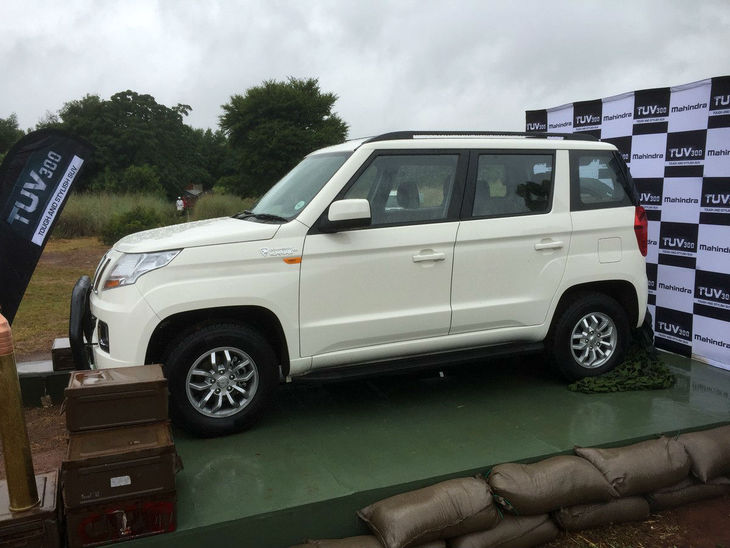 The Mahindra may appear slightly under-tyred on 15-inch rims, but the driving experience is much more composed than many would expect.
However, while the motor is well mated with an otherwise slick-shifting 5-speed transmission and feels generally tractable at urban speeds, it doesn't offer much in terms of overtaking capability at freeway speeds – a trait that will be undoubtedly exacerbated when five (or more) occupants and their cargo are aboard the TUV300. Still, brake energy regeneration and auto stop-start technologies are said to contribute to a claimed fuel consumption of 5.4 litres/100 km, which would be remarkable, if you could achieve anything near that figure. A turbodiesel is a good fit for this application.
Summary
As with any First Drive write-up, any critique of a new product is relative to what is positioned around it in the market. In this case, it's tricky, because 7-seaters are rare in the compact family car segment. The T8 derivative (the only offering at this stage, although an automatic version is said to be on the cards) undercuts the aforementioned 7-seater Honda BRV's entry-level version by almost R10 000 and it's RWD, as opposed to FWD.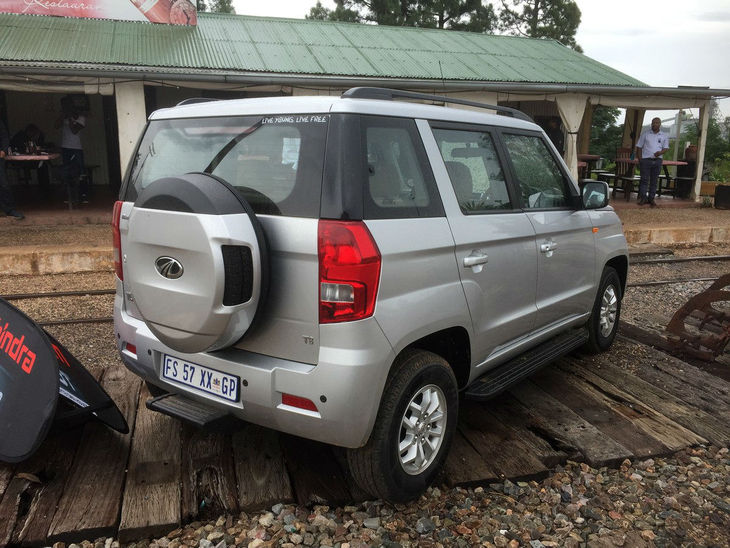 By moving the (full-sized) spare wheel to the horizontally-opening tailgate, Mahindra optimises luggage space.
And, with an asking price of R229 995 (at time of launch, February 2017), which includes a 3-year/100 000 km warranty, and a 3-year/ 90 000km service plan (with first service at 10 000km followed by intervals of 20 000 km), the TUV300, replete with its plucky air-con (with economy feature), electric windows all round, nifty infotainment system, practical layout and frugal (if workmanlike) turbodiesel powerplant, represents a real bargain to those who'd like a compact family car, but require added practicality. It exudes solid build quality and is not nearly as unwieldy as it looks.
Yes, to proclaim your product a battle tank for the urban commute is certainly brave for Mahindra, which, admittedly, treads its own path, product wise, especially in terms of styling. Unfortunately for the Indian marque, the TUV300's love-it-or-hate-it exterior treatment is a disadvantage in a market where cutesy "off-roading city-slicker" looks are very much in demand. It's not cute. Having said that, awkward looks didn't deter the erstwhile Toyota Venture (and Condor) from achieving success... And the Mahindra is a significantly better product that those dreary econoboxes were!
Related content:
Honda BR-V 1.5 Elegance Manual (2016) Review
Suzuki Vitara 1.6 GL+ (2016) Review
2015 Suzuki Vitara Video Review
Renault Captur Sunset (2016) Review
Renault Captur 88 kW Dynamique (2015) Review
Crossover Comparison: Honda HR-V vs Mazda CX-3
Want to buy a Mahindra?