In an effort to broaden the appeal of its Pik Up double-cab, Mahindra has introduced a pair of 6-speed automatic derivatives to its bakkie range. We take a closer look at the S11 4x4 version to see how well it performs and gauge whether it's worthy of your consideration...
We like: Good overall performance and economy, SUV-like interior, affordability
We don't like: Some interior ergonomic issues, lack of interior storage spaces
Fast Facts:
Price: R414 999 (June 2020)
Engine: 2.2-litre turbodiesel
Power/Torque: 103 kW/320 Nm
Transmission: 6-speed automatic
Fuel consumption: 8.1 L/100 km (claimed)
Payload capacity: 995 kg
What is it?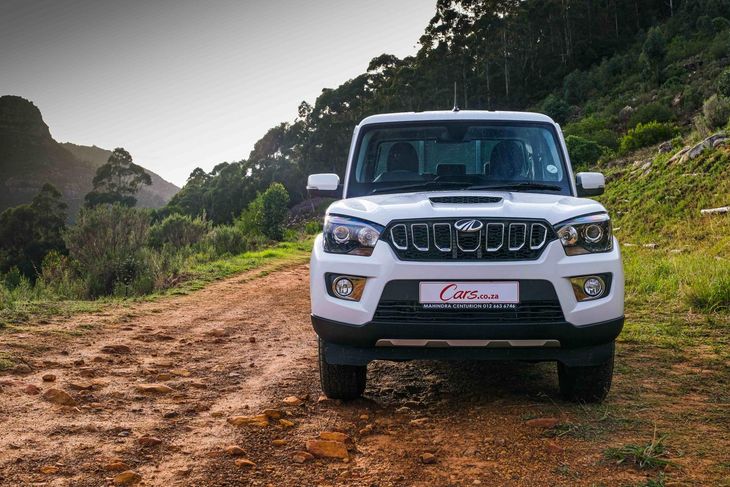 The Mahindra Pik Up S11 Automatic now sits at the top of the local Pik Up range.
Earlier this year, Mahindra introduced a new 6-speed speed automatic transmission to its Pik Up bakkie range. According to Mahindra SA chief executive Rajesh Gupta, the move was prompted by "overwhelming demand for an automatic transmission" and the Indian manufacturer will undoubtedly be hoping to build on the impressive growth it achieved in the local market in 2019. Last year, the brand's total market share grew to about 1%; Mahindra is evidently one of the fastest-growing vehicle brands in Mzansi.
The Pik Up S11 automatic is offered in 4x2 and 4x4 guises and should appeal to buyers looking for value and convenience in the lower end of the double-cab market.
How it performs in terms of...
Exterior styling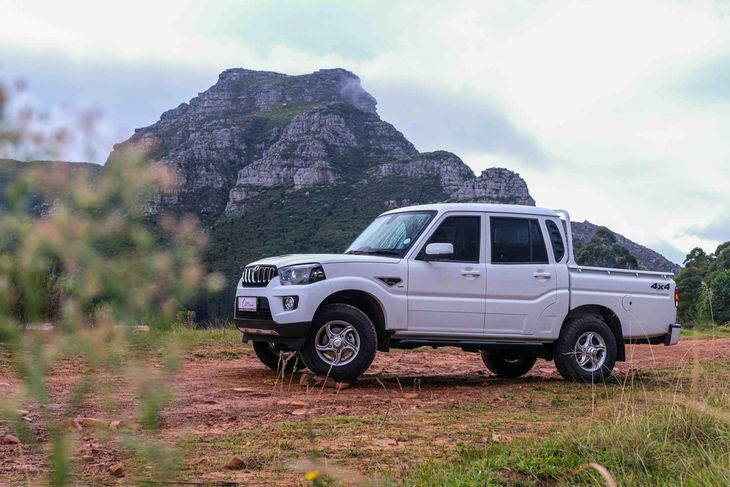 The Mahindra's boxy design won't appeal to everyone, but the S11 4x4 Auto is here to work, not win beauty pageants.
If we're honest, the Mahindra Pik-Up looks a bit ungainly with its overtly boxy design and unusual detailing (such as the awkwardly shaped grille, headlamps, fender vents and rear three-quarter lights), but it's not ugly – you soon get used to it; besides, the Mahindra has a more old-school workhorse appeal, which some people prefer to the look of blingy "lifestyle-oriented" bakkies. The Pik Up S11 is now the range-topper and, as such, it's differentiated by those aforementioned new-look headlights, grille and bumper.
Like most double-cabs, the Pik Up is a large vehicle. With a ground clearance of 210 mm, it stands quite tall, but the running boards help with ingress to, and egress from, the cabin. However, while most tall vehicles have grab handles conveniently placed on the A-pillars to help the driver and front passenger hoist themselves in, the Pik Up doesn't.
Interior execution and features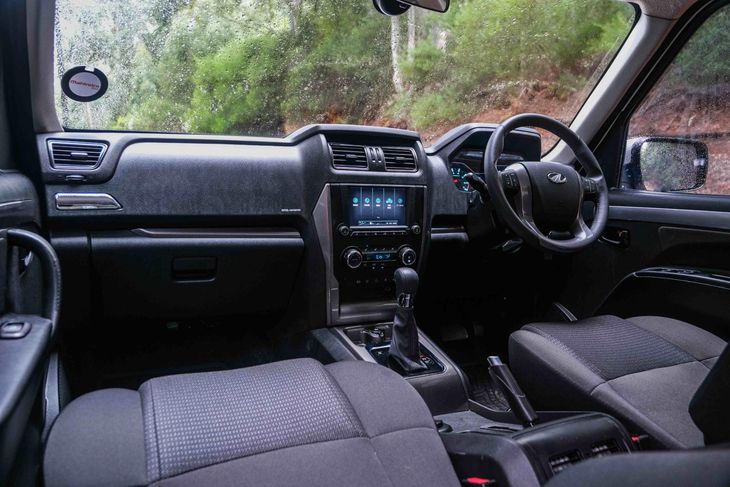 The Pik Up S11's interior is not as workmanlike as you would expect. It's more like an SUV...
The first thing you'll notice when you're ensconced behind the 'wheel of the Mahindra is that you sit quite high – almost as if you are perched atop the driver's seat (rather than sitting in it) – but the view of the road from that vantage point is quite commanding, which shorter drivers will particularly appreciate.
One of the interior highlights is the new 7-inch touchscreen infotainment system, which offers Bluetooth, satnav and, for the first time, the feed from a reverse-view camera. It's great to have extra rearward visibility on a vehicle of this size, but the camera guidelines are static, so you still need to be vigilant when executing reversing manoeuvres.
Sadly, the infotainment system doesn't offer Apple CarPlay and Android Auto functionality, but its interface is intuitive; it requires little familiarisation. The touchscreen is positioned relatively low in the fascia, so it has a tendency to draw your eyes from the road (when you're using it on the move). Also, it has a rather annoying jingle at start-up.
The Mahindra's perceived interior build quality is better than we expected – the level of fit and finish feels a little more upmarket than, say, in a comparable Isuzu D-Max, which is admittedly quite dated by now. The Pik Up S11 may look like a workhorse, but its cabin does not feel utilitarian; it's decidedly SUV-like inside, which we think is a good thing.
Other notable features include a multifunction steering wheel, cruise control, climate control (auto aircon) and front and rear electric windows. It's worth pointing out there is very little space to store oddments inside the Pik Up, especially if you want to keep personal items out of sight. There are no bottle holders in the front doors or a central storage bin.
To its credit, however, the Mahindra affords rear passengers fair amounts of leg, head and shoulder room; it's actually quite comfortable to be seated on the backbench.
Performance and Fuel Economy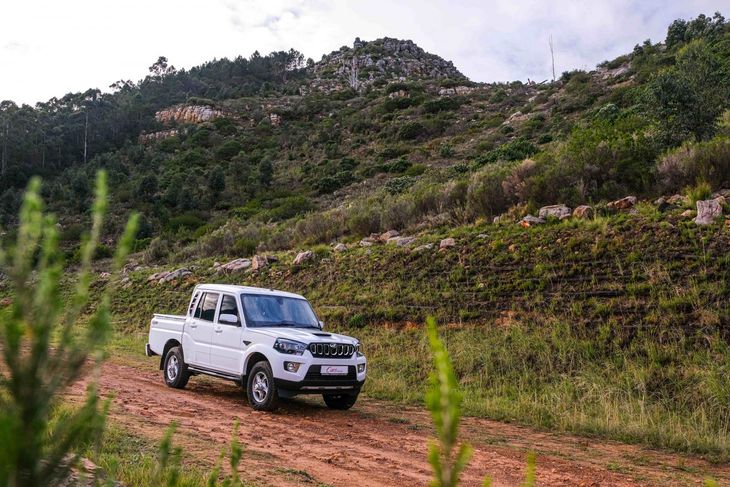 The Mahindra Pik Up S11 automatic performs surprisingly well.
The tried and tested 2.2-litre M-Hawk turbodiesel engine is a bit noisy at startup (especially from cold, as most bakkie motors are), but it does offer 103 kW and 320 Nm of torque. While it may not be the most refined engine on the market, it does offer decent acceleration when you plant your foot flat. It definitely doesn't feel sluggish.
By virtue of its new 6-speed auto 'box, the Pik Up is much easier to drive in congested traffic, where the transmission shifts through its gears relatively smoothly. In terms of fuel efficiency, Mahindra claims an average consumption figure of 8.1 L/100 km and we were quite surprised to see returns of around 9.4 L/100km, which is commendable indeed.
The ride quality can become unsettled over rougher surfaces (especially when the bakkie's unladen), but in general, the Pik Up rides comfortably enough on the daily commute. Our biggest gripe with the S11 4x4 Auto's on-road performance is its gargantuan turning circle; we found it a chore to turn the bakkie around or park it in confined spaces.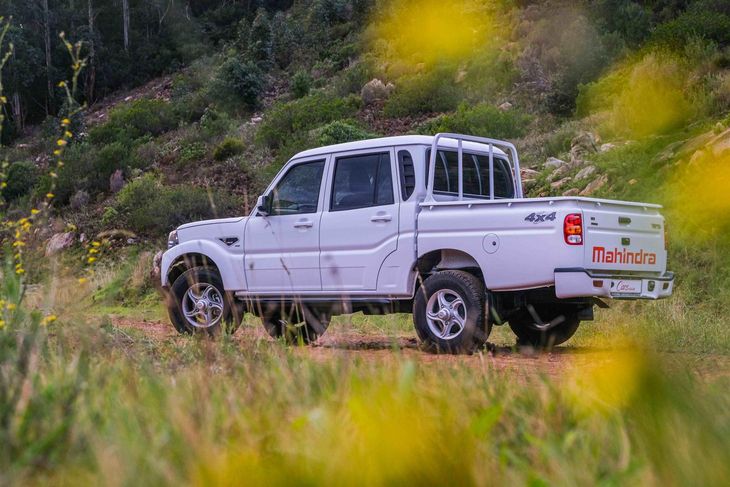 The Pik Up S11 does come with a rearview camera but its large turning circle makes it difficult to manoeuvre in tighter spaces.
In terms of off-road capability, however, the Pik Up coped well in mild to moderate off-road terrain. A dial in the centre console allows the driver to easily switch between 2H, 4H and 4L. Moreover, when the going gets tough, there's a mechanical differential lock to help you conquer demanding terrain. Hill descent control is also part of the package.
As for the load bay, this 4x4 derivative has a load capacity of 995 kg, which is just about on par with other offerings in this segment, but it is worth noting that the bakkie's tub is deeper – but perhaps not as long – as other double-cabs in the market.
Pricing and warranty
The Mahindra Pik Up 2.2CRDe S11 4x4 Automatic is priced from R414 999 while the 4x2 Automatic derivative retails for R384 999. The Pik Up is sold with a 4-year/120 000km warranty and a 5-year/90 000 km service plan.
Take a look at specification details for the Mahindra Pik Up S11 4x4 Automatic
Browse for a used Mahindra Pik Up on Cars.co.za
Verdict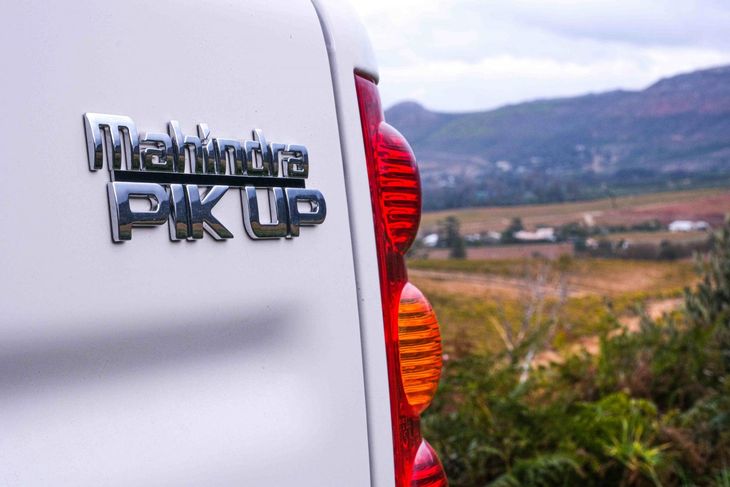 Underrated and surprisingly capable, there's more to the Mahindra Pik Up S11 than meets the eye...
This Mahindra Pik Up reminds us not to judge a book by its cover. Its overall performance surprised us: not only does it offer an adequate engine and transmission combination, but it comes quite well-specced as standard. We think it's quite underrated and deserves a closer look if you are in the market for an affordable automatic double-cab bakkie.
Priced at R414 999, the Mahindra Pik Up S11 4x4 automatic is currently the cheapest automatic 4x4 double cab bakkie on offer (from new) in South Africa and it's almost R64 000 cheaper than the equivalent Isuzu D-Max, which represents a substantial saving.
In these cash-strapped times, which has been exacerbated by the ongoing Covid-19 pandemic, an increasing number of buyers will be prioritising value-for-money in their new car purchasing decisions... If you can wrap your head around the Pik Up's odd looks, you will find a double cab that is attainable, capable and even charming.
Related Content:
Mahindra Pik-Up S11 Automatic (2020) Specs & Price