After covering more than 2 300 km with the Volkswagen T-Cross during the end-of-year break, our extended test of the Wolfsburg-based brand's compact family car has come to an end.
The best thing about conducting extended tests during the holiday period is that we are afforded opportunities to form a more in-depth understanding (and, sometimes, appreciation) of models that are new to the market. That's not to say our usual 10-14 day test isn't thorough – because all testers need to have a chance to drive test cars during the rest of the year, individual editors may not necessarily get enough seat time to notice all of a vehicle's quirks and talents.
Since its arrival on local showroom floors towards the end of 2019, the T-Cross has lit up the sales charts for Volkswagen; it's notched up impressive numbers right from the get-go. It's not as if the rest of the segment's offerings are sub-standard (we understand that Kia's new Seltos is also flying out of dealerships), but there's something alluring and reassuring about a product of the Volkswagen brand.
We were availed a 1.0 TSI Highline DSG (with a number of options fitted) for the extended test. You can't ignore the Energetic Orange exterior finish, nor the orange dashboard inserts and white seat accents, which add some vibrancy to the German crossover. The colour scheme forms part of the Styling Package, the first of the options. Keyless entry, a Beats sound system, Park Package and Infotainment Package were also fitted to "our" car; we nicknamed it Tangerine.
While we didn't have plans to travel very far, the Volkswagen T-Cross encouraged us to explore – we did road trips around the Western Cape and a highlight was heading to Ceres with the family for the annual summer picnic.
3 Things To Like about the T-Cross
Practicality

4 adults and all the picnic paraphernalia were squeezed into the T-Cross.
For a vehicle that's essentially based on the Polo compact hatchback, there's a surprising amount of interior space, both in terms of cargo-carrying capacity as well as rear legroom (space-utilisation is a strength of the MQB platform). The real party trick is the sliding rear bench, which can either increase legroom or increase luggage space. If you're a person who cycles a lot, we would recommend considering the removable trailer hitch option (R4 300).
We also appreciated the well-thought-out cabin layout. The T-Cross offers a plethora of storage compartments for keys, wallets and phones. The door pockets are generously sized (they can hold large bottles of water with ease) and, given the connectivity options, such as Android Auto and USB, the potential for a crow's nest of cables was high... However, the wireless charging pad is located in a convenient central storage area to store your phone out of sight.
Performance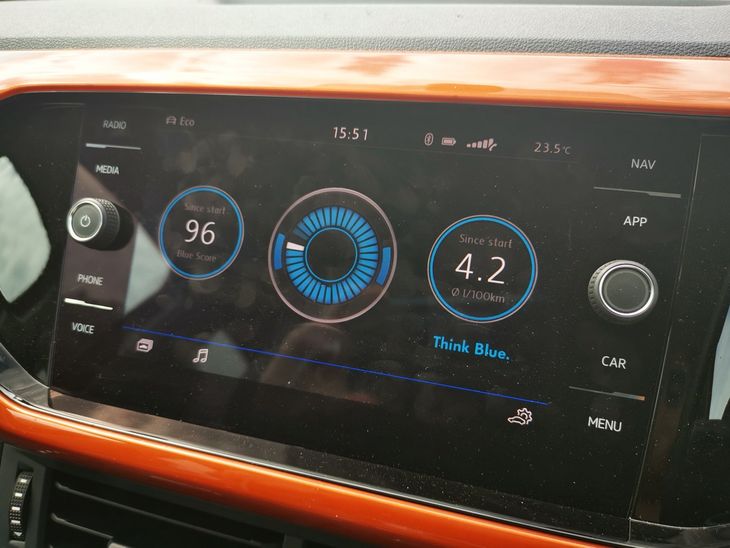 If you try really hard to drive the T-Cross conservatively, you can get incredible consumption figures from the 1.0 TSI Highline DSG.
The 1.0-litre turbopetrol (85 kW/ 200 Nm) is the only engine in the range (for the moment), but we enjoyed its punchiness. The eager 3-cylinder motor, in combination with a dual-clutch 'box, delivered energetic in-gear performance; it's a surprisingly nippy runabout. You don't even have to engage the sportiest of settings to get the most out of the powertrain and we made extensive use of the shift paddles on sportier driving stints. Sadly this author broke his right arm in a mountain bike crash and was forced to drive the T-Cross in full auto mode for the last week of the test. Volkswagen claims a 0-100 kph sprint time of 10.2 seconds, which may not sound fast, but it feels more than adequate.
The driving position is great because you sit higher up (in more of a perched position) than you would in a Polo, but at no point does it feel like you're in a bigger, comparatively cumbersome, car. Fuel economy is where the vehicle excels, but, as ever, the claim of 5.3 L/100 km is a little optimistic. After travelling a total of 2 300 km and came away with an indicated figure of 6.6 L/100 km, which we think is quite fair.
Connectivity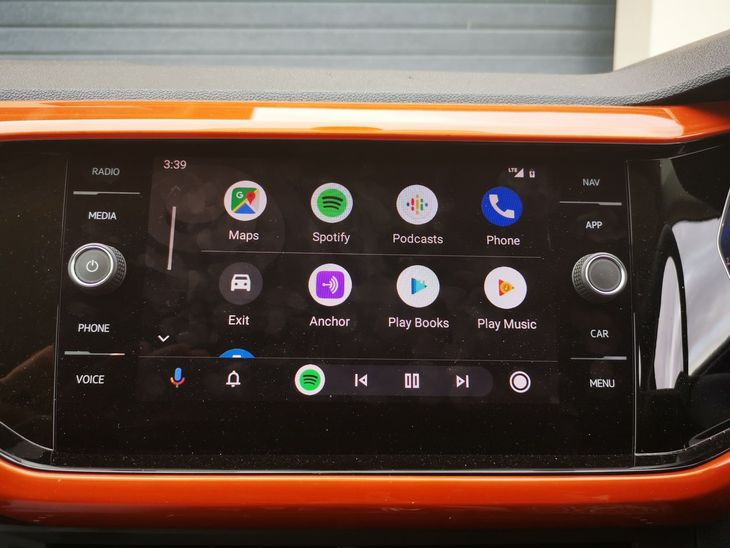 Android Auto was used every day. With Google Maps, Spotify and WhatsApp functionality, there's no need to touch your phone will driving.
We applaud onboard technologies that contribute to a reduction in driver distractions. Even though it's a relatively expensive option (R22 850), the extended infotainment package is well worth looking into as it adds app connect, voice control, a navigation system, a digital instrument cluster, as well as 2 additional USB ports.
Infotainment systems with Android Auto and Apple Carplay compatibility have revolutionised the way users access in-car media-playing-, navigation- and telephony functions... In the T-Cross, we simply plugged in our smartphones (via a USB cable) and let the software do the rest. Having your WhatsApp messages read out to you, receiving route guidance from Google Maps and connecting to streaming services such as Spotify greatly enhance the user experience, plus a driver never needs to take their eyes off the road. In fact, it became almost second nature for us to start the car and plug in our phones right away. We did notice if we skipped music tracks too quickly the system had a tendency to lag...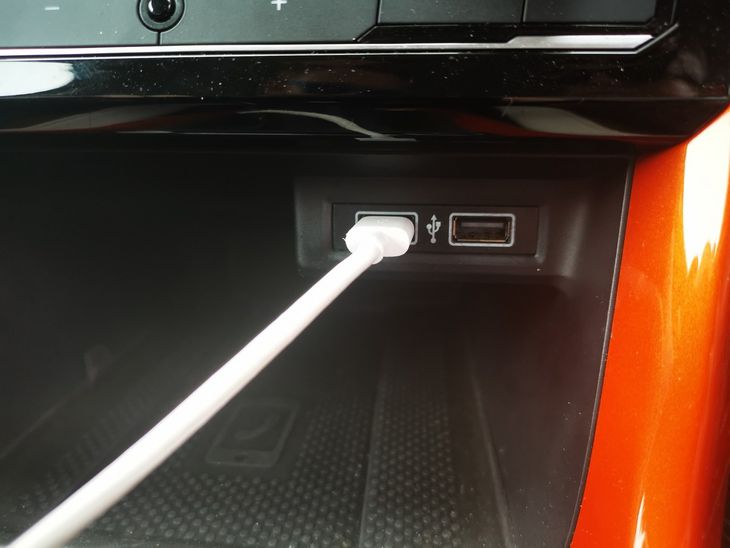 One of the 4 USB ports being used. Note the wireless charging pad and phone cradle below it.
Dislikes?
Kudos to Volkswagen for designing something as fresh and cleverly-packaged as the T-Cross. It would have been far easier for the marque to clad a Polo with plastic accoutrements, raise its ride height nominally and fit roof rails and sell that as a baby SUV, but we don't think it would have made as big an impact. Remember the Cross Polo? That being said, no car is perfect and we were irritated by the Android Auto's tendency to lag in its responses to track-skip inputs.
Furthermore, some may be a little disappointed with some of the marginal interior finishes, which, if not flimsy, aren't quite up to Volkswagen's usual high standards. For example, the plastic lever to fold down the rear seats came loose and while it easily clicked back into place, this is a high-use item that should have been strengthened for durability. The ride quality was a bit firm, which we'll attribute to the 215/45 R18 orange alloys, but you can spec smaller wheels.
Buyers Advice
To reiterate, the Volkswagen T-Cross is a stylish and well-executed compact family car/small crossover. At the time of writing, there was just the 1 powertrain available: the 1.0-litre 3-cylinder turbopetrol mated with an automatic transmission, but the Wolfsburg-based firm will be introducing further derivatives in 2020, including a 70 kW version with a manual gearbox, as well as a flagship 1.5-litre offering, which has peak outputs of 110 kW and 250 Nm.
So if you're considering the Volkswagen T-Cross as your next car, there will be more options in the imminent future. If you venture to a dealership to check out the newcomer and find yourself uncertain if its compact dimensions will quite suit your needs, Volkswagen will be launching a new compact SUV, called the T-Roc, which will slot in between the T-Cross and the Tiguan, later this year.
Further reading:
New Volkswagen T-Cross vs Volkswagen Polo - Which one should you buy?
Volkswagen T-Cross 1.0TSI Highline R-Line (2019) Review
Euro NCAP's Safest Cars of 2019