We spent some quality time with the Citroen C5 Aircross during the recent end-of-year break. The French contender is well-liked by our test team and a finalist in the 2020/21 Cars.co.za Consumer Awards – powered by WesBank. The holiday period gave us a chance to experience what the Citroen was like to live with.
The best thing about conducting an extended test is that it provides an opportunity to form a more in-depth understanding (and, sometimes, appreciation) of a new model. That's not to say our usual 10-14 day test isn't thorough – because all testers need to have a chance to drive test cars during the rest of the year, individuals may not necessarily get enough seat time to notice all of a vehicle's quirks and talents.
Our test unit was the C5 Aircross in flagship Shine specification. This trim level adds niceties such as a panoramic roof, rear-parking camera, partial leather trim and keyless entry, to name but a few.
Seeing as contemporary vehicle design is greatly influenced by the need to adhere to ever-stricter safety standards, facilitate aerodynamic efficiency, conform with brands' design language and so on, it's rare to find a vehicle that really stands out from the crowd, aesthetically-speaking. The Citroen C5 Aircross is a design masterpiece – not only is it totally unique, but its design is interesting from every angle...
That distinctive front end must be quite the sight in other road users' rear-view mirrors! What's more, the black side-cladding boasts anti-dent Airbump tech, so there's very little chance that your vehicle will be damaged by car doors that are carelessly swung into its flanks in a parking lot, for example. The unique style extends to the French model's suitably funky, but high-functioning, cabin. The seats look great and the digital instrument panel features a selection of themes and appears thoroughly futuristic. You can see there's been a focused effort to make the vehicle interesting... and a hot topic of discussion.
After 1 200 km and a few weeks' travel on tarred- and gravel roads, here are our thoughts about this stylish family car...
3 Things To Like about the C5 Aircross
Comfort and features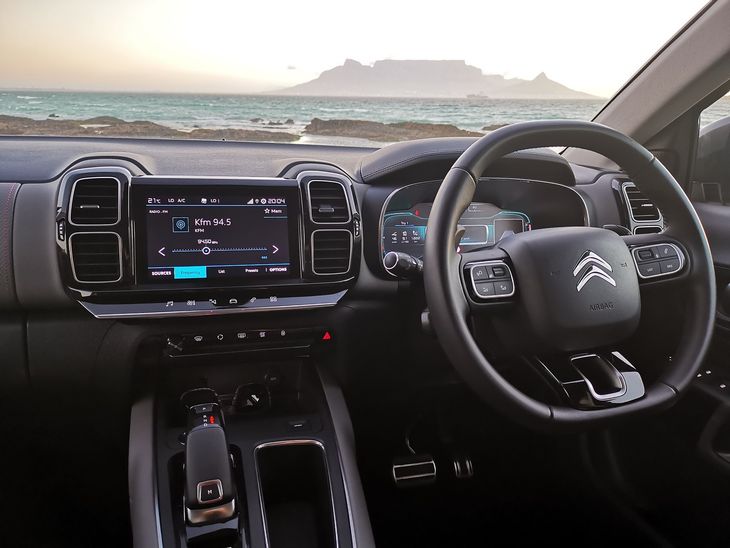 The C5 Aircross' interior styling is ornate but stops short of being fussy. Note how well the digital displays' layouts are co-ordinated.
The Citroen C5 Aircross scores full marks for occupant comfort and standard specification – there are no optional extras to consider. Also, Citroen claims its C5 Aircross is engineered to deliver a smooth and absorbent ride quality, but marketing spin aside, the suspension really is comfort-focused. We do suspect the higher-profile 235/55 R18 Michelins are the unsung heroes here. Not much effort is required to turn the steering wheel from lock to lock. Okay, there's not much feedback, but it's in keeping with the car's requirement to provide relaxed family transport. It's effortless to drive and that's exactly what you want.
A wireless charging pad and Android Auto connectivity are virtual prerequisites in a vehicle costing half a million Rand, and we were delighted the Citroen C5 Aircross had both. The audio system is good, too.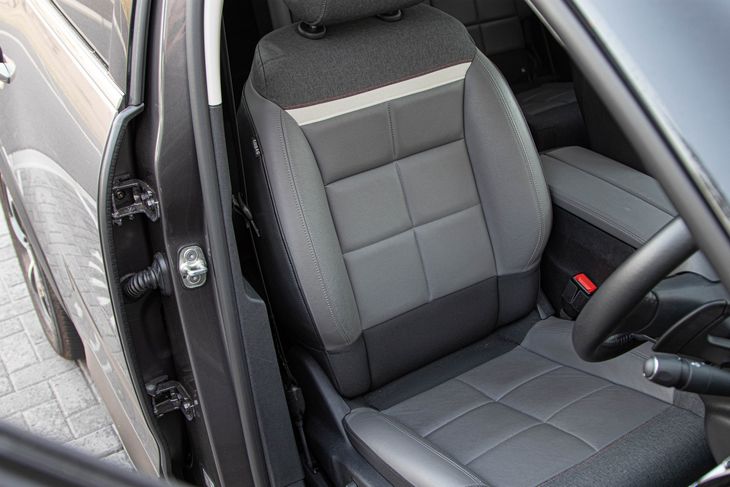 Don't be fooled by the retro-inspired stitching, the Citroen's driver's seat offers superb long-haul comfort.
The position of the Citroen's driver's seat, meanwhile, is excellent. You're not perched "on a ledge" – as you would be in a larger SUV; not everyone prefers that – but you don't fall into the cabin either, as you would in a conventional hatchback, especially if you are of above-average height. The Shine-trim seats are great – not only do they look the part, but they are surprisingly comfortable over long distances.
Practicality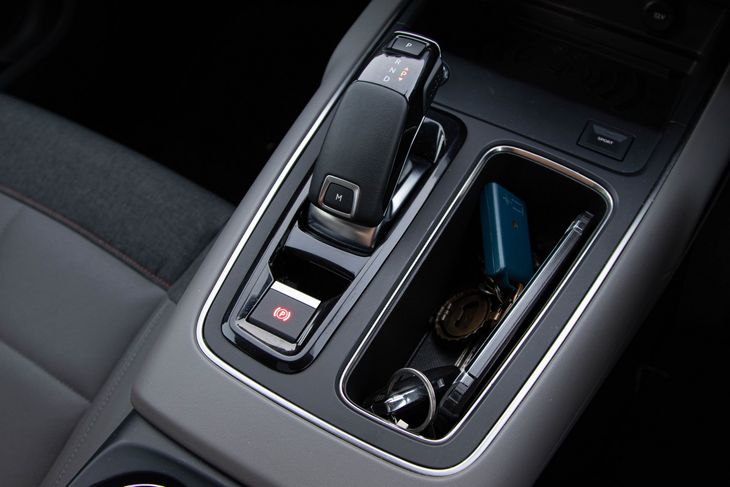 Storage, storage, storage!
As opposed to double-cab cabins, for example, the C5 Aircross' interior layout has been well thought out and customers have ample places to hide their odds and ends. If our tester's mobile device didn't need to be charged on the convenient wireless pad, it could be placed conveniently in a recess next to the transmission selector. This recess is perfectly sized for keys, a wallet and a smartphone.
Oh? Do you need more space? Can we mention the centre armrest whose depth defies belief? At one stage, we had a jersey, camera and a 1-litre water bottle stowed in there, and there was still room for more stuff. The Citroen's luggage capacity, meanwhile, is on par with that of the popular Volkswagen Tiguan – 520 litres without the rear seats folded down.

That's a 1-litre bottle and the bonus is that this storage area receives plumbing from the climate control system, so it's chilled.
Safety Features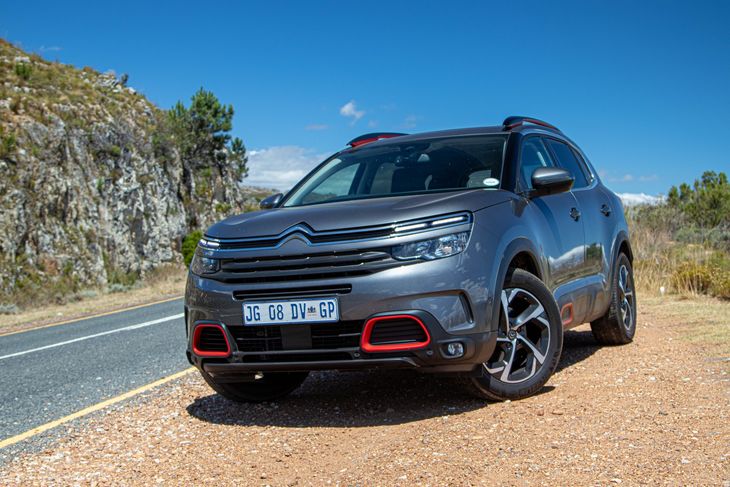 The safety radar module can be spotted just under the Citroen's registration plate.
Citroen has given its C5 Aircross a comprehensive safety package. It can be argued that some of the active features are a little intrusive, but we soon worked out that you can disable the automatic lane-keeping assist, which is activated above 70 kph, if its machinations become a trifle irritating. For the most part, we left it engaged. We appreciated the emergency braking alert, which warns the driver when a vehicle suddenly stops in the Citroen's path. What's more, there's a system that monitors driver alertness, so if you start feeling drowsy during a long-haul journey, the car will suggest that you take a break.
In what's surely an industry first, the C5 Aircross also features an integrated dashcam, located near the rear-view mirror. It's constantly recording and in the event of an incident, its footage can be downloaded.
Dislikes?
Our 1 200-odd kilometres at the 'wheel of the C5 Aircross were pleasant and enjoyable, with the test unit charming us with every mile. However, there were some minor niggles. Firstly, the powertrain (a 1.6-litre turbocharged petrol engine mated with an automatic transmission) is not particularly frugal. It's not a gas-guzzler, but our consumption hovered around 9 L/100 km. Those figures are average when the majority of our driving was on the open road – many of the Citroen's competitors are "lighter on the juice". Still, it's a small price to pay for a punchy engine that delivers good in-gear performance for overtaking.
Our other gripe was with the ergonomics/user experience of the (otherwise slick-looking) infotainment system. We're big fans of hands-free connectivity features such as Android Auto and Apple Carplay and will use them whenever available. However, if one of those is running, you have to exit the application and return to the car's native system to change something like a climate-control setting. Sometimes you just can't beat conventional buttons and switches! Speaking of switchgear, there are 'shift paddles, but we found that vehicle does a perfectly good job of changing gears by itself, so they're largely redundant.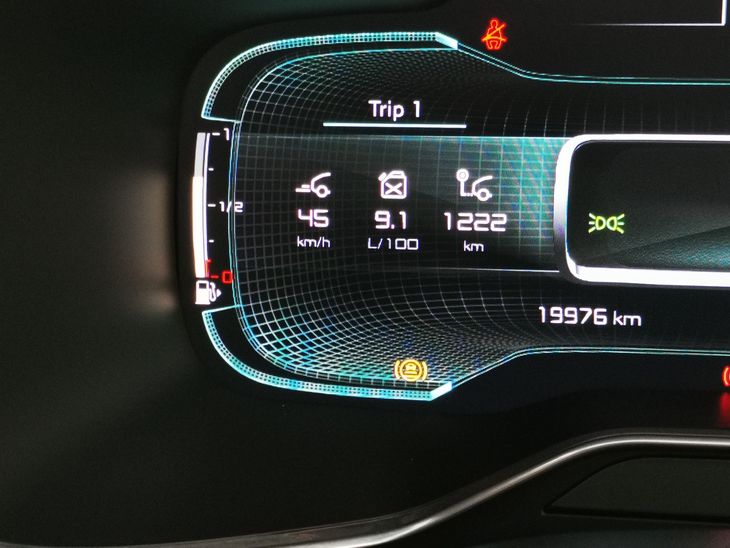 This yellow warning light initially worried us, but a quick Google search solved the minor issue.
The Citroen C5 Aircross did produce a tiny electronic gremlin during its extended tenure in our test fleet and it took some googling to get to the bottom, literally, of the issue. It turned out that the frontal radar sensor, which is located on the lower bumper underneath the number plate, is susceptible to extreme heat and it caused a warning light to appear on the dashboard. It came on during a spell of particularly hot weather when the test unit was parked in the blazing sun for protracted periods. To resolve, simply start driving again and the airflow will soon cool the affected area, after which the warning light will disappear.
Buying Advice
Should you buy a C5 Aircross in light of Peugeot Citroen South Africa's historic reputation for iffy after-sales support? What about depreciation and parts backup? Well, if you're willing to place your trust in the recently consolidated company's rejuvenated dealer network (the Opel brand is now part of the firm's portfolio too), there are certainly bargains to be had.
While we deem the list price of a brand-new top-spec C5 Aircross Shine fair at R560 000 (January 2021), it's astoundingly good value if you're prepared to go the demo route. A quick search on Cars.co.za's used car listings turned up 2019 models with mileages ranging from 4 900 km to 13 000 km retailing for around R390 000. We feel that those are extraordinarily tempting deals for a modern and safe family car; seeing as someone else (the vehicle's original owner or the dealership itself) has taken the first, ostensibly heaviest, depreciation hit, you could take full advantage of the lower purchase price...
Browse through Citroen C5 Aircross units for sale in South Africa here
Further Reading
Citroen C5 Aircross 1.6T Shine (2019) Review
Citroen Returns to South Africa
2020/21 Cars.co.za Consumer Awards - Powered by WesBank; Finalists