Cars.co.za correspondent Ian McLaren was the custodian of Audi's flagship Premium SUV, for a full month, during the festive season. He reports back on his experiences.
While we usually form our opinions of new models by attending media launches (or conducting week-long tests) of those vehicles, the best way to thoroughly acquaint oneself with the intricacies of a product is to assume ownership of a test unit for an extended period of time. While that's not always possible over the course of a calendar year (when vehicles are rotated between motoring journalists in short bursts), the traditional end-of-year break presents a good opportunity to find out how well a particular model "fits in" with a reviewer's lifestyle. In my case, this includes accommodating a wife and 2 toddlers…
Although it's a relative latecomer to the swept-back-roofline Premium SUV brigade, the Audi Q8 has an arresting shape; compared with its rivals (such as the BMW X6 and Mercedes-Benz GLE Coupe, for example), it looks sufficiently distinct from the model on which it is based (the Q7). This is not always the case in this segment where, more often than not, the most notable difference between the SUV and coupé-inspired models is the gradient of the tailgate's slope. Of course, the 2019 introduction of the Q8 also preempted the mid-life facelift of the Q7, which we saw on our market towards the end of 2020.
The Q8 is 66 mm shorter and 35 mm lower than the Q7, but because it's 27 mm broader than its more traditionally-shaped sibling, it has a more imposing stance. While the Q7 is able to accommodate a 3rd row of seats (remember, it rides on the same wheelbase as the Q8), the sleeker of these 2 packages loses little in the way of rear passenger comfort or, indeed, luggage capacity below its ramped roofline.
3 things to like about the Q8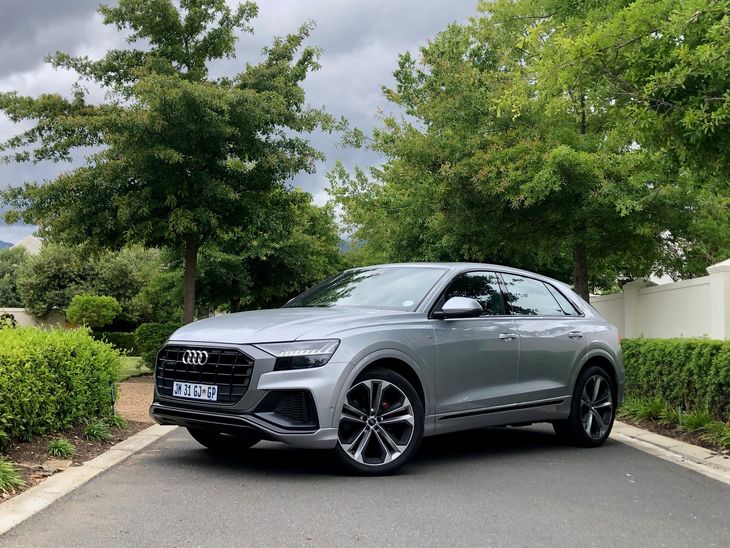 The Q8 separates itself from the Q7 in its design better than say, the BMW X6 does from the X5.
Distinctive styling
Impressively capable and no less versatile than its rivals, the (recently facelifted) Q7 hasn't made as big of an impression in the local market as Audi would have hoped; it may have something to do with South Africans' apparent dislike of the Q7's station wagon-like profile or their predisposition to what the competition is offering. Even so, there's little chance of the svelte Q8 blending into the background!
While I do appreciate the aesthetic value of Audi's imposing chrome-look grille, the optional Black appearance package fitted to this particular Q8 test unit does arguably offer broader appeal by virtue of its subtlety. The pricey (at an additional cost of R80 840) and also-optional S line Platinum Package adds further presence via various bodywork upgrades, red brake calipers and 22-inch forged alloy wheels.
A party trick on most modern premium Audis is the brand's head-turning lighting pageantry. This includes the LED elements' signature welcome sequences, which are guaranteed to spark conversation.
Comfort and versatility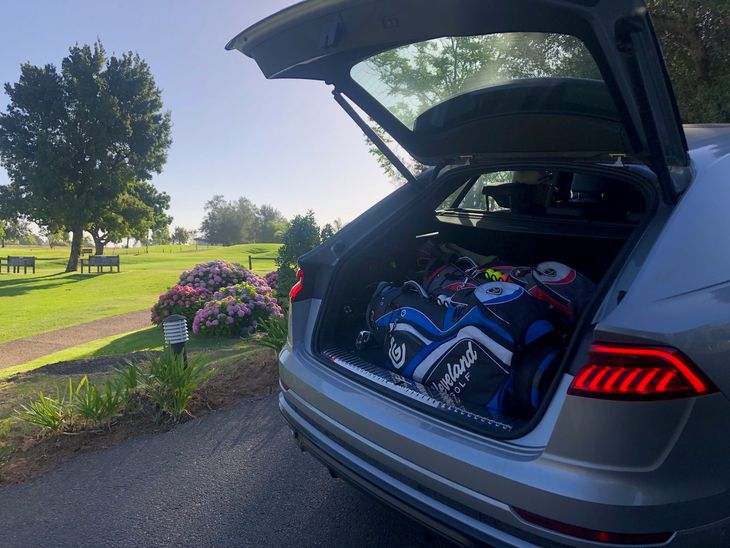 Sloping rooflines don't affect the load-bay capacity when loading flatter items, like 3 sets of golf clubs.
The fitment of 22-inch wheels and corresponding low-profile rubber may be counterproductive to any semblance of ride comfort, yet included in the abovementioned S line Platinum Package is adaptive air suspension, which works seamlessly behind-the-scenes to ensure the near-2.3-tonne Q8 delivers as close to A8 first-class sedan levels of ride comfort and on-road stability as possible.
That said, while it's fun witnessing fellow road-users reactions to the Q8's burly frame lifting steadily from its crouched cruising height at traffic intersections, I remain intrigued as to which upgrades are going to be applied to future performance-focused derivatives (SQ8 and RS Q8), the current setup is most decidedly comfort-oriented – even when the Audi is in its Dynamic drive mode. In this regard (and I wouldn't mind being proved wrong) I would suggest the Q8's Cayenne Coupé cousin is perhaps better placed to deliver dynamic prowess; Audi's primary objective for the Q8 is to exude sophistication...
Boasting ISOfix child seat anchorage points both in the 2nd row and front passenger seat (for which the airbag can be easily deactivated), my children enjoyed more legroom and comfort all-around than they required (or appreciated). During December midday heat the Q8's standard 4-zone climate control system, which features console- and B-pillar-mounted vents focused towards the rear seats, was a godsend.
While the Q8's luggage compartment easily helped Father Christmas transport my daughter's new 20-inch bicycle to our home, it also comfortably swallowed 3 sets of golf clubs (with drivers) on dad's day off.
Efficiency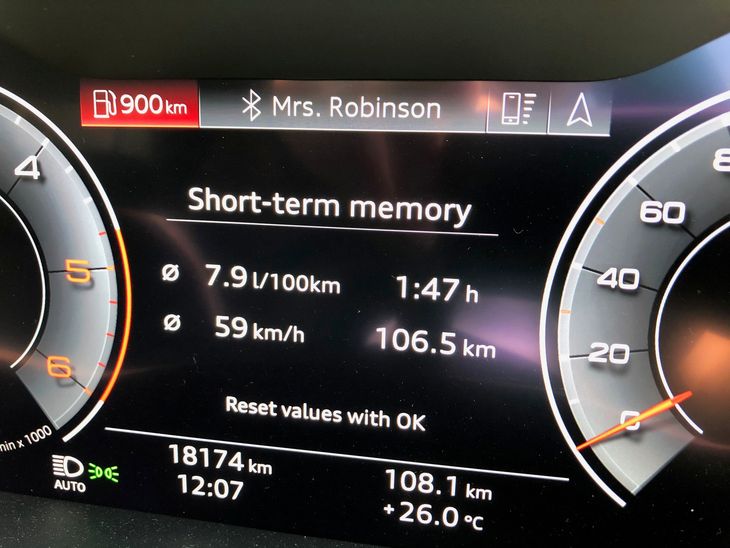 Initial fuel consumption seemed very impressive, but after a combining city driving average fuel consumption over the month read 9.2L/100 km.
The Q8 was launched exclusively in 55 TFSI (V6 turbopetrol) guise, but Audi South Africa later introduced this Q8 45 TDI derivative. In this application, the brand's excellent 3.0-litre V6 turbodiesel mill offers 183 kW and 600 Nm of torque delivered to all 4 of the Audi's wheels via an 8-speed Tiptronic transmission. Apart from coping admirably with this package's not insignificant kerb weight, the powertrain has an impressive claimed (and all-but-achieved during my time behind the 'wheel) combined fuel consumption of 9.2 L/100 km.
Curiously, with the 85-litre fuel tank filled, the onboard distance-to-empty readout peaks at 900 km. It then remains at this mark for around 100 km before then beginning its steady countdown.
Dislikes?
While there's a lot to like about the Q8 package – not least its eye-catching styling and impressive levels of on-road and in-car sophistication – by their nature, all of the products offered in this automotive niche of the market seem to favour style over substance. Sleeker profile and head-turning looks aside, would there be any real benefits to owning a Q8 compared with its reserved, practical Q7 sibling?
Technically, no, but those who are enchanted by the Q8 45 TDI quattro's looks are bound to regard its premium over the Q7 45 TDI quattro S line (R185 000, January 2020) entirely justifiable. Another criticism, which can be levelled at many models in this price bracket: as neat and clever as the dual touchscreen system looks when new/clean, it's near impossible to keep the surfaces free from smudges/fingerprints.
Buying advice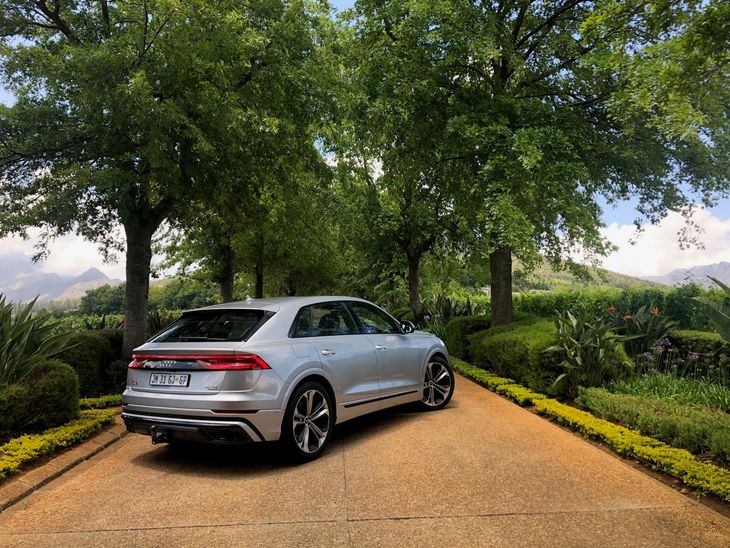 The Q8 looks resplendent in its natural environment - the driveway of a wine farm.
I feel Audi has stolen a march on its rivals in this niche (as well as in the segment in which the A7 Sportback competes) insofar as the Q8 package feels suitably different and charmingly quirky compared with its closest relation. Unlike with the BMW X5 and X6 siblings, for example, it wouldn't surprise me to see the sloped roof Q8 ultimately outsell the more traditionally shaped Q7 in our market.
As with any premium purchase these days, some vigilance is required when specifying additional features to your Q8, because it would not be difficult to push the asking price uncomfortably close to the R2-million mark. That said, the aforementioned S line Platinum pack (including larger wheels, air suspension and cosmetic enhancements) is a box I would be inclined to tick from the outset.
Related content:
Golf 7 guy to oversee Audi design
Audi Q3 Sportback (2020) Review