Our video man, Ciro De Siena, is currently making his way to Spain for the global launch of the Lexus LC500. While we await his first driving impression and video, here's a first look at a car which Lexus hopes will invigorate their current lineup.
Lexus has a reputation for building solid, reliable, luxurious cars, but besides the superb yet largely unattainable LFA supercar, there is very little in the Lexus stable which stirs emotions or creates excitement amongst enthusiasts or even the most casual of petrol heads.
With the LC500, the Japanese marque is hoping to change that. Interestingly, Lexus were never planning to make a car like this - it exists because of the overwhelmingly positive response received by the LF-LC concept which first debuted in 2012. Such was the enthusiasm for the 2+2 Coupe concept that the president of Toyota and Lexus, Akio Toyoda, tasked his engineers with creating a road-going, customer-ready version of the concept.
Key details
The overall shape and most of the dramatic lines of the LF-LC have been retained, if a little restrained for the real world. Power is provided by a naturally-aspirated 5.0-litre V8 engine producing 348 kW and 527 Nm of torque, which is mounted aft of the front axle and as low as possible for optimum weight distribution. The LC500 will feature a 10-speed, single clutch automatic gearbox with close gear ratios to maximise performance and enhance fuel economy.
Lexus claims this new transmission carries no weight penalty over similar 'boxes, and swops cogs as quickly as any dual-clutch transmission. Headline performance figures are a 0-100 kph sprint time of "under" 4.5 seconds.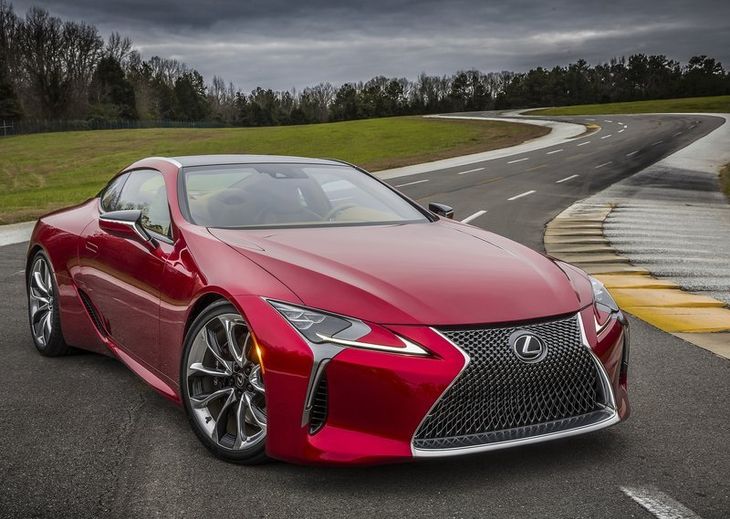 The rear-wheel drive Lexus LC500 combines purposeful styling with a powerful 5.0-litre V8 engine.

While the styling is obviously inspired by the LFA supercar, the LC500 will not be constructed out of carbon fibre like its V10 sibling. Instead, high-tensile steel and aluminium make up the chassis and bodywork. However, a carbon fibre roof is available (glass roof is standard) and carbon fibre in the door structures and a composite boot floor further aids in reducing the overall weight of the car.
Lexus has tried to emulate the characteristic sound of the LFA's V10, and although the V8 will always sound different, they believe the two cars "share the same philosophy" when it comes to engine sound. Even so, they have included a digital sound generator which pipes carefully created sounds through the cars sound system to "enhance" the aural experience.
Lexus's chief engineer, Koji Sato, who we'll be chatting to in Spain, sees the LC500 fitting in the market somewhere between the Porsche 911, Mercedes SL, Maserati GT, Jaguar F-Type and BMW 6-Series.
With an intriguing mix of GT and sports car attributes, we're excited to sample this new product from Lexus. The launch will feature some cross-country driving and a spell on the track, at the Circuito Monteblanco in southern Spain. The inclusion of a track segment is interesting; perhaps Lexus wants the LC500 to be seen as more than just a luxury GT.
The Lexus LC500 is likely to arrive in South African showrooms around June 2017.
Look out for our first driving impression and Ciro's video coming to our Youtube channel soon.
Subscribe to our Youtube channel here

Related content:

Benchmark Lexus LC500 here in Q2 2017 [Video]
Lexus LC500 Coupe Moves Mountains?
Lexus LC500 Coupe Revealed
Lexus LC500h Revealed
Top speed run: Chasing 300 kph in Jaguar F-Type SVR [Video]
Jaguar F-Type SVR (2016) First Drive [with Video]
Audi RS6 Avant vs Jaguar F-Type Coupe AWD R - The Final Showdown
Mercedes-Benz SL500 AMG Line (2016) Review
Want to buy a Lexus?