Lexus has added a petrol-electric hybrid derivative to its underrated IS business class sedan range and introduced more safety features in the IS 350 F-Sport​ version.
The automotive world seems hell-bent on the wide-scale electrification of production vehicles, but it's nonetheless going to take a while for all-electric vehicles to become popular in the South African market; they're simply too expensive for most buyers and the recharging infrastructure required to support them is still in its infancy. Lexus (and parent company Toyota) have always preferred the petrol-electric hybrid route, which is claimed to offer the best of both worlds. A hybrid vehicle utilses a combination of a specially-tuned petrol engine and battery-fed electric motor(s).
The Lexus IS sedan underwent a facelift in 2016, but it has taken the Japanese brand a further 2 years to add this new hybrid version, which coincides with a model range adjustment. The 200t has been rebadged as the 300 EX and the 350 F-Sport gains additional safety specification. You can distinguish the hybrid version from its bethren by its slightly revised rear bumper, hybrid badges and blue Lexus logos on the grille and bootlid.
Powertrain
The internal combustion engine component of the Lexus IS 300h is a 2.5-litre naturally aspirated 4-cylinder motor that produces 133 kW and 221 Nm. It features D-4S direct fuel injection, Dual VVT-i intelligent variable valve timing and high-efficiency exhaust gas recirculation, and it runs on the Atkinson cycle for maximum efficiency. With the addition of an electric motor and its boot-mounted battery, total power output is rated at 164 kW.
Fuel efficiency is this vehicle's focus and it's said to consume just 4.9 L/100 km and emit 104 grams of CO2 per kilometre. It's reasonably brisk too, with a claimed 0-100 kph time of 8.5 seconds and a stated top speed of 200 kph. The derivative can be operated in various modes: you can drive it in petrol-electric combination mode or, if the battery's state of charge allows it, in pure electric mode at slower speeds, such as stop-start traffic.
The petrol-electric setup is aided by regenerative braking, so the moment you apply the brakes, kinetic energy is converted back into electricity to charge the battery, which the petrol engine also helps to replenish. The continuously variable transmission's electronic control unit manages the workings of the petrol and electric motors simultaneously and you can simulate gear changes by using the steering-wheel-mounted paddles.
Interior features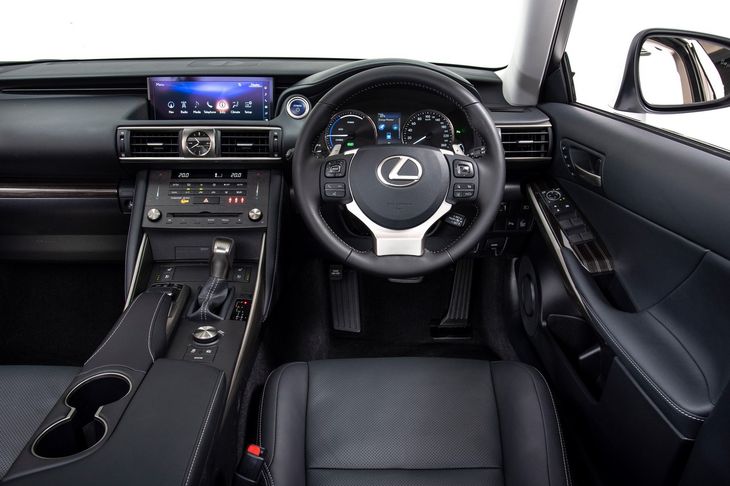 The Lexus IS cabin is well appointed. However, the touchpad menu navigator takes some time to get used to
One of the Lexus brand's major strengths is that its products are invariably packed to the hilt with features – there's no such thing as an optional extra. You'll notice there are runflat tyres on this spec list and the reason for that is because there's insufficient boot space for a spare wheel – the electric motor's battery largely occupies that space. The Lexus IS 300h comes in an SE specification and here are some of the standout features:
Run-flat tyres
Drive Mode Select
Smart entry and push-button start
Perforated leather upholstery
Electrochromatic rearview mirror
Dual-zone climate control with electrostatic temperature control switches
LED daytime running lights
LED brake lights and rear lights
Tyre pressure monitoring system
10-speaker Lexus display audio with DAB digital tuner and Bluetooth
10.3-inch multimedia display screen with remote dial controller
Rain-sensing wipers
Heated and cooling front seats (driver and passenger)
Reverse-view camera
Front and rear parking sensors
Lexus Navigation system
Moonroof
One of the big changes for this latest update of the IS range is the addition of the new safety features on the IS 300h and IS350 F-Sport. The Lexus Safety System+ comprises adaptive cruise control, Pre-Crash System, lane keeping assist and LED automatic high beam, as well as a blind-spot monitor with rear cross traffic alert. Pre-Crash is perhaps one of the most critical features as it enables the Lexus to detect a impending collision and sound an alert. If the driver doesn't react, the car will apply the brakes in an attempt to lessen or avoid an impact. Eight airbags are standard.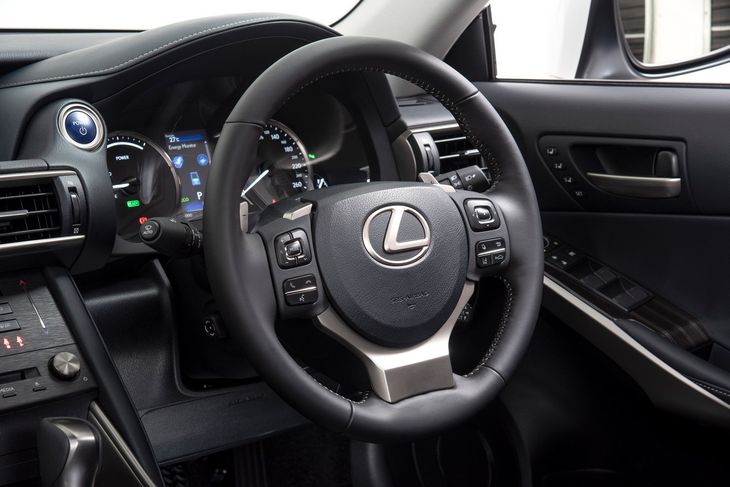 The fit and finish of the Lexus IS is still impressive, two years after its facelift.
What's it like to drive?
Our test route was very brief, but it was a pleasant experience to reacquaint ourselves with the IS. Even in (relatively expensive) hybrid form, it's still a highly underrated vehicle and its levels of build quality and refinement are commendable. Considering the Japanese sedan's abundance of standard luxury features and excellent driving manners, it's puzzling why the Lexus IS doesn't sell in larger numbers.
For those who've never driven a hybrid-powered vehicle, it's initially alarming when you start the vehicle and the car's dashboard lights up, but there's not a single sound (not even a whirr) from the engine bay. Engage Drive and the car pulls off in eerie silence, with the electric motor taking care of the low-speed propulsion. Once you've merged with traffic, the petrol engine will promptly fire up to provide additional performance.
It might take customers a while to learn how to make the most of the hybrid system, but we expect it should be a pleasant learning curve. It initially requires forethought to coast down a hill on purpose (to capture some of that energy and recharge the battery), as well as remembering to push the electric-only mode button in dense traffic. With a measured driving style and an understanding of the hybrid drivetrain, fuel efficiency will improve.
Verdict

The new Lexus IS300h. Note the hybrid nomenclature on the side skirts and blue hybrid Lexus logos.
While sales of hybrids will never be rampant, Lexus has vowed to continue selling petrol-electric models. The current global situation benefits Toyota and Lexus immensely, as diesel "has become a swear word" in many markets. Since the first hybrid was sold in 1997, more than 12 million hybrid vehicles have found homes globally, with Toyota/Lexus taking 50% of that market. Currently, Toyota/Lexus offers hybrid options for its IS sedan, ES executive sedan and its RX and NX SUVs. In 2019, we'll see hybrid versions of the LS limousine, RC coupe, LC sportscar and UX compact SUV.
We expected the IS 300h to be refined and efficient, and it didn't disappoint. While we suspect the claimed economy figure may be a little ambitious, we'll try our utmost to achieve a return of close to 4.9 L/100 km when we assess the overall mertis of Lexus' newcomer in early 2019.
Lexus IS Price in South Africa (November 2019)
The Lexus IS range features a best-in-class 7-year/105 000km warranty and full maintenance plan. The vehicle service intervals are every 15 000 km, or alternatively, once a year.
IS 300 EX – R715 400
IS 300h SE – R753 800
IS 350 F SPORT – R806 400
Further Reading
6 of the Most Impressive In-Car Sound Systems
Lexus RX 350L EX (2018) Quick Review
Lexus NX300 F-Sport (2018) Review