We gave the facelifted Lexus IS200t EX a whirl on the Garden Route! Are the changes to the updated IS enough to warrant a purchase over its accomplished rivals? This quick review will help you make up your mind…
We like: Aggressive styling, interior build quality, comfortable cruising ability, complete package
We don't like: Dated fascia/centre console design, relatively cramped cockpit
Alternatives
The Usual Suspects: Consider the 180 kW/370 Nm Mercedes-Benz C300 Avantgarde (R641 322), 185 kW/350 Nm BMW 330i Luxury Line Auto (R652 026) and, for a little more than the Lexus' asking price, the 185 kW/370 Nm Audi A4 2.0TFSI quattro sport (R666 000). Given the IS200t's comprehensive spec, you'd need to spend a fair amount extra on any of the German trio to match the equipment levels of the IS200t, however.
For Italian flair: Consider the Alfa Romeo Giulia 2.0T Super (R625 000). Although it's not as powerful as the IS200t, this Giulia offers 147 kW and 330 Nm of torque from its turbocharged 2.0-litre engine and uses an 8-speed automatic transmission. It has an admirable engine/transmission combination, complemented by engaging handling characteristics and more-than-reasonable ride quality. The Giulia's styling will turn heads too…
For British class: Consider the Jaguar XE 25t Prestige priced from R711 226. It's more expensive than the IS200t and offers similar outputs with 177 kW and 340 Nm of torque from its turbocharged 2.0-litre engine. However, the XE's standard equipment is not as generous as that of the IS200t.
Compare the specs of the Lexus IS200t with those of the Mercedes-Benz C300 and BMW 330i
Compare the specs of the Lexus IS200t with those of the Audi A42.0TFSI quattro sport and Alfa Romeo Giulia 2.0T Super
Facts & Figures
Price: R659 100 (May 2017)
Engine: 2.0-litre Turbopetrol
Transmission: 8-speed automatic
Power: 180 kW
Torque: 350 Nm
Fuel consumption: 7.5 L/100 km
0-100 kph: 7.0 seconds
Top speed: 230 kph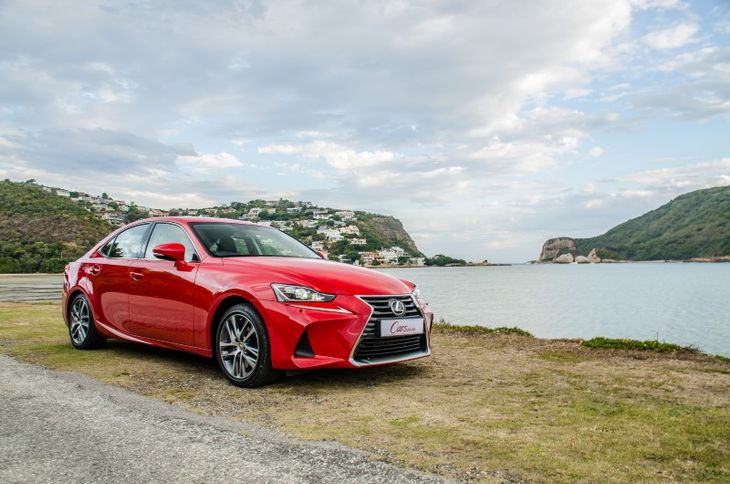 The updated IS200t EX proved its worth as a comfortable and capable long-distance cruiser on a recent trip to Knysna.
Lexus updated its IS business class sedan late in 2016 with a more striking exterior design and interior improvements in an effort to enhance its appeal and improve sales. Engineers even tinkered with the suspension and steering setup to hone the IS' ride and handling ability. All these positive changes haven't really translated into more sales on local soil and the Lexus IS remains very much on the fringes of buyers' minds in a declining sedan market, despite the fact that it happens to be a comfortable, capable and generously equipped sedan.
We recently spent some time with the updated IS200t EX and had the opportunity to drive it to Knysna for the recent Jaguar Simola Hillclimb. Herewith some of our thoughts…
The Good
Sharp Looker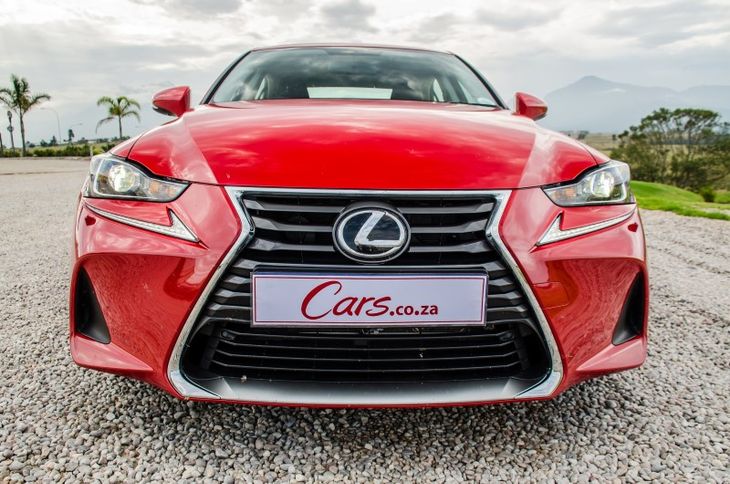 Lexus' menacing spindle grille gives the IS200t unmistakable road presence.
The updated IS200t brings sharp, attractive styling to the road and although some might be indifferent to the Lexus' gaping spindle grille, we think it gives the sedan oodles of character that distinguish it from some of its arguably mundane rivals. There's much to like and this updated IS200t features larger air intakes, new LED headlights and a re-shaped bonnet, all of which contributes to a more sporty appearance. Revised LED taillights further add to the IS' appeal. This IS looks like it's ready to pounce at your command, and it does... to a degree.
At most of the stops on our way to Knysna, a few bystanders gathered around the IS200t and commented positively on its distinctive styling. It has a decidedly individualistic design.

Full-house specification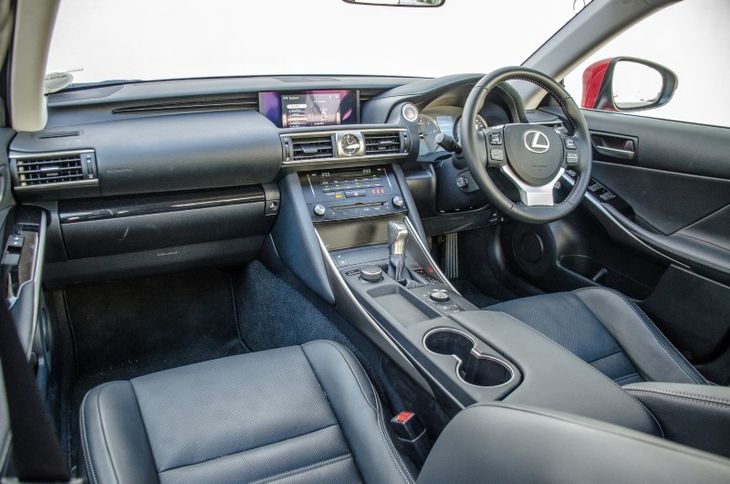 The Lexus IS200t EX comes well-specced with standard features and unlike its rivals, options are few.
Whereas several manufacturers offer seemingly endless lists of extra-cost options on their (supposedly extensively equipped) luxury models, Lexus' approach to speccing its products is far more inclusive. The Japanese marque offers a near full-house specification in the IS200t EX... notable standard features include a high-resolution 10.3-inch infotainment system with built-in navigation, voice control and remote touch interface, dual-zone climate control and full electrical adjustment for the steering column and (heated) front seats, with additional lumbar support for the driver. It doesn't stop there though: cruise control, front and rear park distance control with a reverse-view camera are included too.
Meanwhile. the IS200t EX pips the competition in the airbag count with 10 'bags fitted as standard. Other safety features include ABS with EBD, Brake Assist, Traction Control, Vehicle Stability Control, Hill Assist Control and tyre pressure monitoring.
Refined and comfortable cruiser
We found the IS200t EX superbly comfortable to drive on our 488-km journey to Knysna. The Lexus ensconced us in plush leather and the electrically adjustable seats provided sufficient levels of lumbar and lateral support, as well as overall comfort, on the long haul. With the help of a rake/reach adjustable telescopic steering wheel, finding the best driving position is easy. Although the interior styling won't be to everyone's taste, it deserves to be mentioned that interior build quality is good and the interior finishes have a solid feel to them.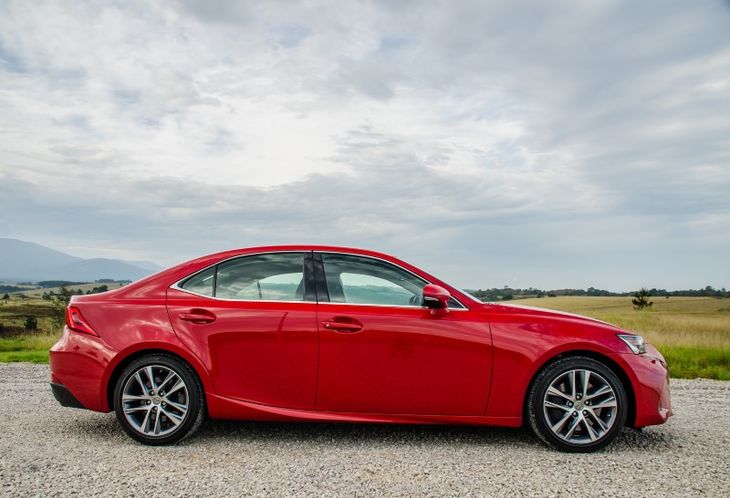 Revised suspension and steering translates into enhanced on-road comfort and improved handling ability.
Out on the open road, the IS' revised suspension irons out most imperfections well to ensure a smooth and refined ride quality. The cabin is well insulated from mechanical, wind and road noise, which is what we expected, but compared with its (pre-facelift) predecessor, the Lexus' steering feels crisper; the sedan's a good cruiser, but felt satisfyingly agile in the corners too.
Meanwhile, rear passengers will find comfort with sufficient leg-, head- and shoulder room and in terms of storage, the IS has a boot capacity 480 litres, which is enough to carry a fair amount of luggage on those longer out-of-town journeys.
Strong performance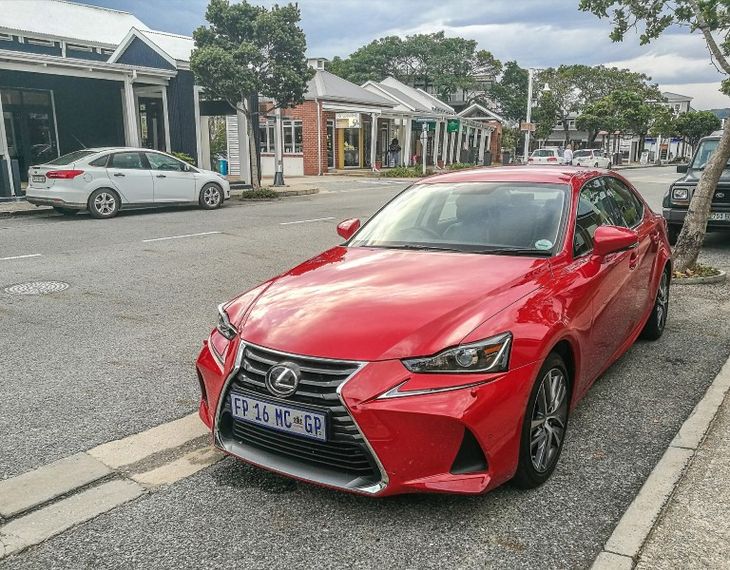 The Lexus IS200t EX fits in suitably in the affluent Thesen Island district in Knysna.
The IS' satisfying cruising performance comes courtesy of its underrated turbocharged 2.0-litre engine, which produces peak outputs of 180 kW and 350 Nm. It's a refined, but very willing motor that's well-matched with a slick-shifting 8-speed automatic transmission. Admittedly, there is a fair amount of lag when immediate brisk acceleration is required, but thereafter the IS surges forward with zeal and the sedan seems quite happy to cruise at higher velocities. Thanks to its quick(ish) acceleration, overtaking manoeuvres can easily be executed.
Although the 8-speed automatic transmission is suitable for most driving situations, mounted paddles behind the steering wheel allow you to engage manual shifting, affording the driver the opportunity to extract maximum performance from the engine... they add an element of sportiness to the overall package. The driver can also switch between Eco mode (to maximise efficiency) and Sport mode (to maximise performance) using a Drive Mode Select dial found on the centre console.
In terms of fuel consumption, the IS200t EX averaged 7.6 L/100 km on our journey, occasionally hovering around 8.0 L/100 km on spirited runs. Lexus claims a fuel consumption figure of 7.5 L/100 km.
The Bad
Dated centre console design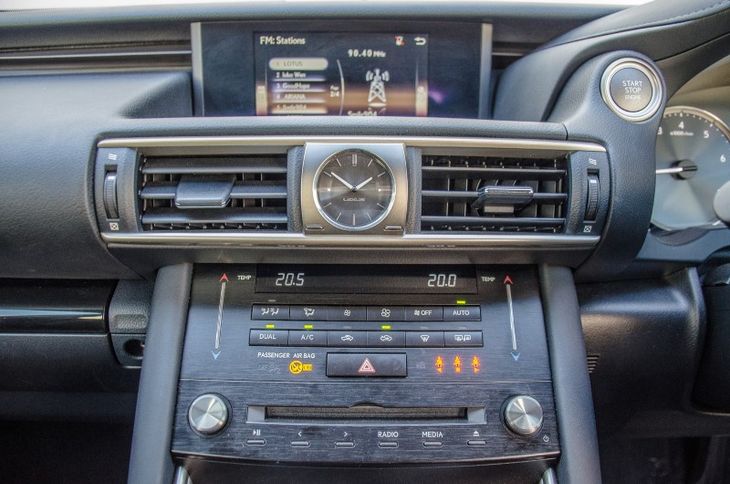 Although interior build quality is good, the centre console design is somewhat dated and not as appealing as its rivals.
In our opinion, the design and layout of the centre console, with a tiered structure and spaced-out control layout, appear dated. For a product that is overtly flamboyant on the outside, the interior looks a trifle conservative and old school on the inside – and the incongruence is difficult to ignore. From a design and layout perspective, the Lexus IS200t seems to lack that fine-detail finesse found in rivals such as the Audi A4 and Mercedes- Benz C-Class, for example. We reiterate: the build quality is excellent, but there's little pizzazz...
Cramped cockpit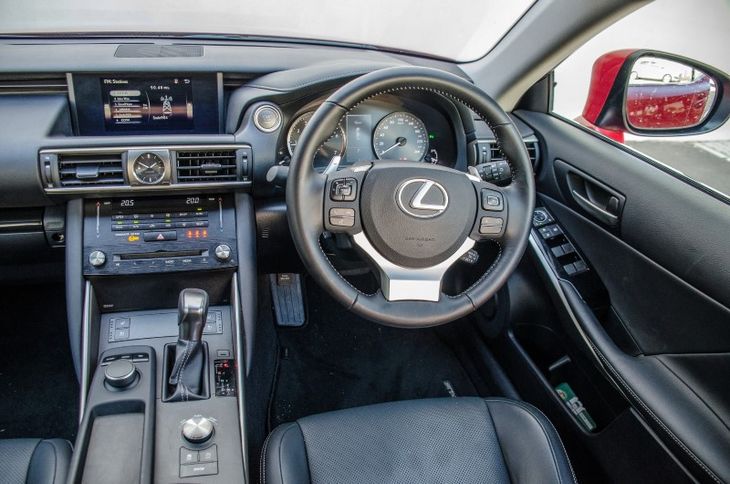 Taller and larger drivers may find the centre tunnel constricting as it limits freedom of movement while driving.
With the broad centre tunnel dividing the driver's cockpit from the front passenger's side, some drivers may find the space to be a bit cramped, particularly if you are taller (or broader) than the average person. The narrower footwell forces the driver's left leg to straighten, even though it begs for more space, which can lead to discomfort on extended driving stints.
Price and warranty
The Lexus IS200t EX is priced from R659 100 and is sold with a 4-year/100 000 km warranty and a 4-year/100 000 km service plan. Service intervals are set at 15 000 km.
Verdict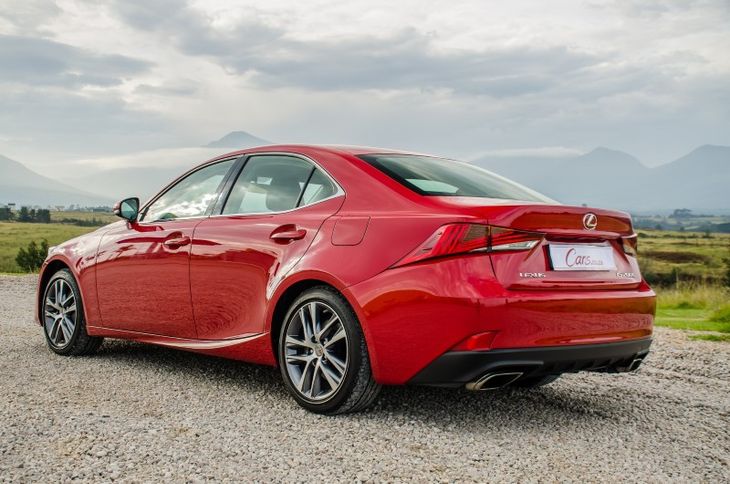 A solid all-rounder with lots of standard features, the IS200t has much to offer, if only the buying public would take notice...
The Lexus IS200t EX's outstanding cruising ability and willing engine stand out from the moment you leave the confines of the city and hit the open road. It delivers a comfortable drive with a sporty undertone that some buyers will appreciate and its ride quality and handling ability has improved appreciably in this latest version. The level of standard specification leaves little to be desired and as a complete package, the IS200t is well-rounded, even though its interior lacks the appeal of its rivals.
Despite Lexus' best intentions to appeal to a youthful market with the IS' exotic exterior treatment, the IS200t will still suit more conservative buyers better than most of its traditional rivals. It's a comfortable, refined premium sedan that offers a lot of value in terms of standard specification, but with its asking price of almost R660k, it's near the top end of a segment that is particularly prone to brand snobbery. The IS200t EX is arguably the pick of its range, but in a declining sedan market, its talents may remain too subtle to be deservedly appreciated.
Related content
Lexus IS (2017) First Drive
Lexus IS 350 F-Sport (2017) Review
Lexus IS 200t (2015) Review
Alfa Romeo Giulia 2.0T (2017) Review
Audi A4 2.0T vs BMW 320i (2016) Comparative Review
2016 Audi A4 vs BMW 3 Series – In-Depth Review & Comparison (Video)
BMW 340i vs Jaguar XE S Driving and Interior Comparison (Video)
Spy Shots: 2018 Mercedes-Benz C-Class
Mercedes-Benz C300 (2015) Review
Want to buy a Lexus IS?