The Lexus ES executive sedan range now sports a pair of petrol-electric hybrid derivatives. As severe weather patterns across the globe heighten consumers' awareness of climate change and the need for greater conservation of our environment, has Lexus stolen a march on its (mainly Teutonic) rivals?
What's new?
When the ES range arrived in SA in 2018, the naturally aspirated 4-cylinder-powered 250 represented good value in the executive sedan segment. It was later joined by the 300 hybrid (in SE guise) and there's now an EX version as well. Lexus names its models and versions so similarly that it's often confusing to know what's what. For example, the ES comes in EX and SE specifications, so it's easy to confuse this BMW 5 Series competitor's respective derivatives.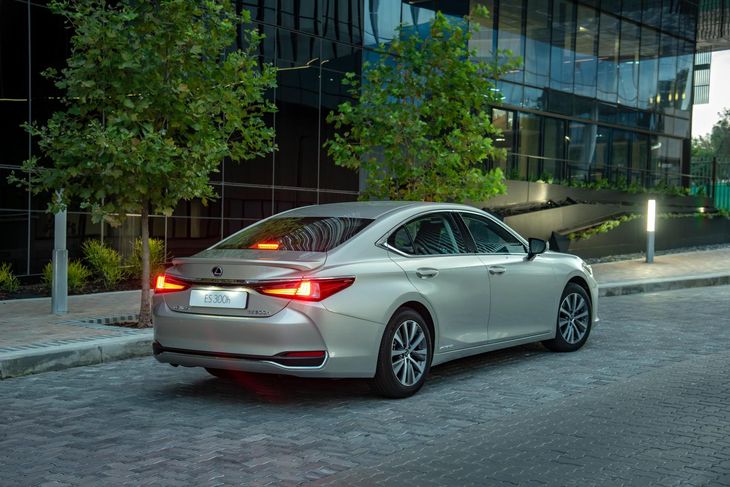 Blue hybrid badging on the rear denotes the ES' green intentions.
Whereas the 300h SE is equipped with all the bells and whistles, the EX is more moderately specced. Both derivatives feature the same drivetrain with new, 4th-generation hybrid technology. Best of all, however, is that this Lexus' infotainment system is compatible with both Apple Carplay and Android Auto – it was about time, wasn't it?
Is it a good hybrid?
Under the bonnet sits a 2.5-litre, 4-cylinder petrol engine that produces total outputs of 160 kW and 221 Nm of torque in conjunction with an electric motor. The power unit is hooked up to a CVT auto 'box that drives the front wheels.
Hybrid drivetrains have improved impressively over the years; during our 150-km evaluation route, I found the 300h relied on supplementation from its electric motor far more than its predecessors. The powertrain works best in urban driving conditions, where the motor offers enough oomph to keep the ES rolling without the petrol engine cutting in and using fuel. If you drive in slow-moving traffic every day, you should be able to achieve excellent consumption figures.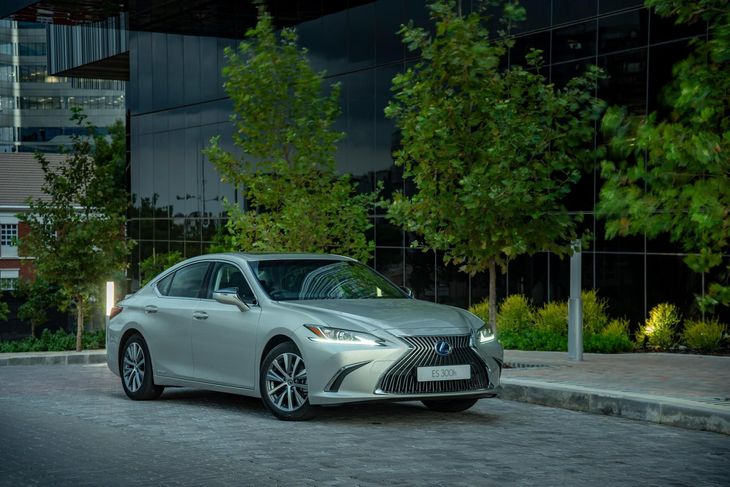 Claimed fuel consumption is 4.6L/100 km. We achieved 5.9L/100 km over the launch route.
Our route included a stint of freeway driving too, where the petrol motor did almost all of the work. When the 300h settles at a steady 120-kph cruise, the electric motor has more impact than in previous generations of petrol-electric Lexus models. The motor now produces enough grunt to effect small surges of acceleration on its own, but, if you need to execute brisk overtaking manoeuvres, the fossil-fuel-burning ICE is the primary source of forward thrust.
The result of our drive was a fuel consumption return of 5.9 L/100 km – that's pretty impressive and certainly the equivalent of what a Mercedes-Benz E220d or a BMW 520d would consume (on average).
Is it comfortable?
Lexus knows its ES customers well: the sedan is plush and extremely quiet inside. There's no inkling of sportiness to the handling – the ES is meant to get you to the end of your journey in the most comfortable, non-taxing way possible.
In terms of ride quality, the ES wafts over bumps gently and settles down like sinking into a comfy mattress. It's adept at both sitting in traffic for hours and ticking off the kilometres on the mesmerisingly straight roads of the Karoo.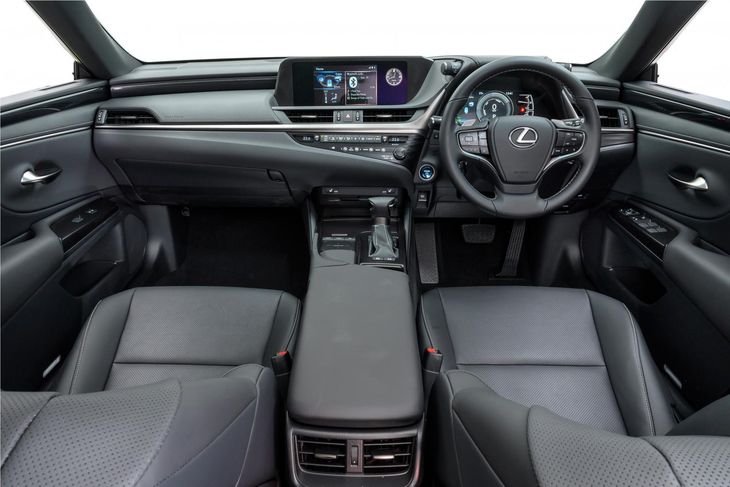 More soft-touch materials and less plastic than German counterparts.
Even the power delivery is linear and smooth, there's no aggression to the Lexus' acceleration, even when you give the throttle pedal a good ol' stomp once in a while. The CVT 'box does a good job in the city and goes unnoticed at freeway speeds. The powertrain does labour audibly (as if it sounds a trifle reluctant to hurry up) when you attempt quick overtaking manoeuvres, but that's something drivers of CVT-equipped vehicles have become accustomed to.
Is it luxurious inside?
We only drove the ES in EX specification, but even that feels expensive inside. Apparently the seats' upholstery is made from Nulux, which is some sort of simulated leather. It feels and looks like leather, so that should be enough for most consumers and besides, it's not like that pleather stuff that always looks like it's sweating out its colour.
Most of the contact points are soft-touch and feel expensive. Rear occupants have ample legroom and a large centre armrest that folds out with its own cupholders and storage bin, There are 3 UBS ports: 2 at the front and 1 in the rear.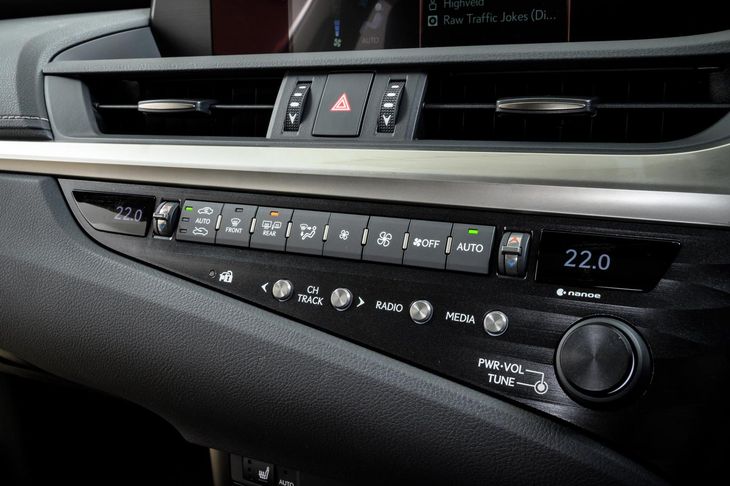 Old-school buttons on the fascia are a little passe compared with modern touchscreen systems.
As for the interior design, I wouldn't exactly call it "modern". It feels a bit dated with the old-school buttons in the centre of the fascia and an infotainment screen with much lower-res graphics than those of its rivals. Thankfully the ES comes equipped with Apple CarPlay and Android Auto compatibility and that will be the case for all future Lexus models too...
What's the difference between EX and SE?
The 300h EX is kitted out with some solid standard features, such 17-inch wheels, a 10-speaker sound system, cruise control, heated seats for the front passengers and a reverse-view camera, allied with park distance control.
The SE ups the premium levels of the ES (and, of course, the price tag) so it comes equipped with 18-inch alloy wheels, genuine leather trim, a Mark Levinson audio system and a raft of extra active safety features (including auto high beam lights, head-up display, blind-spot monitor, adaptive cruise control, lane assist), as well as a wireless charging bay, to name just some of the extra features.
Summary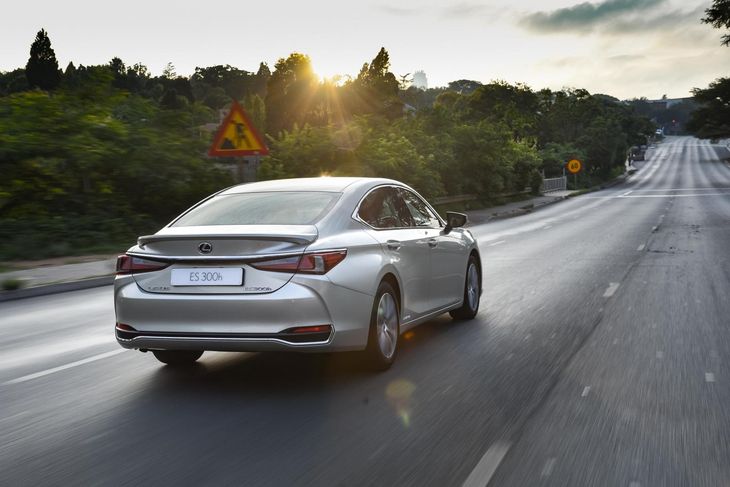 At a time when climate talk is prominent, the hybrid tag could play in Lexus' favour.
While South Africa hasn't had to adhere to many of the strict CO2 restrictions of Europe and much of the developed world, companies and individuals are becoming significantly more aware of vehicles' effect on the environment and are seeking out ways to mitigate their harmful emissions. When having to choose between, say, a turbodiesel- and a hybrid-powered model, environmental awareness may sway some consumers' purchasing decisions to the latter...
That's not a bad thing, because the ES is an excellent offering. The ride is supremely comfortable and the drivetrain, despite its complexity, is up to the task of matching that premium feel and laid-back-luxury persona.
The Lexus' interior is upmarket and has more soft-touch and high-end materials than some of its German counterparts. It is a little behind the game in terms of infotainment capability; it lacks those nice crisp instrumentation and infotainment screens that are now common in this segment, but the Japanese offering is well-priced enough to intrigue those shopping in the mid- to upper end of the Audi A4, BMW 3 Series and Mercedes-Benz C-Class segment.
Pricing in South Africa (January 2020)
ES 250 EX R640 400
ES 300h EX R774 300.
ES 300h SE R910 900.
All Lexus models are offered with a standard 7-year/105 000km warranty and maintenance plan.
Related content:
Lexus ES 300h SE (2019) Review
Lexus GX Overland Concept Revealed