If fuel efficiency and comfort are what you're after in a premium hatchback, then the Lexus CT200h has you covered. But is there more to this niche vehicle from the premium Japanese carmaker? Francisco Nwamba sampled the facelifted CT200h for a weekend to find out.
Lexus' mother company, Toyota, has long championed clean driving. This was before other major manufacturers caught up and started playing in the hybrid game in South Africa. Take, for example, the Prius – a car synonymous with efficiency and Hollywood A-listers. As self-righteous as some celebrities may be, the Prius is a very efficient vehicle and has won many awards as a result. The only problem with the Prius, is its "caviar-like" appeal – it's not exactly gorgeous, is it? This, of course, is a subjective statement but many share the same view, so it's worth mentioning.
What then if you want to go green with a touch of flair? Enter the Lexus CT200h, a car that has been punted as the most affordable Lexus you can buy. At R529 300, it's not what the majority of motorists would deem affordable, but then again if you're looking at buying in the premium sector, you can't expect a bargain. While the CT200h may not be a bargain, it does possess a unique quality – it's a hybrid.
Don't roll your eyes just yet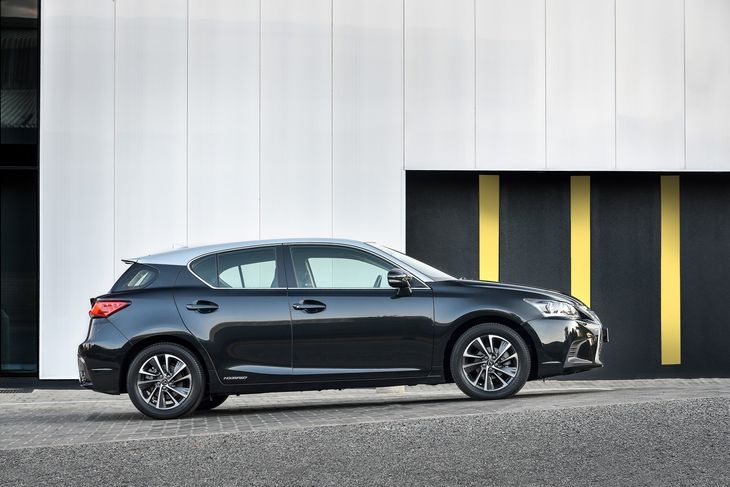 A two-tone roof is a new addition to the facelifted model. New 16-inch wheels also compliment the slight restyle.
The first generation CT200h was introduced in 2011 and all I can remember about the car was that it was a gold and mustard-like colour. Each time I saw one, it was always in that colour. Seeing one was quite rare. The South African market is a difficult one to crack for certain brands and models. Despite the CT200h's success globally, South Africans have preferred German alternatives in the premium hatchback category.
This is intriguing as the CT200h is a presentable vehicle both inside and out. Like most Lexus vehicles, it's good to look at, especially with the latest exterior updates. The new front grille, the rear and the two-toned roof are the big differentiators between this vehicle the and the first CT200h. New 16-inch alloy wheels have been added, which look a tad small for the size of the vehicle – but have obviously been selected as the most efficient option.
The interior is a mix of Japanese functionality and premium finishes. It's interesting sitting in a premium cabin such as the CT200h's with recognisable switches from old Toyotas and Lexus', it's almost retro but in a charming way. A larger infotainment screen option has been added too, with what felt like the world's fastest pairing Bluetooth system.
Firing up the vehicle, you instantly realise that this would be the perfect car for those with difficult neighbours, as it starts up without a sound. That's because the electric motor is what gets you going at start-up. A conservative total output of 100 kW is what the CT200h gives you, with most of the help coming from the 1.8-litre engine. A 0-100 time of 10.3 seconds is not very impressive to read, but the reality is different as this is not a car you buy for performance. On the road, power delivery is much better than you would expect.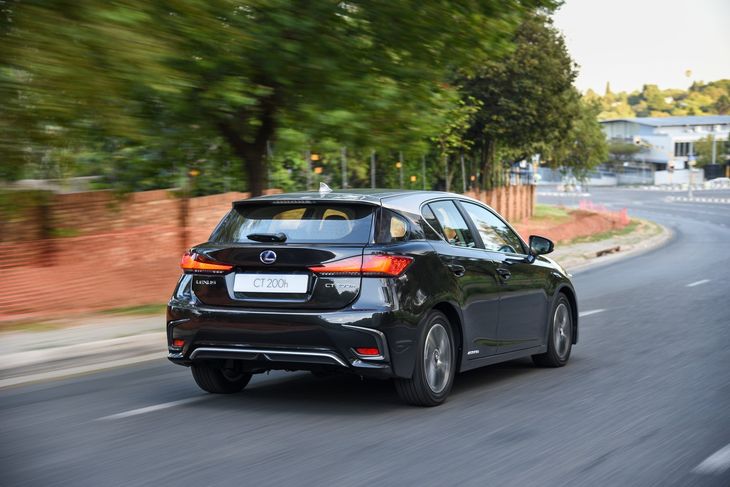 Fuel economy is claimed at 4.1L/100 km, a figure that you're likely to get close to in real-world use.
The pairing of these two powerplants is surprisingly enjoyable to drive, especially considering that the CT200h uses a CVT gearbox. It never felt overly sluggish. Instead, you have just enough power to go about your day. In the city, the car is easy to hustle through traffic. CVT gearboxes are often not ideal for zipping through the city, but the CT200h is the best example we've witnessed so far.
It's only on the highway when you flatten the throttle that you feel the continuous ratio working harder. Of course, being a hybrid - the vehicle allows you to select certain modes, namely EV, ECO and SPORT. In Normal mode, the car decides which application is best and it's sometimes disturbing yet intriguing to find yourself in a silent vehicle that's still moving. The use of EV mode in traffic was an enjoyable experience. Only after 45 kph does the car switch over seamlessly.
The displays on the instrument cluster allow you to see when you're charging the battery and using regenerative braking. The hybrid's real bonus is that there's no need to charge it, alleviating any range anxiety that usually comes with a plug-in electrified vehicle. Overall, the whole point of this vehicle is for it to be efficient, and that it is. Lexus claims a combined figure of 4.1L/100 km which is excellent. In real-world terms, over a weekend of driving the vehicle, the fuel needle moved not even half a centimetre, proving that Lexus' claim is mostly achievable.
Another impressive feature in the CT200h is the level of comfort the vehicle delivers. It's damped exceptionally well, yet nimble enough to not feel cumbersome. It's not a small hatchback either, allowing 4 adults to fit in comfortably in the front and rear. With a 60:40 rear split seat and 375-litres of luggage space, eco-conscious young families can enjoy the CT200h as well.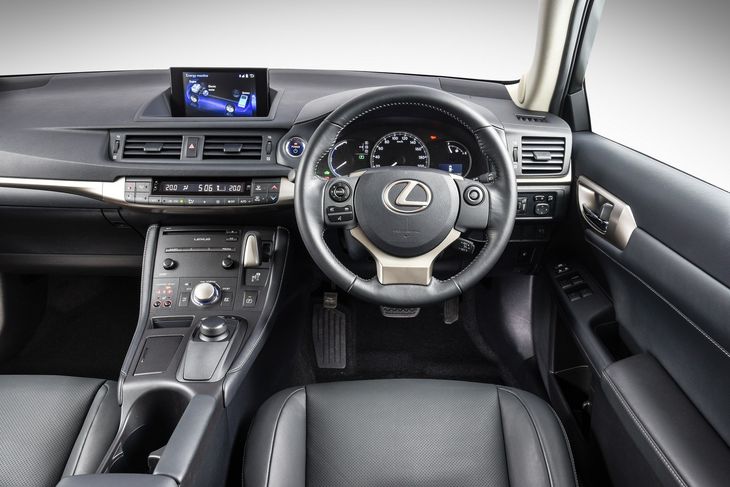 Lexus interiors are always well-built and luxurious but perhaps lack a bit of flair and creativity.
In conclusion
The updated Lexus CT200h is a reminder of the versatility found in the premium hatchback segment. If you want something German and sporty, you know where to go. If you want something German and affordable, you know where to go. If however, you want something different, something efficient and even eccentric – The Lexus CT200h is something that may appeal to you. It's a very niche offering in a conservative market. Once upon a time, the Prius was a foreign concept, but it became a very popular vehicle in the end. The CT200h is ahead of its time in this segment locally, but if Lexus is patient, it could pay off in the long run.
Related content
Updated Lexus CT 200h (2018) Specs & Price
Mercedes-Benz A-Class (2019) Revealed
Toyota Prius Hybrid (2016) Review
Searching for a used CT200h?