The all-new Mercedes-Benz C-Class has leaked early. Here's our first taste of the new 2022 W206 Mercedes-Benz C-Class.
The leak came from The Automobilist Facebook page and gives us a good look of the new Mercedes-Benz C-Class ahead of its global reveal on the 23rd February 2021.
At first glance, the new model heavily borrows styling elements from the bigger E-Class and S-Class sedans. We suspect what we're looking at here is the Avantgarde trim which focuses more on style than overt sportiness, which is where the AMG Line comes in. Expect plenty of chrome and aggression in the latter.
We also get a good look at the interior, where the all-new Mercedes-Benz C-Class gets a similar cabin layout to the S-Class. There's a large central tablet infotainment system that dominates the cabin. We can also see redesigned climate control vents, a new-look steering wheel as well as an advanced head-up display.
There's no mention of powertrain choices, but we know the flagship C63 S will feature a 4-cylinder engine delivering over 400 kW. Will we miss the wonderful roar of the V8? Definitely.
The all-new Mercedes-Benz C-Class will be assembled at the Merc facility in East London, South Africa. The vehicles rolling off that line are earmarked for our market as well as the global market. The C-Class will be going up against the BMW 3 Series and the Audi A4, and it will be fascinating to see how Mercedes-Benz has positioned its popular sedan model. Will the Stuttgart-based manufacturer try match the dynamics of the 3 Series or go the infotainment luxury route offered by the recently facelifted Audi A4?
We will have all the details regarding the Mercedes-Benz C-Class in a few days time as the new model will be revealed on the 23rd February 2021.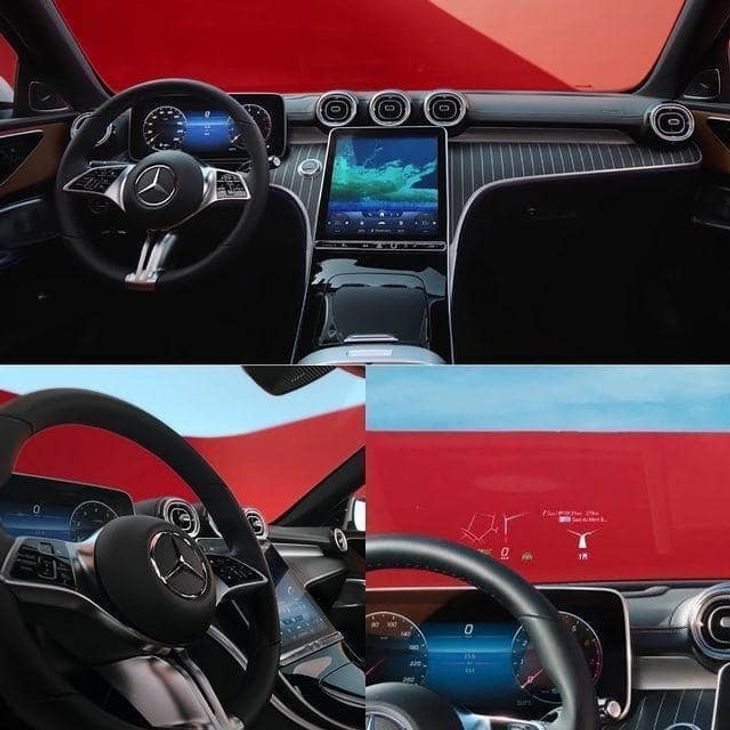 Want to purchase a Mercedes-Benz? Buy now.
Further Reading
Key Insights: 2021 Mercedes-Benz C-Class
Next Mercedes-AMG C63 to pack 410 kW
#CarsAwards - Best Sports Executive Cars in SA
Mercedes-Benz S-Class (2021) Specs & Price