When it comes to Premium SUVs that offer true off-road ability, the list of candidates is very short. For a very long time, Land Rover's Discovery seemingly had that niche wrapped up, but its rising price and numerous options have placed it in the proximity of some very legendary 4x4s, albeit ones that aren't as, shall we say, "urban sophisticated". We tested the Td6 HSE to figure out whether this Discovery derivative's price is now simply too big a pill to swallow.
We like: Comfortable ride, relaxed cruiser, excellent off-road, driving position, advanced features
We don't like: Very expensive, some options should be standard
Fast Facts
Price: R1 314 406 (November 2018, without options)
Engine: 3.0-litre V6 turbodiesel
Gearbox: 8-speed automatic
Fuel economy: 7.8 L/100 km (claimed)
Power/Torque: 190 kW/600 Nm
SERIOUS ABOUT BUYING?
Where does it fit in?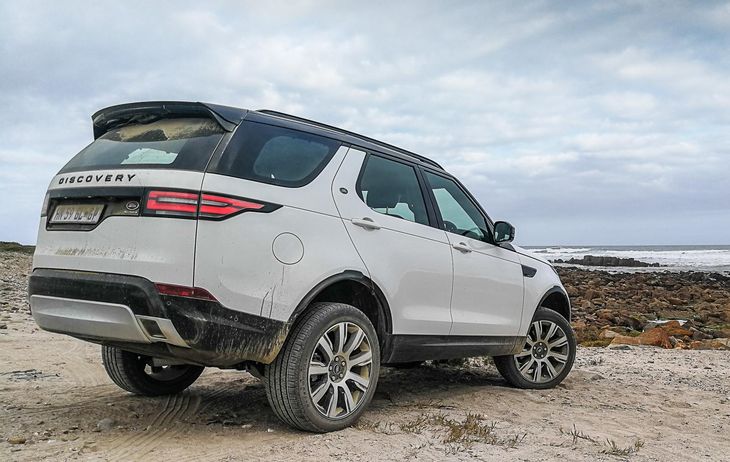 One of the few luxurious 7-seater SUVs that can also confidently go off-road, the Discovery remains a highly desirable adventure machine.
Launched in South Africa last year, the latest-generation (5th) Discovery replaced a much-loved model that sold well even at the end of its product cycle. Unfortunately for Land Rover, the new version has not set the sales charts alight. Whereas its predecessor was probably the undisputed king of the luxury off-roaders, with sales in excess of 2 000 units in some years, the new model is "only" averaging around 60 units per month. In recent years, the Toyota Land Cruiser 200 has emerged as the most popular choice among well-heeled buyers who seek continent-flattening machinery.
So, what's the matter? Is there something wrong with the product? Is it too expensive? Is the weird-looking rear end too off-putting? Let's find out...
DO YOU OWN A LAND ROVER? Tell us about your ownership experiences here.
What's good about it?
High-tech, "coherent" cabin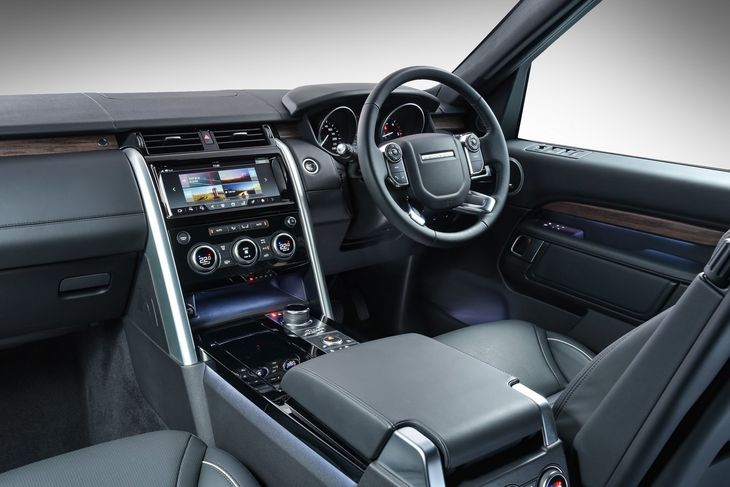 The cabin is neat and the minimalist control layout is quite an achievement given the sheer number of high-tech features fitted.
Step up and into the seat of the latest Discovery and you'll be pleased to learn that one of the greatest features of its predecessor – its "top-of-the-world" seating position – is unaltered. You sit high in a Disco, so much so that the window sill makes for a good armrest, while you peer down at "lesser" vehicles. But that's the only thing, design-wise at least, that has been left untouched because the fascia layout is completely new.
Land Rover has packed a liberal number of tech features into the cabin of the Discovery, so the fact that it comes across as minimalist in design is a compliment. Its coherent design also sets it apart from a vehicle such as the Land Cruiser 200 4.5D-4D V8 VX-R, which offers a similar number of features, but sports a design that is neither as modern or as cohesive as the Landy's. Of course, there are numerous options to choose from with the Discovery, including trim colours and materials, in addition to actual features, so you can really personalise your Disco to suit your wants and needs. Does the Disco make its driver feel special? It does indeed... you may often be left wondering why you would ever need a Range Rover...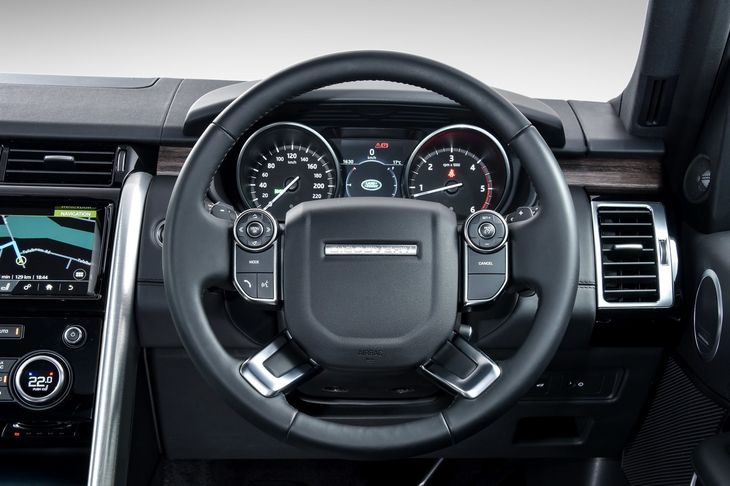 The Discovery boasts a neat, simple instrumentation layout and there is a sense of very good overall build quality.
As standard, and even more so once a few option boxes have been ticked, the Discovery is loaded with modern features that will boost its appeal to tech-savvy buyers, including the ability to change the ambient colours of the cabin. The large (10-inch) touchscreen boasts logical menu structures, high-resolution graphics and can also be specced to include Apple CarPlay/Android Auto (for R800 more). There's also a 380W Meridian 10-speaker sound system, a reverse-view camera and Touch Pro navigation. But there's much more on offer when you head to the optional extras list...
Practical packaging and clever features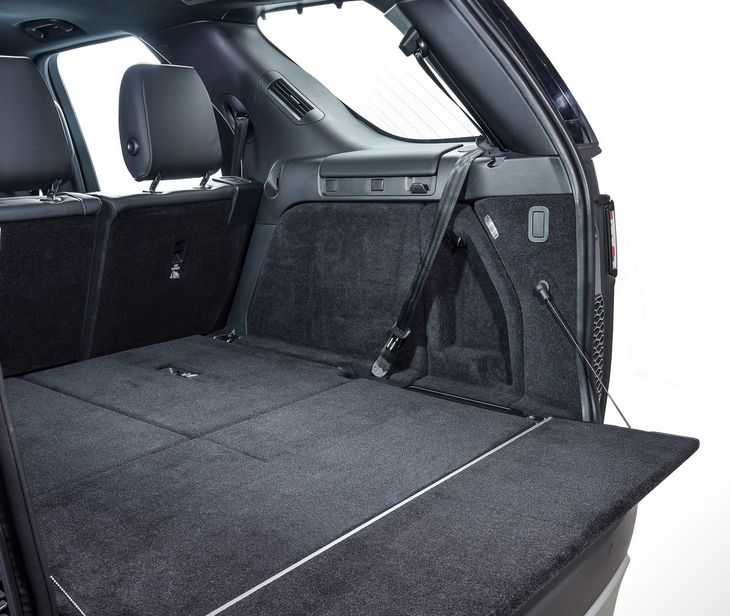 Vast luggage bay hides electrically folding/raised 3rd-row seating. (Electrically) extending shelf is a practical feature.
While a major focus area with the new Discovery was weight-saving (it is, in some instances, more than 400 kg lighter than before), it is nevertheless bigger and more spacious than previously. A major difference between this model and its predecessor is that you now have to decide if you need 3rd-row seating (and be prepared to pay R22 500 extra, if you do). To us, given the family-friendly size of the vehicle and its overlanding abilities, this is potentially an error and one that hurts the perceived value on offer, especially as the aforementioned Land Cruiser flagship is a 7-seater in standard guise. Interestingly, however, Land Rover says that "only" 60% of buyers opt for 3rd-row seating.
In standard 5-seater form, it has to be said that those seated in the 2nd row will have no reason for complaint – legroom has improved and while the much-loved stadium-seating of the old car is gone, an overall sense of spaciousness (and a good visibility) remains.
If fitted with 3rd-row seating (as our test unit was), the rearmost chairs are fitted with ISOfix child seat mounting points and offer respectable legroom too. Included as standard is an electrically operated rear "picnic table" that folds out to make loading easier. What's more, we found it particularly practical when organising luggage and as a seating platform for small kids – while cleaning their feet following a visit to the beach, for example.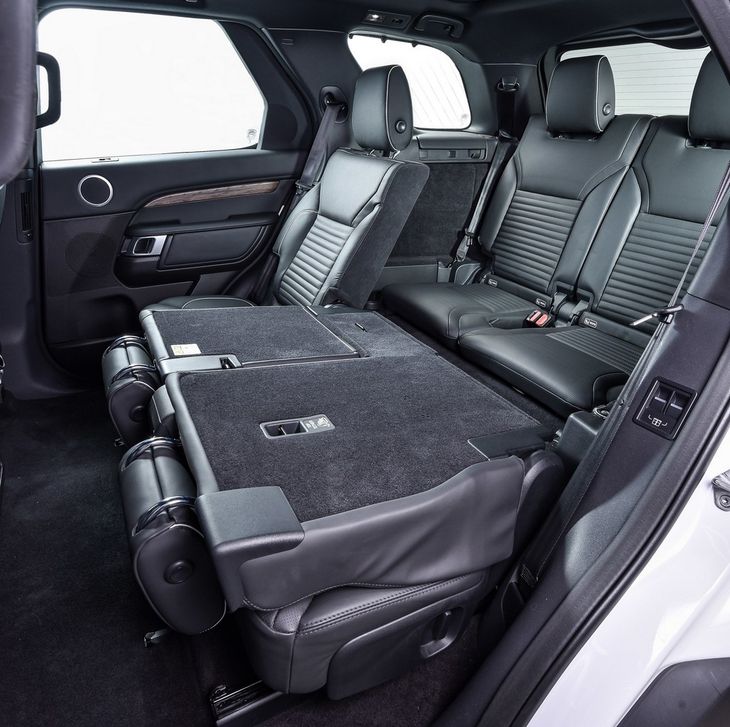 Note electrical controls on the door frame for folding the rear seats.
Inside, besides a massive luggage bay (more than 1 000 litres of storage space in 5-seater configuration) there are a large number of hidden storage solutions... In addition to the very spacious storage box between the seats (cooled as an option), another secret (a very deep storage area) is revealed by sliding the entire cupholder section on the transmission tunnel out of the way. Also, the climate control interface (on the fascia) can lift out of the way at the press of a button to reveal another hidey-hole.
There are a number of optional extras that can further boost the Disco's practicality. You can, for example, spec the HSE Td6 so that you can fold down the 2nd and 3rd rows electrically. And when fitted with the Remote Intelligent Seat Fold pack (R22 800) one can adjust the seating configuration in 3 ways: via the fascia-mounted touchscreen system, buttons mounted in the cabin, or even by using an app on your smartphone.
Excellent off-road ability

An extensive array of off-road systems (some optional) ensure the Disco retains its legendary off-road ability.
Off-road ability remains core to the Discovery's appeal, even though it's unlikely that its full capability will ever be called upon by most owners. In HSE specification (as featured on our test unit) air-suspension and the high/low-range transfer box are standard features. There are, however, a trio of features on the options list that might potentially raise some eyebrows. Terrain Response 2, an active rear locking differential and ATPC (All-Terrain Progress Control) are optional extras that can be included as part of the Capability Plus Pack that costs an additional R27 600. Interestingly, only about 15% of Discovery buyers opt for this pack, indicating that extreme off-roading is not necessarily a pillar of success for most buyers.
Don't confuse Terrain Response 2 for a replacement for the well-known Terrain Response system, which is still offered as standard (with Rock Crawl mode) and allows the driver to manually select the appropriate mode for the type of terrain they hope to traverse. Terrain Response 2 simply automates the selection. Even without ATPC and Terrain Response 2, there's little that will trouble the Discovery when it heads off the beaten track.
Land Rover claims a ground clearance of 283 mm (up by 43 mm) for this model and a highly impressive maximum wading depth of 900 mm (an increase of 200 mm). The air suspension also offers another practical benefit – you can stand behind the vehicle and at a press of a button lower the rear end to easier load items in the luggage area, or to make the hooking-up of a trailer easier, for example.
In summary, then, there are few vehicles out there that feel so equally at home on smooth tar, rough/broken surfaces, gravel and the really rough, slow-speed stuff. Of course, if you are going to head off-road a lot, you may want to consider more suitable tyres.
Good performance/economy balance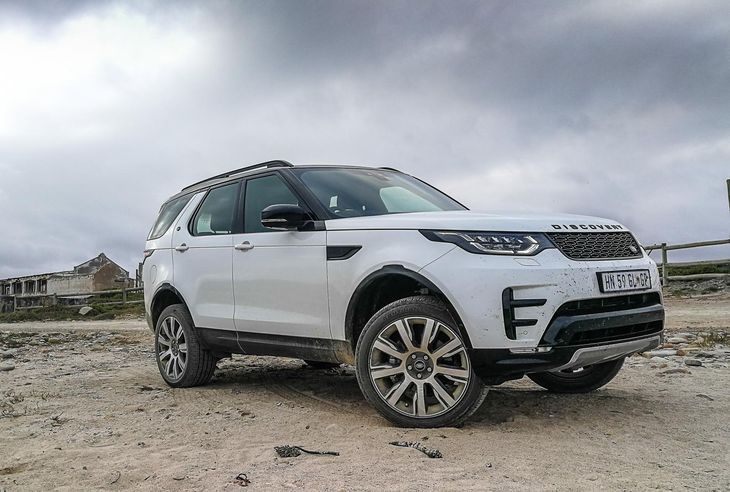 Handsome from the front, arguably less so from the rear – but perhaps the Discovery lacks the iconic, stand-out design of its predecessor?
This Discovery is powered by the pick-of-the range 3.0-litre V6 turbodiesel engine that develops 190 kW and 600 Nm of torque. We mentioned before that the Disco 5 is significantly lighter than its predecessor (due to the extensive use of aluminium), but it remains a heavy vehicle – in fact, it tips the scales at over 2 tonnes. Still, the engine and transmission (a smooth 8-speed automatic) do a good job of propelling the large Landy swiftly and in a refined manner. It can get from 0 to 100 kph in under 9 seconds, should you be a late entrant into the morning school run.
Land Rover claims a combined cycle consumption figure of 7.8 L/100 km, which is significantly better than the 11.5 L/100 km claimed for the previously tested Si6 derivative. In the real world, and loaded with 6 adults and all their holiday paraphernalia, we achieved a consumption figure of 9.6 L/100 km, which is good for a vehicle of this size/nature. It is also worth noting that Land Rover claims a (braked) tow rating of 3 500 kg for this model and that an electrically deployed towbar was fitted to this test unit.
There's more good news... The HSE Td6's general ride comfort is pliant and refined – like its predecessor, the latest Discovery sort of wafts along with a soft ride and long-travel (air) suspension making it a very relaxing car to drive (and be transported in). It can, however, feel a bit top-heavy when you're in a hurry, but for most buyers, the emphasis on comfort over sporting dynamics will be a good thing.
What's not so good about it?
Standard spec/pricey options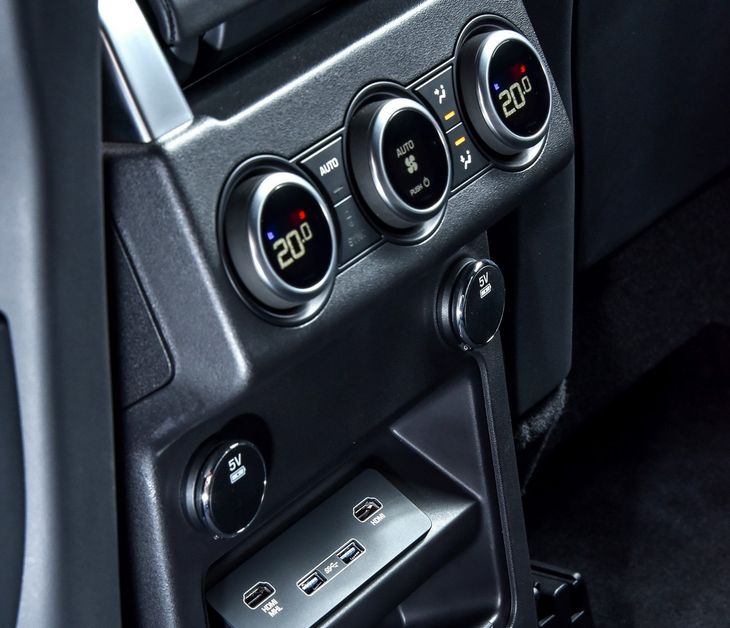 It is possible to specify your Discovery with extensive rear-seat entertainment and comfort features, including 4-zone climate control and multiple connectivity options.
One of the possibe hurdles the current Discovery faces is the fact that its predecessor was, for many years, somewhat of a bargain in the local market. The Discovery's jump in price during the 2015/2016 period was probably a major contributing factor to its sales decline (even in Discovery 4 shape). There's not much Land Rover can do about the rand's foreign exchange weakness etc., sadly, but the result is that the current Discovery has probably moved beyond the reach of even some relatively recent Land Rover owners who face a difficult decision at trade-in time.
Our test unit is priced at R1 314 406 as standard, but with its various features fitted, including a Dynamic Exterior Pack, Capability Plus Pack and numerous other items, it would probably end at close to (or above) R1.5 million. By comparison, the Toyota Land Cruiser 200 4.5D-4D V8 VX-R costs just over R1.4 million (has few, if any, options) and its standard spec is similar (in some ways, more generous) than that of the Land Rover.
Ultimately, we think a combination of high starting price and complicated/numerous options is not helping the Disco 5's cause.
Pricing and Warranty
The Land Rover Discovery HSE Td6 sells for R1 314 406 (without options, November 2018), but our test unit featured a number of optional features and was probably priced closer to R1.5 million. The Disco is backed with a 3-year/100 000 km warranty and 5-year/100 000 km maintenance plan.
Verdict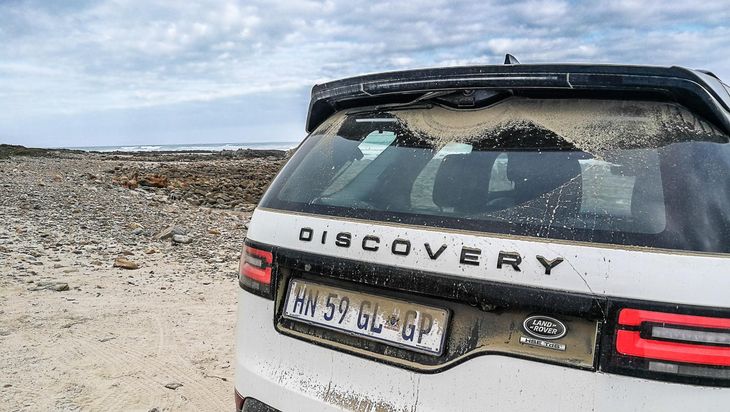 The Discovery remains one of the best luxury adventure machines out there and could be the ultimate all-rounder.
In several ways, the Discovery remains one of the most desirable vehicles one can buy. The way in which it seamlessly blends being a deeply impressive off-roader with a level of Premium SUV luxuriousness remains arguably unequalled, even at the heady price.
As mentioned earlier, we think a number of factors are, however, hurting its sales at present. Firstly, its predecessor was, for many years, a veritable bargain considering its ability and (then) pricing. Secondly, in terms of design, the new Discovery has lost much of its predecessor's iconic (albeit quirky) appeal. Thirdly, perhaps the optional extras list needs to be streamlined and the standard specification revisited. And finally, there is the presence of the Land Cruiser 200 4.5D-4D V8 VX-R on Toyota's new vehicle price list. That particular vehicle has a reputation for unburstable reliability, whereas doubts may still linger about Land Rover's reputation, and those concerns are magnified at these price levels.
Overall, however, the Discovery HSE Td6 remains, in our view, one of the most complete cars on the market, whether you look at it from a family practicality, luxury, status, off-roader or long-distance cruiser point of view.
Interested in buying a new/used Land Rover Discovery?
Find one on Cars.co.za today by clicking here