The all-new Land Rover Discovery builds on the strengths of its predecessor and brings a few new tricks to the party. We've been made to wait a long time for the new Discovery, has the wait been worthwhile? We got a chance to drive the Disco before its local introduction in July 2017 to discover how the king of off-roaders has been reinvigorated.
What new?
The fifth generation Land Rover Discovery. All-new, too; from the monocoque aluminium structure to the introduction of a four-cylinder turbodiesel engine, Land Rover's most capable family hauler has been re-invented for 2017. Don't fret though; Land Rover's not gone too far off its usual route with it, focusing heavily on the space and practicality, which is why you'll still get seven very accommodating seats. To that, it's upped the technology and connectivity, retaining its utter off-road dominance and heading upmarket in interior ambience and equipment, while also bringing a new, slipperier look to the once boxy icon.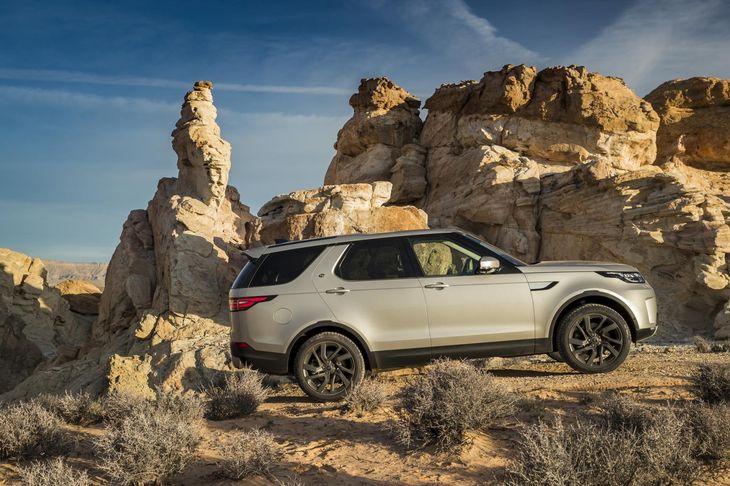 The new Disco incorporates much of the Range Rover's tech and styling.
Outwardly it's still recognisably Discovery, only the familiar elements like the stepped roof are complemented by some Range Rover design cues. Likewise, and somewhat unsurprisingly, there's more than a hint of Discovery Sport in its looks. It's largely successful, too; certainly the surfacing, shut lines and detailing are very classy, though the ability to swallow seven adults convincingly does give it a rather Kardashian backside. Adding the optional Dynamic Pack or Black Pack to the styling mixes up the appeal, thanks to a contrasting roof, dark wheels, badge deletion and some smart grille elements in the front bumper.
Technology's up, so there's the ability to fold all those seats remotely via your smartphone app and as many as 9 USB sockets to charge stuff (as well as four more 12V sockets) meaning you'll be in demand when your pal's phones are running on empty. You can option a 3G WIFI hotspot, too, indicating that the Discovery is fully equipped for a modern, connected life. The interior quality takes a sizeable leap into Range Rover territory, though some of the plastics lower down the cabin feel a bit low rent.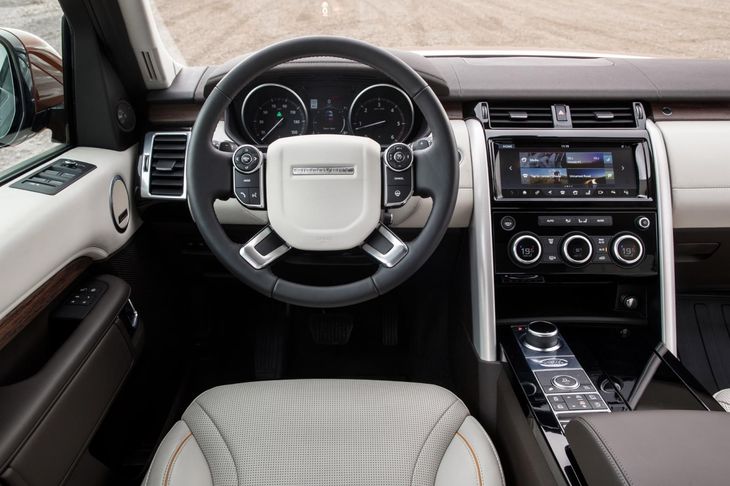 The cabin has been upgraded and can have up to 9 USB ports fitted
The touchscreen operation of all the infotainment remains a bit clunky against the best of its rivals and at times ponderously slow, while the Meridian premium audio in the HSE version lacks the sort of ear-tickling crispness and stadium-filling punch of rivals' upmarket stereo systems. We're nit-picking, as the Discovery has improved to the extent that it feels at least two generations ahead of the car it replaces, even if some rivals' infotainment systems are more intuitively navigated and operationally superior in some areas.
How does it drive?
Absolutely nothing will touch the Discovery off-road, at least nothing that's able to carry seven in luxurious comfort. Apparently it's Land Rover's most capable vehicle off-road, bettering even the old Defender in the mire. We've no reason to doubt that, it shrugging off any terrain with a simple twist of its Terrain Response knob, the disdain it treats any habitat with born of its capacity to absolutely conquer it. Underneath, the standard air suspension, various differentials, transfer cases and complex 4-wheel-drive systems divvy out the appropriate drive to where it's needed, and the list of off-road acronyms is an alphabet spaghetti of terrain-defying capability, though their actual operation is a paragon of simplicity.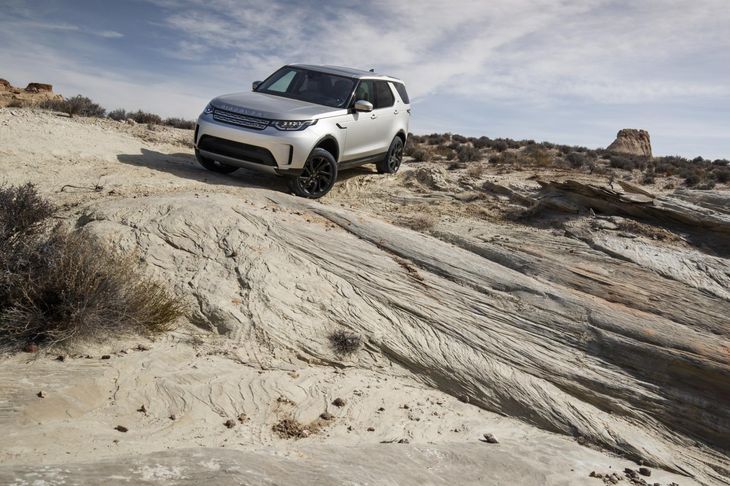 The Discovery aims to be the most comfortable off-roader on the planet, capable of taming any type of terrain with a simple switch of the terrain response knob
However able it is in your chosen environment, the majority will never turn a wheel in more mud than a winter road or scale anything more Himalayan than a pavement kerb. It's reassuring to know it can, though. On the road, Land Rover has stuck to the Disco's winning formula of comfort and ease, rather than deferring to any pretence of sporting appeal. It steers deftly enough then, though the body roll is certain to limit your enthusiasm in a bend before it approaches anything like the limits of its grip. The air suspension is largely comfortable, only the patter of sharp ridges upsetting its otherwise impressive composure.
Watch adventurer Bear Grylls adjust the Discovery's seats while parachuting:
The all-new aluminium structure sees the Discovery shift as much as 450 kg off its predecessor, which is an incredible amount. It's allowed Land Rover to downsize the entry-level diesel engine to a 177 kW four-cylinder twin-turbocharged Ingenium unit. In other JLR products, the engine is offered in 132 kW form, which would struggle here, as, while it's mostly smooth in 178 kW guise, ask for anything above merely brisk progress and the 4-cylinder's revs rise to the detriment of refinement – and there's not a marked increase in progress.
Peg back your expectations and the four-cylinder diesel hauls along the still over 2-tonne Discovery with respectable, if never scintillating, pace and refinement. A large part of that smoothness is attributable to the eight-speed automatic transmission's excellent shift quality and speed. Choose the V6 turbodiesel and you'll gain 13 kW and add 100 Nm of torque to the 500 Nm of the four-cylinder, but the additional pace it brings isn't so distinct to make it the default choice. Indeed, its refinement at lower revs isn't as impressive as the 4-cylinder's.
Verdict
The Discovery has been brought bang up to date, with an all-new look and greater technology mated to the same massive space, utility and practicality, fine road manners and incredible off-road ability. It's a shame that the new engine line-up at introduction cannot match the best of its rivals: Audi offers a V6 turbodiesel with more power and fewer emissions than the Discovery's new 4-cylinder unit, for example.
The interior lacks some of the final polish that marks out the best of its competition, too, but even so, it's difficult not to see the new car as a triumph. Land Rover already has 20 000 pre-orders globally. Those buyers won't be disappointed. The local line-up will initially comprise a V6 turbodiesel and a supercharged V6 petrol.
Estimated price and details
Land Rover Discovery 2.0 SD4 HSE Lux
Price: from R980 000 (V6 turbodiesel)
Engine: 2.0-litre four-cylinder turbodiesel
Fuel consumption: 6.5 L/100 km
CO2 emissions: 171 g/km
Top speed: 200 kph
0-100 kph: 8.3 seconds
Power: 177 kW at 4 000 rpm
Torque: 500 Nm at 1 500 rpm
Related content:
New Land Rover Discovery Coming in July 2017Range Rover
Sport SDV6 SE (2015) Review
Land Rover Discovery HSE Review
Land Rover Defender Heritage Edition Video Review
Update: Mercedes-Maybach Reveals G650 Landaulet (Video)
Looking for a used Discovery?