Land Rover has revealed a new 3-cylinder plug-in hybrid system that will be offered on the popular Range Rover Evoque and Land Rover Discovery Sport SUVs.
In an effort to bring Land Rover one step closer to its Destination Zero mission, which strives for zero emissions, zero accidents and zero congestion, the Coventry-based firm is introducing a new plug-in hybrid system that will be offered in the Range Rover Evoque and the Land Rover Discovery.
The new plug-in hybrid system was designed and built in-house using the brand's scaleable Ingenium engine architecture. The system combines a 147 kW 3-cylinder 1.5-litre petrol engine and an 80 kW electric motor to deliver an all-electric range of up to 66 km for the Evoque and 62 km for the Discovery Sport. Claimed fuel consumption is roughly 1.4 L/100km and CO2 emissions are as low as 32g/km depending on the model.
As for charging, the system can be charged by harvesting energy generated through acceleration and braking in electric or hybrid mode which recharges the battery. The 15 kWh battery can also be charged by plugging into a public rapid charger that will charge up to 80% of capacity in 30 minutes. A dedicated wall box at your home will take 1 hour 24 minutes while a domestic wall socket will take 6 hours and 42 minutes to charge up.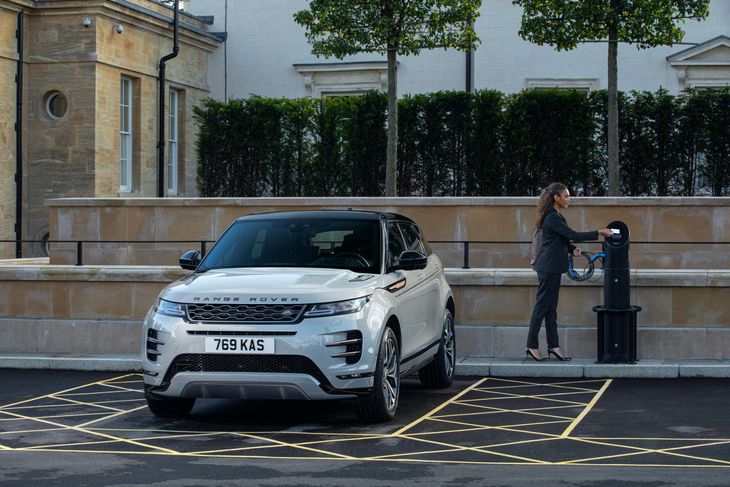 30 minutes is all you need to get up to 80% charge at a public fast charger.
Both the Evoque and Discovery Sport are built on Land Rover's Premium Transverse Architecture and the hybrid hardware is neatly packed in the cabin floor without impinging on cabin space, luggage space or all-terrain ability.
The introduction of this technology marks the second phase of electrification at Land Rover's Halewood plant where more than 1 500 employees are producing these new plug-in derivatives.
In addition to these new derivatives, Jaguar Land Rover is expanding on its electrified portfolio which embraces fully electric, plug-in hybrid and mild-hybrid vehicles seen in current products such as the flagship Range Rover, Range Rover Sport, the new Defender and the all-electric Jaguar I-Pace.
The company will also transform its facility at Castle Bromwich where a range of new electric vehicles will be built, including the new Jaguar XJ. It was also announced last year that Jaguar Land Rover would build its electric drive units at its Wolverhampton Engine Manufacturing Centre in the UK which is complemented with investment into the UK's most technically-advanced battery assembly centre at Hams Hall, all of which will contribute to the company's next generation of vehicles.
The Range Rover Evoque PHEV and Land Rover Discovery PHEV have not been confirmed for introduction in South Africa.
Buy a Range Rover Evoque on Cars.co.za
Buy a Land Rover Discovery Sport
Related Content
Range Rover Evoque (2019) Video Review
Land Rover Discovery Sport (2020) Launch Review
Jaguar I-Pace Vlog - Will Electric Cars Work in South Africa?