Grand tourers and super saloons seem so passé now that the new Koenigsegg Gemera offers seating for 4 adults, plus their luggage, and has a peak combined power output rated in Megawatt – not Kilowatt. Top speed? Limited to 400 kph. Zero-to-100 kph time? Oh, just 1.9 seconds…
The (frankly, bonkers) Swedish supercar manufacturer describes its newcomer as a Mega GT. It's powered by an in-house developed plug-in hybrid electric powertrain with combined outputs of 1 270 kW (yes, that's 1.27 MW) and 3 500 Nm of torque. The power unit comprises a mid-mounted twin-turbocharged 2.0-litre 3-cylinder petrol engine (which produces 450 kW and 600Nm), a 16.6-kWh battery pack and a trio of electric motors – 1 for each rear wheel, 1 for the front axle.

The Gemera's ​wraparound windscreen, short overhangs and gaping side intakes leave no doubt to the hypercar's potential.
In keeping with Koenigsegg's wackiness, the 3-pot petrol motor is named the Tiny Friendly Giant (TFG). It's a Freevalve engine: the intake and exhaust valves are controlled by hydraulic actuators and the system can independently open and close the valves depending on driving conditions, in combinations that either maximise performance – or minimise fuel consumption.
The company says the TFG (a reference to the late British novelist Roald Dahl's children's book: The Big Friendly Giant – BFG, for short) has an estimated fuel consumption of 15- to 20% less than a conventional 2.0-litre 4-cylinder petrol engine with direct injection and variable valve timing. Cold-start emissions are also said to be 60% improved over a conventional engine.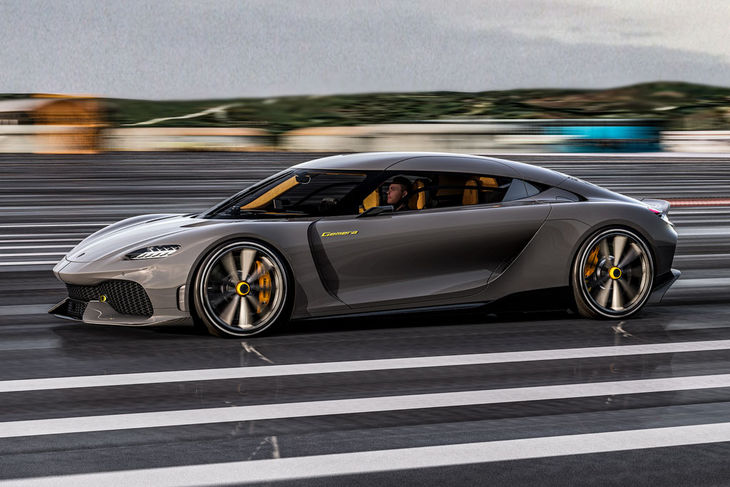 The Gemera utilises a host of technologies, including all-wheel torque vectoring and rear-wheel steering to sharpen its handling.
A direct-drive single-speed transmission – mated to the engine via a locking hydraulic coupling, which has a clutch-slip mechanism that allows the engine to gain revs, sends power to the Gemera's front wheels via a torque tube. The electric motors, meanwhile have a simultaneous combined output of 800 kW and remember, there's one for each of the rear wheels.
The newcomer has an optimal electric-only range of 50 km, but can travel up to an incredible speed of 300 kph in that mode… Equipped with a 75-litre fuel tank, the Koenigsegg has a maximum claimed range of 1000 km between fuel stops or recharging.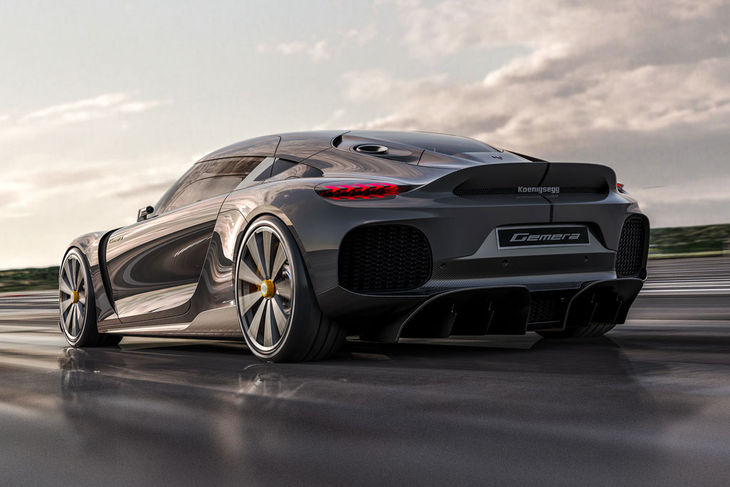 Not only is the Gemera capable of a (limited) top speed of 400 kph it can travel at 300 kph on electric power alone...
While its front and rear subframes are made from aluminium, and the Gemera's monocoque is constructed entirely from carbon fibre, as are many of its panels. As such, the newcomer has a kerb weight of just 1 850 kg, and therefore a power-to-weight ratio of around 686 kW per tonne. All the while, the Swedish company says that the Gemera is "at least as CO2-neutral as a pure electric car" when its ICE engine runs on ethanol or CO2-neutral methanol, instead of conventional fuel-pump petrol.
The Gemera's 3 000-mm wheelbase allows for a high degree of rolling refinement at high speeds, Koenigsegg says, but of course, the car has also been designed to offer rewarding driving dynamics. To that end, it comes equipped with all-wheel torque vectoring, rear-wheel steering, an electronically-adjustable ride height and -dampers, plus beefed-up ventilated ceramic disc brakes.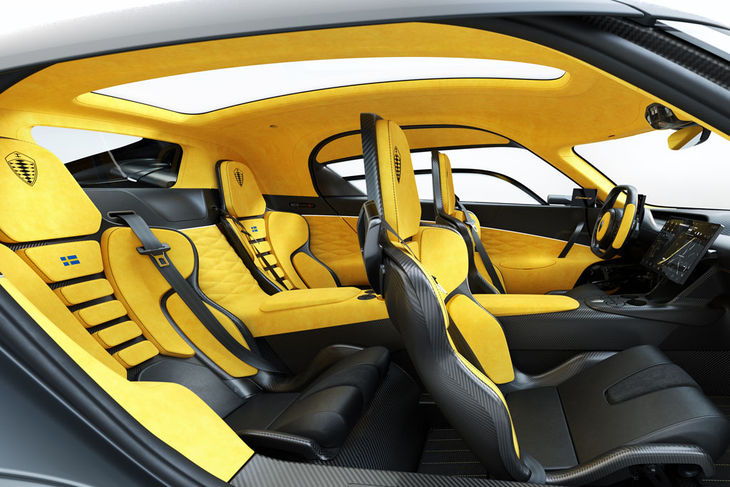 By virtue of being unencumbered by B-pillars, the Gemera's scissor doors make ingress and egress to the cabin a cinch.
The cabin is elemental in its layout, but nonetheless luxurious. Creature comforts include, inter alia, memory foam sports (bucket) seats for the 4 occupants, 3-zone climate control, an 11-speaker audio system, a pair of monitors for the side cameras, front and rear infotainment screens, fore and aft wireless smartphone chargers, on-board wifi, oh, and a quartet of heated and cooled cup holders…
Koenigsegg will limit the production run of the Gemera to only 300 units and although official pricing is yet to be confirmed, the asking price is expected to be around R20 million.
Related content:
McLaren unleashes leaner, faster 765LT
932 kW Czinger Hypercar Coming to Geneva (w/Video)