Korean car manufacturer, Kia, has announced a compact crossover that will compete in the busy B-segment. It's called the Kia Stonic and it offers a range of personalisation options as well as a comprehensive engine range.
The B-segment is one of the world's most popular vehicle segments and there are around 1.1 million new cars sold in this segment in Europe each year. Kia wants a piece of the action and has created the Stonic to take on rivals such as the Ford EcoSport, Renault Captur, Mazda CX-3 and Toyota C-HR, to name a few.
Michael Cole, Chief Operating Officer of Kia Motors Europe, comments: "The Kia Stonic will be one of the most compelling new cars in this rapidly-expanding class, backed by Kia's unique warranty, and the brand's reputation for reliability, quality and contemporary design. By volume, the B-SUV market is expected to overtake the C-SUV segment by 2020, when more than one in ten new cars sold in Europe will be from the Stonic's segment. The B-SUV segment attracts buyers from across the spectrum, with 21% of all customers upsizing from a supermini, and another 15% downsizing from their family hatchbacks." That analysis makes for interesting reading and it makes sound business sense to have a product right in the thick of it.
Engines and Safety

Kia Stonic has hopes of becoming a top-seller in the competitive B-segment.
As for the Kia Stonic itself, it was designed in Europe and was inspired by the design of the 2013 Kia Provo concept. The Kia Stonic will be available in Europe with up to 20 two-tone colour combinations, with a choice of up to 5 colours for the roof. There will be a number of turbocharged petrol and diesel engines available, each with a manual gearbox. The range starts with the 1.0-litre T-GDI (turbocharged gasoline direct injection) engine, followed by the 1.25- or 1.4-litre naturally-aspirated MPI (multi-point injection) petrol engines. Finally, there's an efficient 1.6-litre diesel engine.
Kia is claiming that the Stonic will offer an exciting drive with sharp handling response and stable ride. The Kia Stonic comes standard with Electronic Stability Control (ESC) and Vehicle Stability Management (VSM), ensuring the front-wheel drive vehicle is kept safe. There are numerous driver aids available such as Autonomous Emergency Braking with pedestrian recognition and Forward Collision Alert, Blind Spot Detection with Rear Cross Traffic Alert and Lane Departure Warning System.
Kia Stonic Cabin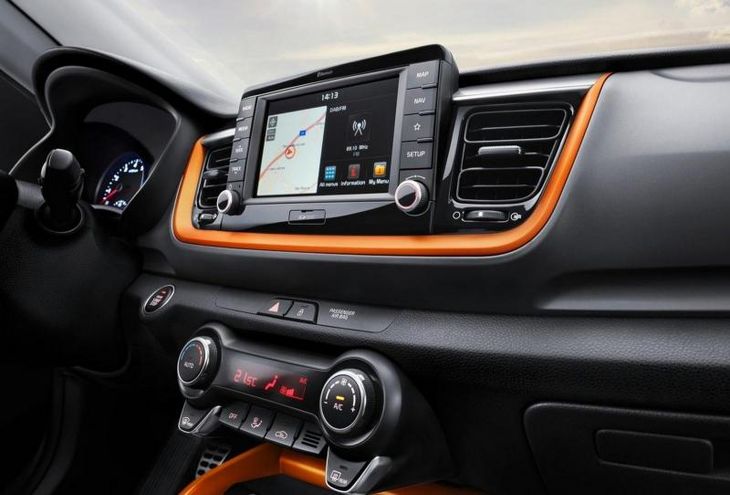 The Kia Stonic's cabin boasts the latest in connectivity such as Apple CarPlay and Android Auto.
Kia is playing the customisation and personality game by offering customers a range of vivid colour packs to choose from. In terms of connectivity, Apple CarPlay and Android Auto is standard and convenience and comfort features include heated front seats, cruise control and keyless entry. The Stonic's cabin is claimed to be spacious for all occupants, while the two-tiered boot offers 353 litres of space.
Coming to South Africa?
Much like Hyundai's Kona, the Kia Stonic's arrival depends heavily on the exchange rate and right-hand drive production. Like we said with the Hyundai Kona, "(Kona) has been earmarked for right-hand-drive markets (Australia will receive the Kona by September), but not the Africa-Middle East region (under which South Africa falls) – at least not yet. However, considering how briskly the local compact family car segment is growing, we'd think it could fare better (sales-wise) than the upcoming hatchback". We'll keep you posted if we hear more details about the new Kia Stonic.
Related content:
Hyundai Tucson (2017) Specs & Price
Hyundai Tucson Sport (2017) Launch Review
Comparative Review: Hyundai Tucson vs Kia Sportage vs Renault Kadjar vs Volkswagen Tiguan

Crossover Group Test: Suzuki Vitara, Hyundai Creta & Renault Captur (Video)

Facelifted Renault Captur Revealed

Nissan Qashqai Updated
Want to buy a new or used Kia?