Ever since the current Sportage made its local debut in 2010, Kia's compact crossover/SUV has been very popular in South Africa. At times, demand has comfortably outstripped supply. Can its successor, which will be introduced in South Africa in October 2016, build on the Sportage's established strengths without ruining a winning recipe?
Kia's outgoing third-generation Sportage is one of the best vehicles in its class – at least as far as I'm concerned. Upon its arrival, apart from being a very good car, it was the right product at the right time (amid the crossover boom, which shows no signs of abating). More than 100 000 people in Europe bought a Sportage last year, but continued success (with the launch of the fourth incarnation) can never be guaranteed…
After all, tinkering with a successful formula is always a bit of a risk, just ask Coca-Cola about its disastrous "New Coke" campaign in 1985. But in the motoring world, you have to keep moving forward on all fronts (especially in terms of design and technology), because the competition will always be snapping at your heels, particularly in the crossover/SUV market in which more and more new models arrive on a seemingly monthly basis.
So, exactly what is new about this fourth-generation Kia Sportage? Well, there is some good news for fans of the model...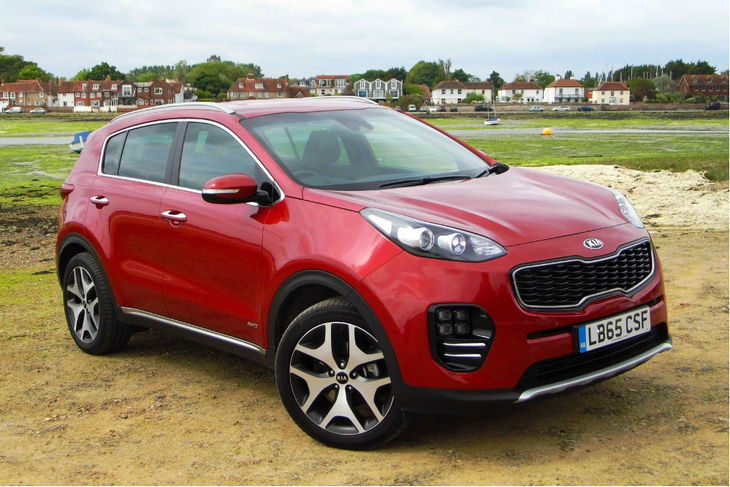 The 4th-generation Sportage cannot be accused of being derivative; it's eye-catching, but a little divisive too.
An all-new look
Under design director Peter Schreyer (the chap who gave us the original Audi TT and who has produced almost a decade's worth of distinctive Kia designs), the new, 4th-generation Sportage gets an all-new look with high-set front headlights and a dominant grille.
Its styling has divided opinion here in the UK. The rear is neat and attractive, but in an attempt to bring the Sportage in line with Kia's current corporate "design language", the new rendition of the "tiger nose" grille appears at odds with the rest of the car. However, like with wine appreciation, all styling critiques are subjective and fortunately, in the case of this new Sportage, it in no way negates what is, once again, an all-round excellent car.
The new model's wheelbase has been stretched by 30 mm and although longer overall (by 40 mm) it has the same width and height as its predecessor. The result is more rear legroom than there used to be and slightly longer rear doors. Kia has also lowered the car's floorpan by 40 mm so that it's easier to get in and out thanks to a correspondingly lower seat height.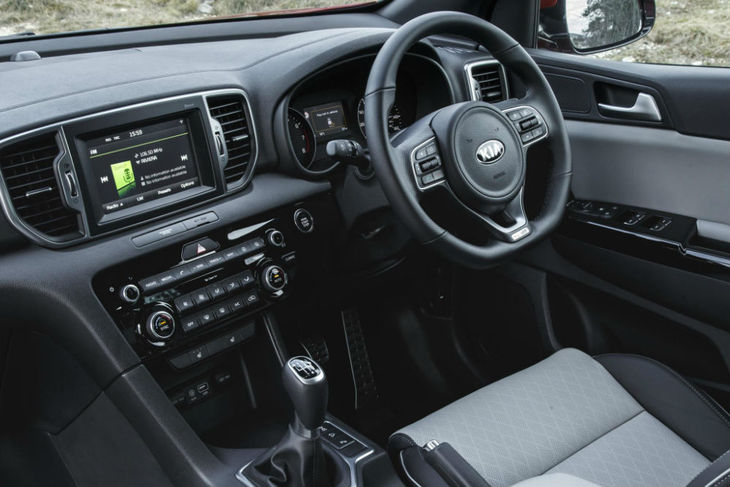 Interior shown in UK GT-line spec, SA cars' interiors will also be well-specced, but may look slightly different.
Expensive-feeling surfaces
Climb into the driver's seat, you'll find a tasteful interior that, thanks to those dimension changes, offers a bit more room inside. However, that is unlikely to be the first thing you notice…that will be the build quality. It's a tactile, subjective, indefinable attribute that used to be the preserve of the German premium marques. Switches, dials, handles, levers and useable surfaces: they all feel really – in a word – expensive. It's only when you look closely lower down the dashboard that you find slightly cheaper-looking plastics used, which frankly is normal across most manufacturers these days.
When it comes to practicality, there's a lot going for this latest Sportage. There's plenty of head and legroom for adults in the rear seats thanks to the car's extra length. At 491 litres, the Sportage has an average sized boot for the class. It is a good, practical shape and the load lip is low and flat. A nice touch is the large under-boot storage area that can store the removed parcel shelf too.
The elevated driving position feels very good and there is clear forward visibility, but the narrow side windows and thick rear pillars mean visibility out of the rear isn't the best.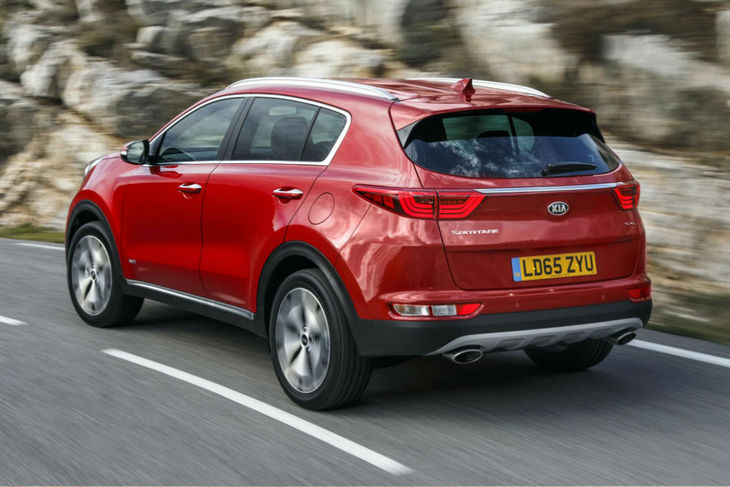 Whereas the previous Sportage's ride was a trifle fidgety (especially on bigger wheels and tyres), the new one rides absorbently.
More-pliant ride quality, better refinement
Comfort has taken a significant step forward on the new Sportage. The ride has become more pliant thanks to a revised suspension set-up, which has allowed Kia to install more supportive seats, and the combination is a good one.
You can fit three people comfortably in the rear of the Sportage – even though the middle seat passenger has to position their feet either side of the transmission tunnel. There's excellent knee room and decent head room despite the sloping roof-line. There are ISOfix points in the two outer seats and one particular feature that marks out the Sportage us its reclining rear seats that offer an extra bit of comfort in the back.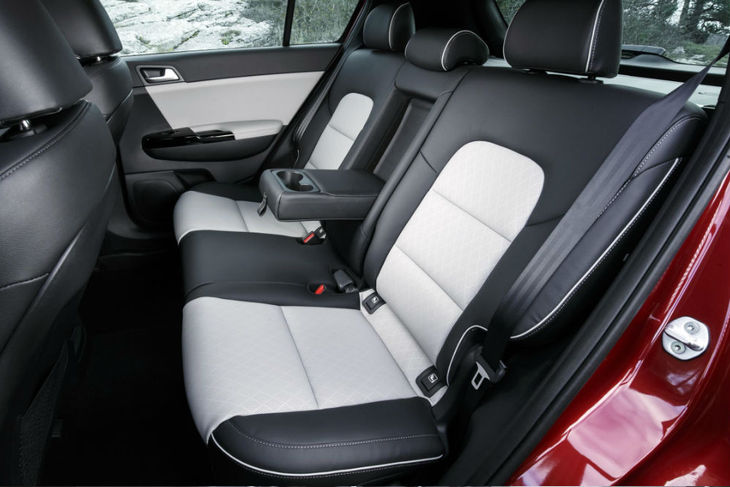 Not only do rear occupants benefit from increased legroom, but their seatbacks can recline for more comfort.
Once on the move, it's clear much has been done to improve on-road refinement, which means the Sportage makes for a comfortable way to cover our expansive South African distances. But the differences between the newcomer and the outgoing model become even clearer when the road becomes twisty as the new Sportage proves to feel more taut and surefooted compared with its relatively ponderous predecessor.
Kia has enhanced refinement by adding plenty of sound deadening and the Sportage is noticeably quieter than the old model at all speeds. Strategically placed rubber bushings mean that fewer vibrations make their way into the cabin and there's a feeling of precision to the operation of all the car's controls.
There's very little noise intrusion to speak of and wind and engine noise aren't a problem for the most part, although working the turbodiesel hard can make for a raucous experience.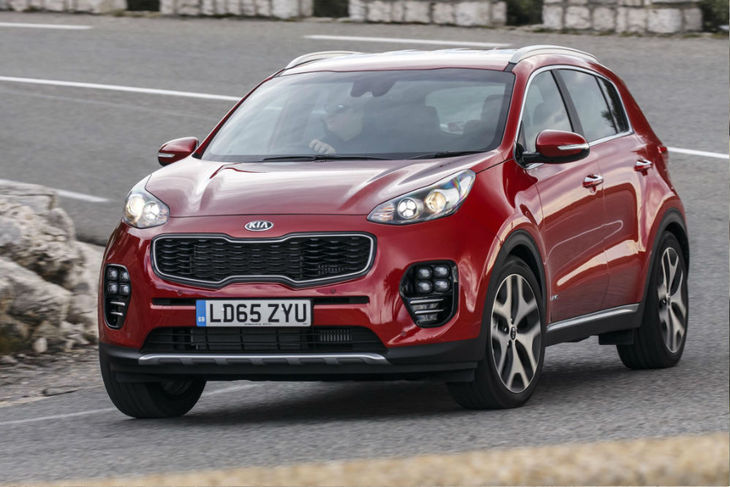 The new Sportage imparts a sportier driving feel that befits its athletic appearance.
Controlled body roll
The car's underpinnings are very well set up and offer up a comforting degree of confidence to deploy large dollops of enthusiasm with the accelerator pedal. Body roll really is minimal and the Kia always feels like it has a good handle on what the road's throwing at it.
Kia Motors SA could not divulge too many details as the local launch is still "a few months away", however, we were told that there would be 4 trim levels with a mix of two- and four-wheel drive and a selection of manual and automatic transmissions.
On the engine front, we can confirm that there will be a turbodiesel option in the form of a 2.0-litre CRDi, which will possibly to be offered in 2 states of tune. Also available will be 4 petrol units, one of which could be a 1.6-litre GDi turbocharged engine, which will be offered in the top-of-the-range derivative.
Summary
That there was very little wrong with the outgoing Sportage is a measure of quite how far the Korean manufacturer has come in a relatively short space of time. However, the new Sportage replacement seems more in tune with modern consumer demands... It feels sportier to drive than the old car, yet offers superb refinement and a more forgiving ride quality. The more capacious interior is an obvious win for families, but that it also offers significant improvements in terms of quality and efficiency, not to mention an excellent 5-year/unlimited mileage warranty, adds glazed cherries to an already appetising cake.
Related articles
Hyundai Tucson 1.6 Turbo Executive Manual (2016) Review
Renault Kadjar dCi Dynamique 4WD (2016) Review
Chevrolet Captiva 2.2D LT (2016) Review
BMW X1 xDrive20d (2016) Review
Mazda CX-5 2.2DE AWD Akera (2016) Review
Toyota RAV4 2.2D AWD GX (2016) Review
Interested in buying a new/used Kia Sportage?