Kia's more upmarket Sportage, equipped with a turbodiesel engine and automatic transmission, might just be the pick of the range. In an extremely competitive segment, does the Kia stand out enough to warrant consideration? We investigate.
We like: Build quality, cabin quietness, spacious
We don't like: Expensive, infotainment system could do with more features
Alternatives
For an equally-priced German: The Volkswagen Tiguan is now available in turbodiesel guise and for the same price as this Sportage, you can get yourself the flagship 2.0TDI 4Motion Highline R-Line derivative.

For something that looks more rugged: The Toyota RAV4 2.2 AWD VX offers similar specification for slightly less money. It has less power and no satnav, but it can withstand harder use than you might expect.

If you need more space: The top-spec Nissan X-Trail 1.6dCi 4x4 LE has loads of room inside for passengers and their luggage. There's no automatic offered for the turbodiesel, which is disappointing, but it offers superb value for money.
Compare the Kia with the Volkswagen and Toyota here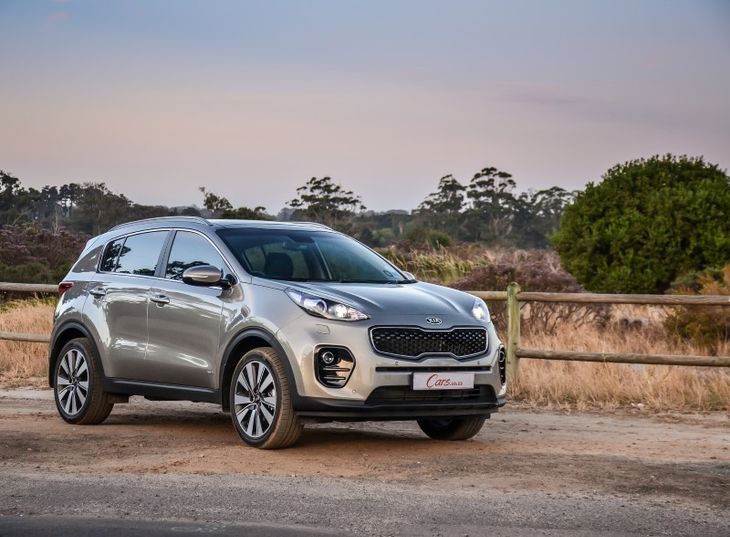 Styling of the new Sportage is distinctive, if not to everyone's taste.
Facts & Figures
Price: R567 995 (March 2017)

Engine: 2.0-litre 4-cylinder turbodiesel

Transmission: 6-speed automatic

Power: 130 kW

Torque: 400 Nm

Fuel Consumption: 6.8 L/100 km (claimed)

Top speed: 201 kph

0-100 kph: 9.5 sec
Summary
The turbodiesel Sportage sits one level below the top-spec turbopetrol and misses out on a few of that model's highlights. There's still a wealth of specification on offer, plus the turbodiesel engine makes more sense from a fuel-consumption point of view and is better suited to lugging the heft of an SUV body around. It's still a bit expensive, especially when compared with the segment leaders (such as the Volkswagen Tiguan, Toyota RAV4 and soon-to-be-renewed Mazda CX-5), but it doesn't lack for quality or refinement. It's a well-built vehicle and its stand-out feature is its build quality, something that doesn't immediately grab your attention when you're perusing cars on a showroom floor. In the long run, the Kia could well be worth the extra initial outlay.
The good:
Build quality and on-road refinement
Kia has been hard at work improving the quality of its products because the Korean brand wants to move into the premium sector to rival the Volkswagens (or even Audis) of this world. It has done an excellent job too: the Kia Sportage is one of the best-built cars we've driven to date, certainly in its segment, anyway. Drive it in town or on the freeway and there's little perceptible in the way of road noise or engine chatter; only when you get the Sportage right up to 120 kph do you hear a slight whistle emanating from the side mirrors.
The cabin is incredibly sturdy too. The shut lines are remarkably tight and the panels and joints are immovable, even when tempted loose with a hard thump of the fist. The driving experience has improved too – the Sportage rides smoother over bumps and is easier to place with a better-weighted steering system.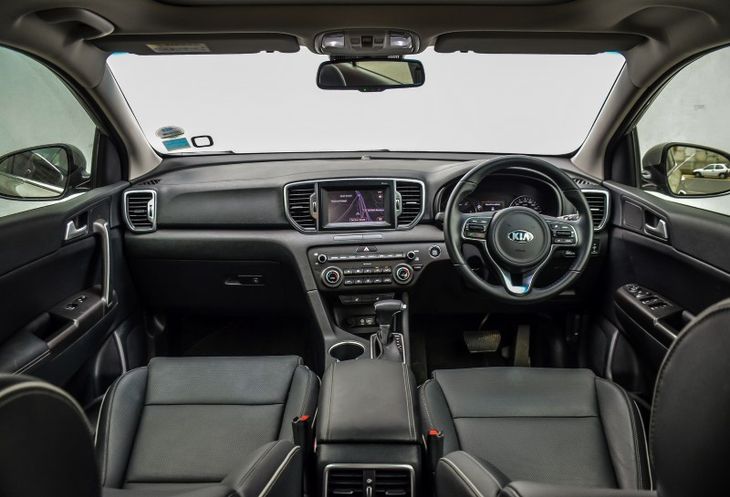 Interior build quality is excellent. The wraparound dash adds a touch of luxury to the interior.
Improved practicality
The new Sportage is bigger than the outgoing model, both inside and out. There are also a few small modifications to make life a bit easier. The luggage compartment's loading height has been lowered in order to make lifting things into the boot easier. The load bay itself is also slightly larger (at 466 litres), but contains a full-size spare wheel. Rear passengers are well looked after – legroom is good with rear ventilation outlets and reclining seats for extra comfort.
The only slight negative in terms of practicality is that the rear seat recline levers are on the lower bases of the seats, which means that you have to walk around both sides of the car to fold the seats down.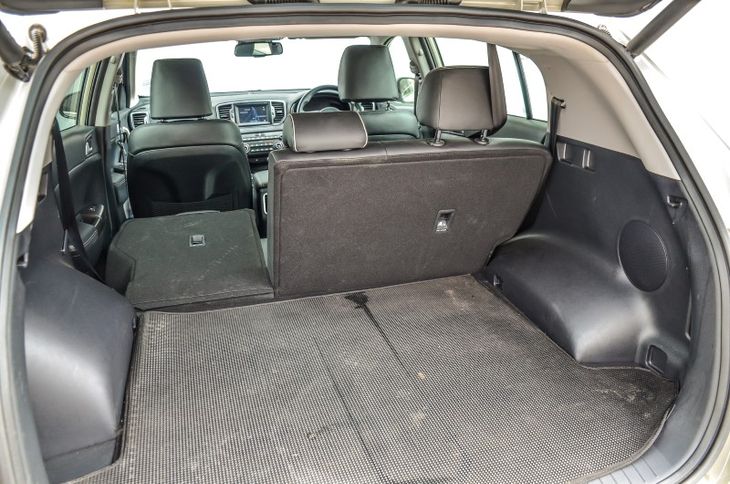 Boot size is 466 litres with a full-size spare tyre under the boot board. Rear seats fold flat and also recline for added passenger comfort.
Fluid torque aids cruising ability
The turbodiesel engine has always suited SUVs; the high torque output of a diesel engine is beneficial if the motor needs to move a 1 700 kg body and the Sportage feels well-matched to its engine. Its 400 Nm of torque is among the best-in-class and 130 kW is ample for acceleration and overtaking duties.
Its 6-speed automatic transmission shifts along, mostly unnoticed, until it occasionally kicks down (for what feels like) a touch early. The only downside to that is a that more weight is shifted forwards than expected. With the cabin being so well insulated, it's hard to tell how rough the diesel motor actually is, but the eager power delivery and smoothness of the acceleration are what counts most.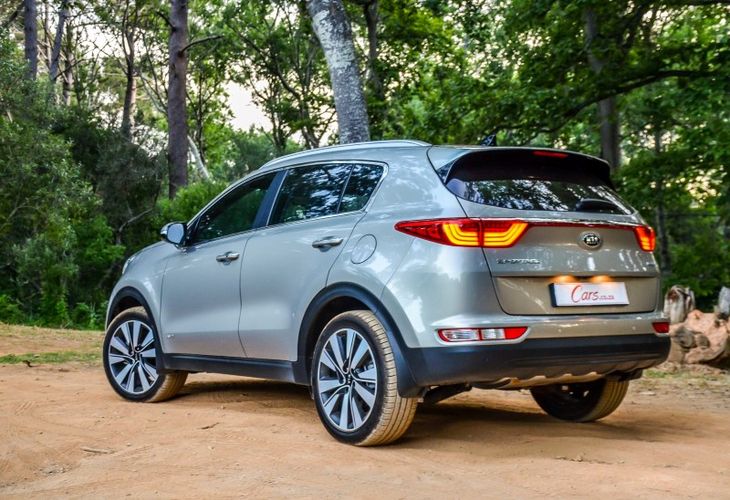 Diesel auto combination mates well with the Sportage. It's comfy on the school run and the highway journey.
The bad:
Finicky infotainment system
While the Sportage doesn't lack for spec or features, the infotainment system doesn't feature all the latest app integration and customisation capabilities of other compact SUVs' units. It's also a bit odd having a part touch/part button system. The buttons below the screen control the different functions, but from there you have to use the touchscreen to navigate the sub-menus. Apple-CarPlay and Android Auto aren't available yet, but could be on the way soon.
There is built-in navigation as standard, but no real-time traffic information, which could be worth implementing for added value. We also miss the wireless charging dock that's found in the GT-Line model.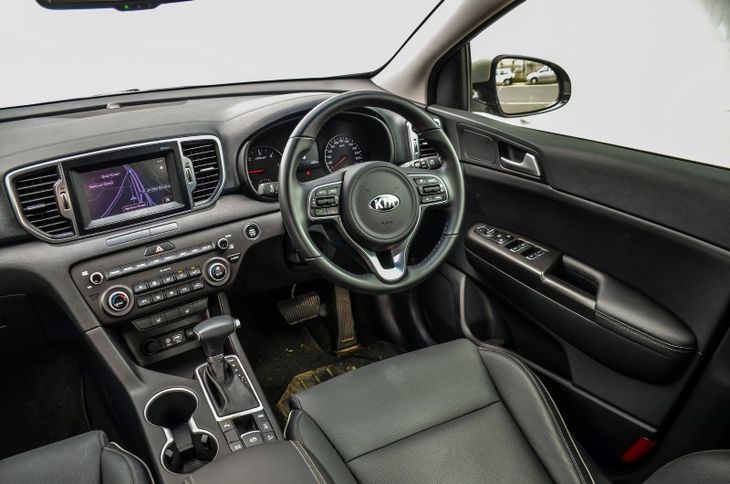 The infotainment system is first controlled by the buttons below the hazard button. From then on, it turns into a touchscreen.
Price premium
Currently, the price of this model (March 2017) is R567 995. It's been that way for 6 months, which is good as new models tend to increase in price over time. It places the Sportage at the very upper limit of the family car/compact SUV segment. Consider that there are a lot of good vehicles you have to pass up in order to choose a Sportage... You also have to say no to a Tiguan – the Cars.co.za Consumer Awards family car champion, which is now available in a diesel auto and that's a hard task. The Kia does come with an excellent 5-year/unlimited km warranty and a 5-year/90 000 km service plan, however.
Verdict
The Kia Sportage feels at home with a turbodiesel engine and automatic transmission. Whether or not you need the all-wheel drive version is debatable, but it does give you access to a better-specced car. So, if you want things like navigation, xenon headlights, park distance control and heated front seats, you'll have to live with the all-wheel-drive. According to the manufacturer's claimed figures, it doesn't affect the fuel consumption figure by having it, however.
Overall, the Sportage is well-built, practical, drives smoothly and feels like a solid piece of machinery that's made to last. It lacks a little in the tech department and the price is a little steeper than we're accustomed to seeing from the Korean manufacturer, but it's still very much worth considering.
Related content:
Volkswagen Tiguan 2.0 TDI (2017) First Drive
Comparative Review: Hyundai Tucson vs Kia Sportage vs Renault Kadjar vs Volkswagen Tiguan
Hyundai Tucson 1.7 CRDi Executive (2017) Review
Volkswagen Tiguan 1.4 DSG (2016) Video Review
Interested in buying a used Sportage?