Kia's all-new, 4th-generation Sorento will be arriving in South Africa next year. Our UK correspondent travelled to Amber Lakes near Windsor, England, to drive the new Kia 7-seater SUV and filed this driving impression for us.
Like so many new cars released in the 1st half of 2020, the new Sorento was officially revealed online due to the cancellation of the Geneva Show in March 2020. While now even bigger than before, it's not the largest SUV in Kia's global armoury – that accolade belongs to the US-only Telluride.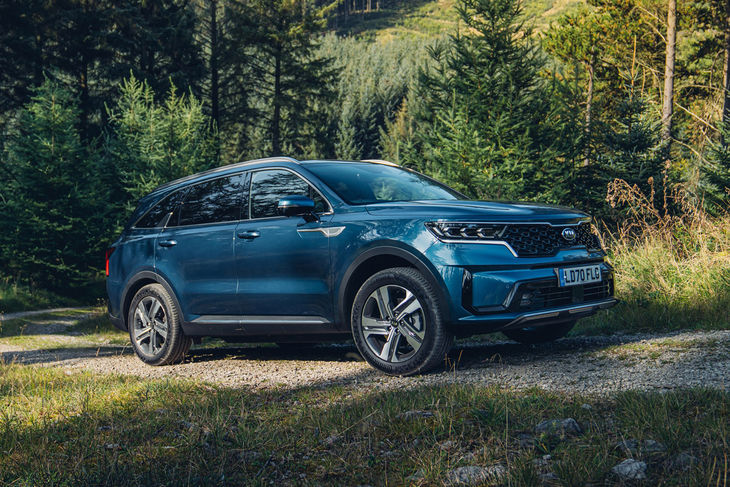 The Sorento has increased in size by virtue of being based on Hyundai/Kia's all-new N3 platform.
However, look closely at this new Sorento and you'll notice more than a hint of the Telluride in its new styling... and that's no bad thing as the Telluride went on to win the 2020 World Car Of The Year award – the first Korean product ever to do so.
Kia doesn't really adhere to the conventions of car manufacturing. The South Korean company wants to get places fast, so its product planning is accelerated, compressed into The Matrix-style bullet time... cars are launched, refreshed and replaced in half the time of many manufacturers.
The Sorento first appeared in South Africa way back in 2005 with a crude ladder-framed chassis and rather bland bodywork. The 2nd-generation model, which debuted in 2010, was slicker to look at and based on the more car-like monocoque chassis that SUV buyers wanted at that time. Its 3rd-generation successor (2015) refined that recipe even further, but this 4th-iteration model really takes the Sorento forward.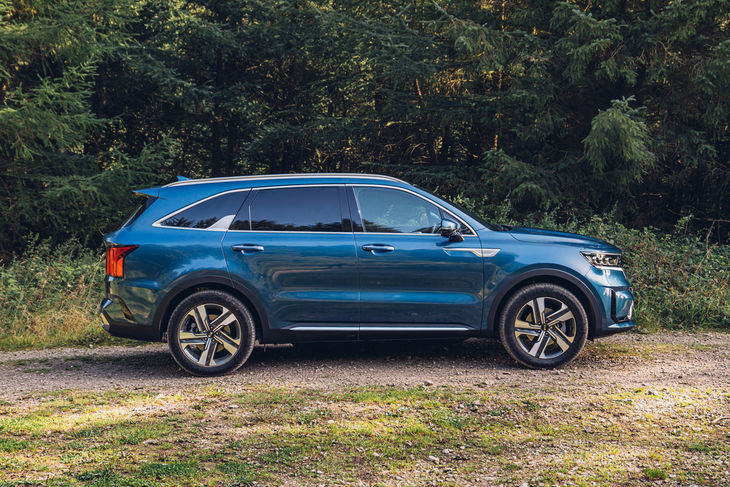 Kia purposely gave the Sorento a more distinctive profile, replete with Telluride-inspired design details.
Chiselled exterior
The chiselled, handsome contours of the new Sorento give the impression that it's a larger car than before. The front of the Sorento evolves with a new interpretation of Kia's hallmark "tiger-nose" grille, displaying a wider shape which wraps around the integrated headlamps on either side.
The headlamps feature a new "tiger eyeliner" LED daytime running lights, which afford an edgy, more assertive appearance, complemented by a wide, rectangular lower air-intake. A sharp bumper lip is also capped with a skid plate, which further enhances the newcomer's robust aesthetic.

In an era of organically-shaped and elongated wraparound tail-light clusters, the new Sorento bucks the trend.
The new car rides on Hyundai/Kia's all-new N3 platform and is 10 mm longer and 10 mm wider than its predecessor. Significantly – at least for off-road users – Kia has added a further 24 mm of ground clearance, but the biggest dimensional change is the 35 mm added to the wheelbase, to benefit passenger space in the front 2 rows.
At the rear (and inspired by the Telluride), the Sorento adopts new vertical tail lamps which wrap around the side of the body. The newcomer follows other recent global Kia models with the model name lettered centrally across the tailgate. A subtle integrated spoiler also conceals the rear wiper, resulting in a less fussy design and enhancing the driver's view out of the back.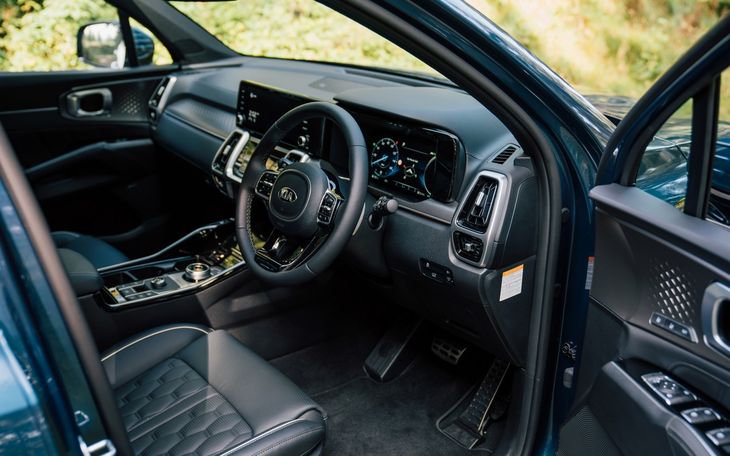 As expected, the new-generation Sorento's interior is more upmarket than before, with a plethora of smart metallic-look finishes.
Premium interior
As soon as you climb into the new Sorento, you'll notice the newcomer represents a huge leap over the last generation in terms of design, material choice and tech. It's modern, with good use of brightly coloured and textured trim on the dash. The layout of the fascia is familiar from the Sorento's smaller sibling, the Seltos.
The controls are well organised, there's plenty of soft-touch plastics and build quality seemed to be good, too.
The lower centre console consists of two rotary controls: one for the automatic gearbox (all UK models are automatic, it should be the same in South Africa) and one for the drive mode selector, with buttons for the electronic handbrake, auto hold and other driving functions.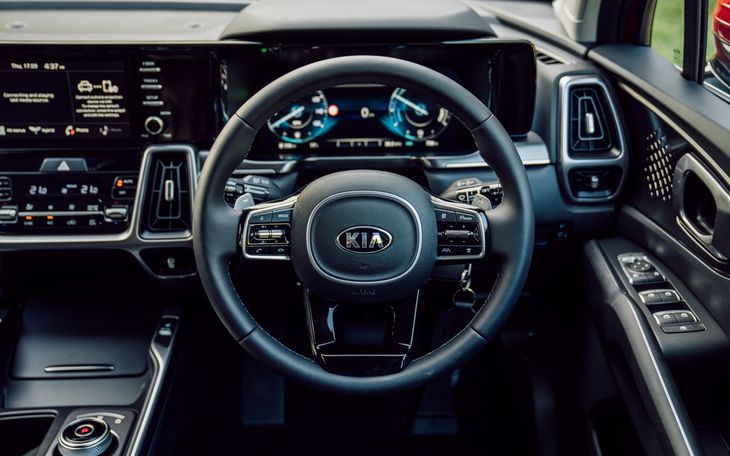 Like in so many premium models, the Kia's digital instrument cluster and large infotainment touchscreen dominate the fascia.
It's easy to get into a comfortable driving position with plenty of seat adjustment, plenty of space and large comfortable furniture. Entry-level derivatives have manual adjustment and do without lumbar support, so the next trim grade might be in order if you cover large distances.
Trim grades
No details were forthcoming from Kia South Africa regarding the trim grades for its new Sorento, but there would be little reason to depart from the simple EX and LX of the current line-up.
In the UK, entry-level derivatives come with an 8.0-inch infotainment touchscreen, but the larger 10.25-inch version on higher-grade versions come with integral satnav. Android Auto and Apple CarPlay compatibility is standard and the menus aren't too complicated to navigate your way through them, but there's nowhere to place your hand, so it can be a little tricky to use on the move.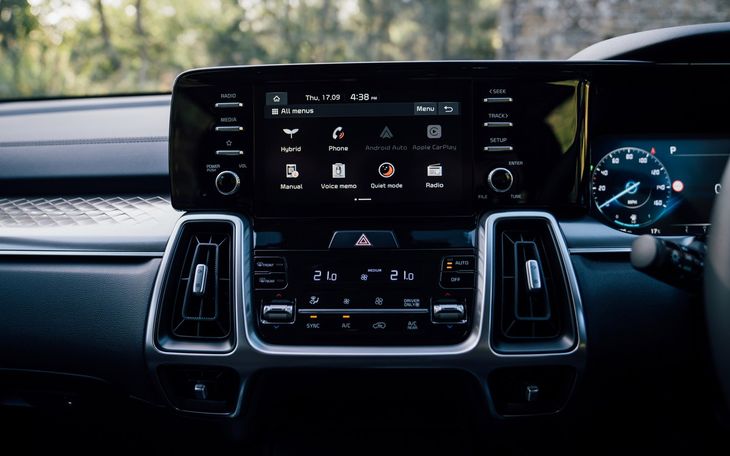 The touchscreen infotainment system is still complemented by shortcut buttons and adjustment knobs, which is a good thing.
Touch-sensitive buttons on the side are easy to miss but at least you have rotary controls for the volume and for scrolling up and down the menus.
Anyone who's been in a latter-day Kia will be familiar with the layout of the steering wheel buttons, which are easy to get used to. The climate control cluster isn't too fussy either, even if the less-frequently used touch buttons are a bit fiddly.
The 12.3-inch digital cockpit screen is clear, sharp and has great contrast, but there's not a great deal of customisation or a full map setting for the nav. Depending on trim grade, you might need to do a bit of digging to find the well-hidden sub-menus for the driver assistance systems, too.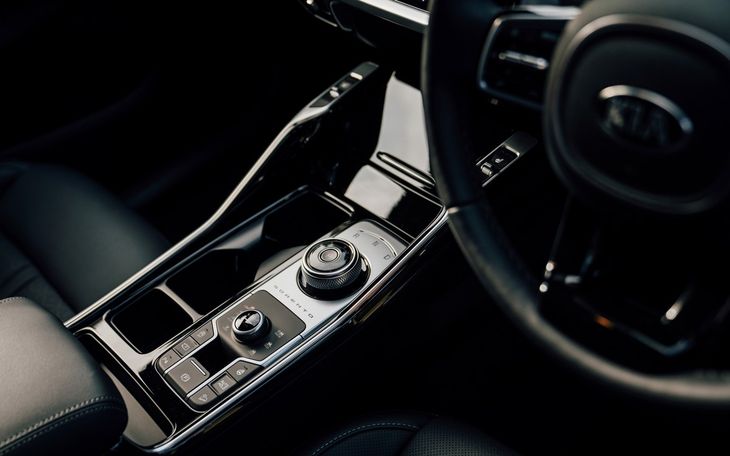 Kia effectively opened up extra oddment space in the centre console by switching to a Jaguar-like rotary transmission selector.
There is plenty of info available on the trip computer, however, including energy flow, trip computer, a digital speedometer, driving style analysis, attention level, traffic sign recognition, tyre pressures monitor, selected drive mode.
Top-spec UK derivatives are offered with a head-up display and a large panoramic sunroof, the latter of which brightens up the spacious cabin. It also had an innovative Blind-Spot View Monitor, which displays a high-resolution video feed into the rondels of the driver's instrument cluster when the driver uses the turn indicators. It is particularly handy at T-junctions to spot errant cyclists, for example.

The increase in the Sorento's wheelbase as improved 2nd-row legroom in particular.
Improved practicality
I have already mentioned the Sorento's 35-mm increase in wheelbase, and this has improved practicality in what was already a large vehicle. In fact, the previous Sorento was at the top of its class for practicality with its flexible seating and load-lugging ability. There is generous space inside, 7 seats come as standard (including the SA-bound model) and you can even fit a couple of adults in the 3rd row for quick trips.
The first 2 rows in the Sorento offer plentiful headroom and legroom for adults, so there shouldn't be any complaints, even on long trips. Headroom for passengers in the third row has been improved too, and sliding the 2nd row slightly forward even provides decent knee room, which is a rarity.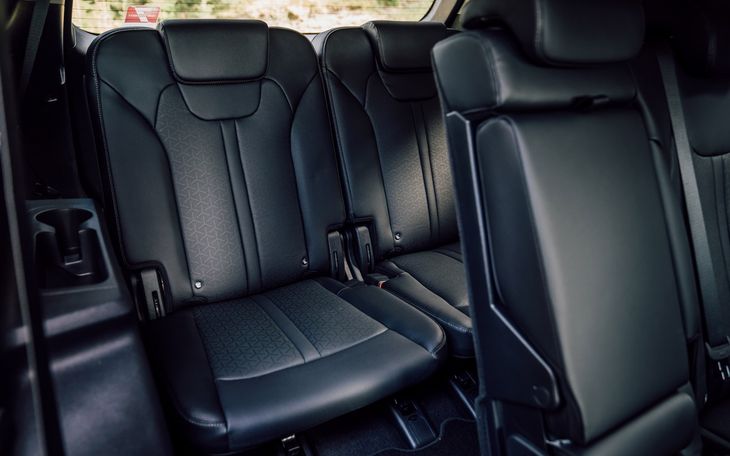 The 3rd-row seats aren't just for seating young children, average-sized adults could squeeze in there for shorter trips.
Every passenger also gets their own cup holder and USB charging port to keep them and their devices topped up. Even hybrid versions have their battery pack and electric motor placed beneath the floor, where they have minimal impact on passenger or luggage space. When the plug-in hybrid arrives, it will also be offered as a seven-seater.
There are 616 litres of luggage space when the rearmost row of seats is stowed (606 litres for the self-charging hybrid), extending to 2 011 litres with rows 2 and 3 folded (1 996 for the hybrid). For comparison, the Land Rover Discovery Sport has a 754-litre boot, extending to 1 794 litres.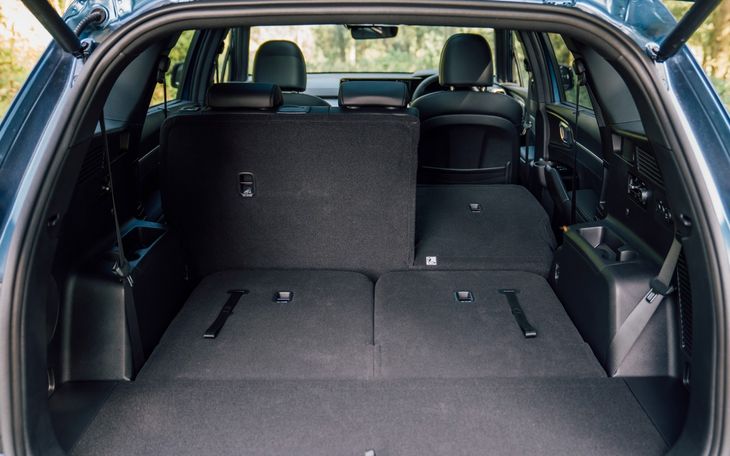 With more than 600 litres of luggage space available (with the 3rd-row seats folded flat), the Sorento is admirably practical.
Good for towing, too
Kia is justifiably proud of the Sorento's towing abilities – it has a loyal following here amongst UK caravanning community – and even the hybrid version can pull a 1 650-kg braked trailer. The diesel is even more capable, towing up to 2 500 kg (an increase of 500 kg) and both can accept a tow ball weight of 100 kg. Granted, the braked trailer rating is not quite as much as that of a bakkie-based Adventure SUV.
Powerplants and drivetrains
2.2-litre diesel
Dismissing the 2.2-litre diesel as a carry-over from the old Sorento would be entirely understandable. However, the only similarity between the two is the displacement. The new Smartstream oil-burner has been thoroughly redeveloped, with an aluminium cylinder block and other new parts that reduce its weight and improve performance. It now has 151 kW and 440 Nm of pulling power, so despite the Sorento's hefty kerb weight of 1 954 kg, it achieves a respectable 9.6 seconds for the 0-100 kph sprint.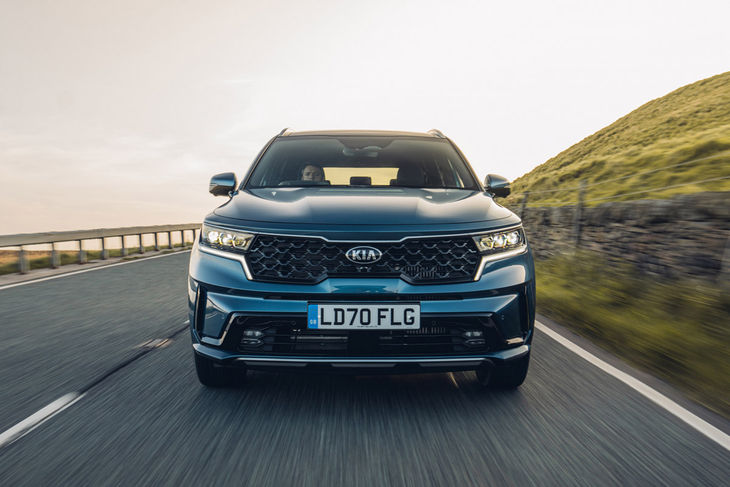 This 2.2-litre turbodiesel derivative is reasonably economical; it is claimed to consume 6.7 L/100 km on a combined cycle.
As standard, the diesel is paired with four-wheel drive and a new 8-speed dual-clutch automatic gearbox that's now a 'wet' clutch design for smoother shifts. It feels like a good match for the Sorento and there's almost no diesel clatter when starting the engine or under acceleration.
1.6-litre self-charging hybrid
Big news for the new Sorento is the introduction of a self-charging hybrid powerplant. It comprises of a Smartstream 1.6-litre turbocharged petrol engine and a 45-kW electric motor, giving it a combined total of 171 kW. It's mated to a 6-speed automatic gearbox driving both axles and 0-100 kph takes 8.9 seconds, making the hybrid slightly quicker than the diesel at full acceleration.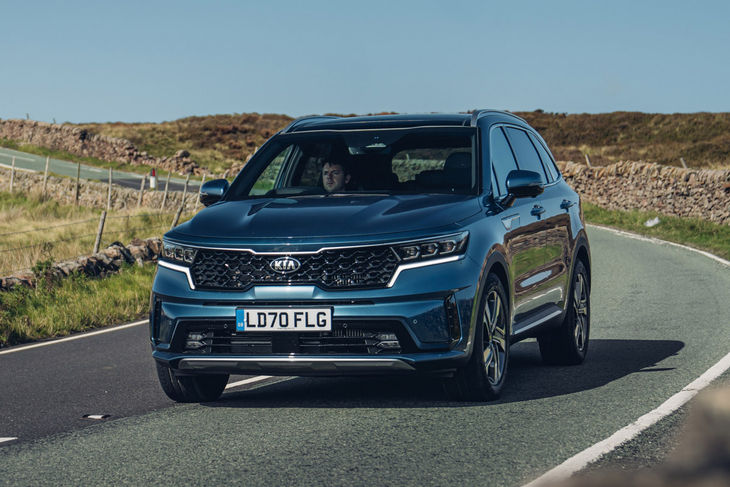 The 1.6-litre turbopetrol-electric hybrid version feels spritelier than one might expect.
From a standstill, the electric motor makes the Sorento feel quite eager, despite its 2 006-kg kerb weight. It certainly feels quick enough for a big SUV and should satisfy buyers looking for a diesel alternative. However, the 1.6-litre petrol engine can sound rather strained if you ask for lots of acceleration and it reaches the top of its rev range.
On standard 17-inch wheels, the hybrid, too, is almost as economical as the diesel, returning a consumption figure of 6.9 L/100 km on a combined cycle, emitting 158g/km of CO2 in the process.
A plug-in petrol hybrid is also expected to join the UK range early next year, and while full details aren't yet known, it's likely to have a more powerful electric motor and larger battery pack, giving it around 170 kW and an electric-only range of up around 60 km. It is not known at this time whether the PHEV will reach our shores here in South Africa.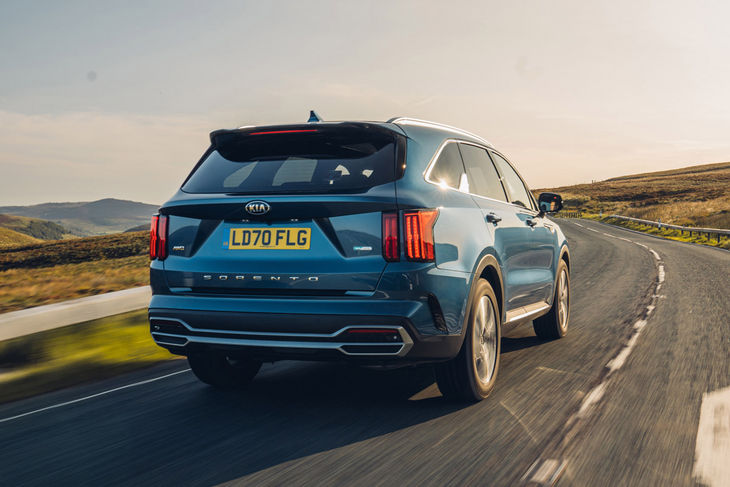 On the road
At its UK media launch near Windsor, England, I drove both the turbodiesel and the petrol hybrid versions of the new Sorento. Regardless of powerplant chosen, the newcomer is super smooth and quiet to drive.
The hybrid particularly feels good to drive around town. The initial spurt of electric power is handy coming out of junctions. As intimated, it does sound a bit noisy when you rev hard, though. And while you can pull a small caravan with the hybrid, if you regularly pull something bigger or do many motorway kilometres, you'll need to go with the diesel.
Road and wind noise is minimal and even with a panoramic roof, the cabin avoids sounding like an echo chamber.

Kia has clearly devoted much effort to improving the on-road refinement of its 4th-generation adventure SUV.
The turbodiesel engine is hushed and smooth, sending very little vibration into the cabin – with just a hint of turbo whistle when worked hard. It can sound gruff at higher revs, but it otherwise remains surprisingly – and pleasantly – hushed.
On a twisty road traversed with a dollop of enthusiasm, the Sorento handles itself with refined maturity, with much less body roll than you might expect given its bulk. You won't be setting lap times in the Sorento, but then why would you want to in a 7-seater SUV?
Safety
The new Sorento has yet to be put through the rigorous crash-testing regime, but 2 previous Sorento models from 2009 and 2015 were awarded al 5-star rating by Euro NCAP. It would be reasonable to expect the latest version to manage the same when it comes under scrutiny, despite the tests becoming more stringent.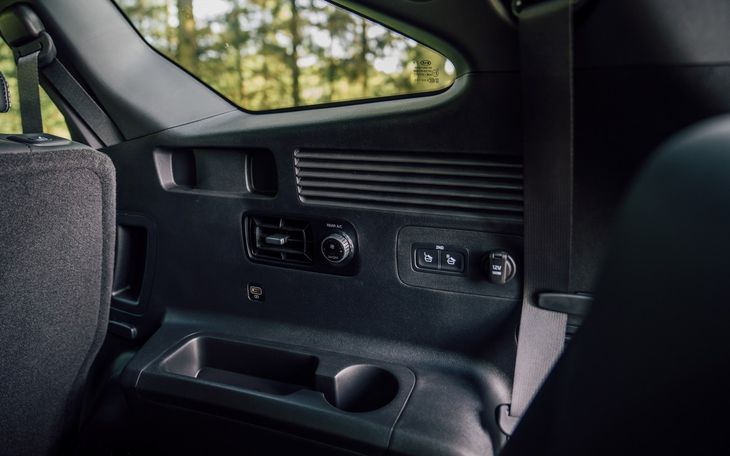 In top-spec derivatives, even 3rd-seat occupants are afforded individual ventilation controls and USB C charging ports.
The new Sorento is fitted with a raft of safety features, allowing it to detect and automatically brake if a potential collision with a pedestrian, cyclist or vehicle is anticipated. It can also scan for moving traffic as you go to pull out of a junction, and keep an eye on traffic as you cruise along the motorway, alerting the driver of vehicles in their blind-spot.
Summary
The 2020 Kia Sorento is an eminently practical Adventure SUV that is smart, competent, offers plenty of space, and comes with the latest tech and safety kit available, with the prospect of affordable running costs – whichever powertrain you choose.
As a practical family SUV, the 2020 Sorento certainly ticks a whole host of important boxes and should be fitting for those who simply need a practical vehicle with flexible space for cargo and passengers and with enough grunt to tow the family caravan or boat for those weekend away.
Related content:
Next-gen Kia Sorento Fully Revealed
Kia reveals 4th-gen Grand Sedona