The Kia Picanto range was recently adjusted to offer more value, but the headline news was the addition of a cute X-Line derivative. We spent some quality time with the adorable range-topper.
We like: Comprehensive spec, an energetic engine, feels premium inside.
We don't like: Rivals offer more space, no stability control.
Kia Picanto Fast Facts
Model tested: Kia Picanto 1.2 X-Line
Price: R237 995 (as of March 2021)
Engine: 1.25-litre 4-cylinder naturally-aspirated petrol
Power/Torque: 61 kW/122 Nm
Transmission: 5-speed manual gearbox
Fuel Consumption: 5.0 L/100 km
Load capacity: 255-1010 litres
​Top speed: 170 kph
What is it?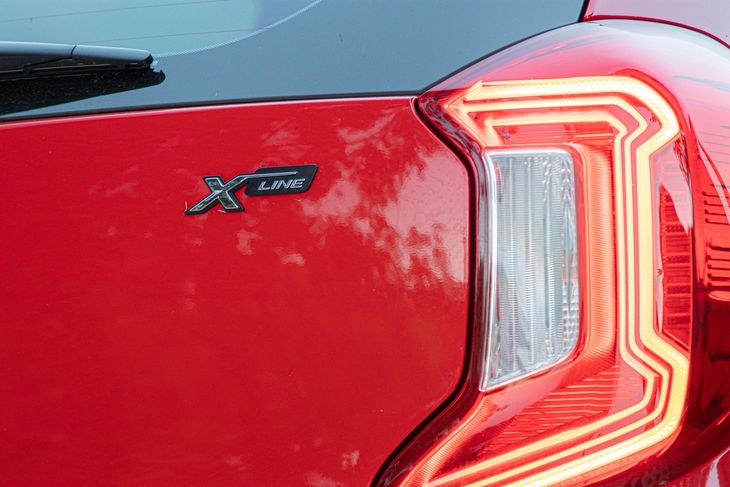 Unique badging and X-Line badging separate this Picanto from lesser models
Kia South Africa has rejigged its Picanto range to offer better value for money and introduced a range-topping 1.2 X-Line derivative. Given the popularity of crossovers – even in the budget segment – many brands have tried on the offroad-read look, with mixed results. Think of the Ford Figo Freestyle, Toyota Etios Cross, Volkswagen Cross Up! and Renault Sandero Stepway are cladded compact hatchbacks.
The Kia Picanto 1.2 X-Line looks quite different from its lesser siblings. It features its model-specific LED lights at the front and rear, unique bumpers, as well as the flared wheel arches to give it a mild kerb-hopper look. It's not just a cosmetic look however, as Kia has increased the ground clearance by 5mm, making it a bit more appropriate to tackle some rougher stuff.
How it performs in terms of...
Performance and efficiency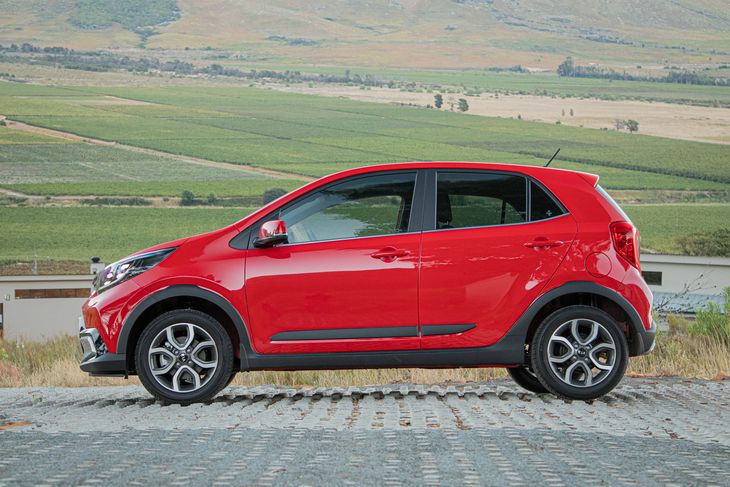 The Picanto X-Line looks the part with its offroad kit
The Kia Picanto is a quintessentially compact city car, but we are already well acquainted with its urban skillset; therefore, we loaded it up for a weekend road trip. The overwhelming majority of city cars offer sufficient performance and economy in and around urban areas, where average speeds are typically lower, due to traffic congestion and, regrettably, road conditions, but many of them tend to run out of puff on the open road. In fact, some budget-oriented compact cars struggle to maintain three-digit national highway speeds, but we're happy to report the 1.2 X-Line felt eager when overtaking slower traffic.
The Picanto flagship is powered by a 1.25-litre 4-cylinder petrol motor that develops 61 kW and 122 Nm. The derivative is equipped with a 5-speed manual gearbox, but an automatic is available for a bit more money. The gearbox has a pleasant action and minimal effort is required to execute 'shifts. And it's a good thing, because you're likely to work the 'box hard to get the most out of that willing engine.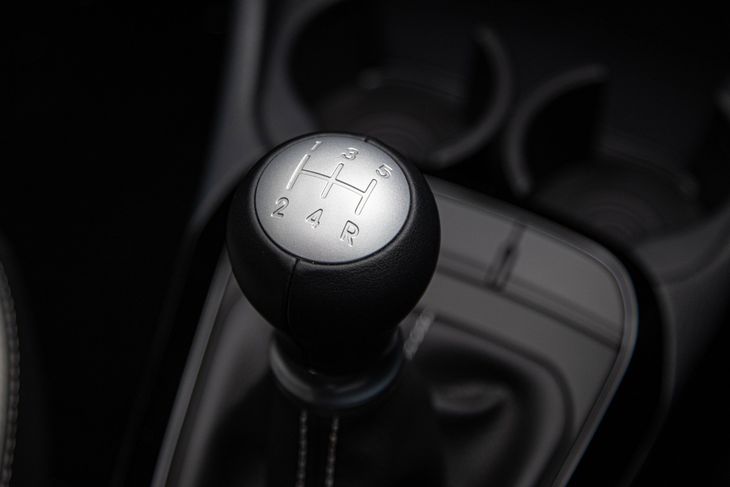 The light and easy 5-speed manual gearbox is effortless in operation
We reckon the key to the Picanto's nippiness is its low kerb weight (962 kg). The 1.2-litre motor doesn't have much mass to move around, which results in eager performance and the other upside is that the powerplant doesn't have to work hard, which benefits fuel economy. Granted, fuel efficiency depends on your driving style, but if you drive with economy in mind, low fuel consumption returns are achievable.
On the open road, Kia's impressive fuel economy started to come into play, we were delighted to see a return of 5.1 L/100 km, which was quite an improvement on the 6.4 L/100 km indicated figure we saw on the vehicle's launch in the middle of February 2021. Kia claims 5.0 L/100 km officially, so we were very satisfied with our consumption figure.
Ride and handling
The Kia Picanto displays good road manners – it feels securely planted on the tarmac despite its budget-car underpinnings. We encountered some strong crosswinds during our road trip, but were pleasantly surprised by just how sure-footed the 1.2 X-Line felt. Some of the Korean offering's rivals feel decidedly unstable in such conditions, but the plucky Picanto soldiered gamely.
The steering of the Kia Picanto is light and reasonably direct, with reassuring feedback. Inner city and low-speed manners are good, which makes parallel parking and alley docking a cinch, but even if you are a hopeless parker, rear PDC and a reverse-view camera make things practically effortless. The 15-inch wheels are wrapped in 185/55 rubber and they soak up most of the road's imperfections.
It may be a cheap-ish vehicle, but it doesn't feel cost-price to drive. The Picanto feels a bit more upmarket than some of its rivals and the refinement is evident in the well-suppressed engine or road noise.
Given the 1.2 X-Line's off-road-inspired looks, we figured it would be appropriate to sample the test unit's gravel-travel capabilities, but it performed much like any other compact city offering. It's safe to assume the crossover add-ons are just for looks, but then the same could be said of most compact hatchbacks that are dressed to impress.
Interior execution and features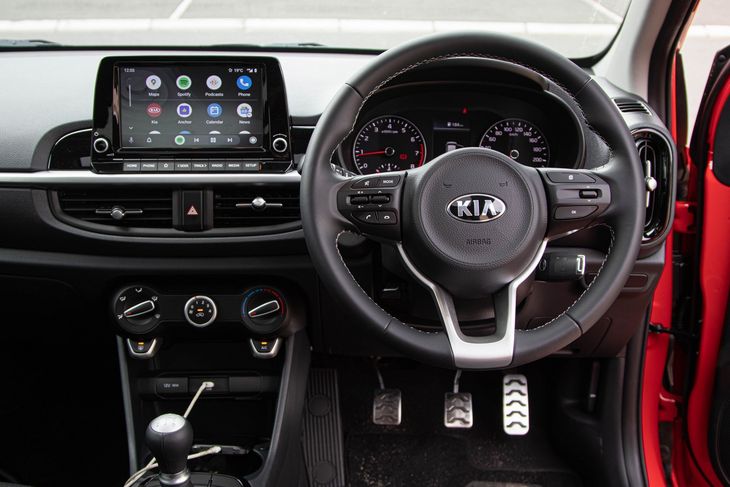 At this price point, you're getting all the bells and whistles you'd ever need in a city car
Kia's latest offerings offer high-quality cabins (across the range, not only the top-end models) and, compared with some of its direct rivals, the Picanto feels surprisingly upmarket inside. The level of fit and finish is good, and in the 1.2 X-Line's case, premium materials have been applied, which feel nice to touch. There are 2-tone artificial leather seats and a leather-trimmed steering wheel, both of which give the car's cabin a nice ambience. The fascia layout, meanwhile, is simple and uncluttered.
Given the 1.2 X-Line's range-topping status, it's liberally equipped with features. New for this derivative is an 8-inch infotainment touchscreen with Apple Carplay and Android Auto compatibility, accessible via a single centrally-located USB port. With regards to the Android Auto setup, we noticed there was a lack of a voice control button on the steering wheel. This missing button is key to the system as it allows to say commands like, 'Hey Google/Siri, navigate...' We found a workaround, but that involved pressing an icon on the touchscreen; we prefer to keep both hands on the 'wheel at all times.
As far as other noteworthy features are concerned, (just to reiterate) there are electric windows all round, (manual) air conditioning, USB/Aux/Bluetooth connectivity, rear parking sensors, rear camera, fog lights, LED daytime running lights and 15-inch alloy wheels. Our test unit featured a sunroof, which is optional.
Practicality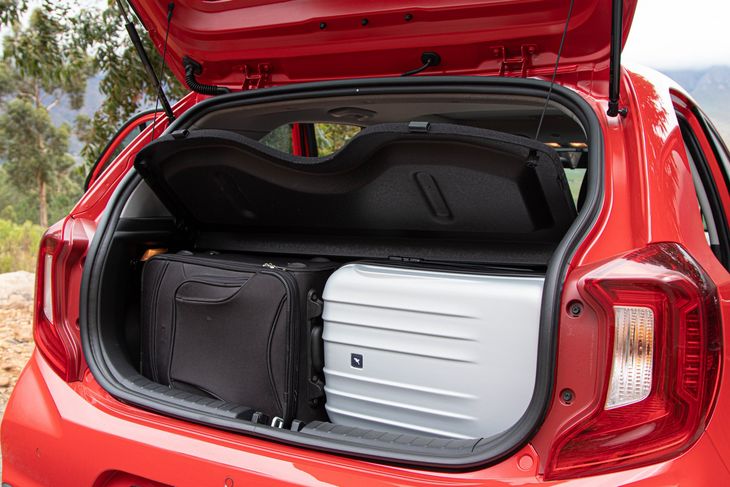 The Kia Picanto's boot is only big enough for two small suitcases of the hand-luggage size.
At 255 litres, the Kia Picanto's load bay is one of the smallest in the segment. As the above picture shows, the load bay can barely accommodate 3 small hand-luggage-sized bags. Thankfully you can fold the rear seats down for additional space, but we resorted to using the rear seats and rear legroom areas for additional storage. If you don't need to travel with more than 2 on board, this is your best solution.
Price and after-sales support
Pricing for the updated Kia Picanto range starts at R187 995 and tops out at R251 995; the 1.2 X-Line manual (tested here) costs R237 995. All Picanto models feature an unlimited kilometre, 5-year warranty (inclusive of Roadside Assistance), as well as an inclusive 2-year/30 000 km service plan. This service plan can be extended at a cost.
See full specification details for the Kia Picanto here.
Buy a new or used Kia Picanto on Cars.co.za
Verdict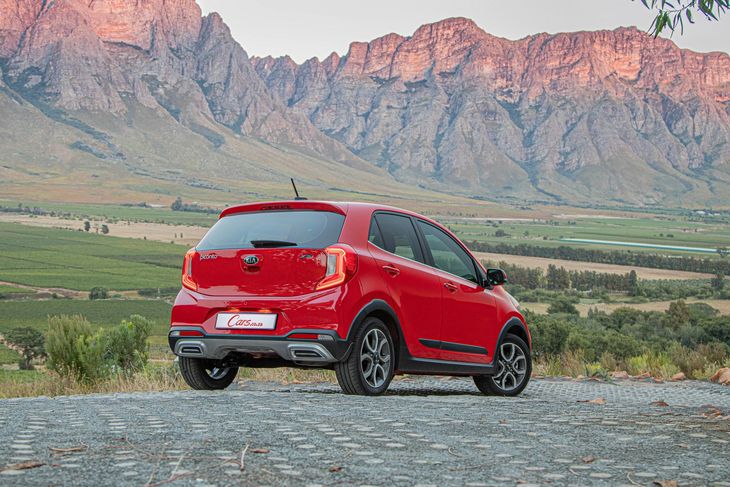 The sheer visual appeal and liberal specification levels make the Kia Picanto 1.2 X-Line an interesting offering. You get a LOT of car at this price point, plus the crossover look will win over many hearts. Combined with an eclectic colour palette, the Kia Picanto X-Line is just... adorable. Our only major gripe is the limited load capacity, but this is an inherent Picanto issue and not specific to the X-Line we tested. It really is a small city car, however: similarly-priced rivals offer a touch more legroom and bigger luggage capacities. If a car's load-carrying ability is not important to you (if you are considering a Picanto, it's unlikely to be), we have no hesitation in recommending the Kia Picanto as a great city car; it offers an excellent suite of features, impressive on-road manners... and a whole lot of charm.
Related content:
Kia Picanto X-Line (2021) Specs & Price
Suzuki Ignis 1.2 GLX (2020) Review
Kia Picanto X-Line (2021) Launch Review