Even the most ignorant motorists will acknowledge that the demand for MPVs has declined due to the rise in popularity of SUVs. Buses may be out of fashion, but Kia's Grand Sedona, though spacious, comfortable and practical, doesn't strictly conform to the "bus" description; its crossover execution makes it particularly attractive.
For the 2018 model year, Kia has rung the changes for its full-sized MPV. Apart from the usual cosmetic updates (redesigned bumpers, head- and tail lights, with LED daytime running lights and lighting signatures on higher-end models) and upgraded interior (including a redesigned fascia and instrument cluster), the Korean firm has discontinued the SX-spec grade and 3.3-litre V6 derivatives and added a new, EX+ 8-seater version.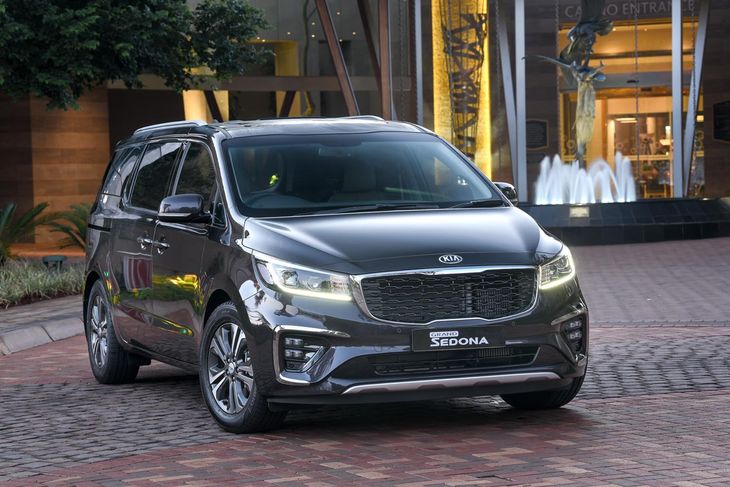 The flagship Grand Sedona SLX 7-seater comes equipped with LED headlamps with automatic levelling.
The entry-level EX 7-seater (also available with 11 seats, on special order) features, inter alia, aircon, auto headlamps (with 'welcome home' and 'escort' lighting), a centre front armrest, electrically adjustable and heated side mirrors, electric windows all round, rear PDC and reverse-view camera, a new 7-inch Apple CarPlay/Android Auto touchscreen infotainment system with front and rear USB ports, as well as 17-inch alloys.
The subject of the launch drive, however, was the new, mid-spec EX+ 8-seater derivative, with which my partner and I, plus another couple (and, of course, our assorted detritus) travelled from Cape Town to George. For all its boxy dimensions, the Grand Sedona is spared that MPV-based-on-a-commercial-vehicle curse that afflicts virtually all of the Kia's competitors (in other words, it's not a delivery van/crew cab converted into a bus).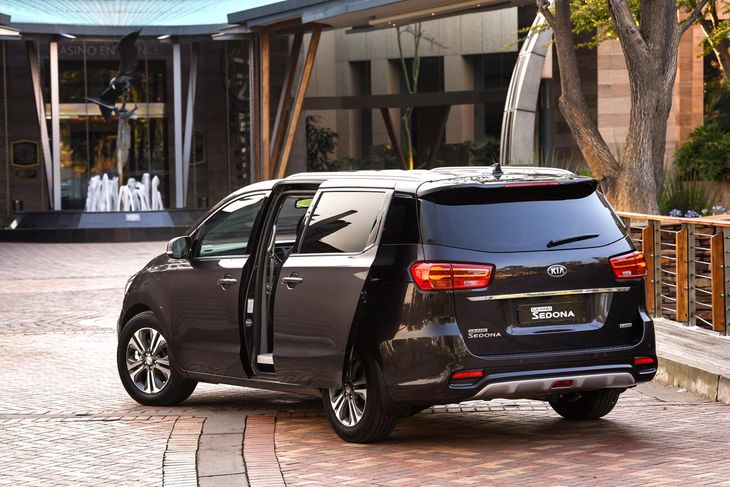 Despite its double-sliding-door configuration, the Grand Sedona chunky detailing lends the refreshed Kia more of a crossover vibe.
Granted, the Grand Sedona's no sleek executive sedan or macho, large-tyred SUV, but thanks to recent aesthetic updates, it looks fresh and hides its bulk relatively well (especially when adorned in a dark metallic paint finish, I must add). The theme continues inside the Kia's cabin, where the driving position is predictably perched, but the fascia isn't a plunging slab of utilitarian plastic with only a sparse scattering of buttons (as befits a vehicle designed for commercial purposes). In fact, the cockpit is quite enveloping and the new 8-inch touchscreen (with satnav) is the highlight.
During my stint at the wheel, I appreciated the provision of the automatic dual-zone aircon (it provided much relief during an unseasonable heat wave in the Cape), as well as the auto-folding (and heated) side mirrors, cooled glove box, auto-dimming rear-view mirror, plus front and rear park distance control (in conjunction with the reverse-view camera… as you may imagine, a Grand Sedona effortlessly fills out a parking bay). And, finally, an electric parking brake (including an Auto Hold function, activated from the centre console) has replaced the foot-operated brake.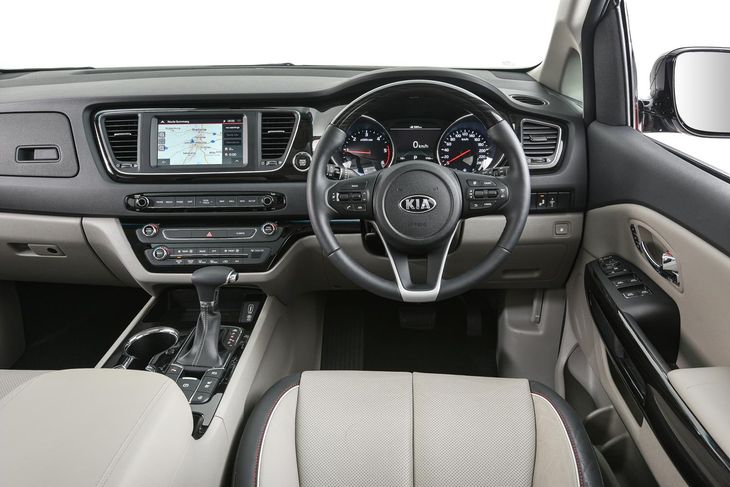 The raised centre console, cowled dials of the instrument cluster and sporty multifunction steering wheel are car-like elements.
During the drive, potential embarrassment was averted by streaming chart-friendly and contemporary pop music from my iPhone 7's iTunes through the use of Apple CarPlay (hey, bear in mind that not everyone likes disco, film soundtracks and musicals ­– it's better to be safe than irksome when travelling with new acquaintances). For the record, the CarPlay interface is slick and intuitive and our only regret was that the smartphone that served as the source of the musical entertainment wasn't enabled to work with the nifty (standard) wireless smartphone charger in the EX+.
To emphasise the Grand Sedona's refreshing packaging, when you open the generously sized sliding doors on either side of the Kia, 2 rows of sculpted and well-padded leather-trimmed seats – not gormless bus benches that resemble church pews – come into view. And not only does the comfy 2nd row of seats offer an admirable range of fore and aft adjustment, but they easily tilt upwards to offer ample access to 3 seats at the back.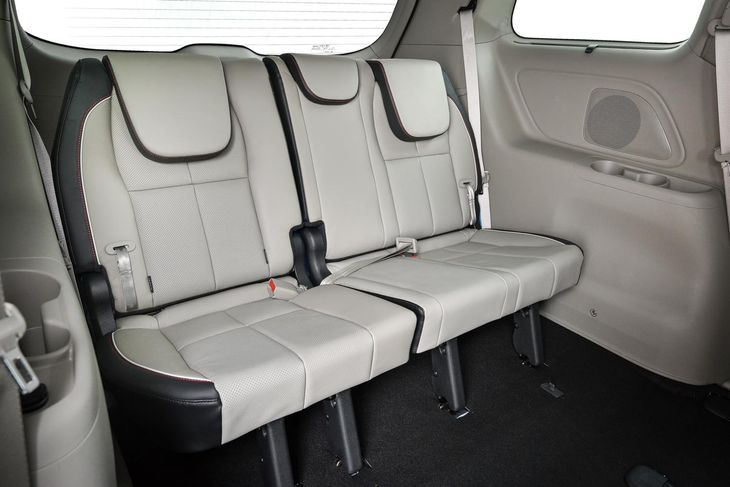 Third-row seating is comfortable, even for a pair of average-sized adults (legroom can be improved by sliding the 2nd row forward).
After a driver change, while our partners were chatting to one another up front, my tall co-driver (a strapping former Ironman contestant) spent a protracted period lounging on the rearmost bench, while I caught a few winks on the 2nd… The machinations of the individual climate control (with its outlets located at opposite edges of the roof lining) facilitated my unplanned trip to dreamland. All the while, our luggage for the weekend-long trip, including work bags, occupied the load bay, which, at 359 litres, offers fair space and could, of course, be expanded with the 3rd row folded.
As for the driving experience, the Grand Sedona is surprisingly not quite as anodyne to pilot as many may expect. Its steering is well assisted (electrically) and light as a feather to twirl, which is undoubtedly a bonus on exhausting long-haul drives, but admittedly makes the vehicle feel a little floaty to drive on a winding country road. To its credit, however, visibility out of the Kia's cabin is good and the general ride quality quite forgiving. Courtesy of wide tracks and 235/60 18-inch tyres (on the handsome wheels of the EX+) the vehicle's general road-holding is just fine.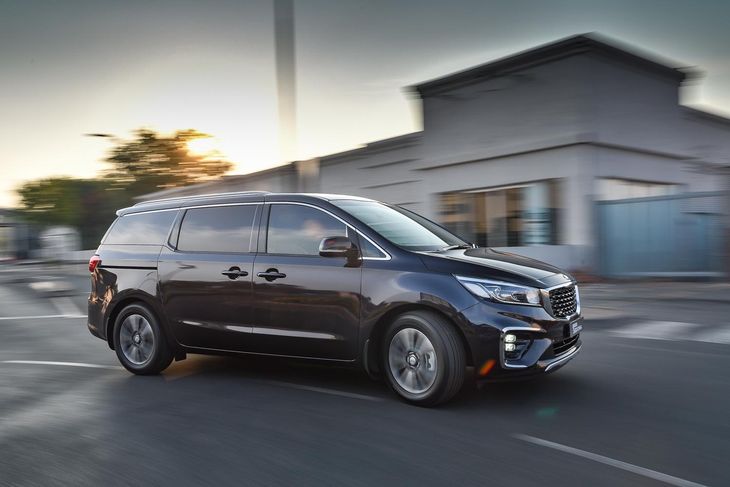 Even though steering feel is virtually absent, the Kia's suspension is comfortably sprung – it's a good long-haul family car.
Meanwhile, the 2.2-litre 'R' turbodiesel engine (widely regarded as one of the best motors in Kia's local line-up) has peak outputs of 147 kW and 440 Nm; it offers sufficient oomph in its low to mid rev range and sounds suitably refined, even if it delivers workmanlike performance in this particular (full-sized MPV) package. The introduction of a new 8-speed transmission is also quite noteworthy…
Designed in-house by Kia, the transmission is said to incorporate 143 newly-patented technologies and, as a consequence, shifts much faster and smoother than its 6-speed predecessor. The auto 'box operated particularly unobtrusively on the freeway, where the author could take his feet off the Grand Sedona's pedals for a few stretches of the route and adjust the Kia's road speed by adjusting the cruise control with his fingertips.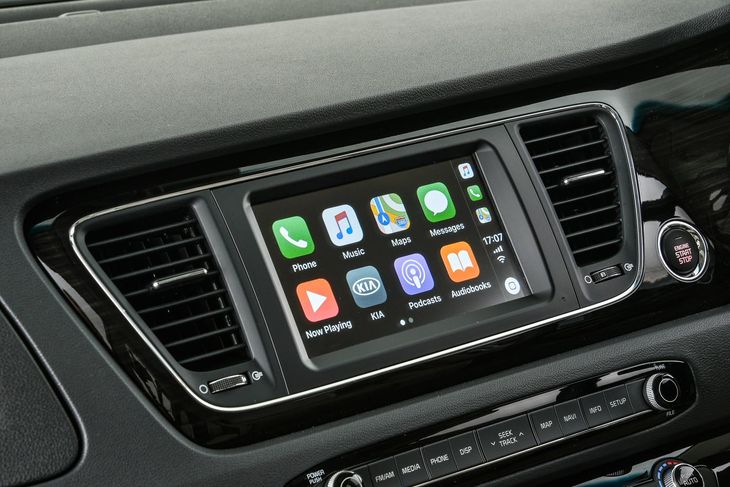 If you're not a fan of the Grand Sedona's infotainment screen's interface, Apple CarPlay turns it into an extension of your smartphone.
On a family vehicle, let alone a luxurious one, a comprehensive list of safety and driver assistance systems is essential. To that end, the EX+ 8-seater derivative includes ABS with EBD, electronic stability control and hill-start assist, 6 airbags and ISOfix child seat anchors. The electric windows have an anti-pinch function, which automatically halts closures if an obstruction (such as a child's hand) is detected.
Judging from our road trip experience with the Grand Sedona, the EX+ 8-seater derivative is arguably the pick of the range, although the provision of an electrically operated tailgate (for added convenience, power-sliding doors may have been overkill) would have been welcome.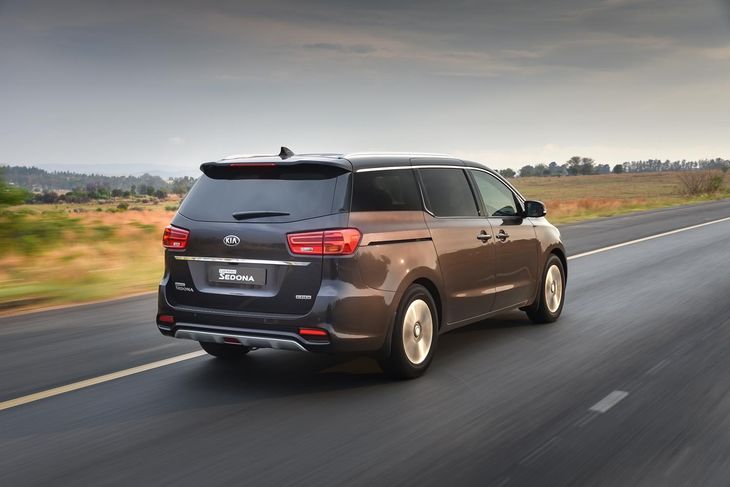 Are you looking for a genuine people mover, as opposed to a part-time one? The EX+ 8-seater undercuts the Sorento flagship's price.
For those who want a fully-specced version, the flagship SXL 7-seater derivative offers those features, as well as keyless entry and push-button start, blind spot detection, a dual sunroof, LED headlamps, foglamps and LED rear combination lights, electrically-adjustable driver and front passenger seats (including memory function and 4-way lumbar adjustment), rear seat warmers, plus an upgraded (8-speaker) audio system.
New Kia Grand Sedona Specs & Prices in South Africa
Summary
With an asking price of R629 995, which includes a very competitive 5-year/unlimited kilometre warranty, a 5-year/100 000 km service plan and 5-years' roadside assistance, the Grand Sedona EX+ 8-seater finds itself in an interesting position in the market. It's more expensive than the top-specced 2-wheel-drive Adventure SUV brigade (Toyota Fortuner, Ford Everest, Isuzu MU-X and Mitsubishi Pajero Sport), but more spacious, comfortable (especially in terms of the 3rd row), liberally equipped and, not unimportantly, more car-like to drive.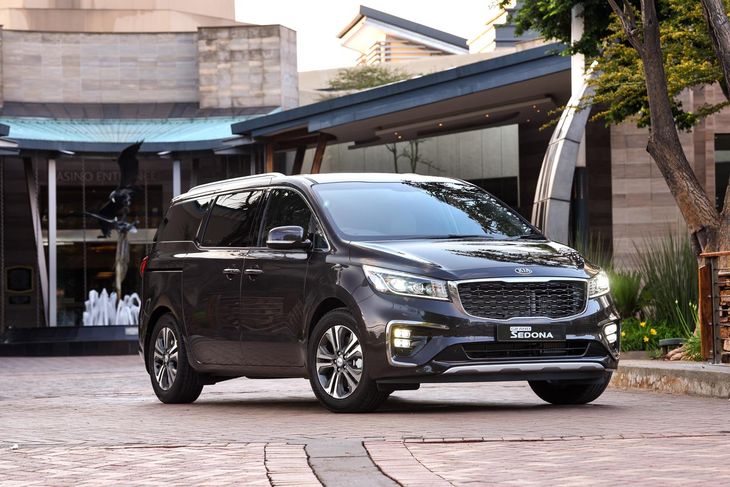 How often will you require a genuine 8-seater to transport people? If the answer is "Very", the Grand Sedona ticks many boxes.
The EX+ is quite a bit more expensive than the flagship Ford Torneo Custom – the 2.2TDCi SWB Limited (R590 700) and a bit dearer than the mid-range Volkswagen Kombi 2.0TDI SWB Trendline Plus auto, but it has more features and a smarter, plusher cabin. Then again, the Kia undercuts its Hyundai 2.5CRDi bus Elite cousin (R639 900), Comfortline-spec Volkswagen Kombis (in either SWB or LWB guises) and as for the Mercedes-Benz V-Class, well that starts at a whopping R848 294. And besides, they're all, well, buses, in which private buyers seem to have little interest.
Prospective Grand Sedona buyers will have to consider how often they'd need a full 8-seater vehicle – that's the critical purchasing decision. Unlike top-end versions of the Fortuner, Everest, MU-X and Pajero Sport, the Kia does not offer off-road ability, even though it's more sophisticated and comfortable overall than those vehicles (perhaps it's better to compare them with the Sorento). If it strictly comes down to this charming MPV's ability to move people (and their things) in luxury and comfort, when compared with buses around the EX+'s price range, the Kia's a sound choice.
Related content:
Kia Sorento (2018) Specs & Price
Hyundai H1 (2018) Specs and Price
Haval H9 2.0T 4WD Luxury (2018) Review
Volkswagen Caravelle Highline 2.0 BiTDI 4Motion DSG (2016) Review
Interested in buying a Kia Sedona?