Jeep's awkwardly-sized family car could be just another SUV among a host of competitors, some of which have much more brand cachet in the local market. It seems to have the odds stacked against it, but in 2.4 4x4 Trailhawk guise, the Compass has real off-road ability, which elevates it to adventure-SUV status. Could this be its trump card? Let's find out...
We like: Off-road ability, ride comfort, standard features.
We don't like: Fuel consumption, not as spacious as rivals.
Fast Facts
Price: R599 990
Engine: 2.4L petrol
Power/Torque: 129 kW/229 Nm
Transmission: 9-speed automatic
Fuel economy: 9.5 L/100 km (claimed)
​​Load capacity: 438 litres
Own a Jeep? Tell us about your experience here.
SERIOUS ABOUT BUYING?
Where does it fit in?

Difficult to place the Compass in terms of size, it's similar to a Nissan Qashqai/X-Trail.
The Jeep Compass 2.4 4x4 Trailhawk is tricky to categorise within conventional segments of the contemporary new-vehicle market. It cuts its own niche because, unlike most similarly-sized family cars, it comes with genuine all-wheel-drive ability, as well as low-range. As a result, it's the most capable midsized SUV on the market; one could say it performs a role that earlier generations of the Cherokee did. So, we'd describe its ideal target market as buyers who seek vehicles with which they could transport their families across technically tricky off-road routes, if necessary. Think of this Compass as sort of a mixture of a Subaru Forester and Toyota Fortuner, then...
How it fares in terms of…
All-terrain ability
The 2.4 4x4 Trailhawk may look like a city slicker/kerb climber from the outside, but it's a very capable off-roader equipped with all the modern traction control systems that make off-the-beaten-track excursions (largely) stress-free. For a start, a rotary dial in the centre console allows you to select the terrain you're traversing so that the vehicle can set up its drivetrain to achieve optimal levels of traction. You can select from Snow, Rock, Sand, Mud and Auto.
Auto is the default on-road mode, which disconnects drive to the rear wheels (and thereby optimises fuel consumption in everyday driving conditions). The other modes are self-explanatory, but for the record, the Jeep offers an approach angle of 26.5 degrees, break-over angle of 21.2 degrees and departure angle of 31.6 degrees. In 4x4 Trailhawk guise it gets an extra 30 mm of ground clearance (taking it up to a total of 216 mm, which is reasonable for an off-roader).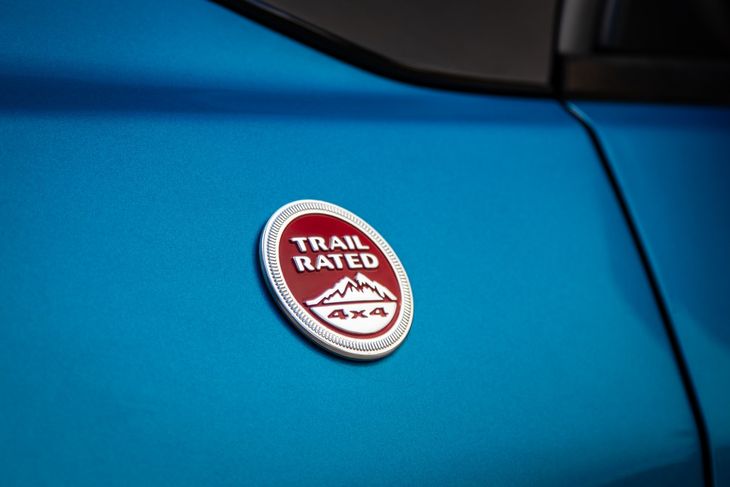 Jeep's Trail Rated tag only goes onto vehicles with prolific off-road credentials.
But it's the low-range transfer case (with a 20:1 crawling gear) that really sets the 2.4 4x4 Trailhawk apart from its rivals. Given its kerb weight of 1.5 tonnes, it's not a particularly heavy SUV, which makes hopping over rocks or climbing steep inclines easier – even with a middling naturally aspirated 4-cylinder petrol engine under the Jeep's bonnet. When off-roading, you do have to apply a proper boot of the throttle pedal to get the Compass moving and keep its engine high in its rev range to achieve the best results. Aside from perhaps when crossing sand dunes, a turbodiesel is arguably a better choice of engine in this application...
On-road ability
Despite being very good in the rough stuff, the little Compass deals with day-to-day driving conditions reasonably well too. The ride quality is comfortable and the body doesn't roll anywhere near as much as you'd expect from a vehicle that's as capable off-road as the Jeep is. The compact wheelbase makes it feel very "together" out on the open road, where it proved very adept at completing long-haul trips. There's nothing to complain about with the steering either; the tiller delivers accurate and well-weighted feedback to inputs.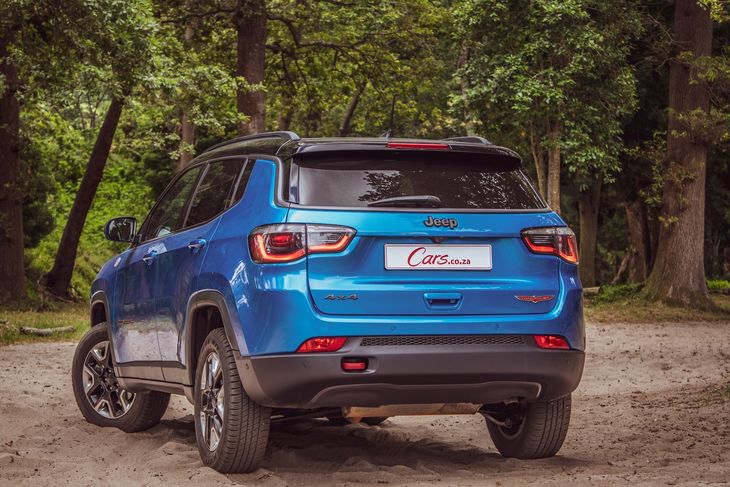 A turbodiesel would probably be a better solution but local fuel does not meet standard.
Meanwhile, the aforementioned 2.4-litre naturally aspirated engine delivers peak outputs of 129 kW and 229 Nm. It's mated with a 9-speed automatic transmission that shifts gears expectedly and without fuss. The motor could do with more torque, especially when overtaking – you have to work it quite hard to execute swift overtaking manoeuvres. The result of liberal throttle inputs, of course, is a hit to the fuel consumption. Jeep claims an average figure of 9.5 L/100 km, but we found it to be more like 12 L/100 km, which, given the current price of petrol, will drive up running costs appreciably. A turbodiesel engine is offered overseas, but not locally, due to concerns over the quality of our diesel.
Practicality
In terms of size, the Compass is actually a small- to mid-sized SUV. It's based on a stretched Jeep Renegade platform and, if you're looking for something similarly sized, its closest match is a Nissan Qashqai or its sibling, the X-Trail. It's quite a bit smaller than one would expect, given its asking price of almost R600k. Passenger space is decent, even the rear adults have sufficient leg and headroom, provided they're not taller than 6ft (183 cm). It's the load bay that lets the Compass down, though – its claimed capacity is only 438 litres. As an adventure vehicle, it's likely that the 2.4 4x4 Trailhawk will have to transport lots of outdoorsy kit and a bigger luggage capacity would broaden its appeal.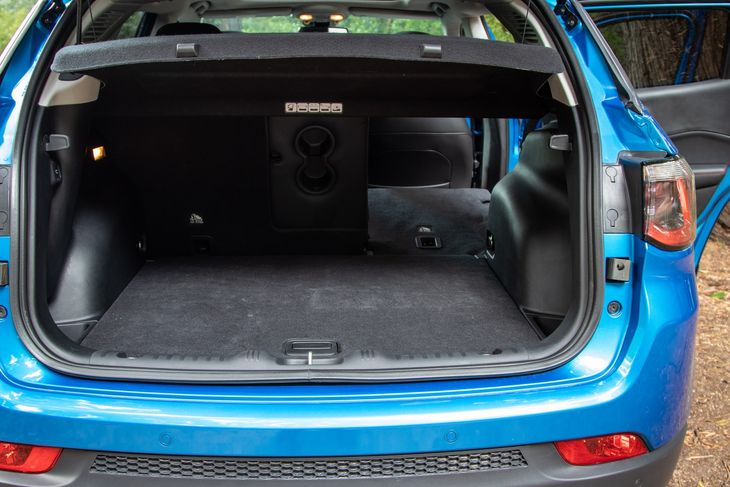 See electric bootlid button mid-left? Awkward positioning means you have to get out of the tailgate's way every time you close it.
The tailgate is electrically operated, but strangely via a button inside the load bay rather than on the leading edge of the tailgate. This doesn't seem like the most practical solution: in practice, you have to dodge the closing tailgate after you press the button. The centre of the 40/20/40-split rear seatback can fold down into an armrest fitted with a pair of cupholders.
Interior features
The 2.4 4x4 Trailhawk comes fully loaded inside, which you would justifiably expect in a family car with price tag of R600k. The leather seats are particularly comfortable and feature ventilation and electrical adjustment for both driver and passenger. The Apple Carplay/Android Auto interface works the moment you plug in your phone via the USB port, but it would have been beneficial to have somewhere other than the cupholders to place your device while you're driving. Dual-zone climate control is standard and front and rear park distance control with a rear camera are definite pluses.
The instrument cluster features 2 analogue dials that flank a digital screen that supplies custom information (speed, trip details etc.).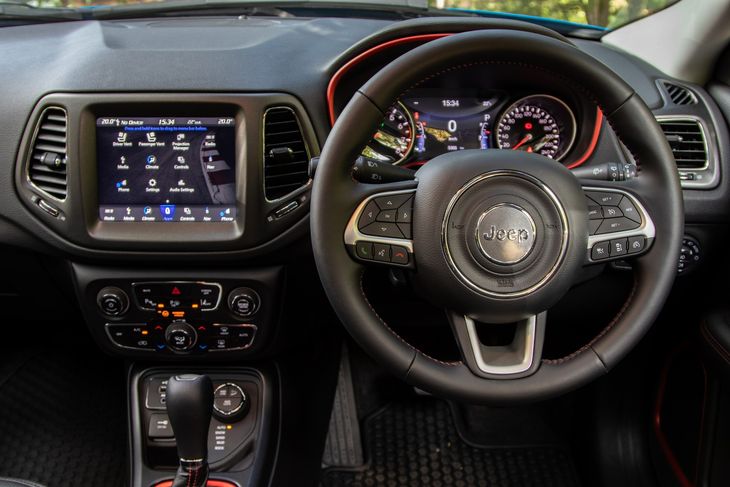 The Trailhawk's fully loaded in terms of comfort features and modern connectivity.
As for the quality of the cabin materials, the Jeep's interior feels solidly put together with a mix of hard- and soft-touch plastics, while leather wraps the steering wheel, transmission lever and door handles. It's a mixture of hard-wearing and upmarket materials that again makes it difficult to benchmark the 2.4 4x4 Trailhawk against its rivals. The removable rubber mats are a good choice, considering the mucky routes this derivative is likely to traverse from time to time.
Safety
The list of safety equipment fitted to the Compass is excellent. The 2.4 4x4 Trailhawk even features adaptive cruise control and lane-keeping assist, although the latter can be bothersome when it firmly encourages you to steer the Jeep away from lane markings. Six airbags, ABS with EBD and brake assist, electronic stability control and LED daytime running lights are standard too.
Pricing & warranty
As of December 2019, the 2.4 4x4 Trailhawk is the only Compass on sale in SA, but other derivatives are expected to arrive in 2020. It costs R599 990 and comes with a 3-year/100 000 km warranty and service plan.
Verdict

It's a small niche, but if you don't want a Fortuner but do want a proper off-roader, the Compass Trailhawk is for you.
The Compass 2.4 4x4 Trailhawk carves out its niche well. There aren't many true off-roaders at this end of the market that are as refined on- or off-road as Jeep's newcomer. It's generously equipped with modern connectivity and comfort features, plus it offers a high level of safety. Passengers will undoubtedly enjoy the SUV's ride comfort and generous occupant space, although the smallish load bay may put off buyers if they're split between the Jeep and a competitor.
At its current price, the Jeep's unlikely to be a volume seller, as most buyers that really want to go off-road will opt for the peace of mind that's offered by established bakkie-based adventure SUVs, especially the Toyota Fortuner 2.4GD-6 4x4 auto. While this version of the Compass is a very good off-roader and certainly a much better car (on-road) than the Fortuner, conservative and brand-conscious buyers are likely to invariably favour the Japanese model.
Related content:
Subaru Forester 2.0i-S ES (2019) Review
Best Adventure SUVs in SA - #CarsAwards Finalists