Working with British male model and classic car enthusiast David Gandy, Jaguar Classic has spent 2 700 hours restoring a stunning example of one of its most iconic cars, the XK120.
Using a 1954 XK120 that was found neglected underneath a bush in Califorinia, the restoration project was a perfect example of how an owner could work with Jaguar Classic to create an end product that is both "classic", but at the same time better in tune with the owner's specific requirements. The owner in question with this project was none other than British male model David Gandy, who now has fulfilled a life-long ambition by completing the restoration of this 65-year-old XK120.
Jaguar Classic worked with Gandy on every phase of the restoration – Gandy wanted a car inspired by the famous XK120 Lightweight model, but with some modern upgrades to make it "ready to race" in classic car motorsport events. The end product was finally revealed in Saint Tropez last week, the culmination of 2 700 hours of work.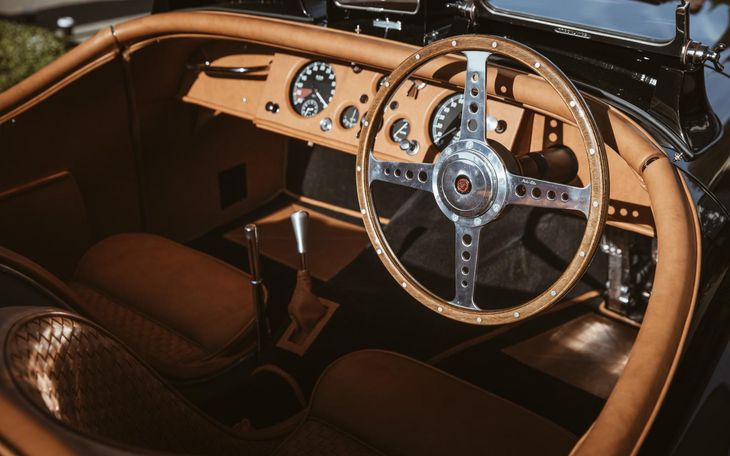 A bespoke driver's seat and 15-inch steering wheel are some of the unique features in this XK120.
"Having driven a Jaguar XK120 at Mille Miglia in 2013 and 2014, I knew that I wanted to own one of these incredibly special cars. Completing the restoration has been an extraordinary experience and now being out here and finally seeing it complete against the backdrop of St Tropez is pretty amazing," Gandy said.
The car is finished in a striking black exterior finish (4 coats of paint) and has an Aged Saddle tan leather interior with a driver's seat featuring a bespoke lattice design to accommodate Gandy's 1.8mm frame. Under the skin, the XK120 features an upgraded engine and braking system.
You may also be interested in;
SentiMETAL Ep1: Josh Spencer's 400 000 mile love affair with his Jaguar E-Type
Gifts for petrolheads: SentiMETAL shop is live