To celebrate its (current) flagship sedan's 50th anniversary, Jaguar has released a limited number of special-edition XJ50s, of which a handful are expected to reach South Africa. But with the XJ nearly a decade into its model life, can it still compete with its more modern Germans rivals?
We like: Very agile (for a big car), exclusivity
We don't like: limited rear legroom, lags the best in cabin design detail/quality/insulation
Fast Facts:
Price: R1 823 096 (August 2019, without options)
Engine: 3.0-litre V6 turbodiesel
Gearbox: 8-speed automatic
Fuel economy: 7.0 L/100 km (claimed)
Power/Torque: 221 kW/700 Nm
Own a Jaguar? Tell us about your experience here.
SERIOUS ABOUT BUYING?
Where does it fit in?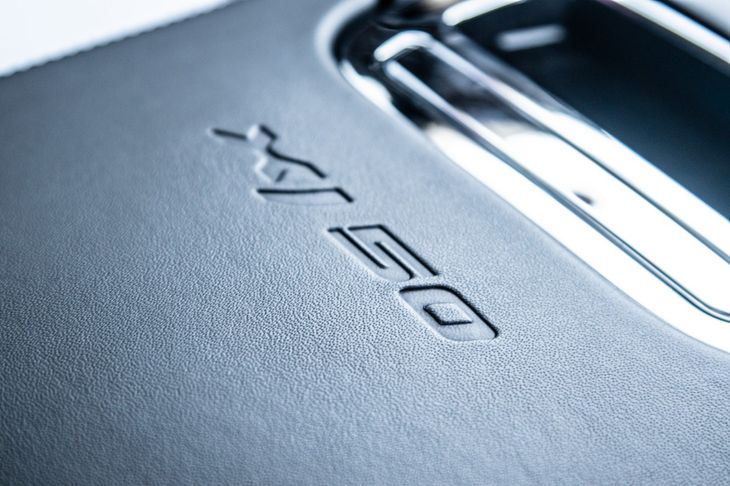 Although there are a few reminders dotted around the cabin that you're in a special XJ; the overall XJ50 treatment is quite subtle.
Jaguar's current-generation XJ made its sales debut as far back as 2010, which means that, in modern motoring terms, it's a pretty ancient product. Nevertheless, the car's opinion-splitting design has arguably aged better than most observers expected at the time of the Big Cat's international introduction almost a decade ago, and during the XJ50 3.0D's tenure in our test fleet, it still turned many heads. So, if you're looking for a large luxury sedan, the Jaguar's flagship still appears to have some merit. But what if you want something even more exclusive?
Well, to celebrate the birth of the XJ in 1968, Jaguar announced this special-edition XJ50 in 2018, of which only a few examples are destined to reach South Africa. You'll have to look carefully to spot the differences between this 3.0D version and its standard sibling, and closely examine the test unit's standard features list (with a calculator in hand) to work out whether it represents better value than a standard car (specified with some options), but hey, the very point of a limited-edition derivative is exclusivity, isn't it?
How it fares in terms of...
Design & Packaging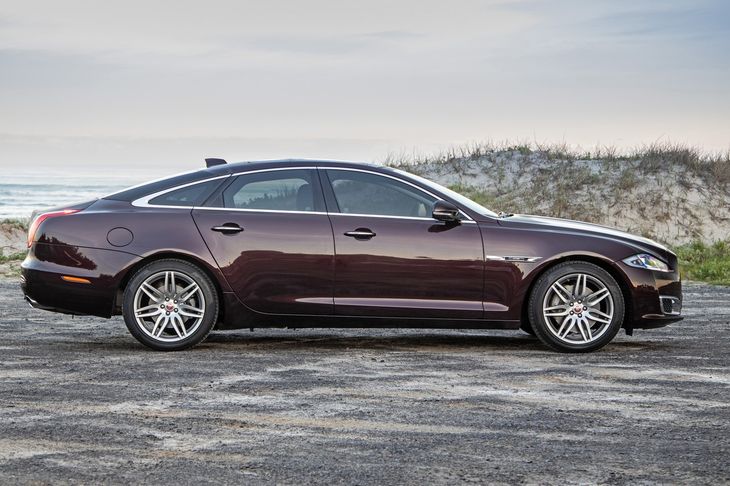 It still turns heads... the Jaguar XJ's controversial styling has arguably aged well.
At the time of its launch in 2010, the XJ copped a lot of criticism for its quirky exterior execution. While the front-end styling was pretty much in line with most modern Jaguars, the designers were seemingly given licence to "knock themselves out" at the rear, where there's an elongated boot section, vertical taillamps that stretch up all the way to near the window line, and then, those blacked-out C-pillars... For some, it was just all too much, but time has been kind to the XJ. Many feel that it has aged well and, in this particular colour, the XJ50 received numerous admiring glances.
But how do you distinguish an XJ50 from "lesser" XJ derivatives? Firstly, the bumpers are usually reserved for the Autobiography derivatives, 19-inch split 7-spoke wheels are fitted, the grille gets the black-mesh treatment and XJ50 badges festoon the boot lid and front fenders. The limited-edition Jaguar is offered in only 4 colours, one of which is Rosello Red, pictured here.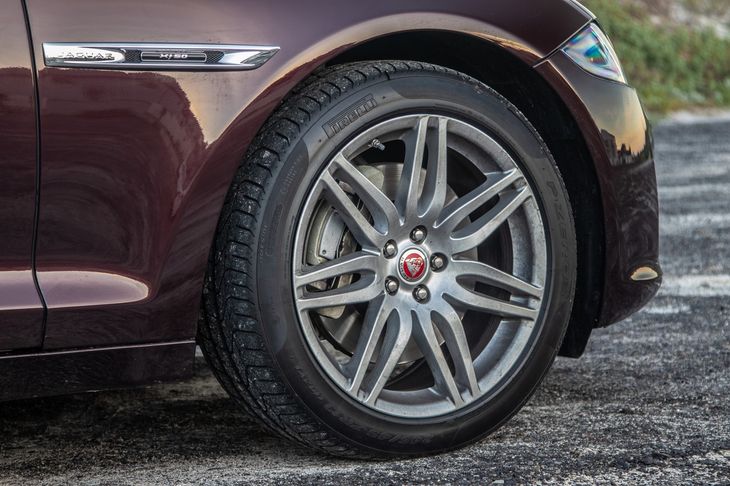 Special wheels and unique XJ50 fender badging help this special edition Jaguar stand out.
Inside, the XJ has probably aged a bit more obviously, because Jaguar's rivals in the first-class sedan segment (Audi A8, BMW 7 Series and Mercedes-Benz S-Class, to name only 3 examples) have really raised the game, tech-wise, in the past few years. Having said that, the Jaguar's interior treatment (characterised by wooden surfaces and leather) looks more traditional, which will appeal to conservative or tradition-bound buyers. We still like the way the walnut strip atop the dashboard joins at the base of the windscreen — it reminds of the bow of an exclusive Riva yacht.
It's certainly plush and supremely comfortable inside the Big Cat; unique interior features include soft-grain diamond-quilted leather with embossed Jaguar Leapers in the headrests, an anniversary logo on the centre armrest, a commemorative plaque at the base of the windscreen, front doorsills illuminated by XJ50 logos and 18-way electrically adjustable front seats with 5 massage programmes.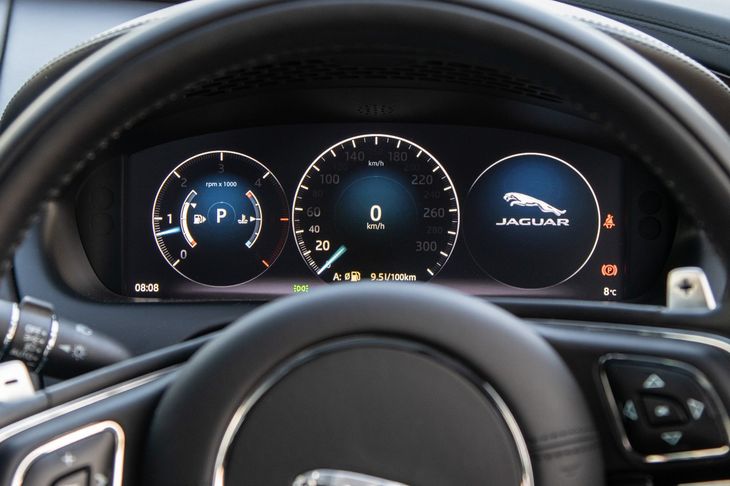 Although the instrumentation is digital, it lacks the kind of variability and crispness that German rivals offer these days.
Jaguar offers the XJ50 in short- and long-wheelbase forms in South Africa and this test unit is an example of the former. Despite the R100 000 difference in asking price (the longer sedan is more expensive), we would definitely suggest that buyers opt for the LWB version instead (provided they can afford it, of course) because rear legroom is comparatively tight in the SWB (which is, unfortunately, priced similarly to LWB versions of its aforementioned German rivals). The 520 litres of boot volume is, however, on par with the German products' respective capacities.
Comfort & Features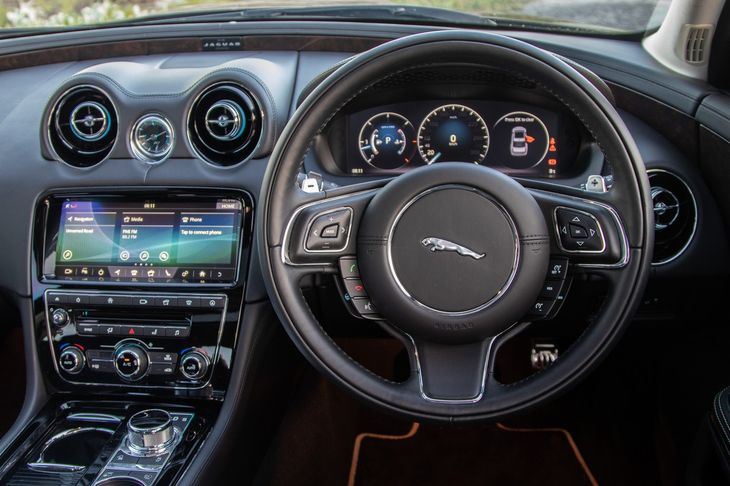 Leather, wood and chrome dominate the luxurious cabin, but in terms of design and quality of materials the XJ now lags the best
When this iteration of the XJ was launched, its interior was regarded as something of a revelation. It offered digital instrumentation when it was still a novelty, for example, and cool ambient lighting created a very special effect at night. The game has moved on, however, and Jaguar's flagship sedan is now bested on the "gadgetry" front, so in some ways, the XJ50 reverts to more traditional Jaguar strengths, such as luxurious leather, lots of wood inlays and plenty of chrome. The seats are superb, the heated/vented front chairs also offer massage functions. Even the rear seats feature heating and cooling. The steering wheel is also heated, which was particularly appreciated during the first cold snap of the Cape winter.
To be fair, the XJ50 offers most of the important advancements in modern infotainment and safety systems. The large touchscreen system is well-stocked with features, navigation is standard and, on the safety side, autonomous emergency braking is standard. Even if it includes traffic-sign recognition, the 12.3-inch digital instrument cluster lacks the layers of information and variability of more modern rivals. More high-tech features such as BMW's gesture control, or the Mercedes-Benz MBUX's digital assistant are missing. Apple CarPlay/Android Auto is available, however.
And while almost the entirety of the dashboard is covered in leather, and there are large walnut wood inlays on the doors, the build quality of the XJ50 3.0D's cabin is not quite up to scratch. The piano black trim feels insubstantial and "creaky", and the door panel on our test unit emitted an irritating intermittent rattle. On a car that costs nearly R2 million, such glitches are rather irksome, if not unforgivable.
Performance & Efficiency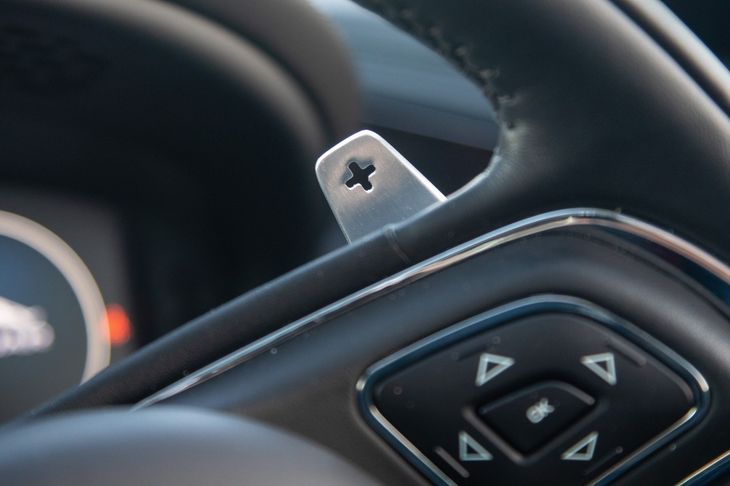 ​
There are shift paddles, but we doubt many owners would ever use them.
The XJ50 is offered exclusively with Jaguar's 3.0-litre V6 turbodiesel engine mated with an 8-speed automatic transmission driving the rear wheels. The engine delivers peak outputs of 221 kW at 4 000 rpm and 700 Nm of torque at 4 000 rpm – which are still very respectable, even by today's lofty standards. Jaguar claims a 0-100 kph time of 6.2 seconds and, of course, the top speed is limited to "a civilised" 250 kph. So, this Big Cat can get a move on. It's at its best, however, when cruising out on the open road, where its smooth, yet powerful performance is highly impressive.
Fuel efficiency is less impressive, however. Jaguar claims an average consumption figure of 7.0 L/100km, which is significantly higher than those of the 3.0D's rivals and we achieved a figure closer to 9.0 L/100 km. Another criticism is relayed engine sound – the motor emits a nice enough note (for a diesel), but for this level of car we expected the cabin to be quieter. This issue could, however, be related more to a lack of sufficient cabin insulation than engine noise per se.
Ride & Handling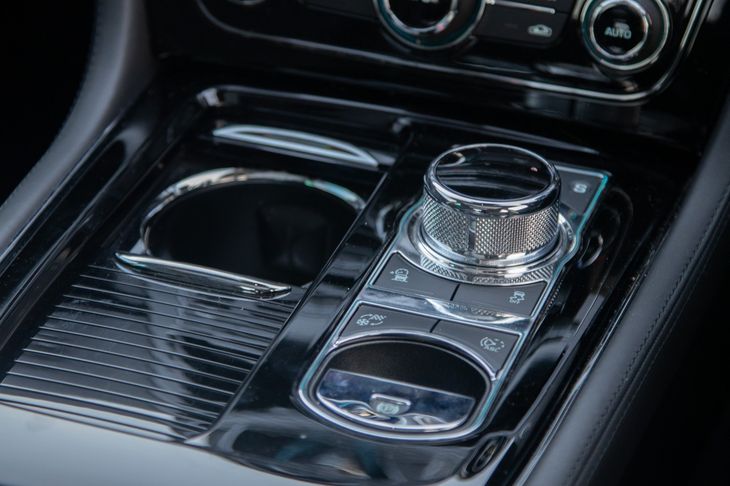 A novelty when it first came out, the rising rotary drive selector is now a Jaguar staple. Select "S" for faster responses.
I first drove the XJ back in 2010 during its launch in Paris. Back then, those knobbly roads highlighted a low-speed ride that was perhaps slightly too much on the firm side, and now, nearly 10 years later, it would appear that not much has changed. A self-levelling rear air suspension setup is standard, but when riding on these 19-inch wheels on the roads in and around Cape Town, the XJ50 3.0D's low-speed stiffness is perhaps still a little bit of an irritation, especially when contrasted with how supple and refined it feels at higher speeds when the Jaguar really hits its stride.
For enthusiastic drivers, there's more fun to be had than you'd expect from such a large turbodiesel-engined limousine. The car dates from a period when Jaguar used to get its control harmonization spot-on – there's beautiful balance and delicate precision in the way it responds to steering, throttle and braking inputs. If you select Sport mode (a simple turn of the transmission controller is all that's required), the XJ50's drivetrain will sharpen up even further to allow that superb 8-speed transmission to make optimal use of the 700 Nm at its disposal.
Price and warranty
The Jaguar XJ50 3.0D SWB sells for R1 823 096 without options (August 2019). As previously explained, the XJ50 has loads of items as standard, but you can still find attractive items on the optional-extras list. Our test unit was specced with Meridian Surround Sound (R8 800) and a 360-degree camera system. Given the relatively small difference in pricing between SWB and LWB (as a percentage), we'd recommend the latter version.
The price includes a 3-year/100 000 km warranty and 5-year/100 000 km maintenance plan.
Verdict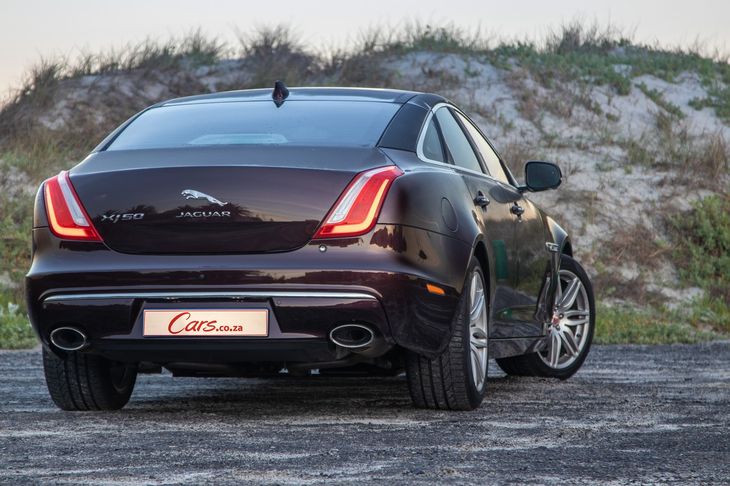 Back in 2010 this rear-end drew a lot of negative comment but now...we think it's aged very well.
The XJ remains a different kind of luxury limo'. Whereas its contemporary rivals use a combination of brute force and advanced tech to win you over in those glitzy showrooms, the Jaguar's true beauty only really comes to the fore out on the road. It's steering is more delicate, its responses more precise and the way it manages to be a car that can be hustled, yet one that is also very supple when you stretch its, um, legs, remains impressive.
But... you can't deny the progress of time. By most luxury car standards (notably efficiency, cabin design/tech and insulation) the XJ lags the likes of the 7 Series and S-Class in particular. And, to be honest, we wish this XJ50 version was just a little bit more special, and not simply the result of a comprehensive specification tickbox exercise. That being said, for committed Jaguar and XJ fans, there isn't much here that's not to like.
Looking to buy a new/used Jaguar XJ?
Find one on Cars.co.za by clicking here