In the absence of a full-blown "R" derivative, this XF S currently headlines Jaguar's executive sedan line-up. It's quite a looker, but does it have the go to match the show?
We like: Attractive looks, ride/handling balance
We don't like: Price, cabin doesn't look/feel special, down on performance
Alternatives:
For better performance: With a zero to 100 kph time of 4.4 seconds, the Audi S6 quattro is probably the swiftest sedan of this size (and cost) that you're likely to find. By comparison, the Jaguar's claimed acceleration time of 5.3 seconds looks unimpressive, but there's still fun to be had – it is quite responsive to throttle inputs.
For a racier look and feel: At the price, you'll be hard-pressed to match this Jaguar for making a visual statement. There isn't a suitable AMG Sports derivative of the dashing new Mercedes-Benz E-Class yet. The Audi S6 quattro is the quintessential Q-car (flies under the radar). And the BMW 5 Series, even with the M-Sport package, can't quite hide its age. So... if you want your large executive sports sedan to turn heads, off to Jaguar you go.
For greater value: It's hard to argue against the numbers - the XF S is the most expensive (yet the least powerful) of the three cars listed here (BMW 550i M-Sport and Audi S6). It is the newest though, and offers the best ride/handling balance. Your priorities will ultimately dictate whether this car is worth the extra outlay.
What is an XF S?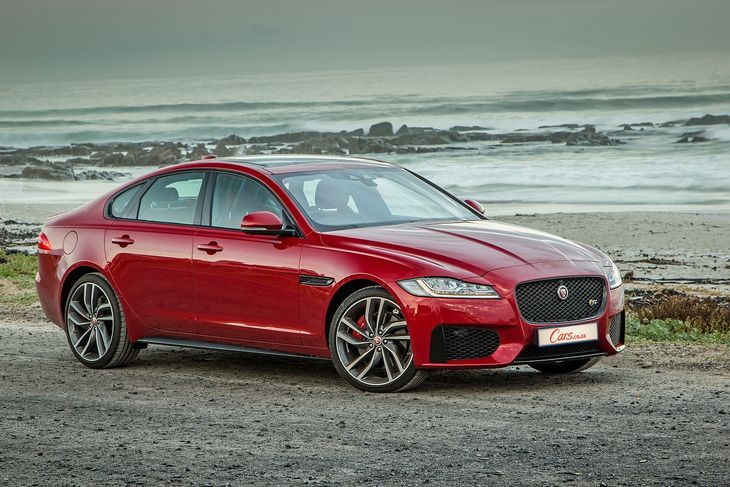 The XF S is a striking sports sedan that offers buyers a variety of personalisation options.
Jaguar's still-fresh XF has, perhaps predictably, been warmly received in its home market (the UK). There are a number of very good reasons for this. Firstly, it is British-made, and the UK media traditionally favours wares produced in Blighty. Secondly, it is somewhat short on direct rivals – Mercedes-Benz is still rolling out its E-Class line-up; a successor to BMW's ageing 5 Series will be shown soon; the next Audi A6 is not too far off, either. And, perhaps most importantly, it is priced "logically" in the UK.
In South Africa, the plummeting value of the Rand has put Jaguar South Africa in a difficult position. Consequently, the XF's pricing positions it for a direct fight with the German premium brands that have traditionally been favoured by the local car buying public. So... the XF has to be brilliant to overcome this brand/image/pricing dilemma. And thus far, in our experience, it has only been partly successful.
In our first test of the XF 20d Prestige, we were quite impressed with the improvements Jaguar has made in terms of spaciousness and efficiency. At the price, we consider that derivative to have some merit. The sportier and pricier 25t R Sport was less successful, with its engine failing to deliver enough excitement and efficiency.
This brings us to the subject of this test, the current flagship "S" model. At a price of more than R1,2 million, does it offer the performance, excitement, luxury and exclusivity that it should?
How does it fare in terms of...
Performance?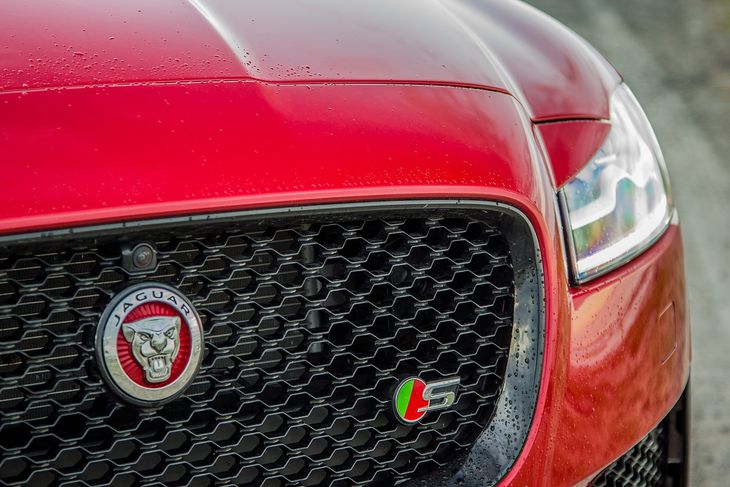 "S" badge indicates presence of supercharged V6, delivering 280 kW.
Jaguar is already developing a ferocious "R" derivative of the XF, but until that derivative arrives, this "S" is as feisty as the XF gets. It is powered by a 3.0-litre V6 engine sporting a so-called "twin-vortex" supercharger. It pumps out 280 kW and, more importantly, 450 Nm of torque, at 4 500 rpm. These figures appear mighty impressive in isolation, but the reality is that the V8 in (cheaper) Audi S6 churns out a crushing 331 kW and 550 Nm, while the (also cheaper) 550i M Sport's V8 pushes out 330 kW and 650 Nm! So, even though the new XF makes use of a multitude of lightweight materials in its construction (it is up to 190 kg lighter than before), it still gets drilled in the benchmark 0-100 kph sprints. Jaguar claims a time of 5.3 seconds (compared with 4.4 and 4.6 for the Audi and BMW respectively). All three cars' top speeds are electronically limited to 250 kph.
Game over, then, for the XF S? Well, if you live your life one traffic light dice at a time, then yes. But there's some excitement to be had with the XF S, even though it is comparatively down on power. As ever, Jaguar's drivetrain engineers have managed to tune the car to be impressively responsive. It will dawdle along in quite a relaxed fashion all day, courtesy of that slick 8-speed ZF transmission, but once you've pressed a button or two and selected the more "enthusiastic" driving modes, the XF S tenses up noticeably and becomes super sensitive to throttle inputs... which makes it feel more powerful than it is. Using the 'shift paddles behind the steering wheel to access the spread of torque is quite enjoyable – it's just a pity the exhaust note isn't a bit more exciting.
Ultimately, then, you are possibly going to lose the race... but you may end up having more fun, not only because of the S model's responsive nature, but also because the XF offers arguably the best chassis in this segment...
Ride & handling?

Athletic looks for a superbly agile machine. The XF thrills on the road.
Recent Jaguars have been dynamically impressive, offering crisp steering and engaging handling without compromising ride quality. It is a marriage of talents that even the best (including the Germans) often struggle to achieve. For a model such as the XF S, it is vital that Jaguar continues in this tradition. And they have done exactly that!
As we've reported before, the new XF is considerably lighter than its predecessor, and stiffer by 28%, too. Plus, while overall length has gone down, it sports a longer wheelbase. The biggest news, however, is the rear suspension which is borrowed from the XE. This new "Integral Link" rear axle has a fifth, vertical link that is claimed to separate the longitudinal and lateral forces that are at odd in a car's suspension, especially when cornering. Consequently, the XF S offers class-leading ride and handling. In fact, even on the large 19-inch alloy wheels and low-profile rubber, the way the XF manages to offer up a supple ride around town, yet remain resistant to roll in the corners, is quite unique. This S model also features Jaguar's Adaptive Dynamics variable dampers as standard.
And as we've come to expect from Jaguar, the attention to detail in the dynamic setup is superb. The electrically assisted steering is beautifully precise and offers lovely weighting. Overall, it is hard to criticise anything about the XF S in the way it steers, rides and tackles corners. In fact, it is so entertaining when driven in an enthusiastic manner that it even manages to make up for the disappointment of the power deficit.
Cabin and features?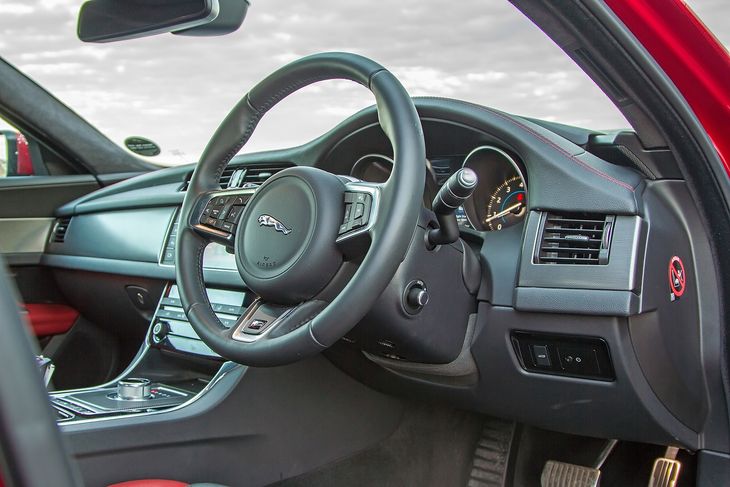 Cabin design is largely borrowed from the smaller XE. Trim and detailing could be improved.
Logically, the higher up one goes in the XF model range, the more special the cabin should feel and appear. Sadly, the fascia design and general fit and finish of this Jaguar's interior remain some of our biggest concerns with the second-generation XF. Visually, it appears to be lifted straight out of the smaller XE, so while some nice details (the rising gear selector, rotating outer ventilation outlets) remain, it simply doesn't feel and look special enough from behind the steering wheel. It is perhaps unfair to expect Jaguar to have made such a dramatic leap as it did when the first-generation XF arrived, but nevertheless (at the price) we feel the XF S is deserving of a bit more drama inside. Besides, the quality of some of the materials, as well as the trim detailing, is not exactly going to give the German rivals sleepless nights.
Those flaws are a pity, because there is quite a lot about the XF's cabin that right, too. With its longer wheelbase there is appreciably more space, especially for those seated in the back, and the driving position is sublime. It is also clear when one looks down at those traditional deep-set instrument dials that this Jaguar's product positioning car is somewhat different to Mercedes-Benz (E-Class) and the others. Yes, while the XF S offers a modern touchscreen and an extra digital display between its (standard) analogue dials, this car is decidedly sportier in its pitch, and it was designed to reflect that. It is when one starts appreciating this distinction and positioning, that the XF makes more sense. But note that, should you wish to add more tech to the cabin of your XF S... you can do so because Jaguar offers a very wide selection of appetising features, including digital instrumenation, head-up display, automated parking etc.
Highlights on the standard features list include a 380W Meridian sound system, 10-way electrically adjustable front seats, dual-zone climate control, navigation and an eight-inch touch-screen infotainment system.
Pricing and Warranty
The Jaguar XF S sells for R1 226 200 and comes backed with a 3-years/100 000 km warranty and 5-years/100 000 km maintenance plan. Jaguar claims an average fuel consumption of 8.3 L/100 km, which is better than its eight-cylinder rivals. However, during our test period it proved quite difficult to keep the overall consumption below 10 L/100 km.
Verdict
If one is to judge the XF S purely on what is measurable, it would fall short in a number of areas. At the price you can buy more powerful and faster luxury sedans from more widely popular German prestige brands. Also, at the price, the cabin isn't "wow" enough, especially when one considers the tech-focused direction that the Germans are taking without sacrificing their hard-won reputations for supreme quality and attention to detail. At the price... Well, it would appear that the price is simply too high a hurdle for the XF S to clear...
And yet there is something deeply charming about this car. It may not ultimately be as fast as its rivals, but it offers such delicate dynamics that it almost doesn't matter. And while the cabin falls short on quality and detail, its exterior makes head swivel. Ultimately, then, the XF S is for a buyer who craves good looks, individuality and driving enjoyment. (Even) at the price, the XF S won't disappoint on those fronts...
Compare the Jaguar XF S with the BMW 550i M-Sport and Audi S6 quattro


Related content:
Jaguar XF 25t R Sport (2016) Review
Jaguar XF 20d Prestige (2016) Review
Interested in buying a new/used Jaguar XF?