Now that there are no V8-engined derivatives in the XF line-up and the V6 versions cost in excess of R1 million, the 2.0-litre powered 25t R Sport represents the sportiest derivative that can be had at a "reasonable" price. Does the XF still strike a healthy balance between dynamism and luxury.... and, more importantly, can it justify its asking price?
We like: handsome styling, improved rear leg- and headroom
We don't like: zingy powerplant, marginal interior build quality, thirst
Alternatives: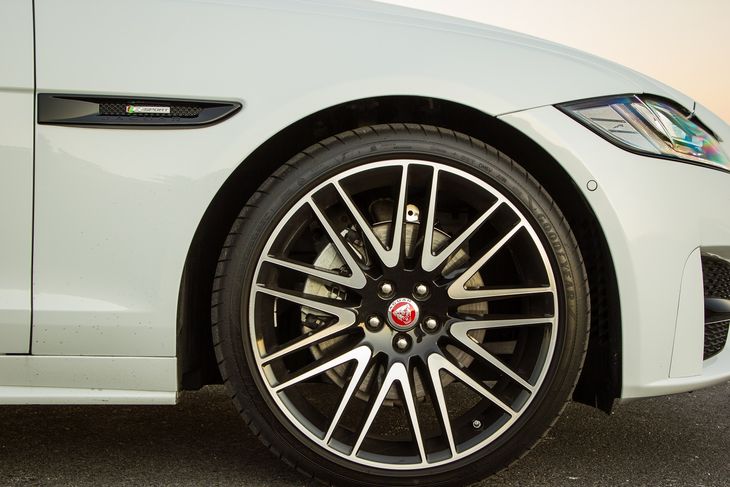 The 20-inch Matrix contrast diamond turned wheels cost an extra R33 500.
Big cat, short claws
In our review of the Jaguar XF 20d Prestige we declared it "a far more polished product with few obvious flaws", that it delivers "accomplished performance that even die-hard fans of the German brands should be able to appreciate" and, "it should no longer be considered a compromised fringe player, but a serious challenger." However, whereas the XF 20d Prestige makes sense as an entry-level offering by virtue of the purported fuel efficiency of its turbodiesel engine, the XF remains an executive sedan with a sporty bent; it needs to satisfy buyers who fully expect an involving and entertaining driving experience that will complement the Jaguar's evocative styling.
In R Sport guise, the 25t certainly looks the part, but, does its 2.0-litre 4-cylinder engine, which is mated with an 8-speed automatic transmission, endow the XF with sufficient urge and dynamic ability to please driving enthusiasts, while delivering an appreciable level of refinement and acceptable fuel efficiency? Let's find out...
How does it fare in terms of…
Sporty packaging?
To say that the XF 25t R Sport looks handsome and athletic when finished in Glacier White (albeit a metallic finish) is to pay it a massive compliment. White paint finishes tend to add bulk to larger sedans (well, at least most of them) by visually flattening out their definitive exterior lines, but the XF, which is admittedly not as distinctive as its predecessor, still has oodles of kerb appeal. From the outside, the R-Sport package adds sportier bumpers and skirts, which are appealing in their own right, but the test unit was further specified with eye-catching 20-inch multi-spoke, twin-tone rims and a Black package, which, as expected, adds dark window and grille finishes, bumper detailing and even noir R-Sport plates on the front fenders.
As we alluded in the previous XF review, the Jaguar's interior does not have quite a sense of occasion to match the sleek exterior, but the cabin detailing comes alive courtesy of two-tone leather and strategically positioned R-Sport decals. Yes, the central air vents are now conventional (they don't slide open when you start the car) and the design of the fascia is so modular that the climate control console looks virtually slabby, but, at least ergonomically-speaking, the driver feels utterly ensconced and comfortable behind the wheel.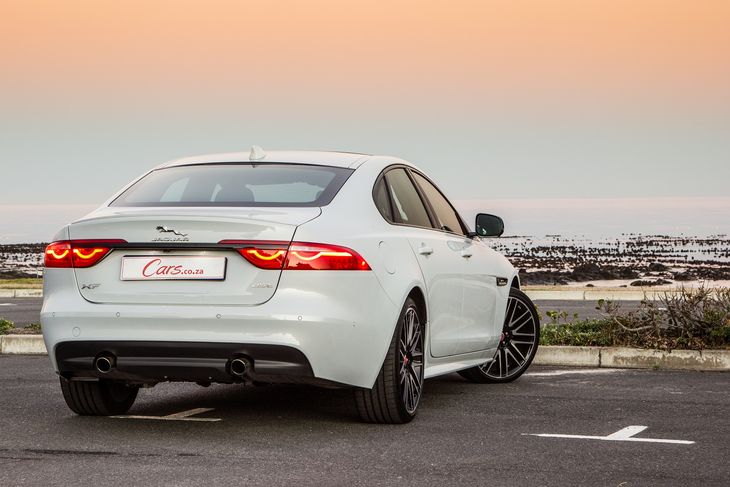 Evolutionary styling most obvious from the XF's rear three-quarter view. Still a head-turning car.
Performance and handling?
With peak engine outputs of 177 kW and 340 N.m, the turbocharged and intercooled 2.0-litre 4-cylinder powerplant delivers commendable performance… as a 7.0-second claimed zero to 100 km/h sprint time for the 25t R Sport clearly attests. Unfortunately, as is the case with many direct-injection units of its ilk, the motor emits an uninspiringly strained engine note when it is required to rev into its upper reaches. Although the drivetrain feels thoroughly refined at cruising speeds, the combination of the 2.0-litre motor, which produces peak torque between 1 750 and 4 000 rpm and the 8-speed transmission can, at times, feel cumbersome.
Perhaps it can be attributed to an economy-oriented throttle-mapping in the XF's default driving mode and perhaps it's just a factor of the sedan's 1 650 kg kerb weight plus the weight of its occupants, but the 25t hesitates too much when a short, sharp burst of speed is required (when you need to nip past slower vehicles or take a gap in traffic, for example). If you then apply seemingly excessive throttle pedal inputs immediately thereafter, frantic gearbox kick downs and a wailing motor are sure to make their presences felt.
The zingy motor was a trifle disappointing, because in terms of a ride and handling balance, the XF is superb. Granted, the R-Sport suspension tuning errs on the firm side of pliant, but the suspension never felt jittery or unyielding (those sizeable rims do give the game away when major road imperfections need to be absorbed, it must be said). The steering is well-weighted, quick and pleasingly accurate. Considering it is electrically-, as opposed to hydraulically power assisted, it remains as pleasing to use as its predecessor's tiller, plus the Jaguar responds with deft handling and appreciable body control. It all augurs well for when a pukka R version makes its arrival one day… but alas, the 25t is a far cry from that!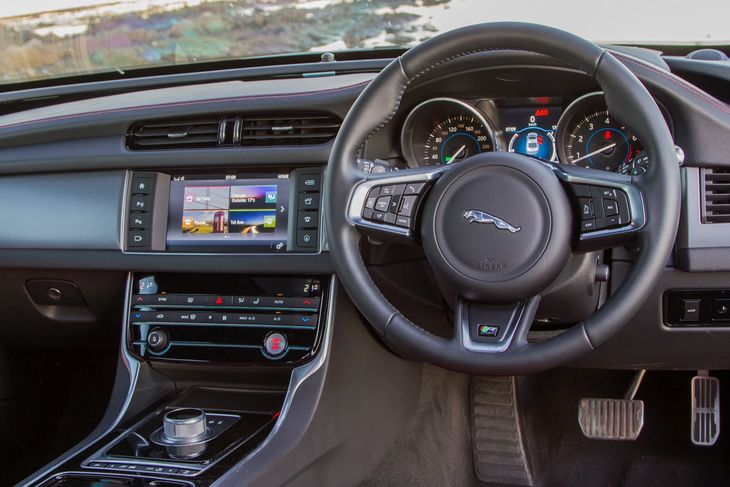 An excellent driving position with excellent ergonomics, but the cabin is let down by a few trim rattles.
Comfort and practicality?
With complaints of tight rear leg- and headroom addressed with the second-generation XF, the newcomer's cabin is an eminently comfortable space to occupy, the ease of use of the 12.3-inch touchscreen and Meridian digital audio system drew praise from testers, and although the boot is relatively small, the rear seatbacks can split and fold forward. What's more, the Jaguar's level of on-road refinement, at least as far as NVH suppression is concerned, is impressive, but the build quality of the interior doesn't measure up to that of the best in class.
The switchgear, although chunky and neat, didn't feel particularly grand to operate, some of the stitchwork looked less than sumptuous and during its tenure in Cars.co.za's review fleet, the XF 25t's cabin emitted a few rattles and creaks (nothing that the audio system could not drown out, but they were persistent!). The weak Rand contrives to make the asking price for this model steep (R 856 526 — and that's without options) and, unfortunately for Jaguar, given the stiff Teutonic competition it's up against, the XF is, well, imperfectly premium.
Pricing and warranty
The Jaguar XF 25t R Sport sells for R856 526, which includes a 3-years/100 000 km warranty and 5-years/100 000 km maintenance plan.
Verdict
Does the 2.0-litre turbopetrol version of the XF do its range proud? Given its predecessor's reputation for offering exclusive style and cool luxury in (an easily accessible) dynamic package, we'd say not quite. It's not that the 25t R Sport disappoints as an executive sedan… it looks the part, is a pleasure to drive (once it has gathered momentum) and is comfortable and reasonably sophisticated, but it feels like a boulevard cruiser, and that detracts a lot from the test unit's (let's just call it) Jaguarness.
Also, although the Coventry-based manufacturer claims an average fuel consumption of 7.5 L/100 km for this derivative, we did not see an indicated consumption figure of anything near that during the test. So, with fuel efficiency not in its favour and, when you consider the top-spec Mercedes-Benz E200 (with AMG Line) constitutes a saving of more than R90 000 compared with the XF 25t R Sport, this Jaguar derivative is a hard-sell.
See how the specifications of the Jaguar XF 25t R Sport compares with those of the BMW 528i M Sport and Mercedes-Benz E200 AMG Line
Related articles:
Jaguar XF 20d Prestige (2016) Review
Interested in buying a new/used Jaguar XF?