The first-generation XF vaulted Jaguar back into contention for executive car glory. Does the new model build its predecessor's momentum or is it too conservative? We test the 2.0-litre turbodiesel model to find out.
We like: Ride/handling balance, comfort, boot space
We don't like: Too similar to XE inside, lack of engine refinement, pricey
Alternatives:
For better fuel efficiency: While the Jaguar's claimed consumption figure of 4.3 L/100 km is good, the BMW 520d's is marginally better (4.1 L/100km).
For more flair: Although we feel the new XF's design doesn't stray too far from its predecessor's (to its detriment) it remains a very classy and attractive vehicle. Both the Mercedes E-Class and current BMW 5 Series are aging (and due for replacement), leaving you with the Mercedes-Benz CLS as the most likely alternative if style is a prerequisite. But the CLS is significantly more expensive.
For better value: Do not forget the perennially underestimated Audi A6. Although its far from new, the A6 is a very capable car, which, for similar money, can be had with a more powerful 3.0-litre engine.
Improving a winning recipe
Jaguar was properly in the doldrums back in 2007. Its new XF, a radical replacement for the retro-styled S-Type was a make-or-break product. In short, Jaguar could no longer afford to play the retro card – it had to start looking forward. The XF was an immediate success and set a path for every Jaguar developed since. Recently, however, the XF itself came up for renewal and, perhaps predictably, Jaguar didn't feel the need to stray too far from what was clearly a winning recipe.
That said, the previous XF had its flaws. It was a heavy car because it was based on an established, steel-intensive structure. Compared with its rivals (BMW 5 Series, Mercedes-Benz E-Class and Audi A6), the rear legroom on offers was below average. And... as it neared the end of its model life, the slickness of its infotainment system and the marginal fuel efficiency of its engines came under fire. So these were the aspects that Jaguar set out to fix for the second-generation XF.
How does it fare in terms of...
Design and packaging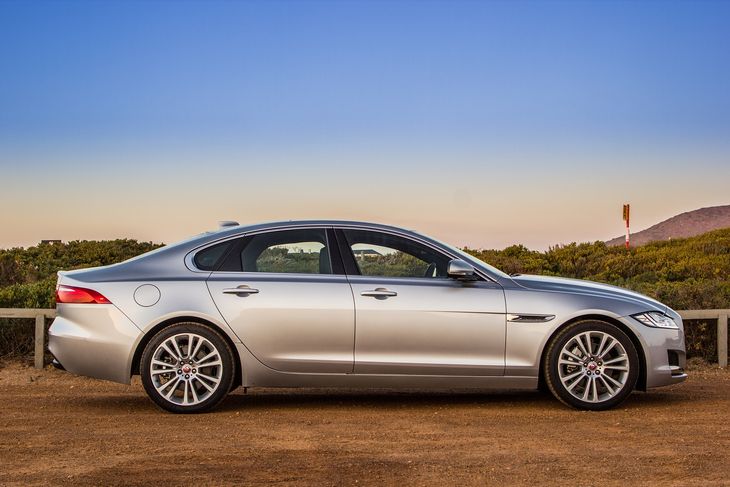 At first glance, the new XF looks very familiar, but the wheelbase is much longer, and the car is actually shorter.
To shed weight, Jaguar opted to ditch the previous model's steel architecture for a predominantly aluminium one. The result is a car that is up to 190 kg lighter than before and yet also nearly 30% more rigid. To address the interior space (rear legroom) dilemma, it added 51 mm to the wheelbase, but shrunk the car's overall length by around 7 mm. In effect, the XF is lighter, yet stronger, more compact but also more spacious than its forebear... Sounds good, doesn't it?
Inside, there's significantly more space all-round, with especially those seated in the rear benefitting the most from the increase in wheelbase. Headroom is also good, even for taller passengers. And the boot is massive: Jaguar claims a 505-litre capacity, which is only slightly less than what is offered by the commodious boots of the BMW 5 Series and Audi A6.
When it comes to packaging, then, Jaguar has fixed all the major areas of complaint of the new XF's predecessor.
But what of its design? Here Jaguar has been very cautious. At a quick glance, the XF can easily be mistaken for its predecessor. The conservatism is to be expected. Jaguar has worked hard to establish a recognisable design language for itself and meddling with the XF's exterior execution would be counter productive to the Coventry-based marque's quest to attain a level of instant brand recognition that its German rivals enjoy. Still... some may have wished for more flair.
Cabin execution and comfort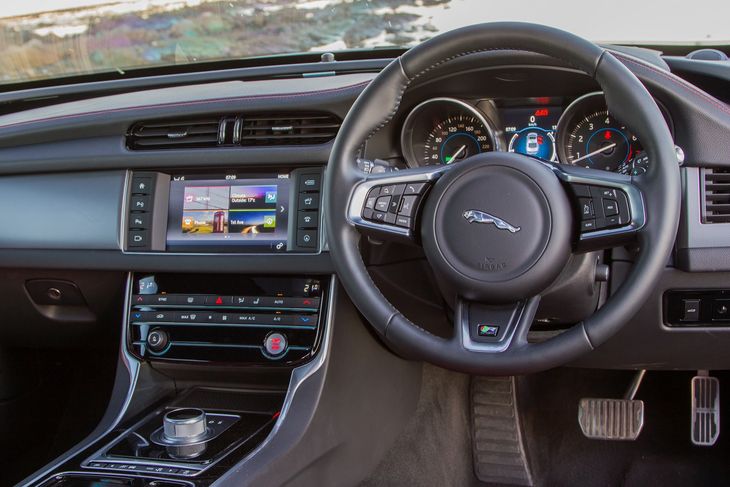 XF facia is very similar to smaller XE's. Note: 25t cabin shown.
Swivelling ventilation outlets, a gear selector that rises out of the transmission tunnel and strategically located mood lighting... these were all hallmarks of the first XF that consigned Jaguar's burr-walnut-and-piped-leather-only tradition to the past. Sitting in the first-generation XF back in 2007 was a revelation, not only for Jaguar brand loyalists, but for executive sedan buyers in general. The bravado of its interior was partly what made the XF such a standout product.
These items are all present in the new XF's cabin, but this time there are no surprise-and-delight design features. In fact, the design is very similar to what you'd find in the smaller XE. While there's nothing wrong with the way the XF's interior looks and feels, it may just lack that knock-out punch the interiors of the upcoming Mercedes-Benz E-Class and BMW 5 Series are likely to pack. And while the build quality is very good, the XF's cabin still lacks the overall polish of, say, an Audi A6.
Those foibles are unlikely to be deal-breakers for prospective owners, however. During our test period we grew fonder of the XF's cabin, particularly because it proved to be so comfortable. There's plenty of adjustment from the driver's seat and steering wheel. The front seats' heating and cooling functions (a R13 400 option) work well and the infotainment system is a significant improvement over the previous setup. Of course, its similar to what is already used in some Land Rover models, as well as the Jaguar XE, but the functionality is pretty good. iPod, Aux and USB support is all present and correct, as is Bluetooth telephony and audio streaming.
As is the case with most premium brands, the optional extras list is long. Our vehicle had several of the extras fitted, including Lane Keep Assist (for R9 000). It worked impressively under most circumstances, but perhaps a more useful feature (from an everyday point of view) would be Park Assist (for R8 900). A reverse-view camera will add another R4 700.
Performance and economy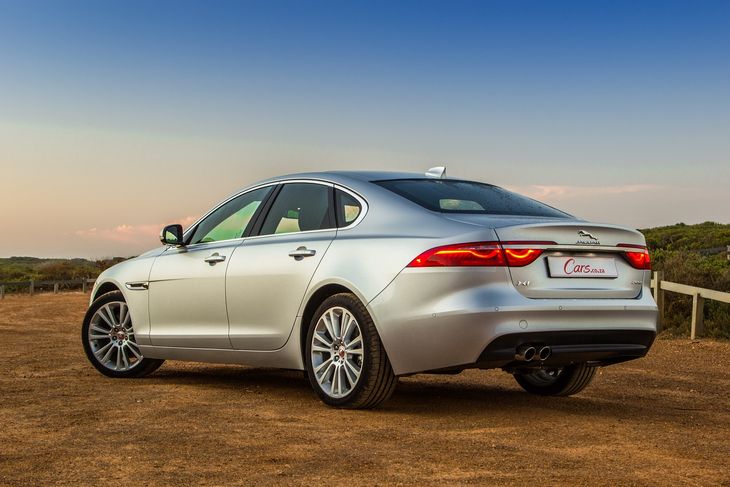 This may be the "base model" of the XF line-up, but the 20d delivers a great cruising performance.
This particular XF derivative is powered by the brand's new 2.0-litre four-cylinder "Ingenium" turbodiesel engine. It delivers a strong 132 kW and 430 Nm of torque, both figures being very competitive with similar-sized turbodiesel engines already on the market. Power is transmitted to the rear wheels using a slick 8-speed automatic transmission (with a Sport mode).
The engine is initially quite rough (in sound and feel), but smoothes out appreciably when up to temperature. That said, it never attains the creamy smoothness of the best of the German turbodiesel engines. And while it offers the required grunt on paper, perhaps it has been tuned with relaxed driving in mind, rather than sprinting, because it can feel a little lethargic to initial throttle inputs. Still, aluminium construction notwithstanding, this is a heavy car for a 2.0-litre engine to pull around. Jaguar claims a 0-100 kph sprint time of 8.1 seconds, which is easily beaten by the Germans.
Once up to cruising speeds, the XF 20d feels far more at home, delivering excellent overtaking thrust as well as good economy. The claimed consumption figure is 4.3 L/100 km, but we achieved around 7.0 L/100 km consistently and easily, so with economy minded motoring you should be able to achieve around 6.5L/100 km.
Ride and handling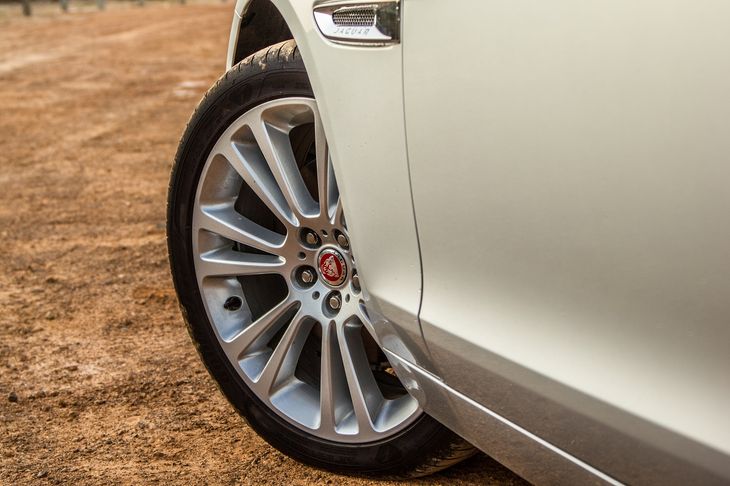 Several wheel options are offered, ranging from 17 to 20 inch.
We've left the best for last... Jaguar hasn't fiddled too much with the basic suspension recipe. The XF still uses Jaguar's own "integral link" rear suspension setup as opposed to the usual multi-link arrangement preferred by the rivals, but through careful tuning and new dampers, the end product is quite sublime.The way that Jaguar's chassis developers have found a balance between suppleness, grip and roll resistance is admirable. Even the steering feels better weighted and more linear in feel than before.
The XF arguably represents a new class benchmark in ride/handling refinement. Our test unit rode on optional 18-inch alloy wheels, but even so (and having driven two subsequent Jaguar XFs equipped with lower profile rubber), the ride quality's positive impact on overall comfort levels can't be ignored. And when the driver starts pushing on (yes, even in this 20d), the XF's suspension delivers great thrills' the car feels agile, beautifully resistant to pitching/rolling and the steering's crisp.
Verdict
It would be unfair to expect the new XF to deliver such momentous gains as its predecessor did. Instead, what the new XF does is significantly improve in areas where it was lacking, and stick to what has worked before. Overall, it is a far more polished product with few obvious flaws. But the context of this segment is about to change significantly. A new Mercedes-Benz E-Class will debut first, followed by a BMW 5 Series and then, later, a new Audi A6. Has Jaguar done enough to pre-empt the vast improvements promised by these imminent rivals? We're not so sure... only time will tell. As tested in 20d Prestige form, the new XF delivers an accomplished performance that even die-hard fans of the German brands should be able to appreciate. It should no longer be considered a compromised fringe player, but a serious challenger.
Pricing and Warranty
The Jaguar XF 20d Prestige sells for R743 600, which includes a 3-years/100 000 km warranty and 5-years/100 000 km maintenance plan.
Compare the Jaguar XF 20d Prestige with the BMW 520d Luxury and the Audi A6 3.0TDI