Jaguar is showing its new I-PACE electric performance SUV at the 2017 Geneva Motor Show. The production version of the I-PACE will hit the road in 2018.
Jaguar has taken the wraps off its I-PACE electric performance SUV concept that previews Jaguar's first-ever electric vehicle. This concept is a big deal for the Coventry-based firm and a production version is scheduled for reveal at the end of 2017 before it goes on sale in 2018. Even better, the new electric Jaguar performance SUV will arrive on South African soil in spring 2018.

The five-seater I-PACE concept combines a cab-forward design, inspired by the C-X75 supercar, with a coupe-like silhouette and sports car performance. According to Jaguar, the vehicle will be assembled in Austria at the Magna Steyr plan in Graz. Manufacturing will also take place in the United Kingdom later on.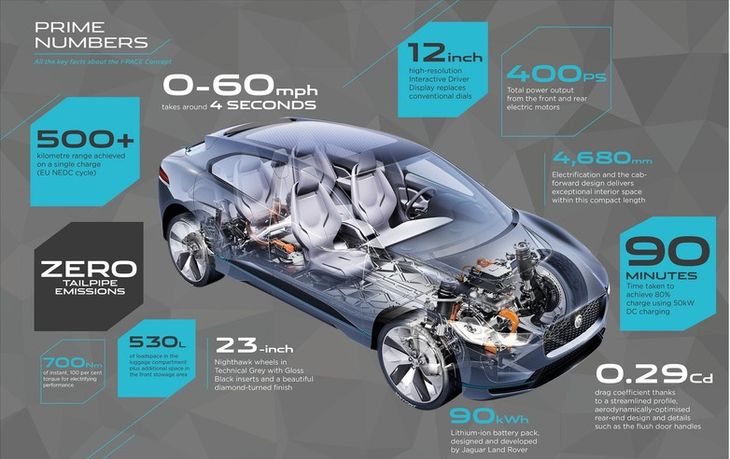 "The I-PACE Concept is a radical departure for electric vehicles. It represents the next generation of battery electric vehicle design. It's a dramatic, future-facing design – the product of authentic Jaguar DNA matched with beautiful, premium details and British craftsmanship. This isn't just a concept. It is a preview of a five-seat production car that will be on the road in 2018. This will be Jaguar's first-ever battery-powered electric vehicle and opens a new chapter in the history of our legendary brand" said Ian Callum, Director of Design, Jaguar.
Design details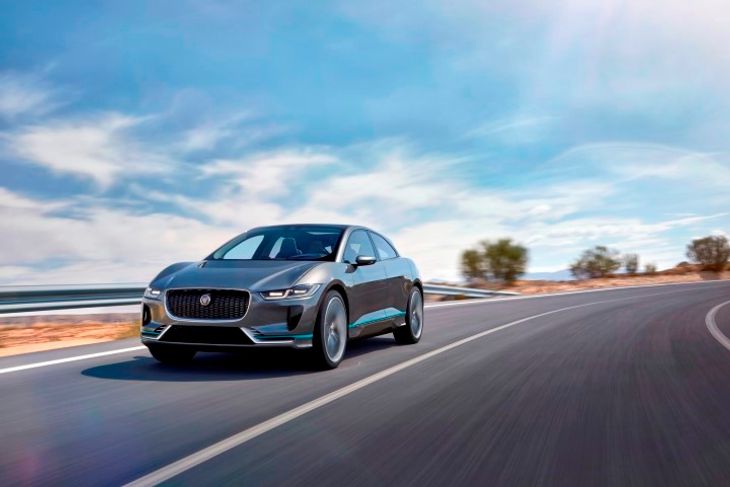 The mid-sized I-PACE concept offers space typically seen on much larger SUVs.
Measuring 4 680 mm in length with a width of 1 890 mm and a wheelbase of 2 990 mm, the I-PACE concept re-imagines what an electric vehicle can look like. With the absence of an engine and transmission tunnel, designers maximised the space by extending the wheelbase, shortening the overhangs and moving the cabin forward. The result is a vehicle that looks sporty and powerful with a spacious cabin.

The I-PACE is similar in size to a mid-size SUV, but offers space only typically seen in large SUVs. Space for second-row passengers is generous and the I-PACE concept offers 530 litres of luggage space, while storage space under bonnet offers an additional 28 litres. The I-PACE concept rides on large 23-inch Nighthawk wheels with a diamond-turned finish.

"The opportunities offered by an electric powertrain are huge. Electric vehicles offer designers much greater freedom, and it is an opportunity we must grasp. This is why the I-PACE Concept is developed on a new architecture which has been designed to optimise electric vehicle performance, aerodynamics and interior space. With the I-PACE Concept, the revolution is in the profile, not the design language. The profile is possible because this car is electric. It's not just that we wanted to create something that was very different from anything else we do: we wanted the design to celebrate the new battery electric technology" said Callum.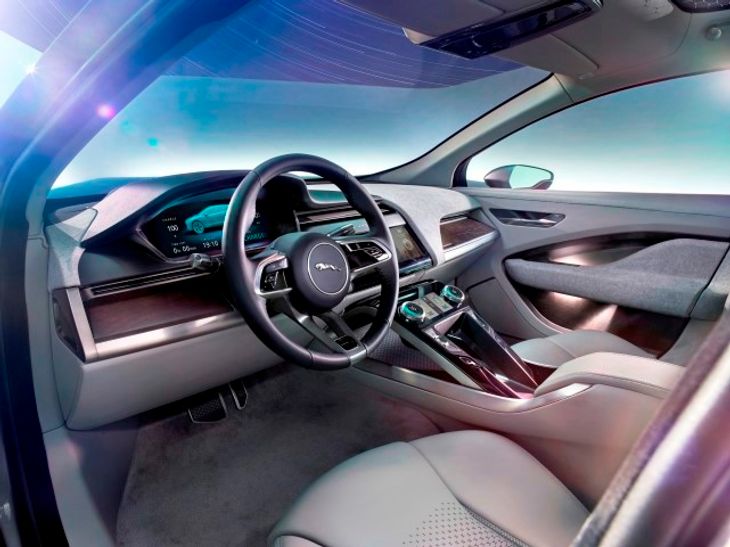 The I-PACE concept features high-quality materials and digital displays for intuitive functionality.
The interior of the I-PACE concept shows a future-focused design with cutting edge technology that's likely to be seen in the production version. The driver and passengers sit lower than in normal SUVs and the driver's hips are positioned lower in relation to the heels, which means the driver adopts a 'Sports Command' position, which is said to provide a sense of connection to the road, much like a supercar.

The instrument panel features a 12-inch TFT touchscreen while a separate 5.5-inch touchscreen with knurled metal finish rotary controllers with high definition displays allows passengers to configure infotainment and climate control settings. A 12-inch high definition virtual instrument cluster with a full-colour head-up display is also fitted. The 3-spoke steering wheel features nifty multi-function capacitive switches that remain invisible until they are illuminated and they also feature a 'micro-click' haptic when pressed. The I-PACE's infotainment system was developed in-house with a powerful quad-core processor with a high-speed solid-state drive. A WiFi hotspot keeps passengers connected and a range of apps can be accessed for both iOS and Android devices.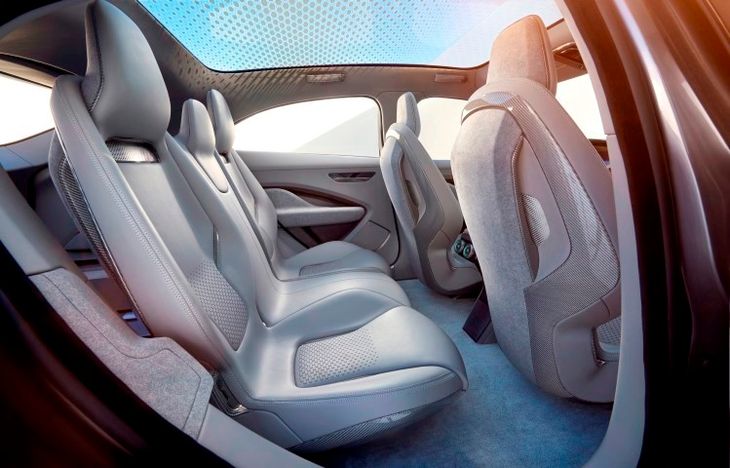 Despite its sporty appearance, the I-PACE concept offers increased legroom for rear passengers.

Interior materials are of high quality, combining natural materials. The seats are covered in Windsor leather with contrasting twin-needle stitching and carbon fibre edging while the seat backs are finished in Moonstone Alcantara. The doors feature aluminium, Alcantara and open pore Walnut veneer trim elements. A full-length patterned panoramic sunroof is fitted and it features LED lights that light up at night for dramatic effect.
Electric power
The Jaguar I-PACE is fitted with electric motors, powering both the front and rear axles with a total output of 294 kW and 700 Nm of torque. According to Jaguar, "The electric motors provide immediate response with no lag, no gearshifts and no interruptions. Their superior torque delivery compared to internal combustion engines transforms the driving experience," said Ian Hoban, Vehicle Line Director, Jaguar Land Rover. The I-PACE concept is said to accelerate from zero to 100 kph in about 4 seconds.
Coupled with electric all-wheel drive, the I-PACE concept is also equipped with All Surface Progress Control (ASPC) and Adaptive Surface Response (AdSR) to tackle more challenging terrain.

The I-PACE has a range of over 500 km on the European NEDC cycle and more than 350 km on the US EPA cycle. The battery can be charged at a public charging station or at a home-installed wall box using conventional power sockets. A full charge takes just over 2 hours to complete while 80% battery charge can be achieved in 90 minutes. With an average daily commute of 40 to 50 km, the I-PACE will only need to be charged once a week. Energy is stored in an in-house designed, liquid-cooled 90kWh lithium-ion battery pack housed in lightweight aluminium.

The I-PACE concept features a double-wishbone suspension setup up-front, the same found in the F-TYPE and F-PACE while the rear suspension features the proven Intergral Link system seen on the Jaguar XE and XF.
"Electric vehicles are inevitable – Jaguar will make them desirable. Zero emission cars are here to stay and the I-PACE Concept is at the cutting edge of the electric vehicle revolution. As the charging infrastructure continues to develop globally – and with enough range to mean most people would only need to charge once a week – cars like the I-PACE Concept will make drivers appreciate that an EV can be rewarding and practical enough to drive every day," said Ian Hoban, Vehicle Line Director, Jaguar Land Rover.
Related content:
Top speed run: Chasing 300 kph in Jaguar F-Type SVR [Video]
Jaguar F-Type SVR (2016) First Drive [with Video]
Jaguar F-PACE 30d AWD R-Sport (2016) Review
Jaguar XF 3.0 S (2016) Review
Jaguar XF 25t R Sport (2016) Review
Jaguar XF 20d Prestige (2016) Review
Want to buy a Jaguar?