Jaguar Land Rover's Global CEO, Dr Ralf Speth, recently visited South Africa and hosted a round-table discussion with some of South Africa's motoring media. The topic? Electrification, within in a South African context.
In line with several other brands, JLR recently announced that as of 2020, all newly introduced Jaguar and Land Rover products will be offered with a choice of traditional or electrified (including hybrids) powertrains. This, in itself, is an indication of just how swiftly the electric motoring future will be upon us. Perhaps even more exciting from a product point of view is the confirmation that Jaguar's first all-electric vehicle, the I-PACE will arrive in South Africa late 2018 or early 2019. ​This, Speth says, forms part of the brand's global goal of reducing emissions, as well as working towards its timetable of offering autonomous, connected electric vehicles.
Speaking at the brand's impressive new Waterford dealership, Speth stated that, "electrification will come faster than we expect." Yet, he pointed out that several challenges remain, particularly in a country such as South Africa where tax benefits for electric car owners are non-existent and electricity production is still heavily coal-based. In fact, while the other BRICS nations appear to have embraced the dawn of the EV era in terms of infrastructure roll-out and tax cuts, South Africa is lagging.
Range anxiety addressed?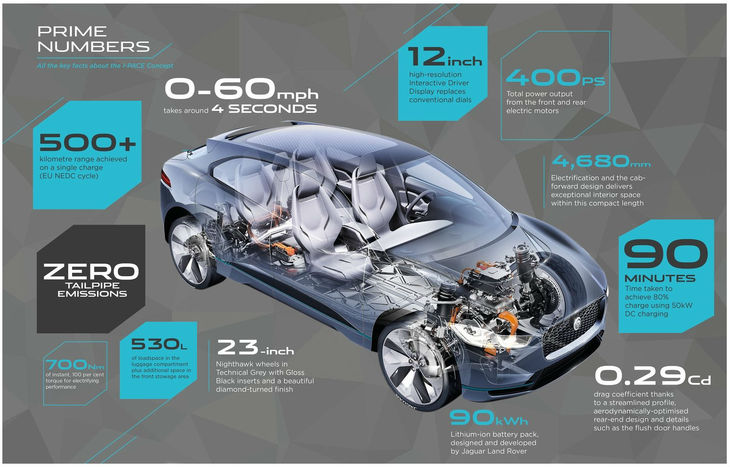 The Jaguar I-PACE will arrive in South Africa towards the end of 2018 or early 2019, complete with 500km range.
When it comes to the frequently discussed topic of range anxiety, it is worth noting that the I-PACE will have a range of up to 500km between charges, and that an 8-minute charge could add another 100km. Though there will always be certain consumers for whom an electric car would not be practical, such impressive range does neatly address 2 issues... not only range anxiety within a daily driver context, but also to a large extent recharge infrastructure – given the fact that most South African premium car owners would have an electrical outlet capable of charging the car overnight, and in the European context most city workers/drivers travel less than 90km per day, the necessity for charging facilities away from home diminishes greatly.
Infrastructure roll-out
Also speaking at the round-table discussion, Richard Gouverneur, MD of Jaguar Land Rover South Africa and sub-Sahara Africa added that the company intends cooperating with the Electric Vehicle Industry Association (EVIA), which represents local vehicle manufacturers focusing on electrification. Through EVIA, JLR will engage with government on various EV-related topics, including charging standards and opportunities to develop infrastructure.
"Our rollout plan for I-PACE includes installing electric infrastructure at all our dealers and ensuring our retail network can support these products in every way," said Gouverneur. "At the moment, there are no incentives for EVs, and we are in full support of the motor industry's push for lower taxes on these vehicles. We will work with EVIA on this, as well as its efforts to have shared charging infrastructure in public areas."
Expect more diesels and hybrids, too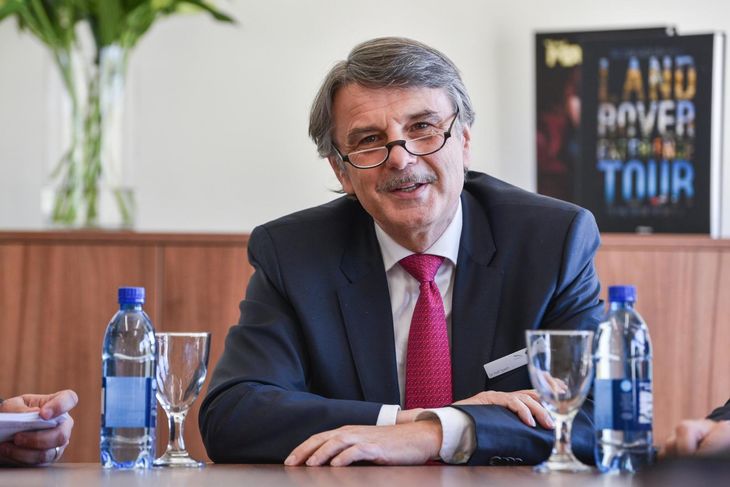 "Electrification will come faster than we expect", says global Jaguar Land Rover CEO, Ralf Speth.
According to Speth, Jaguar Land Rover continues developing more efficient new-generation Ingenium internal combustion engines as well as hybrids because there are consumers for whom a pure EV would simply not be practical. JLR already offers hybrid derivatives in some markets and we can expect to see some hybrid options to be introduced in South Africa during 2018, too. Electric vehicles will be evaluated for South African suitability and decisions will also factor in customer demand.
At present, international sales volumes of hybrids and EVs are still very small, but according to Speth both are likely to increase substantially, driven by increased model availability and infrastructure improvements. JLR has has invested R1.1 billion in South Africa on updating its retail network to not only offer customers a more premium retail experience but to also start preparing for future product. It claims that by 2019 all local dealers will boast the brand's global identity and be prepared to sell and service electric vehicles.
Have a look at how Jaguar is using the electric racing car series, Formula E, to hone its electric car technologies in the video below;


You may also be interested in;
First Drive: Jaguar I-PACE concept
Tesla finally launched Model 3
2040 - The end of the car as we know it?
EV Charge stations in SA: how many and where?
Looking for a new / used Jaguar to buy?