In an effort to showcase its new I-Pace electric car and charging infrastructure, Jaguar recently completed a trip from Johannesburg to Durban. Range anxiety? What range anxiety?
When it comes to electric cars, the number one worry is always to do with range anxiety. "There aren't enough chargers in SA" , "I can only drive around my city" and "I can't go away for the weekend" are just some of the complaints we've seen. Granted, in comparison to the rest of the world, South Africa has lagged behind in this field of transportation but recently, Jaguar allayed many fears by completing a journey from Johannesburg to Durban in a pre-production I-Pace electric car. We say pre-production I-Pace because this car is here for testing and homologation. Jaguar wants to make 100% sure that it will work in our market, before it is properly launched in our market in early 2019.
The challenge was simple. Drive the Jaguar I-Pace from Jaguar Centurion in Gauteng to Durban. After filling its 90 kWh battery, the car set off. After 310 km, it recharged at the 60 kW fast charger which has been installed at the Bergview rest stop in Harrismith, Free State. Once it was charged back up to 100%, it set off for the coast, completing another 306 km and reaching the Durban Harbour.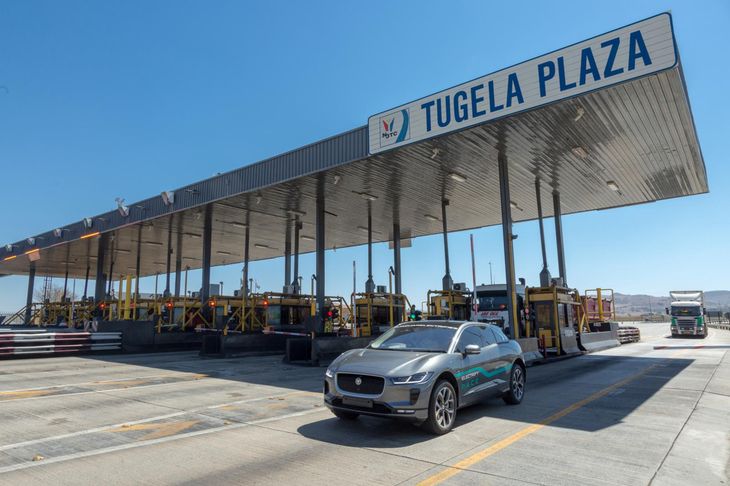 The Jaguar I-Pace on the N3 highway between Johannesburg and Durban
It is important to note that in the time it took to recharge in Harrismith, the driver was able to enjoy a meal at a restaurant, meaning that it took about an hour to charge. Jaguar also claims that this recharge in Harrismith cost around a quarter of what it would take to fill up an average big SUV, so we're going to estimate and say that's around R250.
The Harrismith charger forms part of the Jaguar Powerway network which boasts 82 new chargers for all electric cars and plug-in hybrids in the major cities and along popular highways. Johannesburg, Pretoria, Durban, Cape Town, Port Elizabeth, East London and Bloemfontein will soon be linked up for electric cars to travel on. The N3 from Jhb to Durban, for example, will receive another 3 chargers by the time the Jaguar I-Pace officially launches in the first quarter of 2019. Jaguar's R30 million investment will mean 30 fast chargers placed at every Jaguar Land Rover dealership, 30 at various shopping centres nationwide and 22 along the N1, N2 and N3 motorways.
Further Reading
Jaguar I-Pace Jhb to Durban Video