Jaguar's all-electric family car/compact SUV, due to become available in South Africa in 2018, is arguably the most important and ambitious Jaguar in more than 50 years. We snuck in behind the closed doors at Jaguar's head office to get a preview of what to expect.
On the ground floor of a dim, multi-storey car park somewhere in east London sits what might be the most daring and important new Jaguar in more than five decades. Glowing in a coat of Photon Red paint so vibrant that you'd swear it was luminescent – and defying your every attempt at classification but for reasons that only invite your eyes to linger – the I-Pace looks bold and exciting even here among the strip-light yellow and concrete grey.
It's part supercar, part utility car; somehow all Jaguar and yet not really like any Jaguar there has ever been. By the standards of the most far-fetched show cars, it's stunning. Except that here and now, away from the motor show stand where thousands have already admired it, the I-Pace is clearly not fantasy: it looks ready to be driven. And today, it will be.
Today will be one of only a handful of occasions when the I-Pace concept will ever be driven – and, sadly, it won't be driven widely or quickly, or in anything like the fashion that we'd like. But driven it will be. Because when Jaguar invites you to experience a car as potentially transformative as this first-hand and at such an early stage, you grab the opportunity with both hands and learn what you can.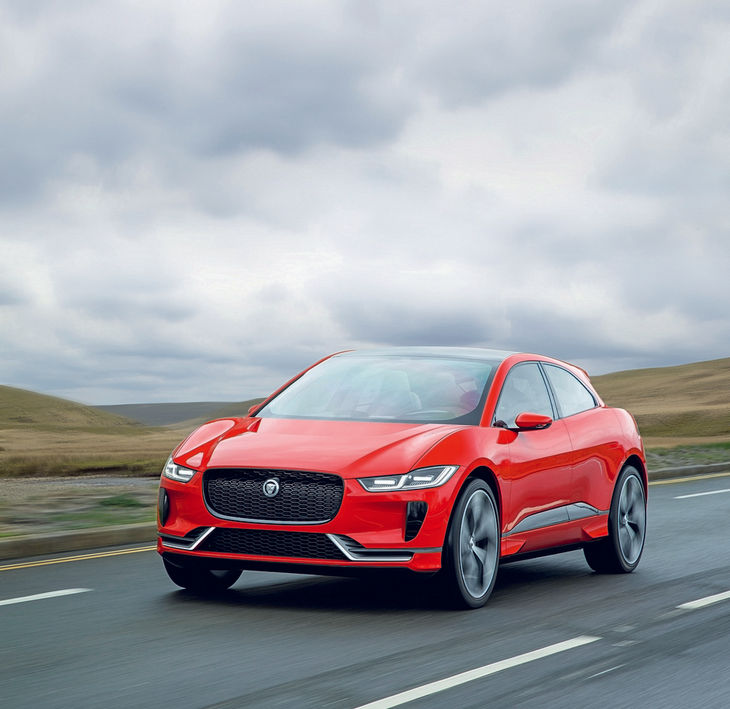 The F-Pace opened up a whole new market to the Jaguar brand and the I-Pace pushes the envelope further.
Concept car insured for R30 million
There are only a handful of I-Pace prototypes in existence, and this very one will be whisked off towards the bright lights of the Geneva motor show when we're done. The car is insured for R30 million – and that's probably a conservative estimate of its true value to Jaguar. So you drive it respectfully, with a polystyrene pad under your backside so your jeans don't mark the leather and your shoes left on the pavement so you don't get the carpets muddy. But sure, they say, you can drive it. And so today, the story of what the I-Pace might mean for its maker – and what it might do for it – can hit another gear. Before all of that, though, comes a chance to catch up with some of the key men involved in the I-Pace project and find out what stage it has reached, behind the increasingly impenetrable wall of secrecy that encircles Jaguar Land Rover's Gaydon headquarters. They are Matt Beaven, chief exterior designer, advanced design for Jaguar; Sandy Boyes, Beaven's opposite number on interior design; and Dave Shaw, vehicle engineering manager.
Under some duress, and with the understandable reticence of people who are working on a car that has yet to fully mature, they sketch in a few tantalising details about this mould-breaking all-electric sports car-cum-SUV. "We're about halfway through the development work of the production car," says Shaw, "and we're on time and on track to deliver on our original promises. That means we're about six weeks away from having the first validation prototypes (the first mules in what's approaching a final specification) to work on." Sounds like life's about to get quite exciting for Shaw and his team.
The promises he refers to are the headline numbers that Jaguar committed to when the I-Pace concept was unveiled at the Los Angeles motor show last autumn: 295 kW and 700 Nm of torque from two electric motors, one per axle; 0-100 kph in around 4.0 seconds; just about 650 km of usable cruising range; and a 90 kWh lithium-ion drive battery than can be charged to 80% full from a public DC fast-charger in 90 minutes. If those performance targets are achieved, they'd make the I-Pace a faster-accelerating and longer-legged car than the benchmark Tesla Model X 90D. And that would be a pretty stellar showing for Jaguar's first road-going EV of any kind. Shaw is evidently so confident of hitting those targets because his engineers were involved in the I-Pace's design from its embryonic stages.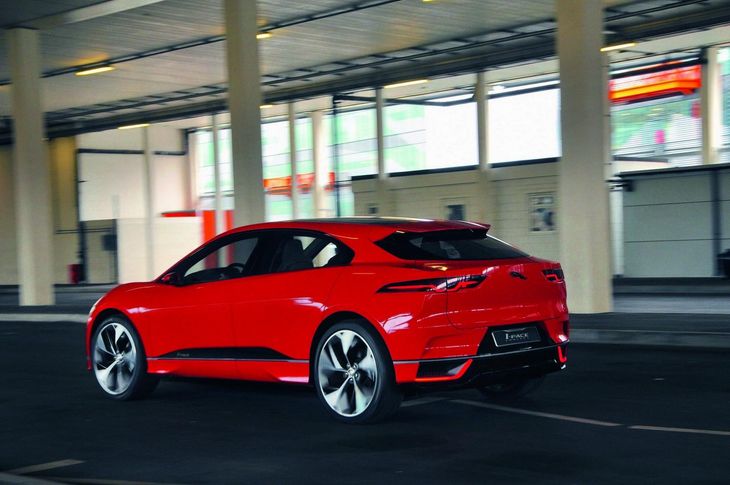 With a claimed range of 650 km, the I-Pace promises a level of journeying practicality beyond most contemporary electric vehicles.
Built from scratch
The I-Pace, as anyone inside Jaguar will tell you, was that treasured rarity among so-called new cars: a genuine clean-sheet design unconstrained by segment norms or predecessors or the design compromises imposed by a normal combustion engine and driveline. It could have been the wildest designer's flight of fancy any motor show ever saw – but it isn't.
Shaw says: "As a company, we realised about five years ago, that it saves us all a lot of pain further down the line if we all sit around a table early on to decide what's the best we can do with what we've got. "Otherwise, the designers come up with a car that aesthetically meets everything they want it to do, only to hand over to the engineers who have to say: 'Yeah… but, actually, that bit can't, that bit can't and this bit won't.' This way, we're all in it together and we all move faster that way."
So the I-Pace really isn't just another show car, as Beaven explains: "Design-wise, we were working on the production version of the I-Pace at the same time as the concept," he says. "We were keen not to over-promise; that the production version shouldn't let you down. It will end up being very similar. "This was a huge challenge for us.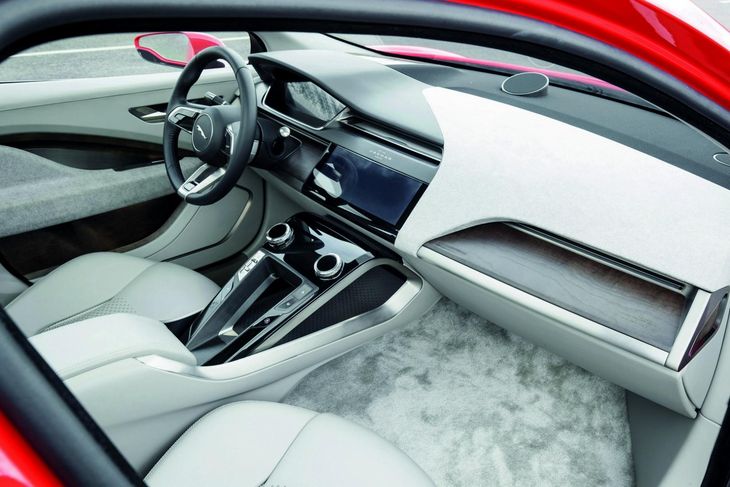 The interior may seem futuristic in a "make-believe concept car cabin" way, but the production version's fascia won't be very different.
The I-Pace has to be recognisable as a Jaguar while starting in a totally blank space. We knew from the off that we weren't interested in the kind of electric car sub-brand that other car makers have introduced. This had to be an authentic Jaguar and communicate Jaguar's traditional values through entirely new proportions." So where do you start designing a car like this – or even just when taking it in? It's hard to know what to make of the I-Pace away from the pedestal motor show glare and in such a singularly untheatrical setting. Those short overhangs, aerodynamic-looking silhouette and cabin-forwards profile owe more to supercar design type than SUV design convention – so the I-Pace actually looks more like the C-X75 than it does an F-Pace.
The F-Type sports car was an influence, too. "The car's short front haunches and elongated rear ones are like an F-Type in mirror-image," says Beaven. That sounds like classic car-designer double-speak – but if you stand far enough back and take in the whole of the car's shape, you can see what he means. Ultimately, although you can't quite decide if it's a hatchback or a sports car or some new sort of SUV you're looking at, you can't help but wonder if knowing really matters. The I-Pace is something new and nothing more or less than the very best EV that Jaguar can imagine right now.
Cautious drive
I'm shoeless and ready to slide on board at last. Heavy door, fiddly handle. "Whatever you do, don't slam it." Yup, this is a concept car all right – but the driving position and the cabin layout will be reliable guides of what to expect from the production version. You sit low by SUV standards, at a similar height as you might in an F-Pace, but in a cockpit that's more sparse, airy and spacious-feeling. A high centre console makes you feel snug, but the controls and instruments in front of you are at a lower level than you.
Like most EVs, the I-Pace responds instantly to the merest prod of the accelerator and zips up to town speeds with the easy flexibility of a one-tonne supermini. Jaguar won't say how much the car weighs, but it must be considerably less than a Model X. With twice as much instant torque on tap as this, I can believe 100 kph in 4 seconds may even be a pretty conservative target. The steering is heavy and its ride noisy and firm, but that's the concept car factor in evidence again. Show cars always ride like trolley jacks – especially when they're on 23-inch alloy wheels.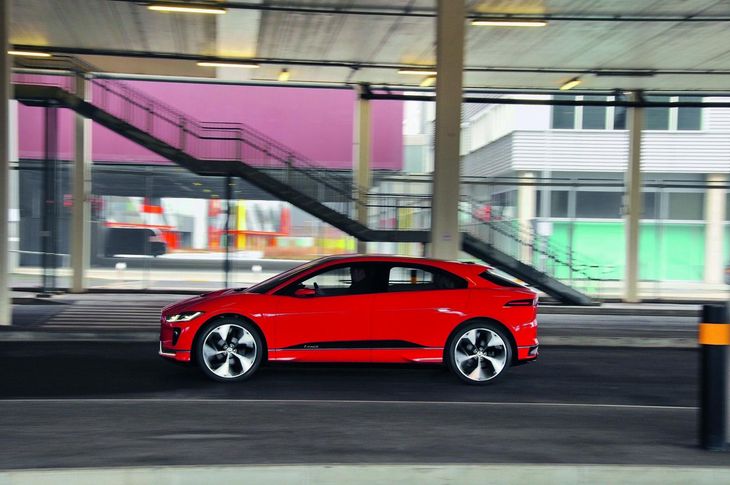 The I-Pace feels very light on its feet, in fact, zero to 100 kph in 4 seconds might be a conservative claim.
You can hear the friction in the car's driveline. Its steering and brake pedal feel as though they've had no tuning at all. But this part of the I-Pace's driving experience isn't at all representative of what we might expect of the finished car and all it proves is how much effort goes into finishing Jaguar's modern cars. The I-Pace uses the same double-wishbone and integral-link suspension set-up as the XE, XF and F-Pace, and all of those cars handle and ride well enough.
That, combined with the favourable low centre of gravity that a floor-mounted battery will provide, is reason enough to expect great things from the finished production car. Until then, Jaguar devotees can look forward to the familiar drip-feed of technical titbits over the next 12 months, as the I-Pace's engineers get closer and closer to finalising its specification.
Production ready versions?
A motor show debut for the production car is expected sometime in 2018, with the earliest deliveries expected during the same year. South Africa is due to get an allocation as well that will arrive later in 2018. It'll be an ambitious schedule to keep to, and who knows whether it will give us a car that'll sell in its hundreds, thousands or tens of thousands. But it'll certainly give us a real car – that much, it seems, can be depended on – and one whose prospect is now as enticing as it is interesting.
Related content
Jaguar Shows Electric I-PACE SUV Concept [Updated]
Pilot Production for Tesla Model 3 Starts Soon
Opinion: Ferrari & Tesla, which will survive the future?
Interested in buying a Jaguar?