This fiery-mouthed SVR transforms the F-Type from a stylish sportscar to fun track-day tool.
Design, like art, may be a naturally divisive subject, but few could argue against the claim that the Jaguar F-Type is one of the most beautiful cars on the planet. Its smooth, curvy lines converge with piercing taillights and create a side profile that's so perfectly proportioned it will make you want to remove the family photos from your living room wall and replace them with a big motivational F-Type poster.
Just stand behind this new F-Type SVR (Special Vehicle Racing) when its rear wing is deployed and tell me you don't see the tips protruding like devil horns. The taillights even look like evil, demonic eyes. This car is bad... but the good kind of bad, and that's before you even get behind the wheel.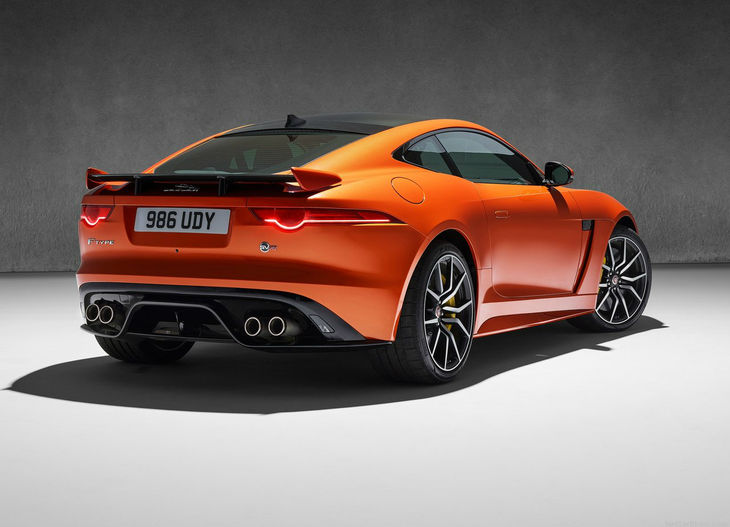 "Devil horns" and "demon eyes". Jaguar living up to its slogan, "it's good to be bad"
The SVR I'm stepping into is the only one in the country, used as a marketing tool to promote the SVR badge as an AMG, M and RS competitor. The engineers haven't gone overboard with the power increase, it has a meagre 18 kW and 20 Nm advantage over the F-Type R AWD. The weight saving on this car is around 50 kg due to the carbon ceramic brakes, carbonfibre roof, carbon interior trim and the lighter exhaust system, but the hardest work, from a developmental point of view, has gone into the optimisation of the SVR's aerodynamic efficiency and suspension tuning.
Jaguar claims the SVR creates zero lift, but in V-Max mode (the rear wing folds down) it will top 200 mph (320 kph). Contrary to everything manufacturers usually say about performance suspension, Jaguar has made the front end slightly softer, but the rear firmer, to promote better turn in. Finally, just in case you couldn't hear the F-Type R's exhaust note, Jaguar has ensured the SVT's flaps open at a lower RPM and so it can roar with even more ferocity.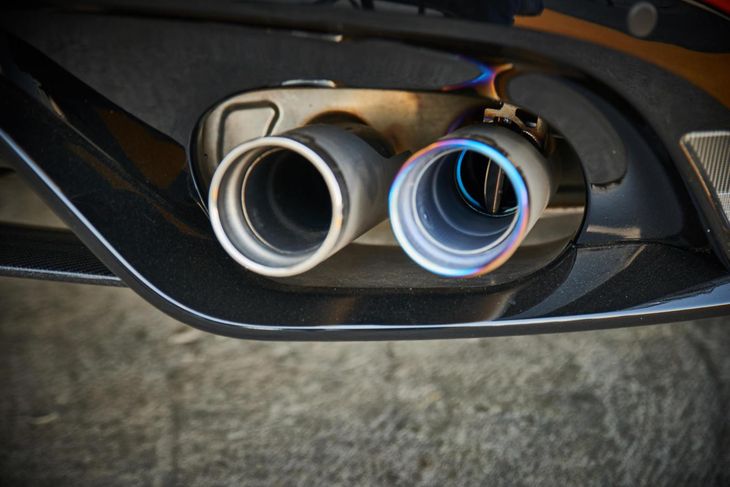 Exhaust is made from Titanium and Inconel (space ship superalloy) and saves 16 kg over the standard exhaust
Seated behind the steering wheel, a notable change is that leather trim has been replaced with sporty Alcantara, but it's business as usual as far as design goes. The infotainment system has some added features that allows the driver to track their lap times, check how many Gs they've pulled in the corners, as well as a bar graph that plots throttle and brake applications in 120-second bursts (a feature track-day aficionados will certainly appreciate).
We had a chance to spend some laps at Kyalami with an instructor beside us. Right from the first go, the louder exhaust gets your adrenalin levels rocketing. Instantly, you're more attuned to the finite changes on the SVR. The machinations of the transmission are quicker, on both up, and down shifts. The steering feels heavier but faster. The AWD F-Type's steering can feel light and vague on track but this SVR is communicative with perfect heft.
The small power increase is noticeable in the mid-range, especially upon corner exits – that's where the SVR does everything just that little bit faster. The suspension delivers the biggest surprise, under braking the SVR feels alive, even a little bit loose, like it could break away at any second and send you farming. It won't though, it's all part of the engineers' plan to get the SVR into a prime position to arrow into the apex quicker. It's impressive to watch it work, but don't hestitate – you can floor the throttle earlier with the extra downforce pushing the SVR into the tarmac like it's being stood on by the Hulk's left foot.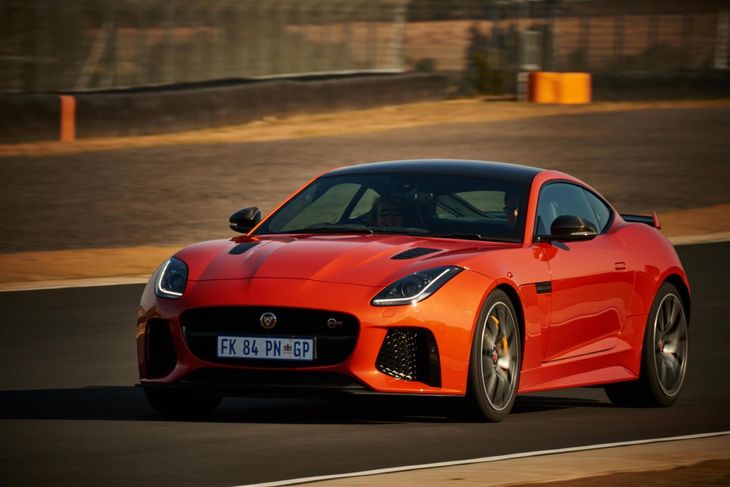 SVR makes good use of additional aero features in order to improve corner speed.
The Pirelli P Zero tyres just hold on and are prone to overheating quickly under this sort of continuous pressure. An upgrade to the P Zero Corsa tyres may be just what the SVR needs if it wants to be more than a one lap specialist.
Our time in the SVR is over all too soon, but it leaves a lasting impression. For what is essentially an add-on pack for an F-type AWD, it feels like so much more than that. It's a proper sportscar with racing pedigree; much more powerful than the Porsche Cayman GT4, less hardcore, but probably as visceral as the BMW M4 GTS and seeing that the aforementioned rivals are no longer available from new, the Mercedes-AMG GTS and Nissan GT-R are probably the only adequate rivals. What we'd absolutely love to see is a comparison between the SVR and an Audi R8 V10 or the McLaren 570S to evaluate just how good it is as an all-round powerhouse. Frankly we can't think of a loftier complement to pay the Jaguar than that...
You can order an F-Type SVR for R2 134 100 (depending on stock availability), which puts it a fair chunk below the price of an R8 and McLaren 570S.
Related Jaguar content
Jaguar Launches Special Vehicle Operations in SA
Audi RS6 Avant vs Jaguar F-Type Coupe AWD R - The Final Showdown
Drag Race: Audi RS6 Avant vs Jaguar F-Type V8 AWD
Track Race: Audi RS6 Avant vs Jaguar F-Type R AWD Coupe
Interested in buying a Jaguar F-Type?