One of the most loved and trusted brands in South Africa, Isuzu, is now flying solo following the withdrawal of General Motors from the local market. The Japanese marque previously offered the trusty KB bakkie only, but with the addition of the MU-X 7-seater adventure SUV, it can now also take on the likes of Toyota's Fortuner and Ford's Everest. Is it worth a test drive?
We like: Comfortable ride, solid build, relaxed cruiser, more economical than rivals, well-priced
We don't like: No stand-out talent, lazy performance
Fast Facts
Price: R568 000 (September 2018)
Engine: 3.0-litre 4-cylinder turbodiesel
Gearbox: 6-speed automatic
Fuel economy: 7.3 L/100 km (claimed)
Power/Torque: 130 kW/380 Nm
SERIOUS ABOUT BUYING?
Where does it fit in?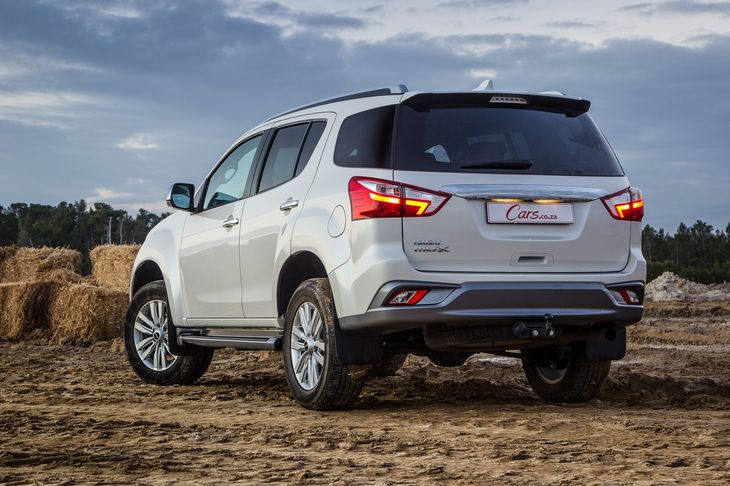 Rear end has a shorter overhang than the Chevy Trailblazer, but load capacity has not been compromised.
Adventurous South African families just love rugged body-on-frame (bakkie-based) SUVs. Toyota's Fortuner is one of the country's most popular vehicles, even though it is far from a budget contender. Ford's Everest is a strong seller too... But prior to the 1st-generation Fortuner's arrival in South Africa, there was another vehicle that found favour, Isuzu's KB-based Frontier. But... as Isuzu was until recently part of General Motors' portfolio, and GM was never particularly good at fostering brands, nor terribly consistent, the brand never followed up its initial niche-establishing vehicle with anything. Many years later GM decided to launch the Chevrolet Trailblazer here instead, even though in the eyes of most industry observers an obviously better contender would have been the vehicle that underpinned it, the Isuzu MU-X.
Now that GM is no longer represented in South Africa, and Isuzu's local distribution is in the hands of Isuzu Japan (with an experienced local team), the MU-X has finally arrived in South Africa to counter the Fortuner, Everest, Mitsubishi Pajero Sport and also Haval's brand new H9. Is it a case of too little, too late, however?
What's good about it?
Trusty, efficient mechanicals
Unlike the Trailblazer, which used Chevrolet's 2.8L Duramax Turbodiesel, the MU-X sticks to Isuzu's proven 3.0-litre 4-cylinder turbodiesel which, in this application, pumps out 130 kW and 380 Nm of torque, the latter figure being available from 1 800 to 2 800 rpm. These figures may lag the outputs offered by the competition, but as our Ownership Satisfaction Survey shows, the engine is highly rated for reliability and driving satisfaction by KB owners. Coupled with a 6-speed automatic transmission driving the rear wheels, performance is "lazy" at best, but the upshot is class-leading fuel economy.
Isuzu claims a combined cycle consumption figure of 7.3 L/100 km and we averaged just 8.8 L/100 km, which included a relatively long-distance return trip out of Cape Town. The Ford Everest, for example, can be far thirstier in the real world than its claimed figure of 8.2 L/100km suggests – we achieved around 11 L/100 km.
Relaxed ride quality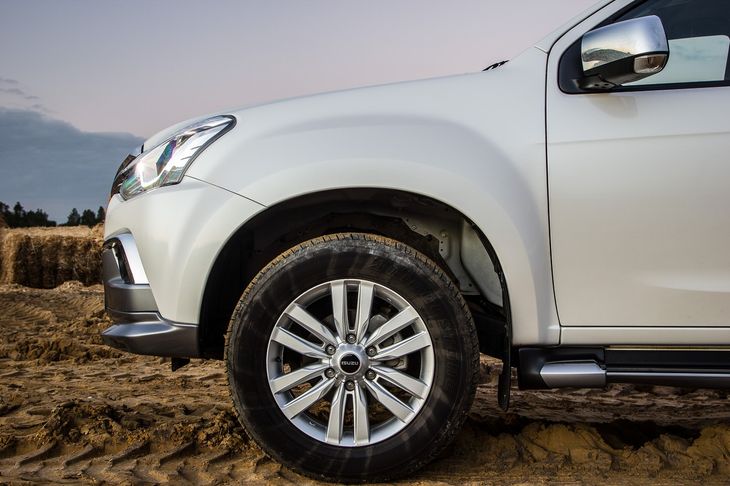 With its soft suspension and high ground clearance, the MU-X remains comfortable off the beaten path.
We rated the Trailblazer highly for its balance of on- and off-road ability, and the MU-X is very similarly impressive in this regard, as it should be. During the last round refinements to the big Chevy, particular emphasis was placed on NVH (noise, vibration, harshness) improvements, and those have obviously also been applied to the Isuzu, because the Isuzu is a particularly relaxed long-distance cruiser, with a quiet cabin and comfortable, loping gait. Even the clatter of the (traditionally quite vocal) 3.0-litre motor underneath the bonnet is noticeably subdued on these longer journeys when the Isuzu has found its stride (in 6th gear).
The MU-X rides on 18-inch wheels as standard, but the rubber is quite generous (255/60 profile). Combined with the supple suspension, this translates into a vehicle that is very comfortable on gravel or poorly-sealed tarred roads. It also has a good ground clearance (230 mm is claimed). We think the point of buying a bakkie-based SUV is to often use its inherently more rugged structure for travel off the beaten track. In that regard, the MU-X impresses, but we do wish the Isuzu featured a rear diff-lock for even greater usability. To be fair, most of its rivals also lack this feature.
Standard features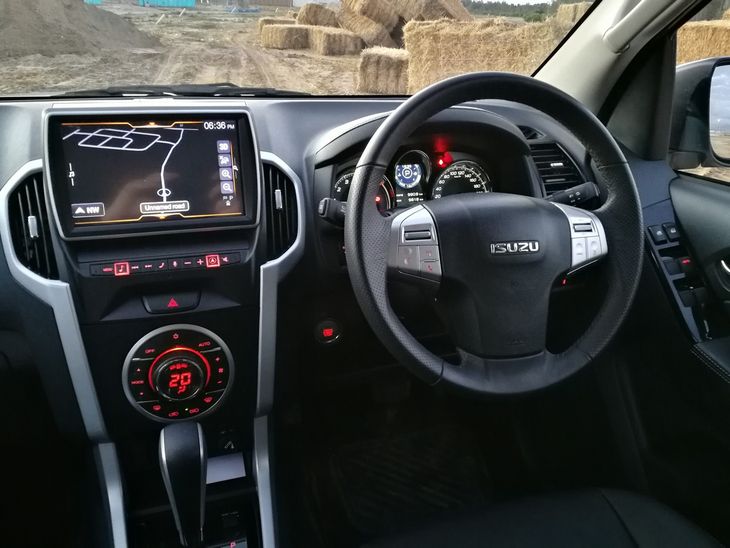 Large infotainment screen is a major difference between the MU-X and KB interiors. Build quality is very solid.
The MU-X is very similarly specced to its rivals, which is a good thing seeing as those competitors are generally loaded to the roof with equipment. You get leather upholstery, an electrically adjustable driver's seat (including height), climate control, heated/folding side mirrors, cruise control and a comprehensive touchscreen infotainment system that also includes navigation and Apple CarPlay/Android Auto compatibility.
On the safety front the package is also comprehensive, with ABS/EBD, stability control, hill-descent and hill-start assist control systems featured as standard in addition to 6 airbags. The infotainment screen also doubles as display for the rear-view camera. A feature that isn't included is trailer-sway control, which is unfortunate seeing as this type of vehicle will often be purchased with occasional towing in mind. The mu-X offers a 3 000kg (braked) tow rating.
Isuzu has also done a good job at making the mu-X, which has been on sale in other parts of the world for more than a couple of years already, appear rather attractive from the outside. It gets neat 18-inch alloy wheels, roof rails, side steps, LED-infused headlamps and LED tail lamps, too. There's also just the right amount of chrome to make it look like a relatively expensive vehicle.
Packaging for practicality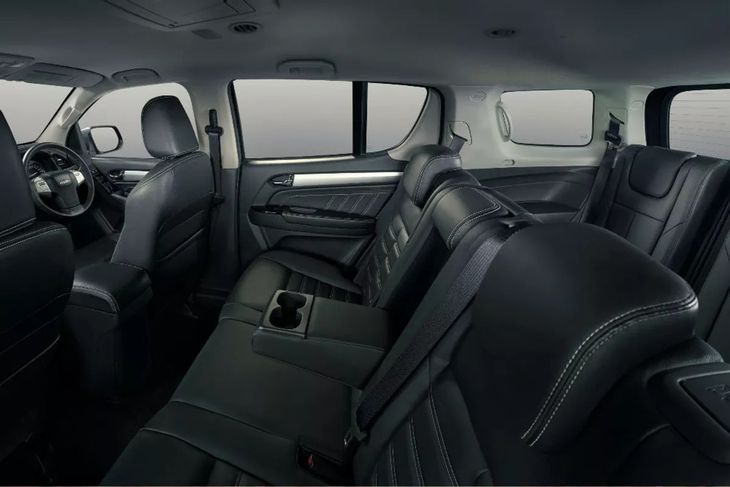 Black leather upholstery is standard on this model. Legroom in the middle row is very good.
Whether you're going to use the 3rd-row of seats a lot is probably not as important a consideration as whether you might require them at some point. As is the case with most rivals, the MU-X's third-row seats are small and better suited to small kids, but they're there to boost the ultimate flexibility of the vehicle. When they're not used they fold down neatly into the boot floor, but this does result in a relatively high loading height. Like the Trailblazer, the MU-X features a similarly handy lidded storage box at the edge of the boot floor, which is great for muddy/wet lifestyle gear.
The middle row provides comfortable seating for 3 adults with good head- and shoulder room. These passengers also have access to their own ventilation outlets and there's a USB charging port for them, too. Front passengers will have little reason for complaining as the seats are comfy and the height of the vehicle affords them a great view of the surrounds. There are also a large number of oddments storage spaces, including 2 glove compartments.
Where does it fall short?
No stand-out feature or talent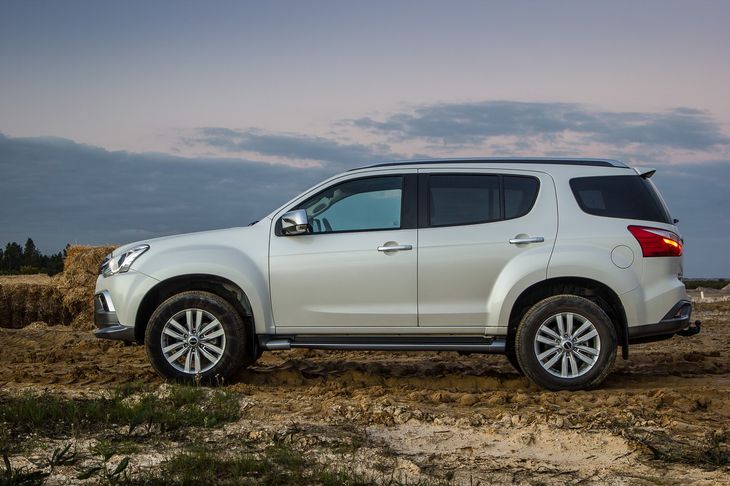 The MU-X appeals as a reliable, rugged, long-distance adventure vehicle.
Like the Trailblazer before it, the MU-X is a vehicle that competes well on virtually every front, but without ever quite planting a knock-out punch. Its standard features mix is comprehensive, but yet there are some oversights - we'd have liked to see dual-zone climate control in such a large, semi-luxurious vehicle. And the steering wheel is also only adjustable for rake (not reach).
Given its rugged nature, hill-descent control, good ground clearance and ride set-up, we think the standard fitment of a rear diff-lock may have given it an advantage over its competitors. As many an off-road expert will tell you, a 4x2 with good ground clearance and a rear diff-lock can go surprisingly far off-road... The MU-X feels perfectly suited to that type of usage pattern.
Pricing and Warranty
Currently (September 2018) the Isuzu MU-X 3.0 4x2 sells for R568 000, which makes it the most affordable high-spec, 7-seater, 4x2 bakkie-based SUV. It comes backed with a strong 5-year/120 000 km warranty, which given Isuzu's sterling reputation for reliability, is unlikely to be called upon very often. Also included are: a 5-year/90 000 km service plan and a 5-year/unlimited km anti-corrosion warranty. Services are scheduled for every 15 000 km/12 months.
Verdict
There's not much wrong with this new Isuzu. In fact, it does a lot of things very well, just like its Chevrolet-badged predecessor did. This is an exceptionally comfortable long-distance adventure machine that also promises excellent reliability and support from a growing network of Isuzu-specialist dealers. It may not be as refined or modern in some areas as its main rivals, but in many ways that ruggedness is appealing.
It's likely to appeal strongly to consumers who are already fans of the Isuzu brand, but may ultimately find it an uphill battle to lure shoppers that are also considering the Toyota and Ford, simply because of its slightly dated drivetrain. Nevertheless, given its attractive mix of features (particularly on the infotainment side) and attractive pricing/warranty, the Isuzu MU-X is a vehicle we can easily recommend adding to a shopping shortlist.
NOTE: Video above features 4x4 model.
Alternatives (click on the names of the cars for detailed info)
The Fortuner is a massively popular vehicle in South Africa, but most buyers of the Toyota opts for the 4x4. It (the 4x2 variant) sells for around R20k more than the Isuzu and has a more refined, eager engine under the bonnet. The debate rages on whether its flip-up up (as opposed to fold-down) third-row seats are more practical. The Isuzu offers a more relaxing cruising gait. The Toyota is the current Adventure SUV champion in our Cars.co.za Consumer Awards - Powered by WesBank.
Also around R20k more expensive than the Isuzu, the popular Ford is a larger vehicle that offers more interior space. Its ride is similarly good, and the specification is similar. The Ford's engine has more grunt, but it needs it because the Everest is a heavy vehicle. It feels similarly lethargic on the road. Isuzu currently has a better after-sales service reputation than Ford.
Mitsubishi's Pajero Sport is a real dark horse in this segment and very underrated. Our recent test showed that it's a refined, well-specified vehicle that offers impressive comfort and build quality. It lags most of its rivals in terms of towing capacity (2 700kg) however, and the packaging is not quite as well thought out as in its major rivals (no sliding second row, for example, and a lack of oddments stowage space in front).
Looking for a new / used Isuzu MU-X to buy?
Find one on Cars.co.za today by clicking here