General Motors and its Chevrolet brand will soon no longer feature in the South African new vehicle marketplace, but Isuzu (and Opel) will forge ahead on their own steam from 2018. However, don't assume that the newly independent Japanese brand will only build and market bakkies and trucks... The 7-seater MU-X adventure SUV is, for all intents and purposes, Isuzu's substitute for the perennially underperforming Chevrolet Trailblazer, and it's likely to arrive on local soil in the second half of next year.
Isuzu has such a strong history in the South African market with the KB bakkie that it's kind of surprising that while the Japanese brand was under the custodianship of General Motors, the MU-X was marketed as the Chevrolet Trailblazer, replete with Duramax engines developed in conjunction with Italian company VM Motori. Suffice to say that, compared with the runaway success of the Toyota Fortuner, the Trailblazer was a relative sales disappointment (ever since its introduction in late 2012), especially considering that it offered surfeit kerb appeal, a diverse derivative line-up, extensive warranty and good off-road capability.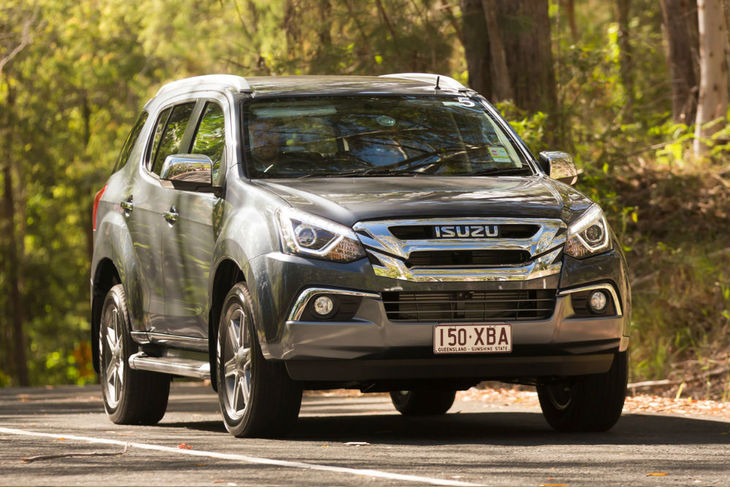 The shape of the MU-X will be immediately recognisable to SA consumers... is it even better looking than the Trailblazer?
Meanwhile, the KB-based adventure SUV has been on sale for a few years now in markets like Australia, and it has forged a name for being a reliable, ready-for-anything off-roader with 7 seats and a bulletproof turbodiesel engine. A recent update to the MU-X saw it attract some refinement changes inside, not to mention a new drivetrain to make it keep up with newer competitors like the Mitsubishi Pajero Sport, updated Ford Everest and, of course, the Toyota Fortuner.
Under the bonnet
The big news as part of the updated MU-X launched recently was the pumped up 3.0-litre turbodiesel engine, which retains the same 130 kW of power, but sees a torque bump to 430 Nm – that's 50 Nm more than before (and what's available in the current KB), but it's made more usable by the fact a 6-speed automatic transmission is fitted in place of the old 5-speeder.
It may well be that Isuzu follows the same strategy with the MU-X as it does with the KB in the current (October 2017) market – an entry-level 2.5-litre engine with 100 kW of power and 320 Nm of torque, plus a stronger 3.0-litre with 130 kW and 380 Nm.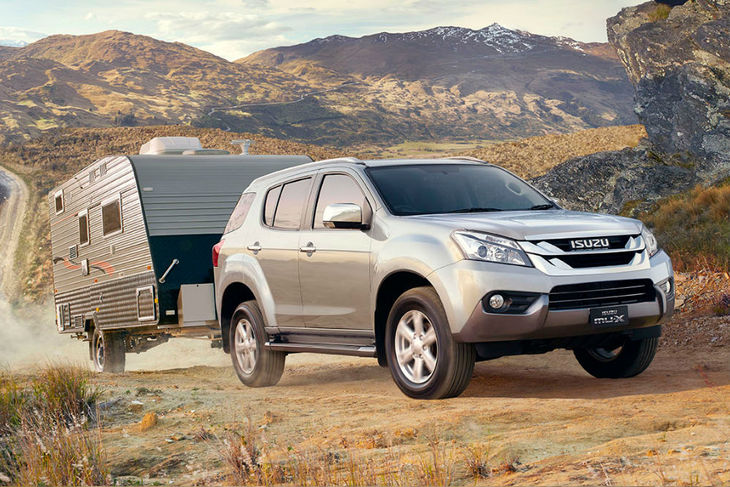 Although the Australian-spec 3.0-litre engine might not be offered on the local market; the KB's D-TEQ motor could suffice.
The 3.0-litre is a tireless engine, whether you're doing backcountry miles with a caravan in tow, or if you're tramping more common ground in your hometown. The diesel engine's full torque output is only available across a narrow rev band (2 000-2 200 rpm), but a big proportion of it – 380 Nm – can be wrung from 1700 rpm through to 3500 rpm.
There's a good level of refinement to the way it builds pace, and the 6-speed automatic doesn't lumber at lower speeds – though it can be a little confused as to whether it should be in 4th, 5th or 6th gear at pace.
It won't lose too much pace up steep hills when laden with passengers or when tugging a trailer, but it's the day-to-day effortlessness of the 3.0-litre turbodiesel engine, and its well-known reliability, that could make this a good choice for potential buyers.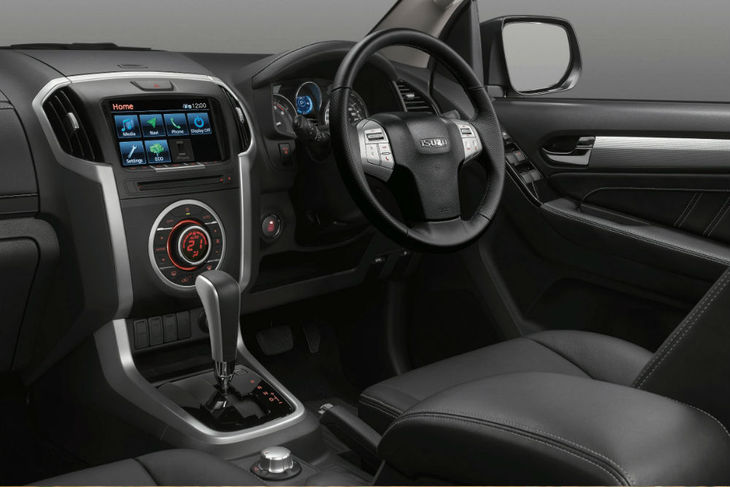 The Isuzu's fascia shows its age, but here's hoping local models will benefit from that touchscreen interface with integrated navigation.
Driving dynamics
The Isuzu MU-X isn't a new vehicle, having been around for quite some time in markets such as Australia (since 2013, to be precise), and it can't necessarily keep up with the best leisure off-roaders on the market for driving dynamics. A Ford Everest, with its fingertip-light steering and pliant ride quality, is certainly a more convincing option for outright car-like-ness.
But that isn't to say this MU-X is embarrassed by its senior status. It is still quite truck-like to drive, with a heavy and slow steering rack, and suspension that is tuned to deal with bumpy roads rather than absolute body control. However, the company added some extra insulation to the floor, firewall and windscreen as part of the recent update, so it feels relatively quiet and composed if you are hustling along a gravel road. Urban driving is easily dealt with, as the 5-link rear suspension (not leaf springs like the KB) is supple enough without being too soft.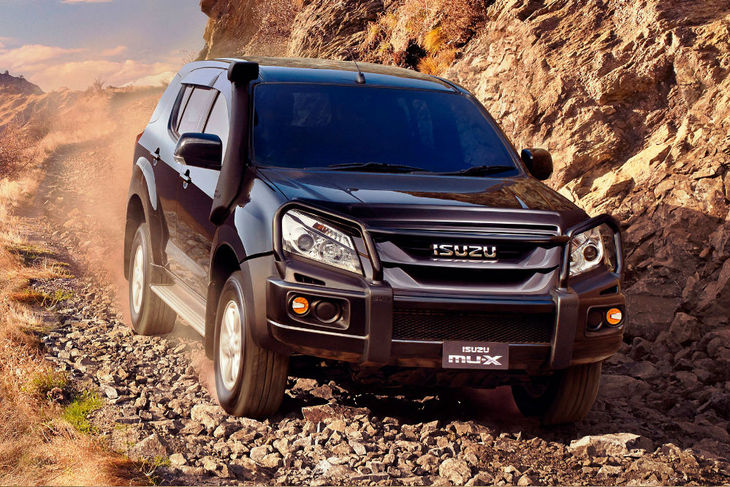 The MU-X also features a 5-link rear suspension, as opposed to traditional leaf springs, which augers well for ride refinement.
There are both 4x2 and 4x4 models sold around the world, though it would be remiss of a buyer to go for the 4x2, because there's plenty of off-road cred to be explored in a ladder-frame SUV like the MU-X.
It has one of the simplest off-road gearing selectors that allows shift-on-the-fly changes from 2H to 4H at speeds up to 100 kph, and, of course, there's a 4L mode for when things get particularly treacherous. And if they do, you'll be assured by the MU-X's newly added hill descent control system, not to mention the heavy-duty protection to the underbody and transfer case. The Bi-LED headlamps are quite good as well.
In the cabin
You can't escape the utility roots of the MU-X – it lacks steering column reach adjustment, for example, and it has only single-zone climate control, where some purpose-built family SUVs have temperature controls for both front passengers and a separate setting for those in the rear. There are vents to all three rows, though, and the seating comfort for adults is definitely acceptable for front and 2nd-row occupants.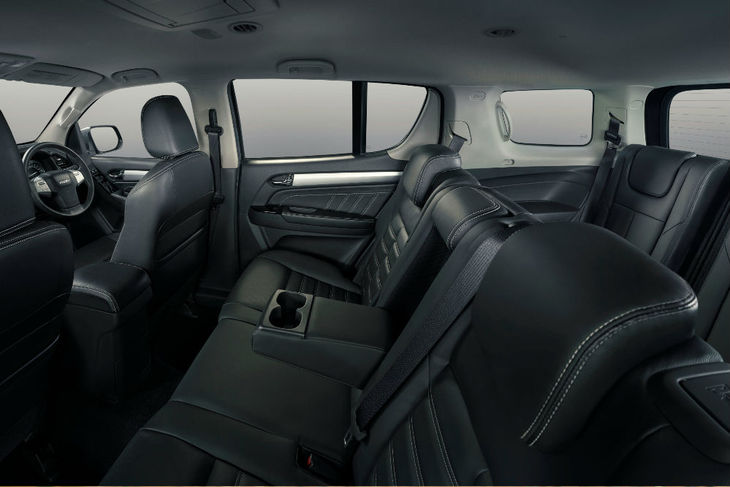 The interior comfort of the Trailblazer was a revelation upon the product's introduction 5 years ago; that still rings true today.
The cockpit has good storage on offer for loose items, and if you are only using 5 seats, there is a large amount of cargo room on offer (878 litres). With all 7 seats in play that drops to just 235 litres, and if you're only using the front 2 seats, there's up to 1 830 litres if you fold the 2nd and 3rd roads flat.
The particular model I drove was the high-end offering, which has all sorts of niceties like leather trim, electric driver's seat adjustment, keyless entry and push-button start, and even a 10-inch roof-mounted screen for DVDs to keep the kids entertained.
No matter which derivatives end up being offered in South Africa, the MU-X should live up to your expectations IF you bear in mind its workhorse heritage – it remains convincing enough in its attempts to be family-friendly. In a way, it will be a brand builder for Isuzu... an adventure SUV that can only benefit from the buying public's regard for the Japanese marque.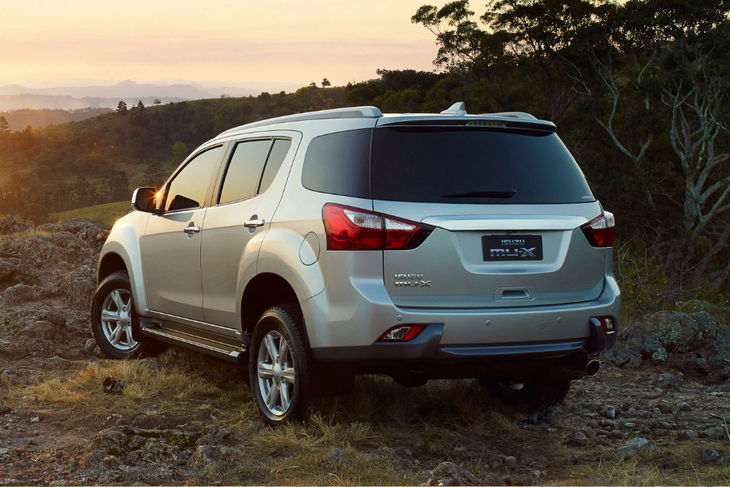 The biggest aesthetic difference between the MU-X and the Trailblazer: the tail-light clusters are more car-like.
Summary
While the MU-X doesn't have a reputation for quality, overall ability and ruggedness to rival the Toyota Fortuner and isn't quite as polished an offering as the Ford Everest or, judging from our recent video review, the Mitsubishi Pajero Sport, there is no doubt the Isuzu represents a credible alternative to those vehicles, let alone a replacement for its late cousin, the Trailblazer. The official line is that the MU-X is "currently under consideration and (Isuzu is) studying the opportunity to introduce it to the local market. The proposed timing for potential introduction of the vehicle is around the second half of next year". However, there have been reports of evaluation units of the MU-X being spotted in South Africa and we're willing to bet it will indeed go on sale. If only Isuzu would drop the MU-X moniker and revive the Frontier name!
Related content:
Adventure SUV finalists for the 2017/18 Cars.co.za Consumer Awards
Mitsubishi Pajero Sport Arrives in SA
Extended Test: Toyota Fortuner 2.8 GD-6 4x4 Automatic [with Video]
Toyota Fortuner 2.4GD-6 (2016) Review
Toyota Fortuner vs Ford Everest (2016) Comparative Review [Video]
Spec upgrades to Ford Ranger & Everest
Ford Everest 2.2 XLT auto (2017) Video Review
Ford Everest 2.2 XLT Automatic (2017) Quick Review
Interested in buying an Isuzu?