Isuzu gave its local bakkie line-up a rejig late last year and also adopted the international D-Max moniker. With improved specification levels, slight design tweaks and, most importantly, a new 6-speed automatic transmission to go with its highly competitive pricing, can the D-Max fend off the competition for a few more years while an all-new version is under development?
We like: Reputation for reliability, standard spec, high-value pricing, good cruiser, off-road ability
We don't like: Lazy, gruff engine; lacks a few modern touches
Fast Facts
Price: R606 400 (February 2019, without options)
Engine: 3.0-litre 4-cylinder turbodiesel
Gearbox: 6-speed automatic
Fuel economy: 7.8 L/100 km (claimed)
Power/Torque: 130 kW/380 Nm
Own an Isuzu? Tell us about your experience here.
SERIOUS ABOUT BUYING?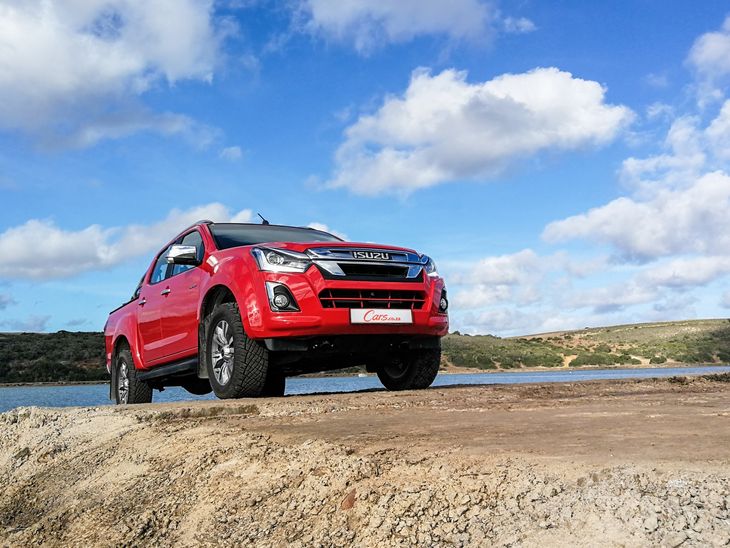 The King of Chrome: the easiest way to distinguish the D-Max from its KB brethren is by its elaborate chrome-look grille.
Where does it fit in?
The Isuzu KB has an enviable reputation in South Africa as a reliable, rugged bakkie and now that the brand is free from the bureaucracy of General Motors and steers its own ship, the Japanese marque appears to be reinvigorated with frequent updates and even an all-new model (the Mu-X adventure SUV). Late last year it made another round of changes to the trusty KB and decided to adopt its international nomenclature: D-Max.
Underneath the updated styling and extra features the D-Max remains the KB we know and (mostly) love, but it's no spring chicken... Nevertheless –and even though it competes in a fierce market against the likes of the Toyota Hilux and Ford Ranger – it has managed to carve itself a sizeable niche between these top-sellers and the lower volume (newer) competitors such as the Mitsubishi Triton and Nissan Navara. It has done so by appealing to those who crave a no-nonsense, trusty machine that can fulfil work and leisure roles equally effectively. But can the latest round of updates ensure it ongoing strong sales while we wait for the all-new D-Max (co-developed with Mazda), which will likely launch in 2020?
What's good about it?
Standard specification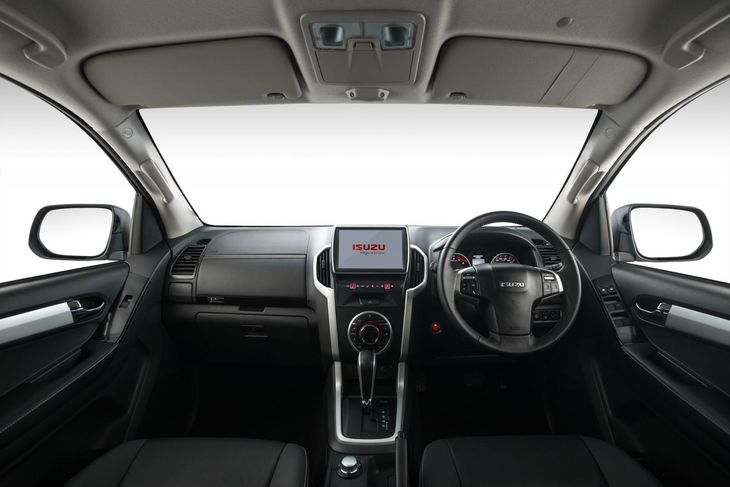 The cabin has aged well and the addition of a 9-inch touch infotainment screen (optional), as well as upgraded trim, is welcome.
It's one of the oldest tricks in the book... Once a vehicle has fallen behind the best in other areas, its manufacturer just increases the standard specification to improve the old warhorse's showroom appeal. With the latest D-Max, the approach is similar. While the list price makes the D-Max one of the most affordable "flagship" Leisure Double Cabs, it still manages to compete with the more modern offerings on features fitted.
The standard infotainment system is an 8-inch unit that also doubles as the rear-view camera display. Should you wish to upgrade to the 9-inch Alpine system, as featured on our test unit (including navigation), that'll cost R14 000 extra. We appreciated the 2 USB outlets in front, particularly as one of them is of the fast-charging variety. Another USB port is provided for rear passengers.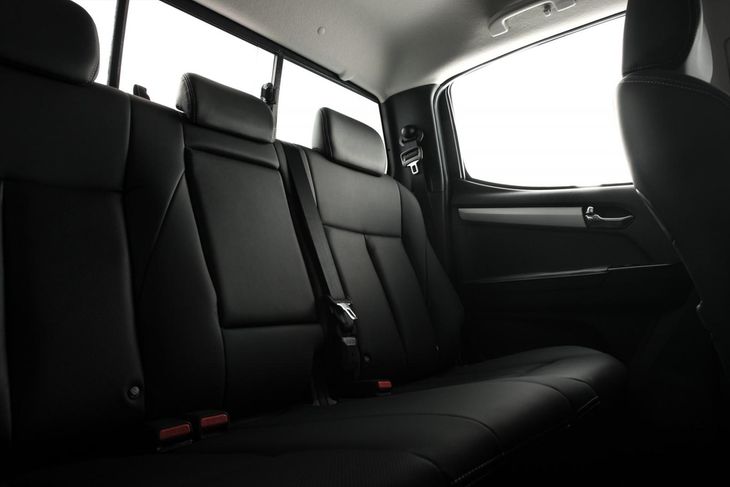 Rear legroom is competitive and the D-Max offers a manually sliding rear window as well.
Single-zone climate control is part of the deal, as are cruise control and a 6-way electrically adjustable driver's seat. Of course, the usual items such as power steering, remote audio control and electric windows all round (the driver's window was very slow on our test car, however) are fitted, but there are also a couple of nice surprises – leather upholstery is standard and the rear window can slide open. You also get hill-start assist and hill-descent control. Considering the likely usage pattern, the standard fitment of a heavy-duty tow hitch is also a boon.
Two items we did miss, however, were automatic headlamps and rain-sensing wipers.
On the safety side, the LX Auto features 6 airbags, ABS with EBD and stability control (with trailer-sway control). In addition, ISOfix rear child-seat anchors are fitted, as are rear parking sensors and a reverse-view camera.
Still handsome
At its core, the D-Max (previously known as the KB) is one of the older bakkies on sale in South Africa, but regular updates have kept it looking fresh. Finished in "Pull Me Over Red" our D-Max drew plenty of admiring glances. The revised grille, with its chrome fins that now extend into the headlamps, gives it a menacing look. The headlamps are Bi-LED units (with daylight running lamps) and front foglamps are fitted. In LX specification, the D-Max comes standard with striking 18-inch alloy wheels, as well as black side steps, roof rails and a stainless steel sportbar.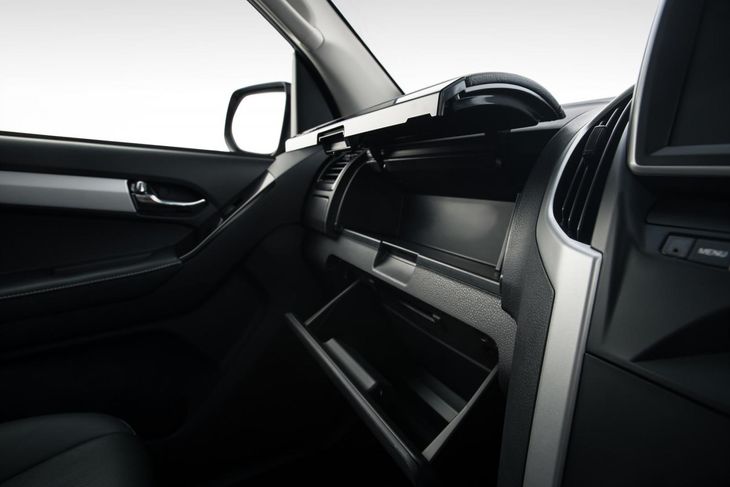 The D-Max offers two glove compartments with the upper one being cooled.
Inside, Isuzu has been similarly clever when upgrading the ageing architecture's look. The use of piano black surfaces and leather on the fascia cubby, for example, do much to create an impression of luxury. It's also still very much in the game when it comes to comfort and convenience.
The seats proved comfortable on longer journeys (and off-road), and rear legroom is generous. A number of storage solutions are offered in addition to the door pockets – the storage box between the seats is generously sized, there is a secondary glove compartment (cooled) and another lidded box on top of the fascia (with a sticky opening mechanism on our test unit).
Off-road ability
Solid off-road performance has always been one of the Isuzu's strengths and this D-Max is no different. Isuzu claims a ground clearance of 220 mm, which appears to be conservative compared with what some rivals are claiming. We didn't experience trouble with scraping or bottoming-out when using the D-Max off-road during the December holiday period in the Southern Cape. Of course, one has to mind those side steps when driving over obstacles. A minor criticism is that we'd have liked the hill-descent control to keep the speed even lower for greater drive peace-of-mind.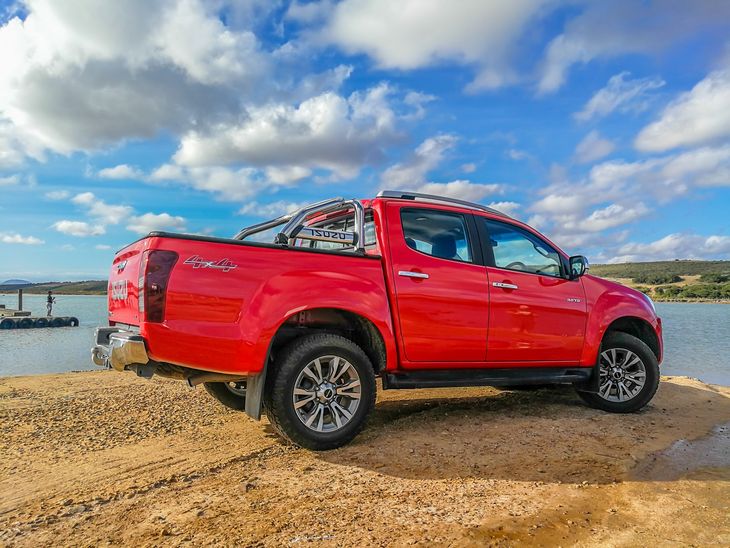 Isuzu has never claimed to be as accomplished in off-road conditions as its rivals, but the D-Max is more than capable on the rough stuff.
Shift-on-the-fly 4-wheel drive is accessed through a rotary dial on the centre console. The standard fitment of a rear diff-lock will be appreciated by many, as are the engine sump- and transfer case guards. A wading depth of 600 mm is claimed, which should be sufficient for most folks. The Isuzu may not quite match the Ford Ranger or Volkswagen Amarok for general ride quality, but it's not far behind, especially in terms of on-road comfort.
What's not so good about it?
Gruff engine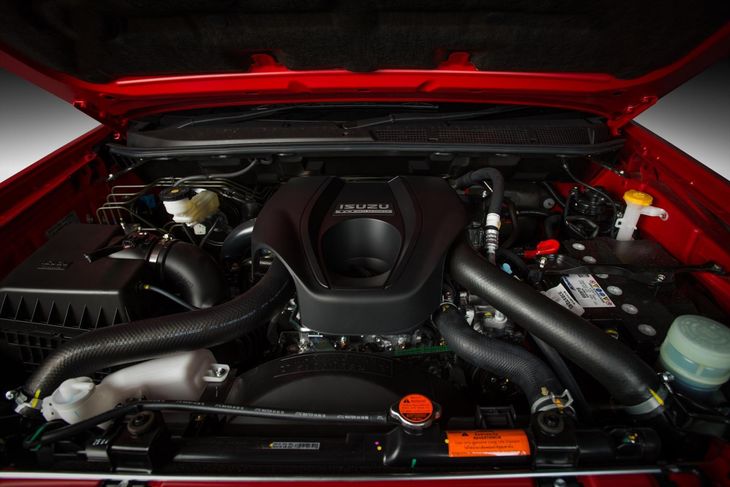 The long-serving 3.0L turbodiesel engine may offer unburstable reliability, but compared with rivals it is lacking in grunt and refinement.
The D-Max's 3.0-litre turbodiesel engine has been in service for quite a while. On paper, the big 4-pot powerplant still competes well, with a power output of 130 kW and torque rated at 380 Nm from 1 800 to 2 800 rpm. A big change is that the engine is now mated with a new 6-speed automatic transmission, instead of the 5-speeder that did duty before. The change is welcome – the D-Max is now a quieter cruiser in its higher gears and the first gear is quite useful at slow speeds in the rough – but it can't completely hide the inherent gruffness of the engine, nor its comparative lack of refinement. The D-Max is a rough-sounding vehicle most of the time, and the power doesn't come as freely as in some rival vehicles.
Still, the D-Max does offer a segment-competitive 3 500 kg towing capacity (braked), provided maximum vehicle mass does not exceed 2 500 kg. It has a 945 kg payload rating. In terms of fuel efficiency, the D-Max is also competitive. Isuzu claims a combined cycle figure of 7.8 L/100km and we achieved a figure of closer to 9.6 L/100km, which compares well with those of its competitors.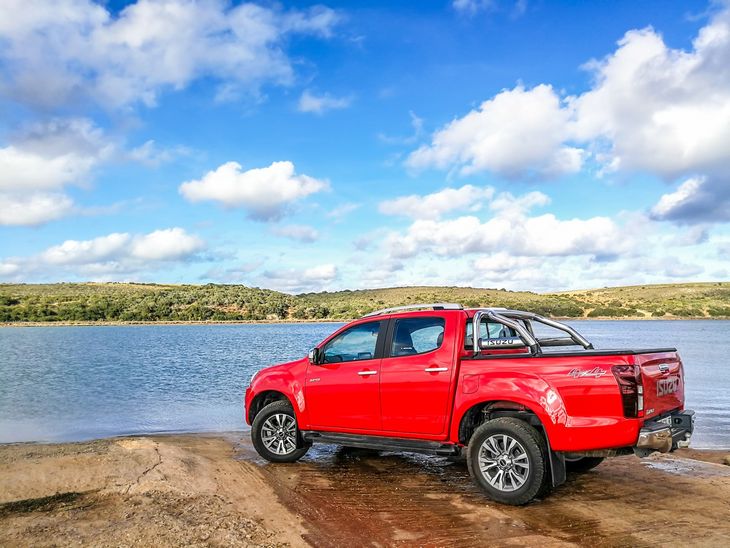 Have a trailer? Will tow. The D-Max's 3 500 kg braked towing capacity is still competitive compared with those of newer bakkies.
Pricing and Warranty
The D-Max 3.0 TD LX 4x4 Automatic is priced at R606 400 (February 2019) without options. This makes it significantly more affordable than some of its newer rivals and, at the same time, the Isuzu matches or betters those competitors on specification. It is also worth noting that Isuzu dealers offer specials rather often, so shop around and compare... The D-Max also comes with very solid backing, including a 5-year/120 000 km warranty and 5-year/90 000 km service plan. Servicing intervals are at 15 000 km/12 month intervals.
Verdict
There remains a lot to like about the Isuzu D-Max. It offers a pretty-much full-house package at a significant saving over its direct rivals, and does so while offering considerable peace-of-mind ownership – not only because of its excellent warranty and service plan, but by virtue of its inherent, proven robustness. That said, the Leisure Double Cab game has moved on considerably, and while the addition of a 6-speed automatic is welcome, this facelift has not addressed the main area of criticism: its gruff engine. Undeniably reliable it may be, but rival vehicles offer smoother, more relaxed cruising and greater responsiveness. Then again, our Ownership Survey shows Isuzu owners like the way their bakkies drive, so loyal Isuzu customers won't be deterred. Finding new customers, particularly those used to the smoothness of rival offerings, may, however, be more difficult.
Otherwise, the D-Max is much like the KB that preceded it – a tough vehicle that seems well-suited to regular use off the beaten track, but one which offers enough comfort to also potentially be a daily driver. Right now, however, its most powerful selling point is its very competitive pricing. If you can live with a vehicle that feels slightly old-school in the way it "gets down the road", then the D-Max remains a solid buy.
Interested in buying a new/used Isuzu D-Max?
Find one on Cars.co.za today by clicking here