Hyundai has beefed up its challenge in the compact SUV/Family Car segment with the addition of two turbodiesel engines to its popular Tucson range. We drove the 1.7 UII Executive in Cape Town to find out what it is like.
We have driven and reviewed several versions of the new Tucson and we consider it an accomplished product both in terms of execution and style. The market appears to have agreed as: with about 3 500 unit sales since March, the Tucson has succeeded its ix35 predecessor as a top-seller in its segment. The addition of two turbodiesel derivatives should bolster this position, which will be challenged by the all-new VW Tiguan, as well as the Mazda CX-5, Toyota RAV4 and Nissan X-Trail.
"The addition of turbodiesels will be a boost to our sales and contribute to our positive brand image. It is a welcome expansion of our range at a time when our automotive market is under pressure," said Stanley Anderson, sales and operations director of Hyundai Automotive South Africa.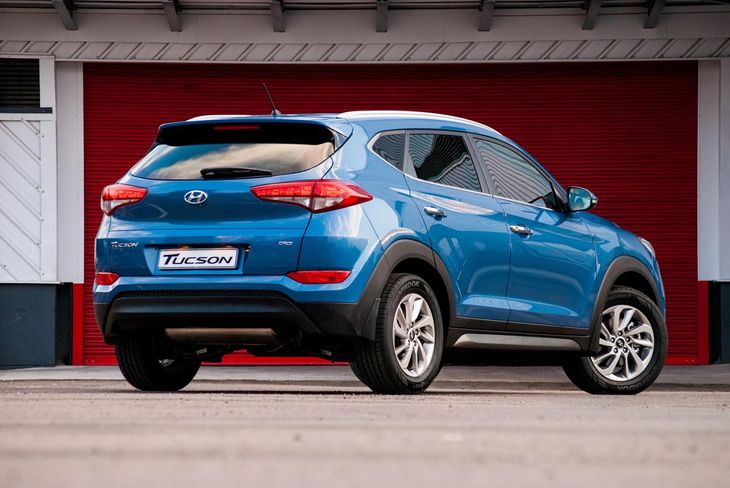 The Tuscon has achieved immediate sales success and the additional turbodiesel derivatives strengthen the range's appeal.
New powerplants
The first of the new engines is a 1.7-litre turbodiesel that conforms to Euro 6 regulations. It produces 85 kW at 4 000 rpm and 280 Nm of torque between 1 250 and 2 750 rpm and sends it all to the Tucson's front wheels by way of a slick 6-speed manual transmission. Those familiar with the outgoing 1.7 CRDi will note that the new engine produces 20 more Nm of torque.
It also features advanced technologies that save some weight (primarily in the cylinder block) and improves performance (such as the addition of a 2 000 bar high-pressure fuel injection system) and emissions output (such as the exhaust gas recirculation system). The CO2 emissions figure is 124 g/km and its claimed fuel consumption figure is 6,8 L/100 km.
The second engine to join the line-up is a 2.0-litre turbodiesel that produces 131 kW at 4 000 rpm and a hefty 400 Nm of torque between 1 750 and 2 750 rpm. The engine is mated with a 6-speed automatic transmission with a torque converter.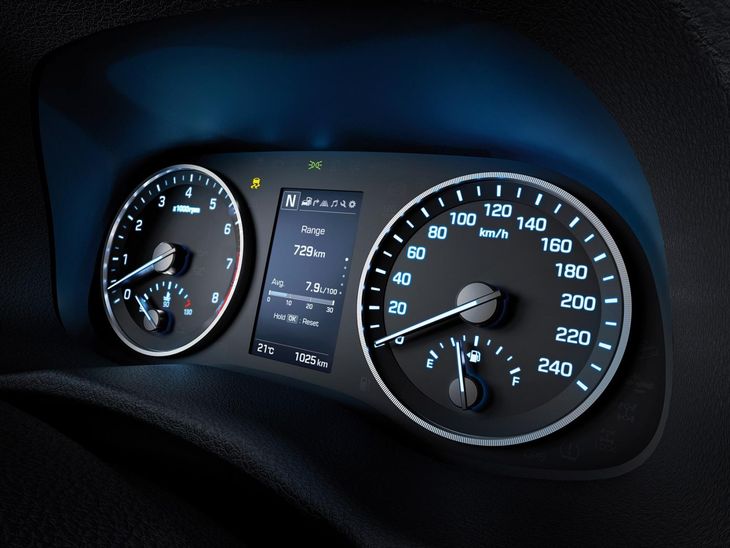 The instrumentation is conservative, but the TFT central instrument display offers a bouquet of trip computer functions.
Hyundai South Africa's 2.0-litre turbodiesel Tucsons were still on a ship destined for South Africa, which meant that we only had the opportunity to get behind the wheel of the 1.7 UII.
What is it like to drive?
As before, we found the Tucson to be a solid performer. The engine runs smoothly and is very quiet. At cruising speeds, the 1.7-litre motor is hardly discernable as a (usually clattery-sounding) turbodiesel. Under harder acceleration a slight rumble emanates from the engine bay, but the cabin is well insulated from this, along with road, tyre and wind noise.
The 6-speed manual transmission offers an easy-shifting action and good weighting to assist during fiddly town driving.
When pressing on the engine offers a smooth and linear power delivery, which means that it exhibits limited turbo lag and never really runs out of breath. Don't get us wrong, this is no drag racer, but the 1.7 litre seems eager enough to keep ahead of traffic. Overtaking rarely required a lower gear to be hooked and the power delivery in the mid- rev range is very impressive.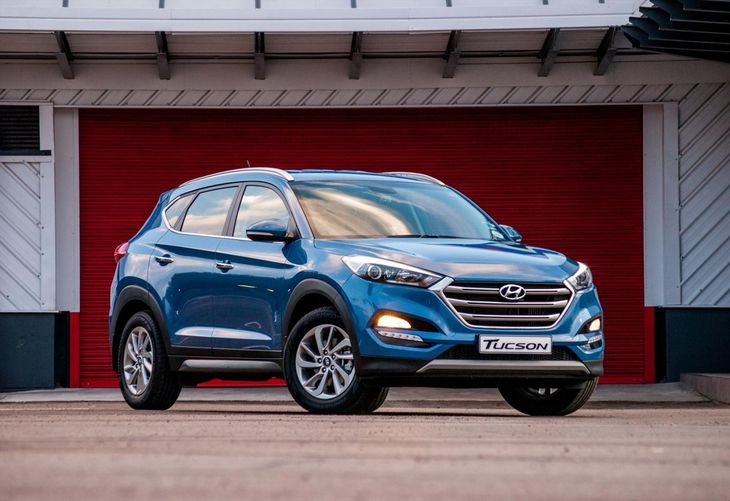 The Tucson's exterior styling is conservatively classy; the Ara Blue paintwork does add youthful appeal.
The 1.7 UII is only available with Executive trim, which means that it comes fully packed with a long list of standard features. The cabin is crammed with leather and soft-touch panels, which further contributes to the refined driving experience. Both 1.7 UII derivatives offer electrically adjustable front seats, dual-zone climate control, air vents for rear occupants , glove box cooling, cruise control, a multifunction steering wheel and a reverse-view camera.
The seats are comfortable and offer good support over longer distances, but better side support would be welcome.
A look at the specification sheet shows the Tucson is shorter than most of its rivals, but this does not mean that the cabin's packaging is compromised. With all seats upright, the luggage capacity is 513 litres, but that increases to 1 503 litres with the rear seats folded. A low loading sill height, 2-level luggage bay floor and stowable cargo cover further aid practicality.

The standard infotainment system is appreciably functional, but looks rather plain in an age where touchscreens are the norm.
Rear legroom is ample and the ability to recline the second row of seats is a handy addition that should contribute to the comfort of rear passengers on longer road trips.
Meanwhile, despite its mid-sized SUV size, the Tucson is nimble to manoeuvre in town and light to guide through the countryside. It remains composed with very little body roll, but some body-wriggle was detected over a stretch of gravel terrain (which can be expected from a front-wheel-driven car).
The steering is wonderfully light, which assists with inner-city driving. This lightness is not much of a problem when pushing on through corners (besides, this is a family car – dynamic ability should be low on drivers' priority lists).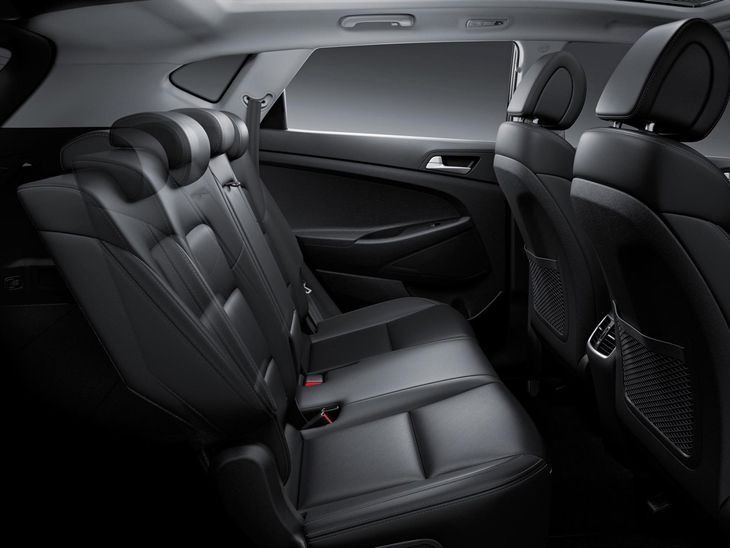 Rear leg- and headroom are two areas in which the Tucson bests its older rivals.
Summary
The credentials of the Tucson are undeniable. The Korean newcomer has managed to regain its segment-leading position and the addition of two turbodiesels to the line-up is certain to further contribute to the model's sales success.
We could only experience one of the new turbodiesel powertrains, but came away impressed with its performance and manners.
In terms of pricing, the 1.7 UII is aggressively positioned, although a specification-adjusted pricing exercise indicates that rivals (such as the Nissan X-Trail, Renault Kadjar and Toyota RAV4) are slightly cheaper. A similar exercise with the 2.0-model reads better, with the Tucson being priced below rivals such as the BMW X1, Ford Kuga, Kadjar and RAV4.
So, should you buy one? At its core, the Tucson is a very impressive vehicle, which now offers the benefit of a meaty and refined turbodiesel mill under its bonnet. For those seeking the benefit of slightly more torque (15 N.m) and better efficiency (a claimed 6.8 L/100 km versus 8.3 L/100 km, admittedly a diesel versus petrol comparison), the 1.7 UII costs the same as its 1.6-litre turbopetrol (manual) sibling. In that sense, the 2.0-litre top-of-the-range turbodiesel would represent a bigger performance advantage over its comparative and similarly-priced stablemate, but whichever of the turbodiesel Tucson derivatives suit your pocket best, you are unlikely to be disappointed by your purchase...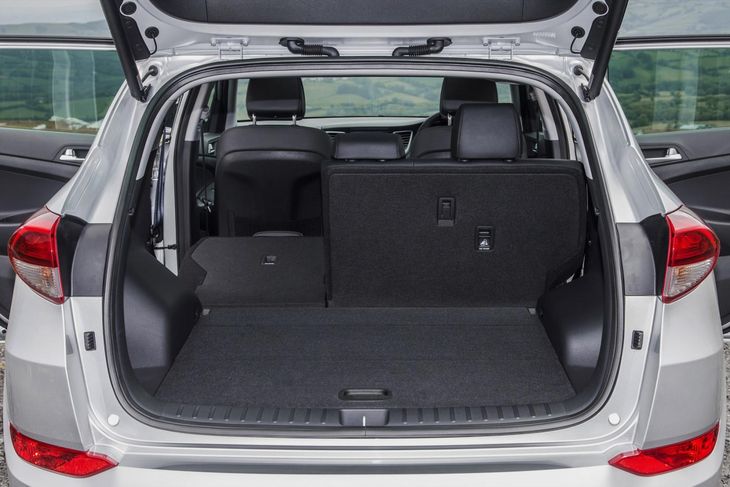 The low loading height and long luggage bay floor aid the Hyundai's family car credentials.
Hyundai Tucson prices in South Africa (the two added turbodiesels are in bold)
2.0 Nu Premium (manual) R369 900
2.0 Nu Premium (automatic) R389 900
1.6 TGDi Executive (manual) R439 900
1.7 UII Executive Diesel (manual) R439 900
2.0 Nu Elite (automatic) R454 900
1.6 TGDi Elite DCT AWD R519 900
R2.0 Elite (automatic) R519 900
All models from the Hyundai Tucson come with 5-year/150 000 km manufacturer and 7-year/200 000 km drivetrain warranties. Roadside assistance for 5 years or 150 000 km and a 5-year/90 000 km service plan are also included. All models have service intervals of 15 000km, while the 1.7 UII Executive Diesel has a 30 000 km service interval.
Watch Ciro de Siena's recent video review of the Tucson:

Related content: