The Hyundai Santa Fe is back for a 3rd generation, with the 7-seat SUV aiming to offer more to buyers in many ways: more space, more style, more safety and more value. Our Aussie correspondent, Matt Campbell takes the newcomer, which will be introduced in South Africa in October of 2018, for a drive in Korea.
It clearly makes quite a statement in terms of its exterior design, bringing the biggest SUV in Hyundai's range in line with its new design philosophy first seen on the Kona. The rear-end treatment and muscular side profile communicate a more premium message for the new Santa Fe, and it's the same message inside the car, too.
Almost the entire cockpit looks a lot more like we'd expect Hyundai to offer in its premium Genesis range: the finishes are lush, the materials (mostly) very impressive, and new high-tech features like quick fold rear seats and chauffeur-style electric adjustment for the passenger seat reiterate the notion of a more prestigious family hauler than its forebears.
Exterior styling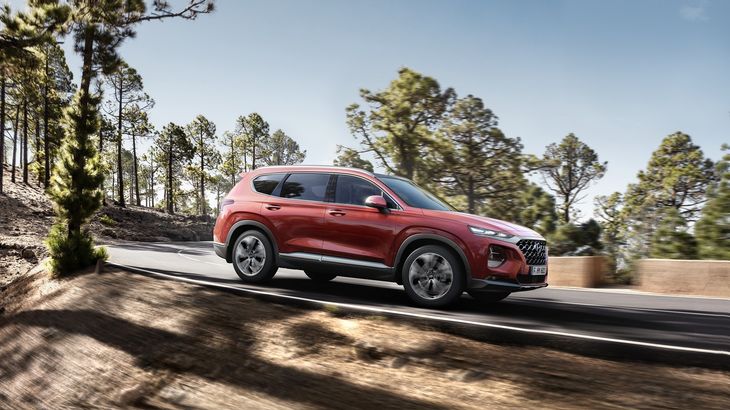 The Santa Fe moves from a bland also-ran SUV to something that catches the eye. Hyundai is forging ahead with its move into the premium sector.
These days, several brands offer "family looks' for their lines – sedans that look the same, SUVs that look like Russian dolls of one another… and there's definitely a resemblance between the new Santa Fe and the smaller, more funky-fresh Kona model sold in some markets. A facelifted Tucson is imminent as well, so you can expect all 3 models in the Hyundai SUV line to coalesce in showrooms. We wonder when the Creta will get the same "look into my eyes" treatment of the other models?
There has been a bit of blowback from commenters online about the styling of the new Santa Fe, but even if you don't like the look in these images, I reckon you should give it a chance in the metal: to me it's really cohesive in person, whereas in images you might see parts that don't gel overly well. Trust me, the whole is greater than the sum of the parts in this case.
The twin-headlight front-end sees LED daytime running lights at the top and LED headlights underneath, and hopefully, that means the entry-grade models won't have lesser illumination such as halogen lighting.
The side profile features bulky, angular haunches and a larger glasshouse – the rearmost window is 41% bigger according to Hyundai, with the claim being that the driver has better over-shoulder vision, and those in the 3rd row have a better view, too. Filling the wheel-arches are rims between 17- and 19-inches, depending on the derivative.
The rear design is notably more stylised, with very neat tail-lights, twin exhaust outlets and a bumper bar that doesn't jut out as much as the previous model.
The new styling doesn't hide the fact the 2018 Santa Fe is larger than its predecessor, measuring 4 770 mm in lenght (+70 mm), 1 890 mm in width (+10 mm) and 1 680 mm in height (+10 mm), and with a stretched wheelbase now running 2 765 mm (+65 mm).
The interior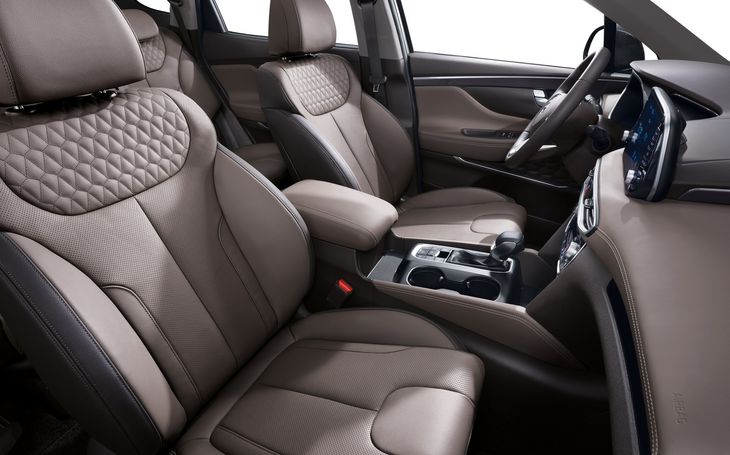 Mostly upmarket materials and plush feel to the cabin. Quality appears to be as good as what Germany has to offer.
There are elements of the interior that are extremely impressive: I sampled two Santa Fe derivatives, both with headliner fabric that would have been at home in any Audi, BMW or Mercedes-Benz SUV. There are also newly designed plastics for the speaker covers that look like something you see in an architecture magazine.
Those sorts of things give the impression that Hyundai applied more attention to detail the overall user experience, but there are little quirks such as really hard plastic sections on the bottom half of the dashboard, and door bins that are difficult to slot bottles into. You'll eventually forgive and forget those little idiosyncrasies, though.
Obviously, with bigger dimensions in every direction, the new Santa Fe has a much roomier cabin for families. The 5-seat version, in particular, offers a great option for those who don't need the flexibility of a back row.
In the second row, legroom is better than its predecessor, and there's enough headroom (let alone shoulder space) for a trio of adults to squeeze in for short journeys, while younger children will find it positively roomy.
There are child -friendly ISOfix anchor points in the 2nd row as well as a trio of top-tether points, but none in the 3rd row of seats. Other welcome items include a fold-down centre armrest with cup holders, USB ports, a power point (for keeping devices charged up for long trips) and air vents for this row, and one behind it should the rear bench be in use.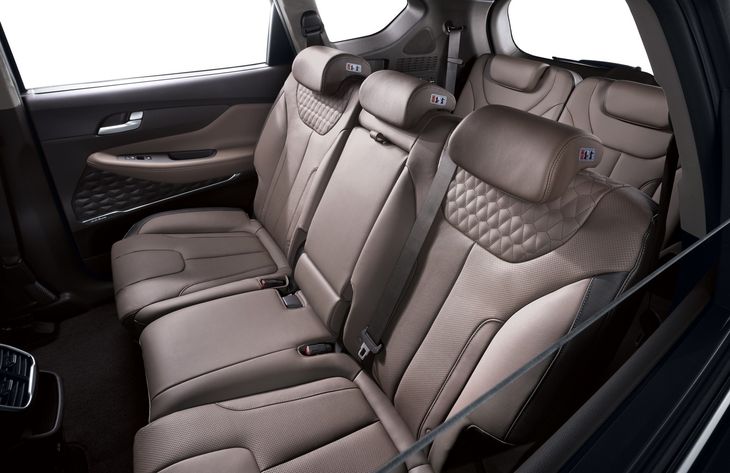 With the Santa Fe being longer than before, occupants have more space in the back now.
The 3rd-row isn't limousine-like in terms of the space it affords, but while room for your feet is limited (especially if you have size 12s, like me), the available head- and knee room is adequate if you really need to move a family of adult occupants. As for back row access, the 2nd-row kerbside seat flips and folds forward rapidly, and it is likely that in some markets high-spec models will have an electric 2nd-row folding system, along with those chauffeur controls mentioned earlier.
Along with a more spacious 3rd row, the luggage area is larger as well. If you run the Santa Fe in 5-seater configuration, you'll have 625 litres of luggage room available, which is 40 litres more and apparently enough for 4 sets of golf clubs. And good news for nations with bad road conditions: it's almost certain a full-size alloy spare wheel will be fitted under the boot floor.
Prices, trim grades and equipment
Final pricing and trim grades are still to be confirmed for South Africa. However, it is fair to state that the current model is a little pricey in its competitive family SUV set, and the new model may become even more expensive due to its long equipment list.
That could mean an increase for the entry-grade Santa Fe 5-seat front-wheel-drive model, which is currently priced from R699 900 (March 2018), while the 7-seat all-wheel-drive version may increase from its current R739 900 point. It may well be hard to justify considering there are bakkie-based SUVs with more off-road ability for considerably less (Ford Everest, at R645 900 and Toyota Fortuner, at R639 800, to name but two examples).
Hyundai has undeniably sought a more premium positioning with this iteration of the Santa Fe, and if the company's local arm decides to mirror a similar pricing and model line strategy as before, it should be well equipped across the board: expect smart key and push-button start, climate control, an electrically operated tailgate, adaptive cruise control, a generous number of standard safety items, and a panoramic sunroof.
Satellite navigation, audio and infotainment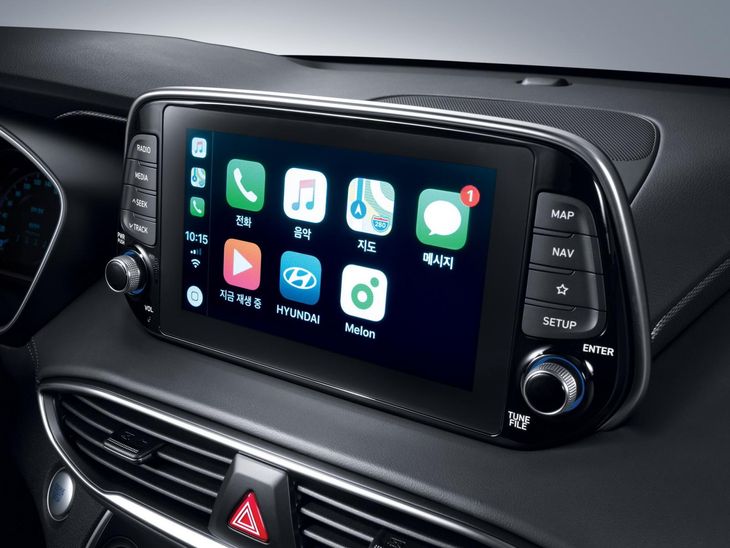 All but the entry 5.0-inch infotainment system come with Android Auto and Apple CarPlay.
Entry grade models in some markets will be had with a 5.0-inch media screen with Bluetooth phone and audio connectivity, USB connectivity, radio and CD.
The next step up is a 7.0-inch touchscreen media unit with Apple CarPlay and Android Auto smartphone mirroring, but no satellite navigation.
High-spec models are expected to have a new 8.0-inch touchscreen media system with integrated sat nav, Apple CarPlay and Android Auto. A wireless charging pad for smartphones is expected to be bundled with this media system. Depending on the position Hyundai South Africa takes, this could be the standard fit.
For the driver, some models will come with a new 7.0-inch information screen between the dials, plus there is likely to be an available head-up display that projects onto the windscreen – a first for Hyundai.
Engines and drivetrains
Internationally, there are several petrol and diesel options on offer, but in South Africa, it is almost certain that the range will be turbodiesel only.
The existing Santa Fe has just one engine option across two variants – a 2.2-litre 4-cylinder turbodiesel engine with the entry-level front-wheel-drive model and the high-spec all-wheel-drive version. Both are fitted with a 6-speed automatic transmission.
The next-generation Santa Fe is expected to come with similar options: the 2.2-litre engine has been reworked for the new model, and this time around it has a little less power with 144 kW at 3 800 rpm (down 1 kW) and 436 Nm at 1 750 rpm, which is bang-on what it had previously.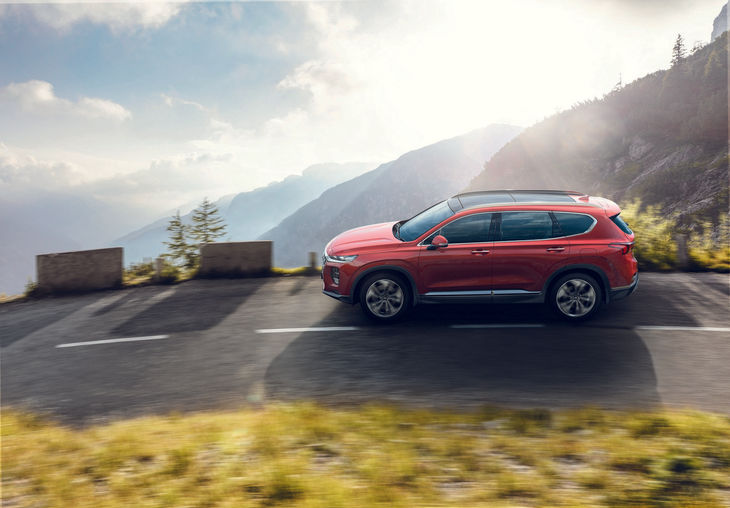 South Africa is likely to receive the 2.2-litre turbodiesel engine, but with an 8-speed auto instead of the old 6-speed.
However, an 8-speed automatic transmission replaces the 6-speed auto in the old model, plus the new Santa Fe gets the HTRAC all-wheel-drive system from luxury brand Genesis. It's a variable torque system able to apportion torque between front and rear wheels as needed: so, on slippery roads or dirt tracks it can work to ensure the optimal amount of traction, as well as using smarts to decide whether you need all-wheel traction on regular roads.
Hyundai hasn't yet stated what the claimed fuel consumption will be, but you can expect it will be a little lower than the current model's stated claim of 8.0 L/100 km for the 2WD and 8.3 L/100 km for the AWD.
Hyundai has fitted emission-reducing Euro 6 modifications including AdBlue exhaust gas after-treatment, potentially further reducing fuel use, while the eight-speed automatic should do its part as well.
Ride and handling
My test drive in Korea was hardly a challenging one, consisting of a stretch of highway driving and then some urban testing. But the Korean-tuned models we sampled offered a really nice balance of comfort and control. The suspension in the Santa Fe I drove didn't stumble over speed-humps, managed to dismiss sharp-edged bumps quite well, and had a nice level of comfort on offer in the back seat with 5 adults on board, too.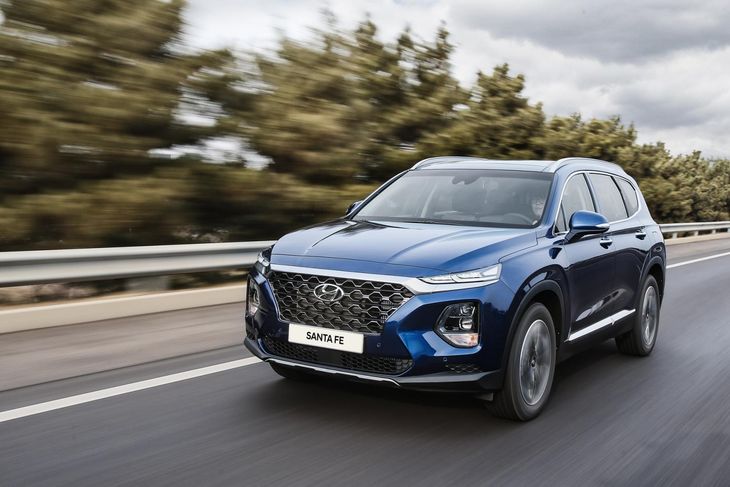 The Korean test drive stuck to freeway stints, but its comfort impressed.
The Santa Fe's steering was also decently sorted: the AWD model proved simple in its execution, with linear response and not too much weight to it, making it feel quite adept at dealing with low-speed parking manoeuvres and 3-point turns. Plus we got a chance to sample the new lane-keeping assist system, which held a nice handsfree (for a minute or two) line on the highway.
Our loop also meant little chance to assess the performance of the HTRAC AWD system, however the fact it can offer up to 50% of torque sent to the rear axle for a sportier drive (yes, in Sport mode), the system is undoubtedly going to be a welcome thing in the up-spec model.
Safety and reliability

The Santa Fe looks brimmed with safety features but Hyundai SA may 'drop' a few items to make the price more attractive.
The new Santa Fe is loaded with an array of safety equipment, and it is expected that the new model will follow suit in South Africa. The Korean company has bundled technology such as automatic emergency braking (AEB) and pedestrian detection, along with adaptive cruise control, a lane-keeping assist program with steering intervention (which works really well), plus the same bits as before: a reverse-view camera and parking sensors.
Other safety items include a Rear Occupant Alert that warns the driver if they're about to leave a child/pet/occupant in the car, plus Safety Exit Assist, which can stop occupants from opening their door into the path of traffic by using a radar. Plus there is a rear cross-traffic alert system that can even auto-brake the car. It's unclear if Hyundai South Africa will offer these items.
The new Santa Fe has a complement of 6 airbags, like its predecessor. But the curtain airbags will now cover the 3rd row in the event of an accident (they didn't previously).
It is expected that Hyundai will carry over the same ownership program as the existing model: that means a 5-year/150 000 km warranty, as well as a 7-year/200 000 km warranty on the drivetrain. Plus there'll be a 5-year/90 000 km service plan with intervals every 15 000 km.
Summary
The all-new 3rd-generation Santa Fe takes an already good SUV and makes it great. There is no denying that the new model is more premium in its execution, more thoughtful in its packaging and more of a statement piece than ever before. I predict good things for the Hyundai Santa Fe globally with this new-generation vehicle, but as with the current model, the pricing and positioning of the new version will determine its success in the South African market. Suffice to say the Santa Fe is one of several new Hyundais on the cards for the local market (including the facelifted Creta and Tucson, which are imminent). It will arrive in local showrooms before the end of the year, around the same time as the Kona compact family car/crossover.
Buy a Hyundai Santa Fe on Cars.co.za
Related content
Beefed-up Hyundai Santa Fe crosses Antarctica [with Video]
Hyundai Santa Fe 2.2 CRDi Elite (2015) Review

Cars Coming to SA in 2018