Hyundai has launched a new sub-brand called Ioniq that will introduce at least 3 new electric vehicles over the next 4 years.
The Ioniq name, which combines 'ion' and 'unique', was first seen on the 2016 Ioniq Autonomous Concept which was followed by the Ioniq range of hybrid and electric vehicles.
Now, Ioniq has been announced as Hyundai's new Electric Vehicle (EV) brand which will play an integral role in executing Hyundai's Strategy 2025 which aims to sell 1 million battery electric vehicles by 2025 while claiming 10% share of the EV market. If realised, Hyundai will become the world's third-largest Battery Electric Vehicle (BEV) producer with 560 000 sales in addition to Fuel Cell Electric Vehicles (FCEV).
"The IONIQ brand will change the paradigm of EV customer experience," said Wonhong Cho, Executive Vice President and Global Chief Marketing Officer at Hyundai Motor Company. "With a new emphasis on connected living, we will offer electrified experiences integral to an eco-friendly lifestyle."
3 New EV Models on the Way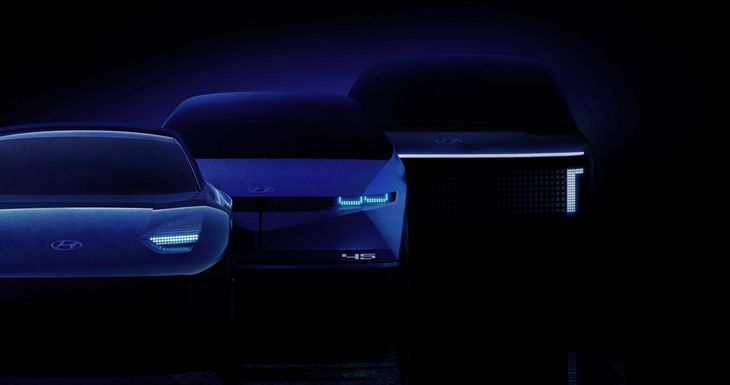 Hyundai aims to become a global leader in the EV market by 2025 and its new Ioniq brand will lead the, erm, charge...
Hyundai will look to launch at least 3 new EV models in the next 4 years. The new EV models will be numerically named with even numbers used for sedan EV products and odd numbers used for SUV/crossover EV products.
The first vehicle to come is the Ioniq 5 mid-size crossover which is due in 2021 and is based on the Hyundai's 45 Concept shown last year.
This will be followed by the Ioniq 6 sedan which is based on the Hyundai Prophecy Concept and is expected to make its debut in 2022.
Lastly, the Ioniq 7 is an electric SUV expected in 2024. All Ioniq models will be built on a new platform called Electric Global Modular Platform (E-GMP) which will provide for fast charging and notable driving range. The platform will also allow Hyundai to reimagine the interior as a "smart living space" with highly adjustable seats, wireless connectivity and unique features (such as a glove box designed as drawers) while also featuring an intuitive and ergonomically-sound cabin layout.
To mark the launch of the new Ioniq brand, Hyundai lit up the famous London Eye as a 'Q' as part of Ioniq's 'I'm in Charge' brand campaign.
We will keep you up-to-date as more Ioniq product information is revealed.
Related Content
Hyundai i20 (2021) International Launch Review
Hyundai showcases updated Santa Fe