The 1st-generation Hyundai i20, which eventually replaced the Getz, moved the Korean marque into competition with the market's B-segment leaders. It was massively popular... and remains in high demand in the used-car market.
While many would argue that it was the Getz, not the Elantra (Hyundai's first offering in Mzansi) that really got South Africans to fall in love with Hyundai, the Korean marque's 1st-generation i20 certainly strengthened (and continued) that love affair. Boasting modern looks, a spacious, practical cabin and good standard spec (let alone a long warranty) at a price that undercut the competition, the i20 was a strong seller. These days the 1st-generation i20 (in both pre- and post-facelift guises) remains a popular used-car buy – let's see what you should spend, and look out for.
Hyundai i20 line-up

Modern styling, a spacious cabin and generous standard features coupled with a high-value price ensured the i20 immediate sales success.
Developed to appeal to European tastes, the i20 arrived in South Africa in July 2009, but it didn't replace the popular Getz, at least not immediately. Compared with the Getz, the i20 featured more modern design and a spacious cabin, while the underpinnings were developed in Germany to give the car a more "European-car feel" on the road. The model's initial line-up featured only a pair of Gamma-engined petrol-fed derivatives: a 1.4 litre (74 kW/136 Nm) and a plucky 1.6-litre (91 kW/156 Nm), both fitted with a 5-speed manual transmission (a 1.4 GL automatic joined the line-up early in 2010). The equipment levels for the launch versions were similar, with electric windows, remote central locking, a multifunction steering wheel, air-conditioning, an audio system with USB/aux support, ABS with EBD and dual front airbags standard.
As part of the pre-facelift car's run-out phase, Hyundai launched the i20 Remix special edition early in 2012. The Remix was based on the 1.6, but added extras such as 15-inch alloy wheels, a tailgate spoiler, Bluetooth/iPod connectivity, rear parking sensors and a 6-speaker audio system.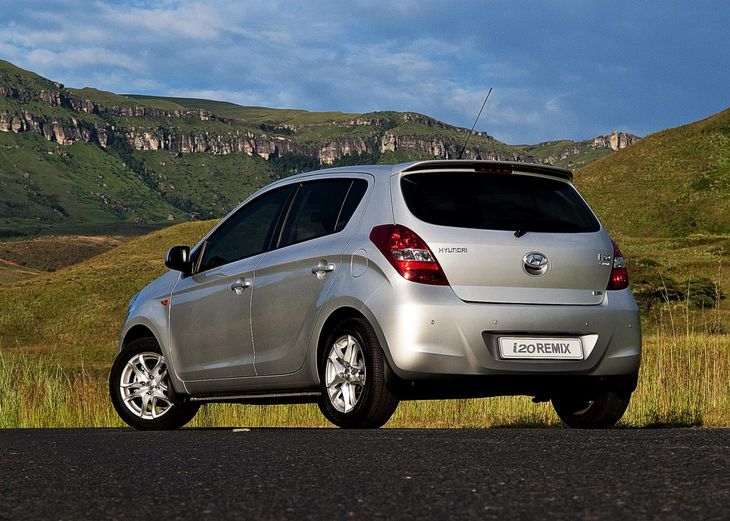 The i20 Remix can be identified by its 15-inch alloy wheels, tailgate spoiler and rear park sensors.
Soon after the Remix, Hyundai launched a significantly refreshed i20. It featured the brand's "Fluidic Sculpture" styling that gave the i20 a far more youthful appearance (it still looks good today) and a cabin with better-quality finishes. The facelifted car's line-up included 1.4 Fluid (manual and automatic) and 1.4 Glide derivatives and debuted the brand's new 6-speed manual transmission. The 1.4 Fluid's automatic transmission was a 4-speed unit. Compared with its predecessor, Hyundai added even more features to the facelifted i20, including Bluetooth connectivity and side (front) and curtain airbags (on Glide derivatives). Major improvements were claimed for the car's NVH (noise, vibration, harshness) suppression.
Later in 2012, a new entry-level derivative called the 1.2 Motion arrived. The 64 kW/120 Nm base version may have featured black door handles and steel wheels with plastic covers, but it nevertheless boasted ABS/EBD and a sound system with aux/USB support. A turbodiesel 1.4 CRDi Glide turbodiesel derivative with 66 kW/220 Nm debuted relatively late in the car's model life, but its premium pricing limited sales potential.
> ALSO READ: Hyundai i20 1.6 GLS Review (2009)
Product strengths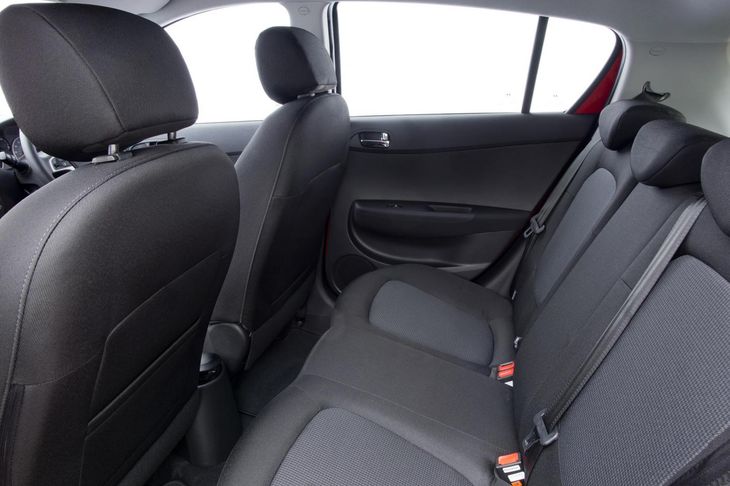 The i20 is a spacious car with good rear legroom, as well as a capacious load bay (with a full-size spare).
Space and Practicality: Featuring a longer and wider body than the Getz, the i20 competed well with its Ford Fiesta, Kia Rio, VW Polo and Toyota Yaris contemporaries in terms of spaciousness. It also had a large load bay compared with most of its rivals (again, from the same era), so if occupant/luggage space is important, the i20 might just be what you're looking for.
A very handy feature of the i20 is its folding rear seatback, which can be split in a 60:40 configuration and folded forward to create a large and, importantly, completely flat load area that can accommodate items of up to 1.35m in length. Oh, and there is a multitude of storage spaces for your keys, phones, wallets etc. It's also worth noting the standard fitment of a full-sized spare wheel.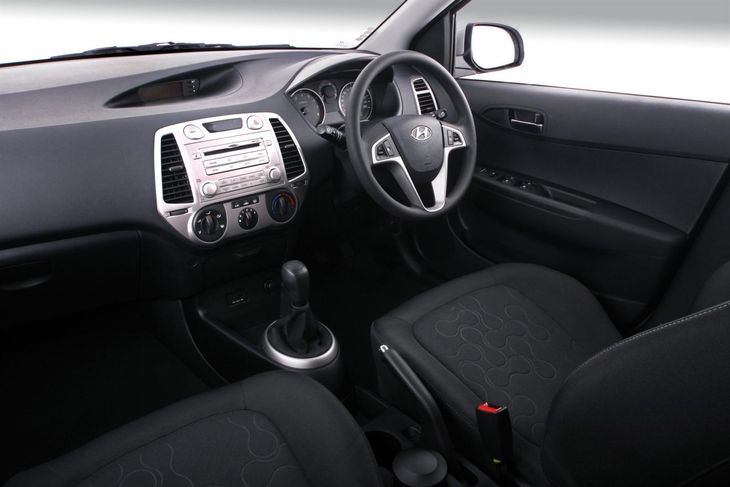 The i20 cabin looks upmarket, but look for wear on some of the touch points (steering wheel, door pulls etc.). Pre-facelift car shown.
Good standard specification: At the time of its launch, the i20's interior made a good quality impression even though the plastics were of the hard variety. It featured such rarities (in this segment) as a height-adjustable driver's seat and rake- and reach-adjustable steering column. In fact, the level of standard equipment was very decent, with items such as dual front airbags and ABS with EBD fitted to all derivatives. The built-in radio/CD player also featured USB/aux connectivity. After the facelift, all derivatives (except the entry-level 1.2 Motion) boasted Bluetooth functionality.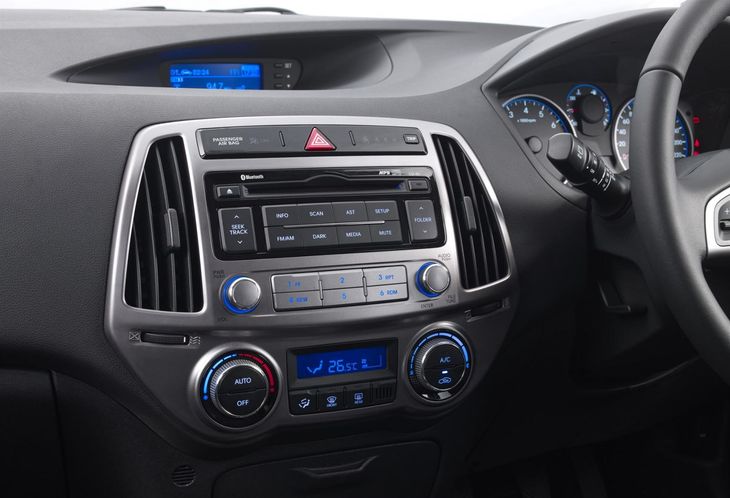 Hyundai upgraded the centre console's styling significantly for the facelifted car, shown here.
Easygoing nature: Out on the road, the i20 is an easy-going car with light controls. The electrically assisted steering may not offer much in the way of feel or feedback, but it's reasonably accurate and makes parking easy. The clutch and gearshift actions are also light. You sit relatively high in the i20 (an attribute carried over from the Getz), which, coupled with the generous glass area, facilitates good visibility out of the vehicle.
Performance and Efficiency: The engines offered in the i20 were also generally very good in terms of offering decent performance coupled with good efficiency. The 1.2 (64 kW/120 Nm) may look a bit shy on power, but it's more than good enough for general town-driving duties and also very economical (5.6 L/100 km). If you're going to be heading out of town and onto the open road often, the 1.4 would be a better bet and the 1.6 offers surprisingly punchy performance, combined with good fuel economy. The diesel was sold in relatively low numbers and would be hard to find.
Reliability: Finally, that long warranty... while none of the cars that are offered for sale today will still be covered by Hyundai's initial 5-year/150 000 km warranty, it's comforting to know that the Korean marque had enough faith in its product to offer that level of after-sales support in the first place. And indeed, from what we hear, these cars don't generally give serious mechanical trouble.
Product weaknesses
While the i20 matched its period competitors (particularly at the start of its model life) in terms of performance/economy, spaciousness and features, it did lag the best in terms of NVH (noise, vibration, harshness), or, to put it another way, refinement. On coarse surfaces, the cabin could become quite noisy, and on rippled surfaces it could also feel skittish. At the time of the facelift (2012) the overall refinement was markedly improved.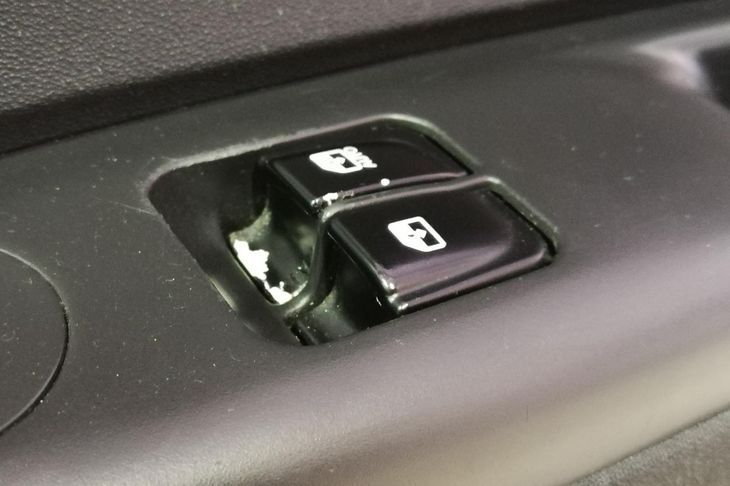 Some of the i20's interior items seem to show wear quite quickly, like these window switches on a 1.2 Motion with less than 100 000km on the odo.
Although the basic safety features are present and accounted for (dual airbags, ABS/EBD etc.), the 1st-generation i20 was never offered with ESP (electronic stability control). If you're a novice driver (or buying this car for an inexperienced driver), it's worth taking note of this – ESP is one of the most valuable safety aids out there, and the i20 doesn't offer it.
Apart from that, the Hyundai i20 is generally a problem-free car without major faults. But, as ever, there are some (primarily wear-and-tear) issues to look out for. When you're out test driving one of these Hyundais, take note of the following:
Worn interior fittings: Some of the i20's interior trim fittings don't wear particularly well. We spotted many sad-looking i20s, due to scratched/damaged door pulls, worn gear-lever knobs/steering wheels and seat cushions that are worse for wear. Granted, these aren't always indicative of the presence of serious mechanical maladies, but they could indicate that a car has had a hard life.
Folding key: The i20 boasts quite a smart folding key (a novelty in its class at the time of its introduction), but as is the case with most wear-and-tear items, it can become fragile with age and break.
Clutch issues: We noted a few comments about the clutch (again a wear-and-tear item), so make sure gearshifts are smooth and that there's no slip/stiffness of the leftmost pedal.
Fuel pump: Several cases noted during our research. Most often you can pick up this problem during the test drive if the car "bogs" down during acceleration or cuts out when coasting to a stop, but then starts again first time at the turn of the key.
Steering column/rack knock: Be sure to check for this (apparently quite common) knocking sound by turning the steering wheel to full lock. If the sound is present, then a part (located lower down the steering column/rack) might need replacement. You may also need to check the "yoke plug" – if there's a knocking sound when you move the steering wheel slightly when parked (and the car is switched on), then that item might need replacement (it costs less than R1 000, however).
What to pay?
There were more than 800 i20s listed on Cars.co.za during the time this article was being researched, so there should be lots to choose from.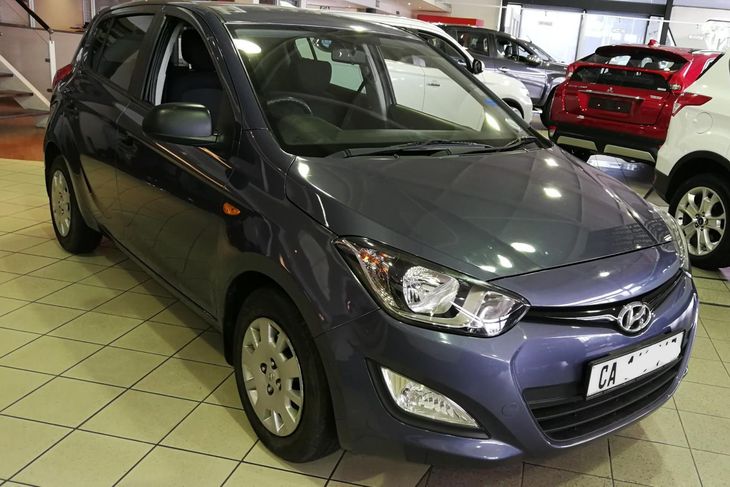 We found this neat 1.2 Motion with only 100 000 km for just below R100 000 at Imperial Multifranchise in Paarden Eiland.
Below R100 000: Listings start at around R70 000, but then you're not getting the most sprightly, well-cared-for car. Many i20s have done hard service in fleets, and you can easily spot a car that's not been loved – the touchpoints in the i20's cabin wear quite badly, so take note of shabby-looking steering wheels, door pulls, seats and gear knobs. You may, however, find the odd gem, which at this price level would be a pre-facelift (before 2012) 1.4L derivative with low mileage. We spotted a very clean 2010 car with only 55 000 km for R78 000. If you want the refinement and looks of the post-facelift car, and you're willing to make do with less power, then there are some neat 1.2 Motions available from around R90 000.
R100k – R120k: Surprisingly, there are still many pre-facelift i20s in this price range, but if you're spending this much you really need to get the post-facelift car, and preferably in at least 1.4 Fluid guise. There are many out there, but as ever, they vary a lot in terms of condition and mileage. We did, however, find a very clean 1.4 Fluid (with a towbar) with low mileage (60 000 km) for around R110k. If you require an automatic transmission, this is also the kind of price range you're looking at for a relatively neat, low-mileage car.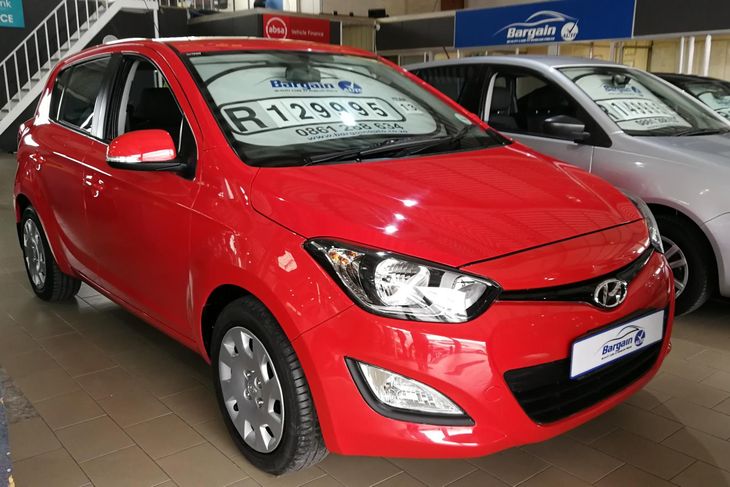 Probably the best example of an i20 Fluid we found, but that's because Bargain Auto in Cape Town spent money to recondition it. Consequently, it demands a higher price.
R120k+: The only reason to spend this much on a previous-generation i20 would be an exceptionally low-mileage car in perfect condition (and only 1.4 Fluid or 1.4 Glide derivatives).
> CAN YOU AFFORD A Hyundai i20? Find out here
Pick of the range?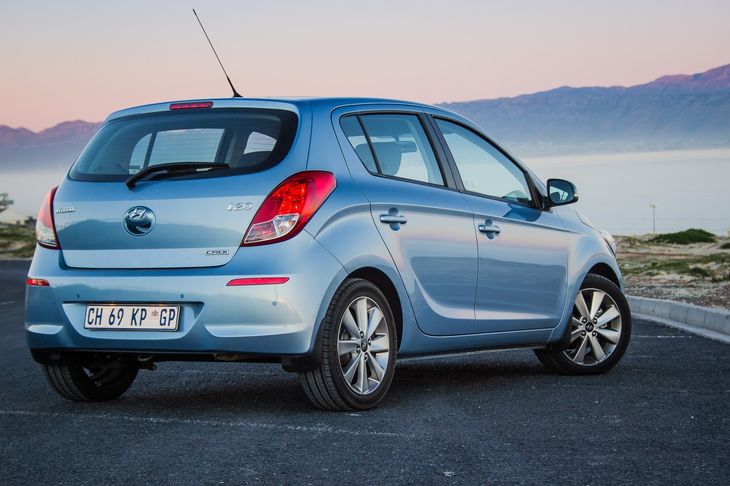 The looks of the facelifted i20 have aged well, particularly in flagship Glide specification.
We think the best choice would be a clean 1.4 Glide derivative. Not as popular when new as its cheaper 1.4 Fluid sibling, the Glide included some worthwhile extras, notably side/curtain airbags, auto locking doors, (imitation) leather steering-wheel trim and attractive 16-inch alloy wheels, which make it worth considering now, especially as it's possible to find such an example for similar money to a Fluid.
Perhaps more importantly, the 1.4 Glide was part of the post-facelift line-up, so benefits from a significant NVH improvement/improved on-road refinement compared with the older cars. Yes, there are also 1.2-, 1.6- and even 1.4-litre turbodiesel derivatives to consider, but in our view, the 1.4 is the best-balanced offering in terms of performance/fuel economy. You can find 1.4 Glides in decent condition from around R125 000 – some are admittedly listed at cheaper prices, but from what we've seen, most of those look quite worn inside.
Verdict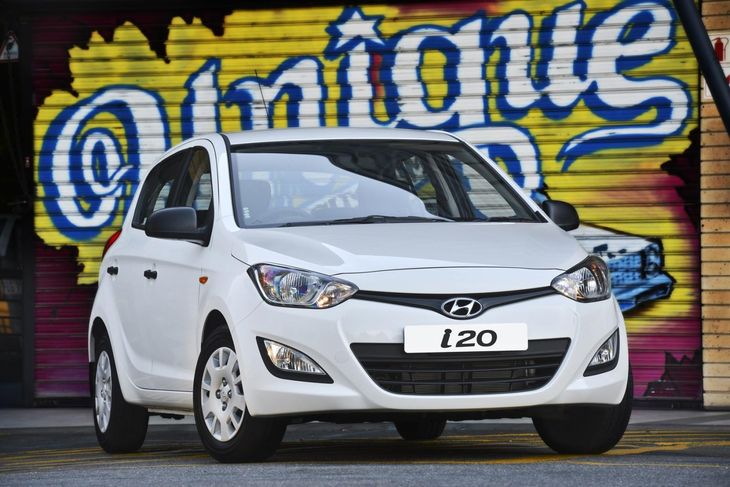 Attractive, reliable and spacious, the popularity of the Hyundai i20 in the used car market is easy to understand.
The 1st-generation Hyundai i20 is a no-nonsense compact hatchback that doesn't appear to have any major flaws. It is, therefore, a very easy car to recommend. As ever, it's important to ensure that you research the full history of your car and be wary of cars that seem too cheap (compared with other, similar i20s). If low running costs, spacious and reliable motoring are what you're after, the Hyundai i20 definitely should be on your shopping list. These days, they also demand good resale values, so selling a Hyundai i20 on later shouldn't be a problem.
Rivals? Well, Volkswagen's Polo is an obvious one, but is generally more expensive (to buy and to maintain), which leaves the Ford Fiesta as a strong candidate. But there are many others. We rate the Mazda2, Kia Rio, Opel Corsa and Suzuki Swift as viable alternatives, too.
Parts pricing
We asked Hyundai for the prices (incl. VAT) of some of the major parts for 2 of the most popular models: the 2011 1.4 GL and 2013 1.2 Motion.
| | | |
| --- | --- | --- |
| Part (item) | i20 1.2 Motion (2013) | i20 1.4 GL (2011) |
| Air Filter | R339.40 | R339.40 |
| Oil Filter | R105.12 | R118.69 |
| Pollen Filter | R390.48 | R390.48 |
| Spark Plug (each) | R131.36 | R135.33 |
| Wiper blades (set) | R197.22 | R197.22 |
| Front brake pads | R1 840.13 | R1 840.13 |
| Rear brake pads | R1 669.16 | R936.17 |
| Cambelt or Timing Chain | R1 035.06 | R1 226.10 |
| Tensioner | R1 386.85 | R1 261.60 |
| Front brake discs | R1 973.04 | R1 775.37 |
| Rear brake discs | R2 112.26 | R1 878.81 |
| Clutch plate | R1 318.45 | R1 938.11 |
| Pressure plate | R1 166.32 | R1 805.93 |
| Flywheel | R2 383.32 | R2 991.66 |
| Fanbelt | R1 025.52 | R463.23 |
| ECU | R9 384.94 | R11 514.12 |
| Bonnet | R5 125.96 | R5 125.96 |
| Front bumper skin | R2 260.95 | R2 260.95 |
| Grille | R4 060.04 | R4 060.04 |
| Left front fender | R1 753.22 | R1 753.22 |
| Wheel rim | R2 713.20 | R2 713.20 |
| Front left headlamp assembly | R3 998.54 | R3 998.54 |
| Front windscreen | R4 063.74 | R4 063.74 |
| Air-con condenser | R6 351.09 | R6 351.09 |
| Radiator | R3 616.16 | R3 616.16 |
| Right-hand front door | R7 251.36 | R7 251.36 |
| Right-hand rear door | R7 188.80 | R7 118.80 |
| Tailgate | R6 059.71 | R6 059.71 |
| Rear window glass | R2 193.74 | R2 193.74 |
| Left rear taillamp assembly | R2 349.06 | R2 349.06 |
Looking for a Hyundai i20 to buy?
Find one today on Cars.co.za by clicking here