Hyundai South Africa has added a sportier top-of-the-range model to its i20 lineup, but is it worth the extra outlay? We spent a week with the upgraded Hyundai i20 1.4 Sport.
The Hyundai i20 is a small hatchback that we believe sells reasonably well in South Africa. We put it that way because even though Hyundai SA doesn't release its sales figures, we see a multitude of these vehicles on local roads. They are evidently very popular, but it's not difficult to fathom why. The Korean brand offers a substantial warranty (which is now even more comprehensive – read about that here), the car's pleasant to drive and its standard specification is quite adequate. Having said that, for those who regard driving as more than just a means to get to (and from) work, the Hyundai i20 is a little dull…
Hyundai South Africa is well aware of this and, until recently, there was a lack of passionate and performance-orientated in the lower end of its line-up. The Hyundai Veloster and Veloster Turbo add some spice, but they're twice the price of an i20.
Let's get sporty
Meet the Hyundai i20 1.4 Sport. The exterior has been reworked and looks a little racier thanks to a sporty bodykit and 17-inch alloy wheels. The bodykit is comprehensive and includes side skirts, revised bumpers and a spoiler mounted atop the tailgate. The wheels are particularly attractive and, to top if off, there are some neat N-Sport badges on the flanks and rear.
Mechanical changes
You'll notice in the pictures that the Hyundai i20 Sport sits low to the ground (at least compared with its standard sibling). There have been alterations to the suspension setup; a stiffer set of springs give the Hyundai i20 Sport a firmer ride and mildly sharper handling. It's borderline overkill for a vehicle like this, but we can appreciate the thought that's gone into it.
You'll also notice a rather large exhaust protruding from the rear bumper. It's not just for show as this exhaust is a full stainless steel free-flow unit. Some motorists may be concerned that the large-bore tailpipe could be overly noisy when the i20 Sport's at full throttle and the biggest worry is an annoying drone at highway speeds, but more on that later on.
The engine's control unit (ECU) software has been remapped. That, in conjunction with the exhaust modification, realises higher outputs. The standard i20 produces 74 kW and 133 Nm, but this Sport derivative offers 85 kW and 160 Nm, which is impressive considering the 1.4-litre capacity. Power is directed to the front wheels via a six-speed manual transmission.
Hyundai claims the standard i20 1.4 Fluid will reach 100 kph from standstill in 11.6 seconds and we'd estimate that the 1.4 Sport will do the same sprint in about 10 seconds. It certainly feels sprightly enough.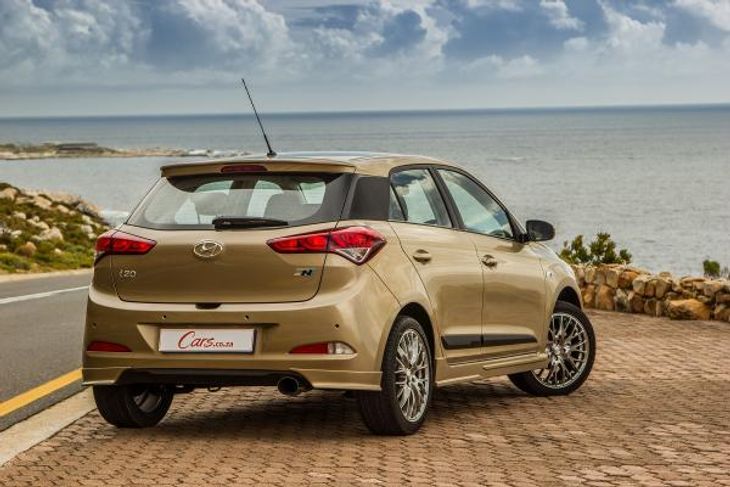 Interior and features
The cabin remains the same as the current Hyundai i20 and it comes with a wealth of standard specification, at least of modern conveniences. You get a reasonable audio system with Bluetooth connectivity, USB and auxiliary inputs, a rake- and reach-adjustable multifunction steering wheel, single-zone climate control and electric windows.
It has basic safety covered too thanks to anti-lock brakes with electronic brake force distribution. These brakes are of the ventilated disc variety at the front, while the rear wheels have solid discs. There are driver and front passenger airbags, but the i20 Sport's competition provides more than two airbags and it's surprising to find a lack of ISOfix child seat mounts. In fact, two of the Hyundai's rivals not only offer additional airbags, but stability control as well.
What's it like to drive?
Its demeanour is certainly a lot more entertaining than that of non-Sport Hyundai i20s and the boisterous exhaust note is certainly indicative of the model's performance intent. There's a bit more urge (the rev pickup is appreciably better) and the combination of pleasant gearshift action and the responsive engine makes for a sporty driving experience.
The engine makes an entertaining, rorty noise thanks to that exhaust, but it's not boomy. In fact, the resonance emitted by the 1.4 Sport is tolerable when cruising on highways at the national speed limit. Things get louder when you're pressing on, when continuous high revs make the car quite noisy. However if that's what you want, you won't be disappointed.
The suspension modifications are overkill for a vehicle like this, but they do lower the centre of gravity and curtail body roll. The 1.4 Sport feels markedly wieldier than its brethren. What's more, the best part of these suspension and big wheel upgrades is that the ride quality has not been overly compromised. We'd go as far as to say that's still pretty comfortable.
Conclusion and summary
The i20 Sport brings some much-needed excitement and zest at the more affordable end of Hyundai's product lineup. The package is not 100% perfect, but it's definitely the most spirited and entertaining the i20's ever been. Bear in mind that these modifications are factory-fitted and, therefore, are covered by Hyundai's already comprehensive warranty.
Rivals are abundant in this segment, and established players are packing modern 1.0-litre turbocharged three-cylinder motors with similar outputs. They may not look as exciting, but for the same money, Ford's Fiesta EcoBoost 1.0 Titanium and (for slightly less) Opel Corsa 1.0 Cosmo are hard to beat, especially in terms of safety equipment and general specification. They don't have the Hyundai's kerb appeal or boy-racer soundtrack, however, which could be decisive.
Overall, the Hyundai i20 Sport has a distinct character; it turns far more heads than the basic i20 1.4 Fluid. It depends on how much value you attach to better looks and a louder vroom; as a runabout, there's little wrong with the standard i20.
Hyundai i20 Price in South Africa
The price of the i20 Sport is R235 500, which includes the Hyundai warranty and Roadside Assistance for 5 years or 150 000 km, and a service plan for 3 years or 60 000 km.
Test Team Opinion
"It's about time that Hyundai leverages its motorsport endeavours by adding cosmetic and performance upgrades to its volume-selling cars (where appropriate). The 1.4 Sport certainly looks the part and it will suit certain consumers' images to a tee. The performance is less than phenomenal, but I don't think that matters much." Mike Fourie
We Like: Novelty factor, looks good, adds some spice to the range
We Don't Like: Exhaust can get a little booming when pressing on, lack of safety features
Also Look At: Ford Fiesta 1.0 EcoBoost, Opel Corsa 1.0, Volkswagen Polo 1.2 TSI
Hyundai i20 Sport Specs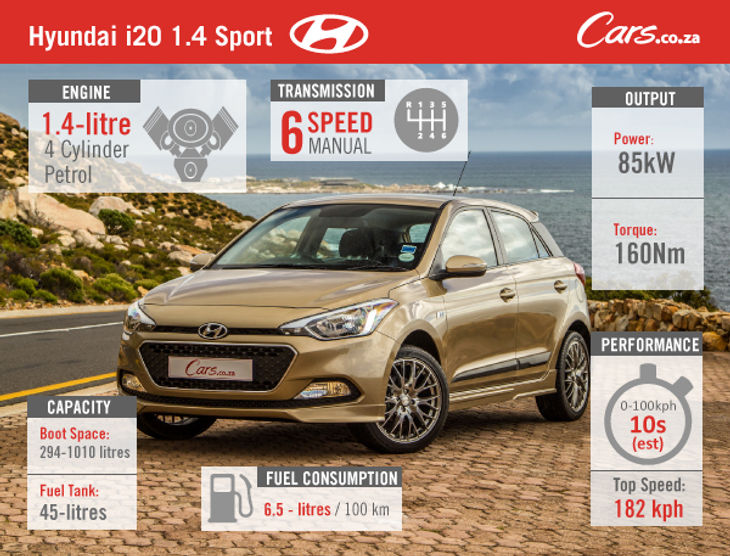 Compare the specifications of the 1.4 Sport with the Ford Fiesta 1.0 Titanium and Opel Corsa 1.0T Cosmo