In a market where 5-door hatchbacks and SUVs are all the rage, it makes perfect sense to combine the 2 body styles, doesn't it? With the launch of the i20 Active, Hyundai is the latest brand to have done just that.
The Hyundai i20 has been one of the most popular cars in its segment since introduction in 2009, and that takes some doing seeing as this is a market category that includes the likes of the Volkswagen Polo and Ford Fiesta! Now, for this iteration of Hyundai's compact hatchback's mid-life facelift, the Korean marque has introduced a number of fairly noticeable styling tweaks, some spec refinements and also this – the new crossover-themed i20 Active – as a flagship derivative. Think what CrossPolo is to Volkswagen's Polo and you'll have a perfect view of the i20 Active's positioning.
Read more about the changes to the rest of the i20 line-up here
It's got the look
To turn the standard i20 into the Active, Hyundai has added all the usual SUV-themed design features. You get neat roof rails, 16-inch wheels, a ride height raised by 20 mm, black plastic wheel arch linings and cladding elsewhere, as well as front and rear "skidplates". Interestingly, the new Active derivative actually uses the grille and rear tailgate of the pre-facelift i20, yet it still manages to look fresh...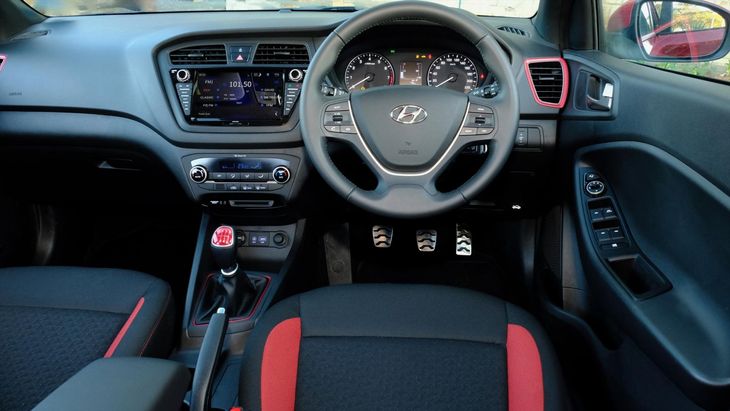 Red inserts are specific to the i20 Active. Note large touch-screen system that is standard.
Inside, the i20 is distinguished from its siblings by red or blue trim inserts (depending on the choice of exterior colour) on the gear lever console, gearknob and air vents.
Overall, it's a good-looking offering that has plenty of showroom appeal. Build quality appears to be very solid and the facelifted i20s all benefit from subtle upgrades to the trim materials and ergonomics. Included is a neat touchscreen infotainment system that, for an extra R2 500, can be upgraded at dealer level to include navigation. There's also a convenient centre armrest that includes a storage compartment.
In fact, practicality is one of the i20's strengths. The driving position is really good, with a height-adjustable driver's seat being standard. Even with my 1.8m frame behind the steering wheel there was ample legroom left for rear passengers. The luggage bay measures a very decent 285 litres, expanding to 1 001 with the rear seats folded.
Sufficient power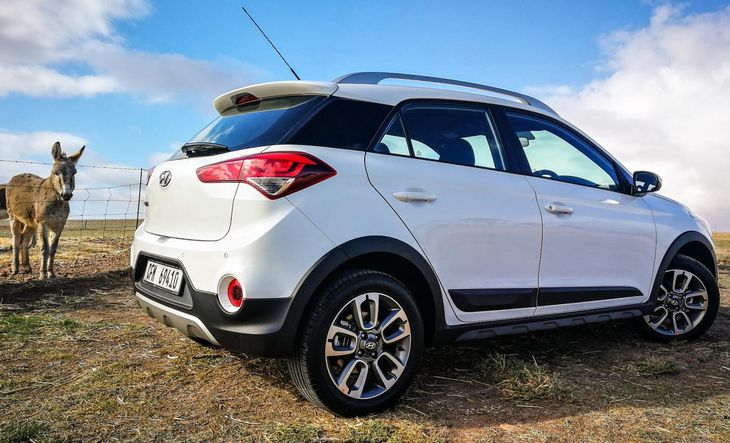 It's an attractively styled newcomer, this i20 Active, and fits perfectly within a popular segment.
The new i20 Active replaces the previous "Sport" in the line-up, but don't expect performance fireworks as a result. It is powered by the same 1.4-litre naturally aspirated engine as other models in the i20 line-up. The engine delivers 74 kW at 6 000 rpm and 133 Nm of torque at 3 500 rpm. Mated with a fuss-free 6-speed manual transmission, the i20 Active feels sufficiently powerful for the daily grind, but turbocharged rivals feel more responsive to throttle inputs, as you'd expect.
More important than outright performance in this segment is fuel economy – Hyundai claims a combined cycle consumption of 6.7 litres/100 km, which seems fair, seeing as after a morning of hard driving (including mountain passes) our car indicated a consumption figure of 8.8 litres/100 km.
We drove the Active on roads of varying quality in the Western Cape, but did not try it on gravel. The extra 20 mm of ground clearance will undoubtedly be appreciated by owners that travel rougher surfaces often, but we're also happy to report that on tarred surfaces and at higher speeds the raised clearance didn't negatively affect the i20's general surefootedness. This car has always had well-balanced underpinnings. You get the sense that it can easily cope with more power. At the same time, it remains comfortable in the cabin and NVH refinement is very good.
Packed with features, but...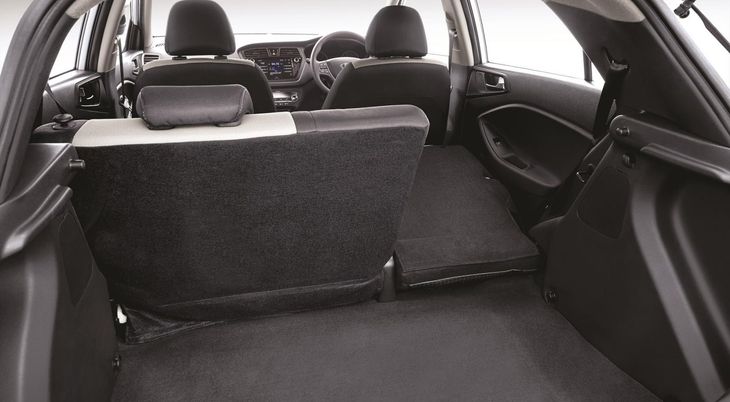 The luggage bay is nicely shaped and sized to accommodate a small family's luggage and more. Rear seats are split 60:40.
When it comes to the showroom appeal of the i20 Active, many boxes are ticked. The new infotainment system is going to be a powerful arm-twisting tool for salesmen, but, besides that, you get automatic climate control, electric windows all-round USB/aux and Bluetooth support, rear park assist and auto lights, among other items.
In terms of safety equipment, the news is not as positive. Dual front airbags are included, as are ABS with EBD, but there's no ESP and some competitors also offer a greater number of airbags. At this price (R279 900) we maintain that ESP really ought to be included. Of course, those ESP-equipped rivals can't always match the i20 in terms of other (non-safety) features and particularly the warranty/service plan, so the consumer has to decide what is ultimately more important to them.
Summary
The i20 range's local success is likely to continue even in the face of new additions to the market from the likes of Volkswagen (Polo), Ford (Fiesta) and Toyota (Yaris). The Korean newcomer offers excellent value for money, after all. The new, improved i20 derivatives are all only R5 000 more expensive than their predecessors, of which you can say about half is accounted for by the VAT increase at the beginning of April. And then there is that peace-of-mind back-up – a 5-year/150 000 km general warranty that is further bolstered by an additional 2-year/50 000 km powertrain warranty. This particular model is also supported by a 3-year/60 000 km service plan.
At R279 900, the Hyundai i20 Active offers an alluring ownership proposition with its crossover looks, standard features and excellent warranty/service plan.
You may also be interested in:
Fiat Panda 0.9 TwinAir 4x4 Cross (2018) Review
Ford Fiesta (2018) Specs and Pricing
Hyundai i20 Facelift (2018) Specs and Pricing
5 Small Crossovers for under R200k
Looking for a new / used Hyundai i20 to buy?