Hyundai SA has rejuvenated its Grand i10 range, which is now on offer in six different derivatives spanning three trim levels (Fluid, Motion and Glide) and two engines (1.0 and 1.25) in both manual and auto. We drive the newcomer in the Western Cape.
The new range-topping Glide derivative has been introduced above the Motion and Fluid, which gets the same 1.25-litre engine and some cool extras like LED daytime running lights, Rear Park Assist, 'look at me!' mags and black leather seats with dashing red inserts.
We drove the new Glide on its launch recently on a hilly, twisty route from Cape Town International Airport up Helshoogte Pass to Berg River Dam and back, and found the newbie not only easy to look at but also an impressive little bundle of science - here's why.
Refined ride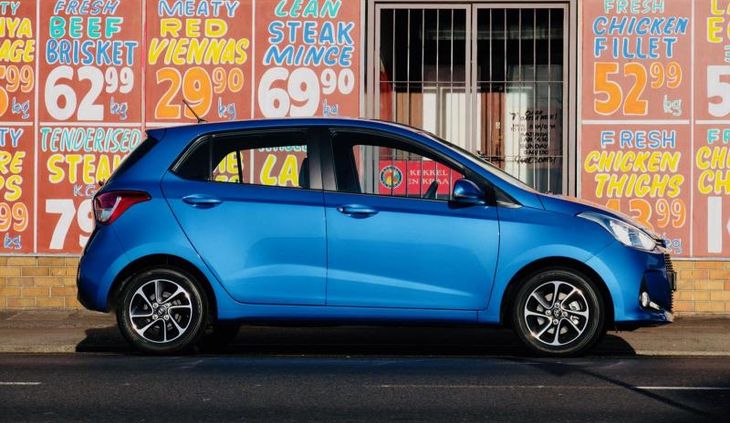 We found the newbie not only easy to look at but also an impressive little bundle of science
The new Grand i10 range benefits from some well thought-out technical improvements, resulting in better handling characteristics and a surprisingly impressive reduction in cabin noise.
The Glide really does live up to its name, even at 120km/h on the open road, where it has the calm and collected feel of cars that typically cost considerably more. Sure, it's not going to take your breath away, but this Grand i10 can be eased into and squeezed out of bends with a fairly decent measure of enthusiasm, and it tends to hang on like that ex who won't stop messaging.
These improvements in ride quality and cabin noise levels are due to a set of effective engineering enhancements: a coupled torsion beam suspension at the rear ensures comfortable driving with a stable and firm grip on the road, while improvements to the trailing arm geometry and coil springs of the rear suspension also contribute to better stability and handling.
The body shell of the Grand i10 has good torsional rigidity, due to the use of high-tensile steel that forms 29% of the body structure of the car. The firm underpinnings not only improve the car's impact resistance, but a o yield low levels of noise, vibration and harshness. The Grand i10's noise levels are recorded as low as 38 decibels (dB) at idle and 65 dB at highway speed, which is impressive for a car in this category.
The steering still has a relatively wide dead zone when perfectly straight (granted, most buyers of this car would probably not give a hoot), but when in a corner the steering is accurate and feedback is reassuring. Does it have enough oomph?
The Glide features the 1.25-litre engine, which is adequate for most scenarios, assuming you're not trying to overtake four trucks at once. On the launch route we quite often found that fifth gear wasn't quite strong enough to keep things going, but when dropping to fourth the revs felt a little too high, which meant easing off a bit to find the sweet spot when going uphill. Fifth gear is really a flat-road cruising gear; if you're traversing mildly hilly terrain you can expect to become good friends with that fourth gear.
In the 1.0-litre models you'll likely also need to make good friends with third gear, especially at altitude and when loaded, and will require more patience, but you will be rewarded at the pumps.
The 1.25-engine in the Glide remains unchanged at 64kW @ 6000rpm and 120 Nm at 4000rpm, while the new 1.0-litre engine loses 2 kW (from 50 to 48) from the outgoing 1.1, and although max torque is also down (from 99 to 94 Nm), it's now available at 3 500 instead of 4 500rpm, which makes for less screamy overtaking.
Inside the Hyundai Grand i10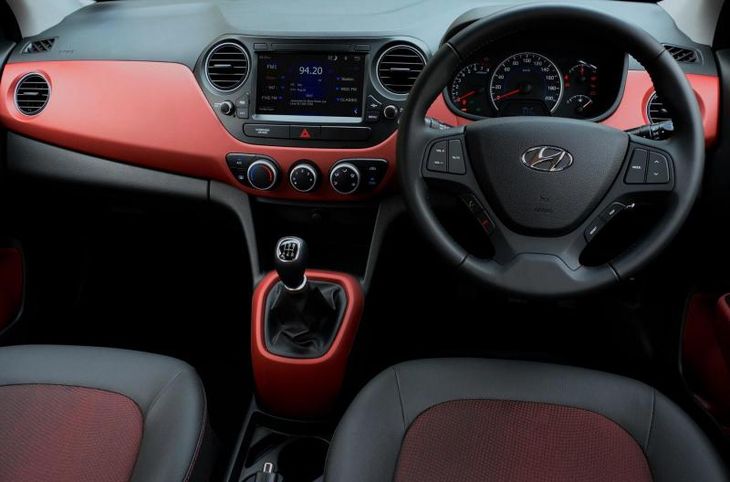 Simple and stylish sums up the cabin of the Hyundai Grand i10
The cabin of the Glide is an enjoyable place to be, with appealing two-tone black and red leather seats and finishes. The steering wheel is comfortably sculpted and feels more rubbery than plasticky, and boasts a full bouquet of controls at your fingertips.
A generously-sized touchscreen is the centrepiece of a pretty decent infotainment system, which is also available in the Fluid. If you want maps as part of the system, you'll need to fork out an additional R2500 for the SD card.
In general, the atmosphere in the Glide's cabin is welcoming, vibrant and casually classy. Materials used all-round are decent, and pretty much the only thing we immediately noticed that we didn't like was the flimsy flappy covers for the SD card and USB ports - they look and feel like they could easily break off if handled a touch too roughly.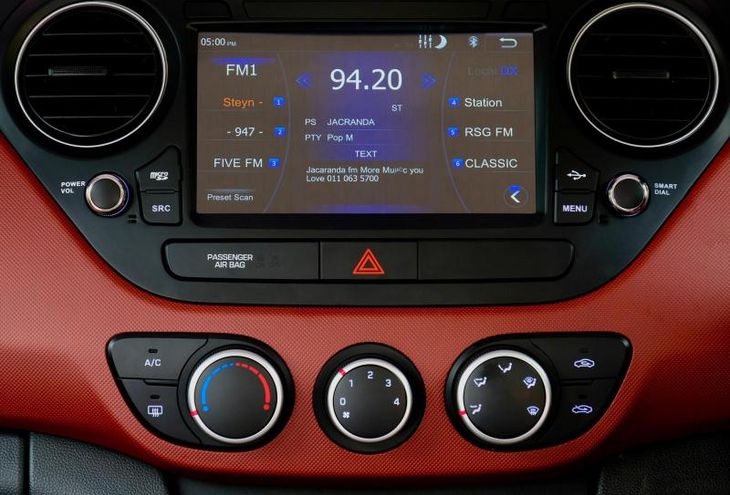 A generously-sized touchscreen is the centrepiece of a pretty decent infotainment system, and it has optional maps
How thirsty is it?
One of the main attractions of a car like the Grand i10 is its frugality with fuel. Hyundai says consumption for the 1.25-litre manual has been measured at 5.9 L/100 km, and 6.9 L/100 km for the 1.25-litre four-speed auto.
The smaller 1.0-litre engine achieves 5.4 litres/100 km in manual, and 5.9 litres/100 km with the automatic.
Who does it play with?
Some of the Hyundai Grand i10 Glide's closest competitors are the following:
Ford Figo 1.5 Titanium
Volkswagen Polo Vivo GTS 1.6 (note: the new Polo Vivo is due soon)
VW up! 1.0 Cross
Renault Clio IV 0.9 Turbo Authentique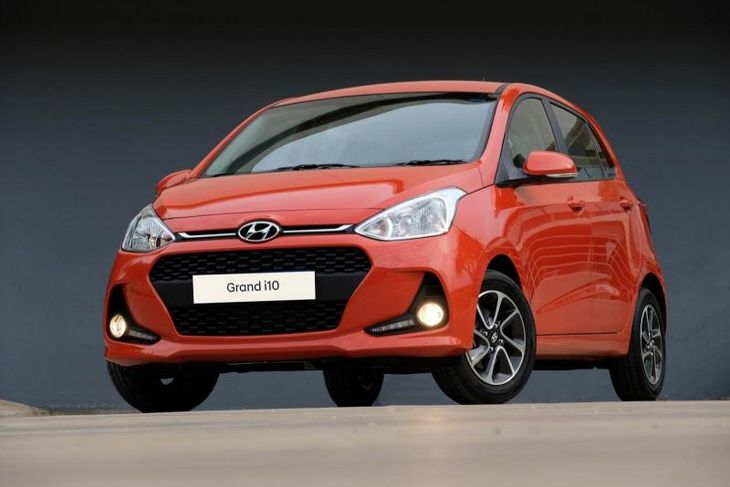 Hyundai Grand i10 Price in South Africa
Interestingly, and in part thanks to improvements in the Rand's performance, the new Glide is priced exactly the same as the outgoing Grand i10 1.25 Fluid MT at R202 900. Despite being the top-specced model, the Glide comes in a few grand cheaper than the 1.25 Fluid AT (R206 900).
At a price range from R149 900 to R206 900 – with Hyundai's 5 year/150 000 km manufacturers warranty, additional 2 years/50 000 km powertrain warranty, and 5-year/150 000 km roadside assistance thrown in – the Grand i10 is an appealing offering.
Grand i10 1.0 Motion manual R149 900
Grand i10 1.0 Motion automatic R169 900
Grand i10 1.0 Fluid manual R169 900
Grand i10 1.25 Fluid manual R189 900
Grand i10 1.25 Fluid automatic R206 900
Grand i10 1.25 Glide manual R202 900