The 1st-generation Hyundai Creta proved quite popular in the local compact family-car segment and its replacement hopes to build on that success, even though the competition is stiffer than ever. Are the changes incorporated in the 2nd-gen model substantial enough to offset those radical – and divisive – looks, though?
We like: Excellent standard spec, stability control finally added, refined driving experience.
We don't like: Divisive styling, some iffy build quality, where's the climate control?
Fast Facts
Model tested: Creta 1.5 Executive
Price: R429 900 (as of March 2021)
Engine: 1.5-litre 4-cylinder naturally-aspirated petrol
Power/Torque: 84 kW/143 Nm
Transmission: CVT
Fuel Consumption: 6.3 L/100 km
Load capacity: 433-1401 litres
Acceleration: 0-100 kph in 12 sec (claimed)
What is it?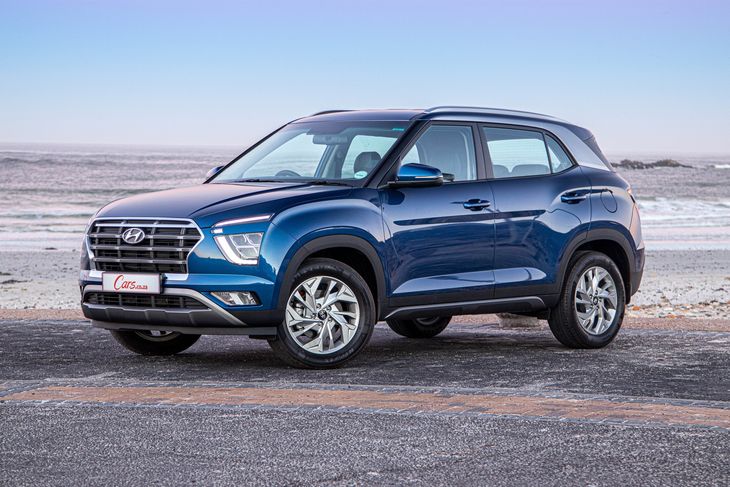 Such a bold look for the Creta, but we're not sure it's going to be as universally accepted as its predecessor's safe looks.
The 2nd-generation Creta recently arrived in SA and, compared with its predecessor, the newcomer features numerous – and substantial – changes. For a start, this iteration is produced at a new factory in India; despite the similarities between the Hyundai and its eye-catching Kia Seltos cousin, the models are produced at separate plants. The newcomer is based on a new platform, features an array of fresh engines and its range is topped by a 1.4-litre turbopetrol-engined derivative equipped with a dual-clutch transmission. This, however, is a review of the "sensible" mid-spec 1.5 Executive derivative.
Let's first address the proverbial elephant in the room: many prospective buyers might be unwilling to look beyond the newcomer's bold appearance, which is distinctive, yet polarising. The previous Creta was much more conservatively styled and traded (to reiterate, quite successfully) on its practicality, features and value for money. This new look does tie in the Creta better with its Venue sibling, but it is in-yer-face, and much like the 1st Nissan Juke, which jolted the market when it arrived, we expect the new Creta to raise a number of eyebrows! Perhaps it will soften up the public for the next Tucson...
The new Creta adopts Hyundai's new Sensuous Sportiness design language, which makes extensive use of angular, narrow daytime LEDs and bold grilles; it features on virtually all of the Korean marque's new models, including the Tucson, Santa Fe and Palisade. Do we like it? Well, a design critique is entirely subjective – one man's art is another's man trash. Seeing that it's impossible to pass a definitive verdict, we will say that in an era where car design has become bland and predictable, Hyundai should be applauded for such an assertive design. Love it or hate it, it's certainly going to get people talking.
How it performs in terms of...
Performance and efficiency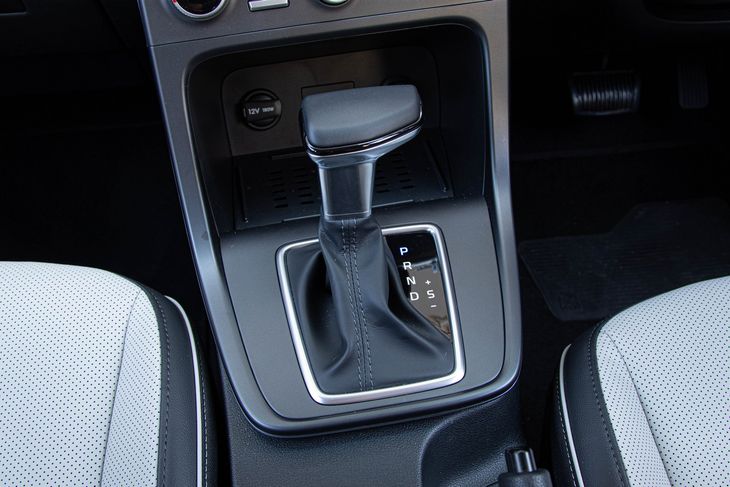 The Creta's CVT drive selector, with the wireless charging pad located in front of it.
While many of its competitors are powered by turbocharged petrol engines, the Hyundai Creta 1.5 Executive features a new, naturally-aspirated 1.5-litre 4-cylinder petrol motor. It's an example of the Smartstream series of powertrains and develops 85 kW and 144 Nm. In terms of transmission, the newcomer is equipped with what Hyundai calls IVT (intelligent variable transmission). That's marketing speak for an automatic CVT (continuously variable transmission) and, before all the petrolheads among you flee in terror, let us tell you why this engine/gearbox combination is actually the one to have.
A CVT is engineered to operate smoothly and efficiently, almost unobtrusively in the best of its kind. It will keep the engine's revs as low as possible, but if you flatten the Creta's accelerator pedal to summon every available bit of torque when overtaking a slower vehicle up a hill (which you'll have to now and again, seeing as there is a middling 144 Nm available), the powertrain will emit that typical-of-CVT dull drone. However, in day-to-day operations, the engine barely ticks over and, thanks to the Creta's lightness (it tips the scales at 1 190 kg), the motor didn't need to be worked hard to keep pace with traffic.
The net result was a quiet and efficient driving experience. At the end of its tenure in our test fleet, the 1.5 Executive displayed an impressive consumption figure of 6.7 L/100 km, which is close to Hyundai's claim of 6.3 L/100 km. We'd bet the turbocharged brigade would battle to match that, so we can easily live with the quirks of a CVT. With its 50-litre fuel tank, the Creta has a theoretical range of 794 km.
Performance-wise, we were happy with the non-turbo Creta's straight-line efforts. Hyundai claims a 0-100 kph time of 12 sec, which is about par for the segment.
Ride and handling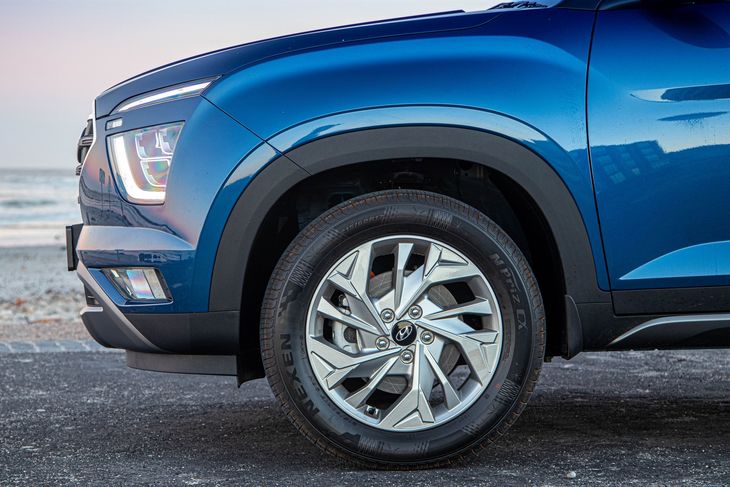 These stylish 17-inch alloys add some further kerb appeal to the Creta
The powertrain (a 1.5-litre non-turbo petrol engine in combination with a CVT) does set the Creta up to be a competent cruiser and, in that regard, the package does not disappoint. On the smoothest of roads, the Hyundai's cabin is whisper-quiet, a testament to impressive refinement measures. The steering wheel has a flat-bottomed shape, but not for a hint of sportiness, for maximum driver comfort.
The weighting of the steering is good; it feels a bit more engaging and direct than in the previous Creta and Hyundai deserves praise for improving driver involvement in a non-performance compact model.
In this (Executive) trim, the Creta comes equipped with 17-inch alloys that really look the part and, best of all, they're shod with plump 215/60 R17 tyres, which don't impede the ride quality very much – if at all. When the tar road surface deteriorates, the Hyundai's suspension soaks up the worst undulations; although it thumps through when traversing the worst of potholes, the Creta coped admirably.
As far as gravel-road performance is concerned, although the majority of Creta customers are unlikely to venture far from the tarmac, the 190 mm of ground clearance is handy on poor dirt-road surfaces.
Interior execution and features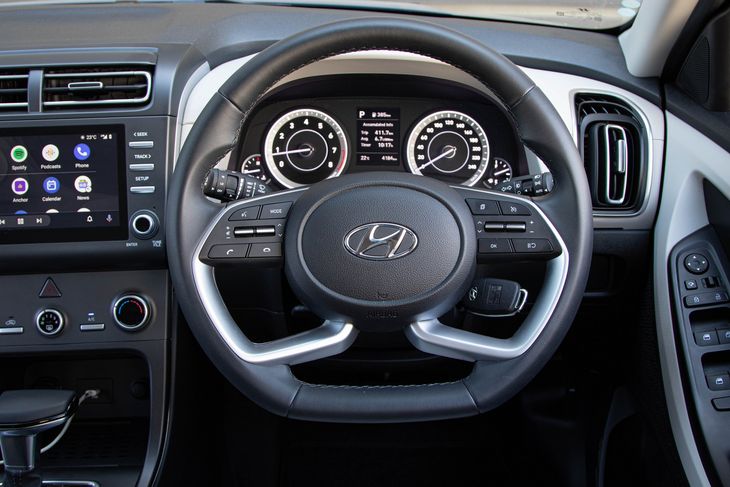 The clear dials and neatly-designed steering wheel make for a relaxing drive
In terms of cabin layout, interior materials and features fitted, the 1st- and 2nd-gen Cretas are worlds apart. The new cabin is stylish and comes with all the bells and whistles associated with a R400k price tag. The connected generation will be pleased with the addition of Android Auto and Apple CarPlay compatibility, as well as the provision of a wireless charging pad (ahead of the transmission lever) and a charging-type USB port at the rear. The infotainment system in the previous-gen Creta looked aftermarket, but it's been replaced by the current-gen Hyundai interface which looks and works much slicker.
While the 1.5 Executive seems liberally equipped, it doesn't have climate control (automatic air-conditioning), which the previous model did. The manual aircon is perfectly functional and supplies plenty of cool air as required, it's just an odd omission. Visibility out the vehicle is generally good, plus a reverse-view camera and rear parking sensors are fitted to make those tricky parking manoeuvres easier.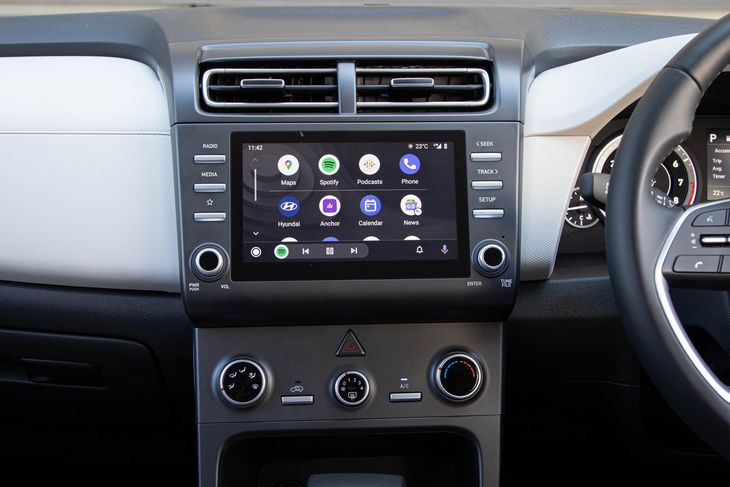 Android Auto on duty, but the lack of climate control in the range was a mystery. The standard AC is adequate.
While the minimalistic cabin exudes simple elegance and is ergonomically sound, the Creta's centre-console/transmission-tunnel cladding did emit a nasty-sounding creak under cornering during the test. Upon investigation, we managed to recreate the annoying creak by having the front passenger apply some pressure against the side of the centre console with their right knee, which suggests the plastic could be a bit sturdier. What's more, while the faux-leather seats look fresh/youthful, we suspect the light-coloured inserts may not stand up so well against the spills, smears and dirt they'll be subjected to.
Last, but certainly not least, the Creta's safety suite now features electronic stability control. Being a consumer publication, we like to emphasise the importance of safety features and the lack of some form of traction/stability control was a drawback of the previous-gen model. "Creta II" now finally has a safety package that's worth bragging about; apart from ABS with EBD, half a dozen airbags are fitted.
Practicality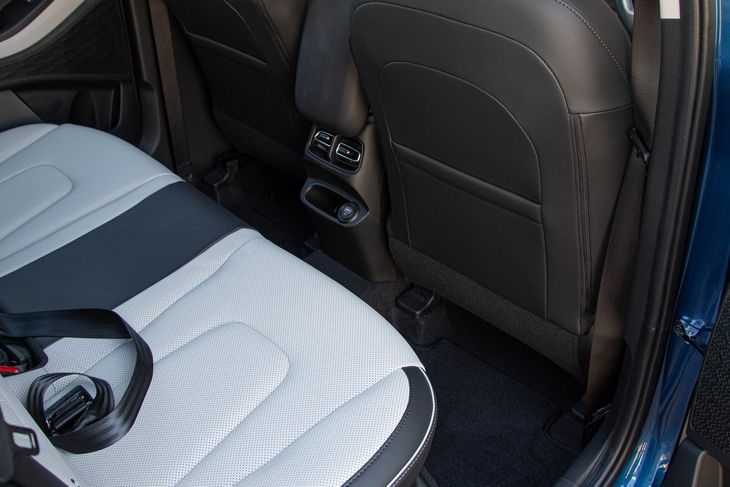 Rear legroom has grown in the new-gen Creta and rear passengers will find the USB charging port useful.
The Creta's proportions have increased by virtue of the compact family car's new platform, which, of course, benefits occupant space... and luggage capacity. The newcomer is claimed to hold a useful 433 litres, 31 litres more than before and the additional length in the wheelbase has resulted in more legroom for rear passengers. Testers who are of above-average height could conduct the "sit-behind-thyself" test without much effort. The rear seats fold in a 60/40 split, so even if you have to transport additional cargo, you can still use some of the rear bench, which cannot be said of most Venue derivatives.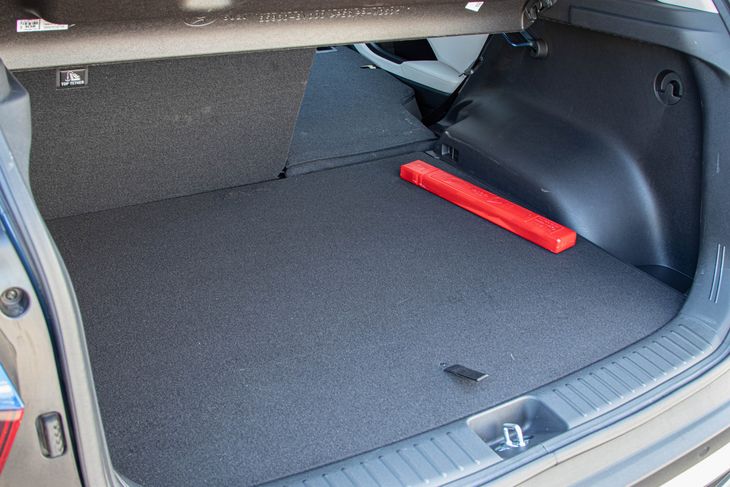 The load-bay capacity of the Creta has grown in the new model.
Price and after-sales support
Pricing for the new Hyundai Creta range starts at R374 900 and tops out at R484 900; the 1.5 Executive (tested here) costs R429 900. All Hyundai Creta derivatives are sold with a 5-year/150 000 km warranty with an additional 2-year/50 000 km warranty on the powertrain. A 5-year/90 000 km service plan and a 7-year/150 000 km roadside assist package are included.
See full specification details for the Hyundai Creta here.
Buy a new or used Hyundai Creta on Cars.co.za
Verdict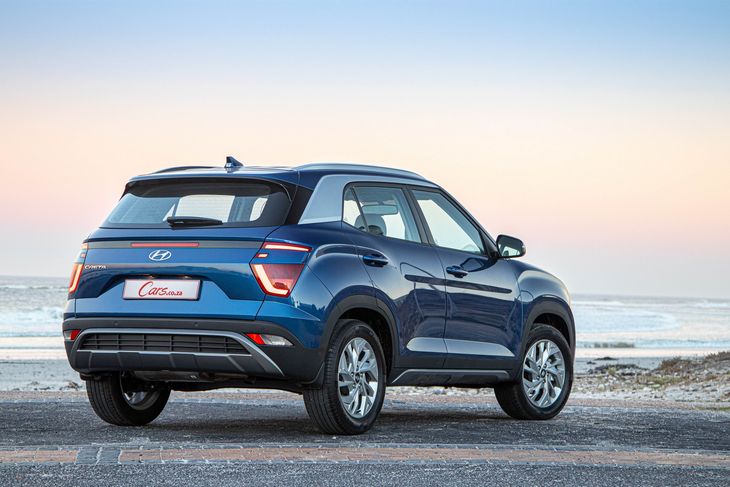 The exterior styling may not win legions of fans, but there's much more to this 2nd-gen Hyundai Creta...
The Creta's excellent family-car characteristics have, by and large, been successfully been carried over to the new model. There is generous occupant space and features aplenty, even though the 1.5 Executive is a middle-of-the-range offering. Despite the non-turbocharged petrol engine being mated with a CVT, it offers sufficient poke/overtaking ability, without emitting too much of that dreaded drone (which CVTs are known for) and its real-world fuel economy is admirable. We reckon only enthusiastic drivers will be disappointed by this transmission; it really is a near-ideal setup for the daily commute.
The changes are substantial enough for us to suggest current Creta owners should strongly consider upgrading to the 2nd-gen model, which has a diverse line-up. There are manual-'box derivatives and, for those who seek the ultimate in open-road economy, even a turbodiesel version. The added load-bay capacity and rear legroom have enhanced what was already an impressive compact family-car offering.
It's undisputable – a vehicle's exterior looks do constitute a substantial part of its overall's purchasing proposition, but potential purchasers really ought to look past the new Creta's controversial face (if they can – we ultimately could) and explore the highly practical and well-equipped newcomer. The Creta's no longer a study in understatement, yes, but then very few future Hyundai models will be...
Related content:
Hyundai Creta (2020) Specs & Price
#CarsAwards - Best Compact Family Cars in SA
Hyundai Creta (2020) Launch Review