The 2nd-generation model of one of SA's best-selling compact family cars has arrived on local shores. The first Hyundai Creta took its sweet time to be launched in Mzansi, but this one is all-new, fresh from the factory. We recently had a quick drive in the new top-spec 1.4 TGDI Executive DCT derivative​.
What's new
The transformation in exterior appearance from the GS- to this, the SU2-generation model is significant; the Creta's looks have evolved from plain and inoffensive to um, interesting and polarising, but quite a few other aspects of the Creta package have changed. The platform of the new model is larger than before – it's the same as the one that underpins the current Kia Seltos. Both models are produced in India, but in different factories (Creta comes from Chennai, Seltos from Bangalore), with the only differences being that the Kia is 15 mm longer and 10 mm wider than its cousin.
New engines have been included for this generation and they're paired with updated transmissions. The range features a new entry-level "Premium" derivative and more features have been added to the Executive specification, but the implementation of electronic stability control across the range is arguably the single biggest spec upgrade from the previous generation.
Engine line-up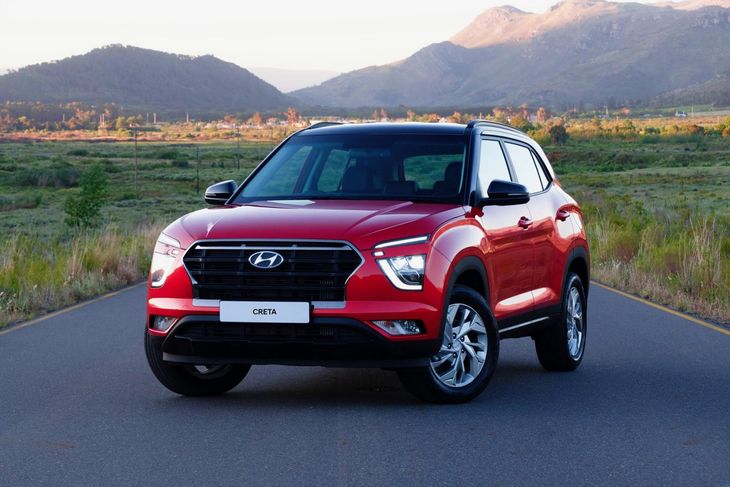 Hyundai's design team has used all of its styling elements on one vehicle, it seems.
Hyundai is covering all the bases with the new Creta by offering petrol, diesel, manual, auto and even something similar to a CVT, but with a different name.
The entry-level Premium is powered by a newly-developed 1.5-litre naturally aspirated engine that's said to produce 85 kW and 144 Nm of torque and is mated with a 6-speed manual gearbox. If you opt for this version in Executive spec, it comes with what Hyundai calls an IVT (intelligent variable transmission), which is a way of indicating that it has a CVT auto 'box, but without having to say so...
The 85 kW/250 Nm 1.5-litre turbodiesel motor, meanwhile, is the same unit as was recently added to the Seltos range and is only available in conjunction with a 6-speed automatic transmission.
The final engine in the line-up is the 103 kW/242 Nm 1.4-litre turbopetrol, which is mated exclusively with a 7-speed dual-clutch transmission (DCT), again, it's the same powertrain as used in the range-topping Seltos. Compared with its previous DCT efforts, Hyundai's made a nice step forward with this 'box. It's much smoother-shifting and less prone to making clunky kickdowns under acceleration.
Full specs and pricing of the 2020 Creta range here
What's it like inside?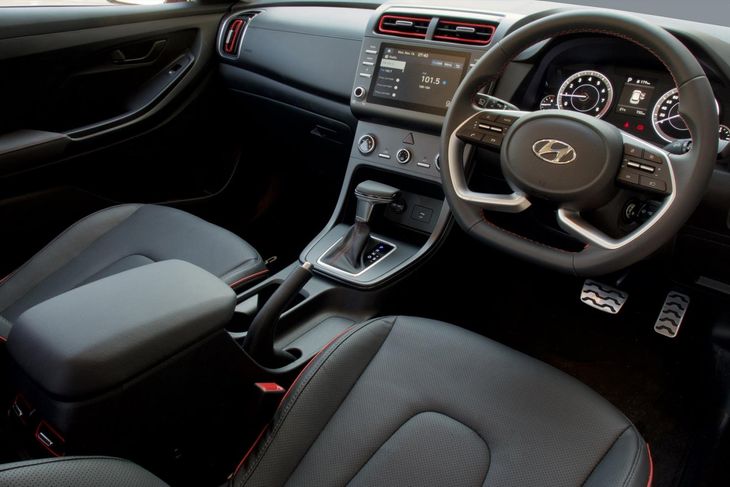 Black only interior exclusively for the 1.4 turbopetrol model.
The range-topping 1.4 TGDI Executive DCT is the only derivative that features an all-black leather interior; the other versions get a grey-and0black combination of stitched hide, except for the entry-level Premium, which makes do with a grey/black cloth combo. The black leather certainly looks like it will attract fewer stains! The centre fascia marks a big departure from the previous version with an uncluttered matte black panel that houses the new infotainment system. The system handles all connectivity and audio requirements and is both Apple Carplay and Android Auto compatible.
Interestingly, none of the Creta derivatives come with climate control (automatic aircon). They feature manual HVAC controls (temperature control-, fan speed- and ventilation direction knobs, plus a button each for recirculation and A/C). It's a step back from the previous Creta, which is rather unusual with a generation change, but at least there is still airconditioning in some form.
The steering-wheel design features 4 spokes and I actually found the brushed satin bars below the upper spokes (with the mounted buttons) quite comfortable for the purpose of resting your hands.
As for space, the load bay is slightly larger than before with a claimed capacity of 433 litres (old model: 402 litres). Rear passenger space is better too, largely thanks to the lengthened wheelbase.
Lastly, the rollout of electronic stability control across the range will certainly increase the Creta's appeal to safety-conscious buyers, because the previous model's lack of that feature was a glaring omission in spec-for-spec comparisons between the Hyundai and its rivals. A couple of airbags is standard in the Premium, while Executive versions feature 6 airbags (dual front, side- and curtain).
What's it like to drive?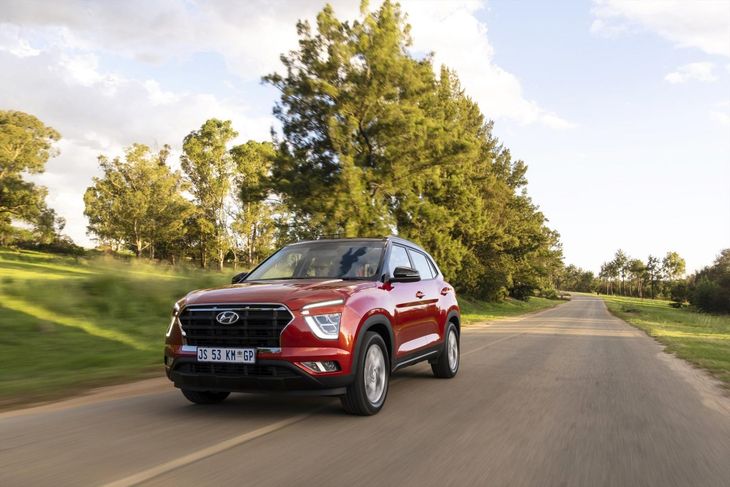 Nicely planted on- and off-road, which is a major improvement over the previous generation.
During an extended drive on a stretch of gravel on the Van der Stel Pass, the top-of-the-range Creta demonstrated that it offers good damping on mixed surfaces. Along the 17-km dirt road, the newcomer felt planted and offered a reasonably pliant ride quality, allied with an admirable level of sound insulation in the cabin.
On tar roads, it didn't display erratic handling traits and remained poised, with little intrusion from wind or engine noise at freeway speeds. This is a much more resolved car than its predecessor, which didn't like quick changes of direction (it leant excessively and even lost traction sometimes); the improved road holding and even feel through the weighty steering instantly instils driver confidence.
Summary

Perhaps the side profile will be considered its best side?
The Creta has been a big seller ever since it landed in South Africa in 2017, especially because it's a bit larger than most compact family cars. It's less clear if this new model will do the same; it's by far a better product with more space, more refinement, quieter engines and better road manners, but its design is less palatable than before. Pricing is in line with its competitors and Hyundai's warranty is always a plus in the decision-making process, but considering how similar it is to the Kia Seltos, both in price and platform, some buyers may be drawn to the slightly less "interesting" design of the Kia.
Related content:
Hyundai Creta (2020) Specs & Price
Hyundai Creta 7-Seater On The Way