Hyundai's German engineers believe that touchpads are the most intuitive way for drivers to interact with a car, see details below...
Korean automotive brands are expected to be more aware of user experience design principles than most. The success of the Korean consumer electronics industry, especially with regards to Smartphones, mean that customers have lofty expectations of finding the most intuitive possible interface for all controls when piloting a Korean car.
Regina Kaiser is the human-machine interface senior engineer at Hyundai's European Technical Centre in Rüsselsheim, Germany, tasked with consistent evaluation and improvement of ergonomics and digital cockpit interfacing.
The latest research project completed under Kaiser's technical leadership is a radical new conceptual Hyundai cockpit design for the i30. Recognising the increasingly distracting nature of contemporary steering wheel and control stalk ergonomics, due to a proliferation of buttons and functions, Kaiser's team have attempted to improve legibility and reduce complexity.
"We chose the i30 to demonstrate that innovations are not limited to higher-segment vehicles. Hyundai intends to prove that innovations need to be achievable for a broad customer base. We are continuously working on new technologies that make our cars perfectly intuitive and user-friendly," says Kaiser.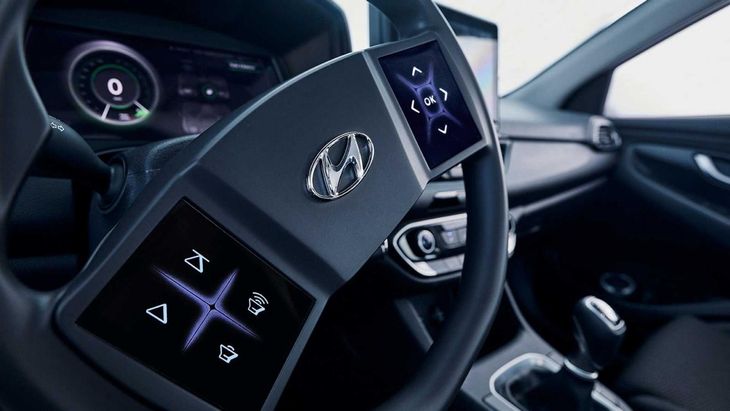 Touchpads may be the answer to reduce driver distraction while making it easier to perform in-car functions.
Anchoring the aim of reducing steering wheel control complexity are 2 touchpads, which replace the collection of satellite controls crowding the left and right-hand thumb positions on most modern steering wheels.
These touchpads can be configured to have a multitude of functions and Kaiser says they have been designed to be far better in terms of haptic feedback than any other touchscreen, thereby avoiding the annoyance of accidental menu selections.
In order to accommodate the large touchpads, Hyundai has produced a specific steering wheel, which has a 2-spoke design and is larger in overall size than a conventional steering wheel. In addition to the steering wheel technology, Hyundai has also stacked various instrumentation cluster readouts with a 6 mm difference in depth, thereby creating a halo 3D effect, which commands better attention from the driver.
While this concept virtual cockpit is not expected to go into production, you may very well see some of this technology filtering into Hyundai's future models.
Buy a new or used Hyundai on Cars.co.za
Related Content
Hyundai Boosts Tucson with N-line Kit
Hyundai plans i20 N: Will it Look Like This?
Hyundai Santa Fe 2.2D Premium (2019) Review
Hyundai Kona 2.0 Executive Auto (2019) Quick Review